1. local metal buildings ( made of steel frame ) main components description :
1 ) Mainly made by H - section and box girder .
Wide flanges make H - beam have a higher lateral stiffness fit for compression member .
Flanges of H - section with same thickness parallel with one another have strong resistance to bending , easy to composite and joint with other component for your prefab steel structure workshop .
2 ) Support System
Support system of prefab steel structure workshop mainly consist of purlin , cross bracing and angle brace made by Z - section , C - section or angle , allot the payload of column and pillar , transfer the loading to whole frame .
Support system makes the frame structure stand as a unity ; improve the solidity and stabilization of frame itself .
3 ) Roof and wall panel system
Roof and wall panel system mainly made of color steel or color steel sandwich panel .
Roof and wall panel system connected by self-tapping screw , easy and fast to assemble .
Good mechanical property as well as bearing capacity of prefab steel structure workshop .
Multiple color and surface finishing available meet your customization requirement and preference for prefab steel structure workshop .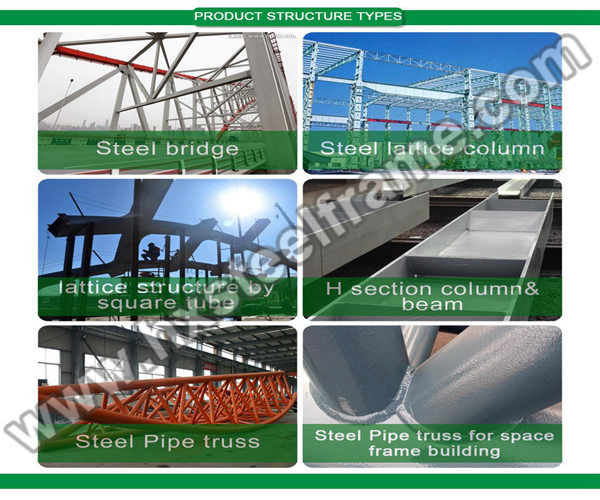 2. Who we are:
We are an integrated and professional steel building & steel structure provider in Shandong China. Specialized in the fields of steel structure building manufacturing and international business, Based the principle of sincerity, credit, mutual benefit and rich resources from China we have provided best quality products and value-adding service to customers for more than 15 years. As return, we won top reputation and established long-term business relation with customers from more than 50 countries and regions. Our customers are very satisfied with our good reputation, efficient working system, good service for resourcing, inspection, loading, installation guidance and claim solving.
Our top serviced client include SIEMENS, GE, India Adani Power, Hyundai Steel etc.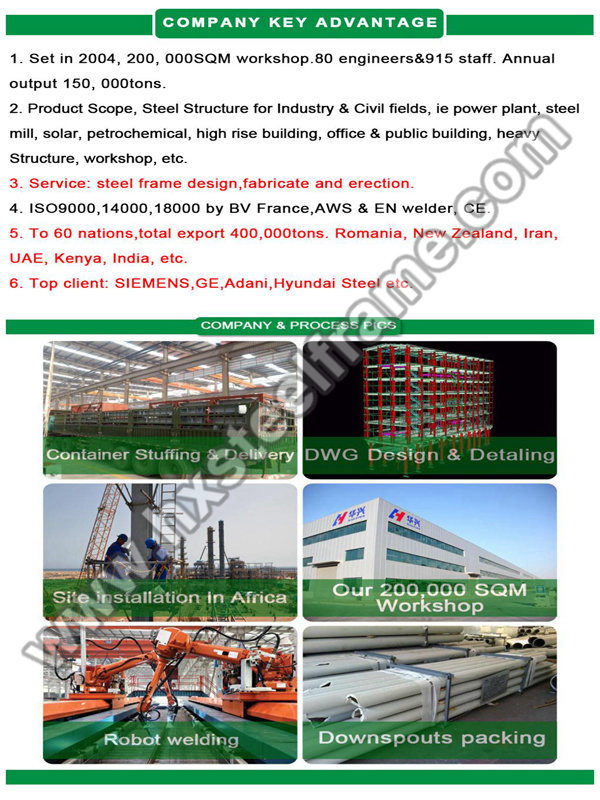 3. Overseas projects we undertook in the last few years:
Industrial Warehouse(13000 m2)― Argentina
Warehouse(14000m2) , Republic of Uzbekistan
Workshop(12000m2) , Canada
Warehouse(3600m2) , Romania
Vegetable Market(2500m2) , Mauritius
Pig shed(3500m2) , USA
Chicken shed(2800m2) , Australia
Aircraft Hangar(1300m2) , Australia
Warehouse(900m2) , Mongolia
Prefabricated house(70m2) , 800 sets , Angola
Container house(20' ) , 60 sets , South Africa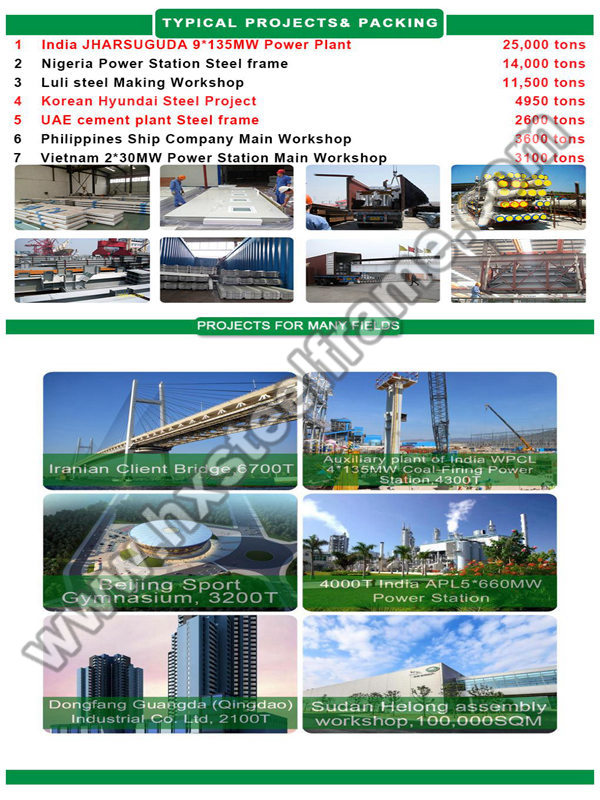 4. Our engineer team for local metal buildings ( made of steel frame ) :
We owns 36 TEKLA professional designers, by applying computer work station.
They make the model for steel structure items assembling, define the assembly dimension and inspect the connection status of each joint in three-dimensional way through difference perspectives,
which has optimized the design for realizing 100% successful bolt installation, greatly enhancing working efficiency.
We owns 15 professional STAAD-Pro designers.
As for secondary design and partition treatment of drawings, our design team applies STAAD-Pro together with Ram Connection module to optimize joint design to establish scientific and reasonable assembly design scheme.
5. Our seaworthy packing system for local metal buildings ( made of steel frame ) :
We found mature exporting packing and stuffing system:
With more than 300000tons exporting experiences, we adopt enclosed transportation to avoid damage to components caused by rough loading& unloading in delivery process. It not only guarantees components quality, but also saves the delivery cost for clients.
To improve the container delivery efficiency, we introduced advanced container stuffing equipment from Germany in 2012, which could make us finish one 40 feet container stuffing within 2 minutes.
6. FAQ:
1) Can I have a visit to your factory before the order ?
A: Why not ? welcome to visit our factory. You can fly to Jinan Airport. We will pick you up in the airport. Hotel booking service is available.
2) Do you supply installation service for local metal buildings ( made of steel frame ) ?
A: Yes, we do. But you will pay for our professional fee if we install in your local place. Then we will send engineers to supervise it.
3) How long can the local metal buildings ( made of steel frame ) be used ?
A: The use life of the main structure is the designed used life, that is 50-100 years( standard request of GB) .