Enzymolysis Amino Acids Powder 80%
14-0-0
Organic Fertilizer
OMRI Listed
100% water soluble
Only Factory in China
We also have different content of 80%,70%,60%,50%,52%,45%,40%,30%
Compound amino acids powder 80% from our factory have organic nitrogen. This fertilizer is the main raw material of amino fertilizer ,but also can be directly applied to crops as foliar fertilizer and base fertilizer application. Source of raw material powder is from plant source/ vegetal source.
1.Quality Specification:
| | |
| --- | --- |
| Appearance | Light yellow powder |
| Solubility | 100% Water Soluble |
| Moisture | ≤ 3% |
| Content of total amino | 80% |
| Content of nitrogen | ≥14% |
2.Main Function:
2.1,This product can chelate soil nutrients, stimulate root growth, make root of the crop strong and long, and have a high effect and promote a significant yield.
2.2,This product can Improve crop photosynthetic performance, promote photosynthetic products into a significant transfer , transportation ,improve crop quality and product performance.
2.3 ,This product can improve micro-domain environments and suppress the occurrence of soil-borne diseases.
2.3,To mix this product with inorganic fertilizer can increase the synergy of nutrients, make the yield increase extremely significant.
2.4,With a long-term application, the compaction of the soil will become loose, and the nutrients-kept and water-retention capacity will also be promoted.
2.5,This product is widely used in organic food base, green base ,and pollution-free ecological food base.
3.Scope:
All the crops, including: vegetables, tomatoes, olive trees, fruit trees, citrus trees, vineyards, banana plantations, gardens, ornamental plants and lawns.
4.Usage:
4.1 Proposed dosage
| | |
| --- | --- |
| Style of fertilization | Dosage |
| Base fertilizer/chase fertilizer/fertilizer with seed | 40~60KG/acre. |
| Spray | 1~3KG/acre, 800~1000 times dilution |
| Drip Irrigation | 4~6KG/acre, 200~300 times dilution |
4.2 You can mix it with pesticides, which will enhance the function with each other.
4.3 Please spray it at 10am or 4pm so that the plant will have the best absorption.
4.4 Please re-spray if the rain come in 2hours.
5.Package and Storage:
5.1 20KG/BAG, (Kraft bag outside and plastic bag inside),or as customers' requests. 5.2 Please seal it tightly in cool and dry environment.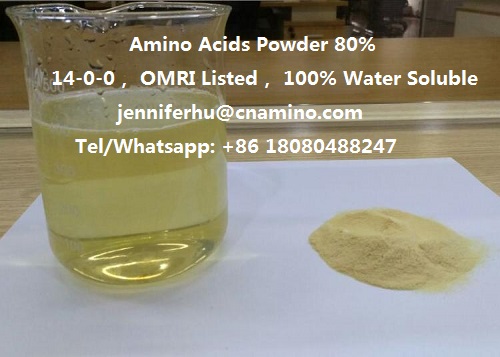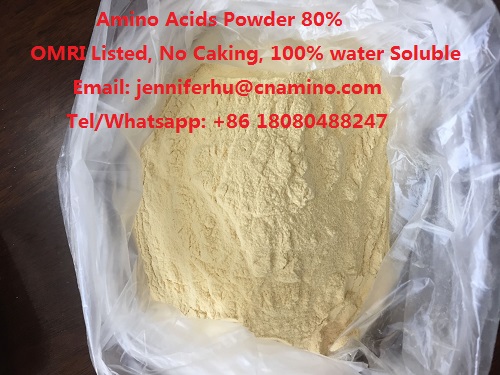 Our other hot-sell products: