1. How to build a Industrial OEM Metal Fabrication building ( made of steel frame ) , please check the following table :
Design Data ( important )

live load on roof ( KN / M2 )

wind speed ( KM / H )

snow load ( KG / M2 ) if have

Size ( important )

width

length

height

roof slope

Type

single slope or double slope

muti slope or single span
double-span or Multi-span

single floor or two floors

Inter column

5m , or 6m ….

Windows & Door

1 . quantity

2 . size

3 . Location

4 . PVC or aluminum

Column &Beam

straight cross-section OR Variable cross-section

Roof & Wall Panel

1 . Colorful corrugated steel sheet 0.326~0.8mm thick , YX25-210-840 ( 840mm wide )
2 . sandwich panel with EPS , ROCK WOOL , PU etc , insulation thickness around 30 ~ 300mm

3 . sheet+glass fiber(thick 50mm~200mm)

Purlin

1 . C purlin

2 . Z purlin

Accessories

Do you need the skylight belts , Ventilators,down pipe , out gutter etc ?

Surface Treatment

Shot blasting with anti rust paint or hot dip galvanize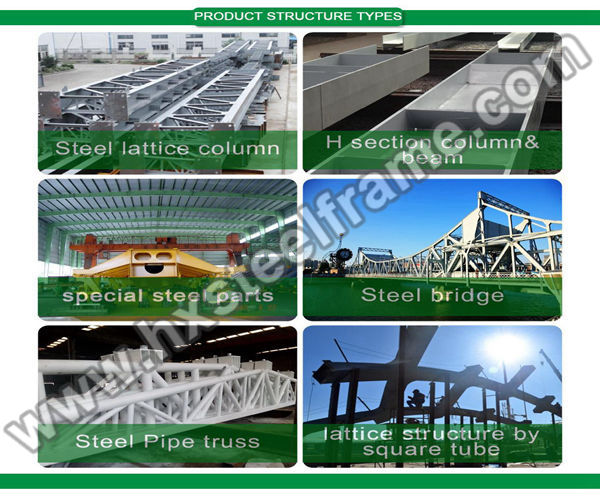 2. Our products:
Steel structural warehouse building, workshop building, agricultural building( Horse / cattle barn, poultry house) , high rise steel building, heavy industrial steel structure building, car parking, steel structure aircraft hanger, prefab buildings, school, office building, truss roof warehouses, sandwich panel, corrugated steel sheet, C& Z section steel purlin, Industrial OEM Metal Fabrication building ( made of steel frame ) ) .
We can also supply different kind of doors and windows, cranes which is related to project.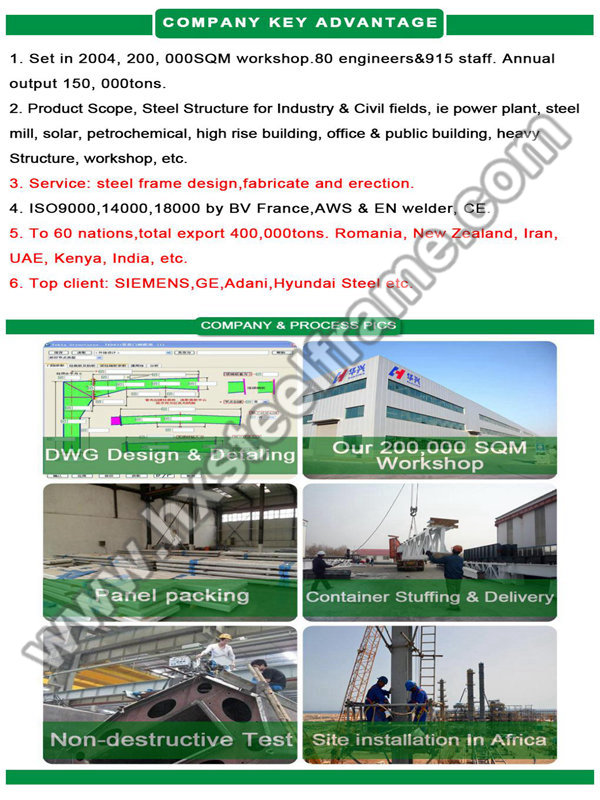 3. Project case- Hunan Volkswagen CAR ACCESSORY CO., LTD( 2013) :
This project includes the processing workshop( 12500 m2) , end products storage( 3600m2) , and a logistics center. The main processing is 12m high, with 48m span. All steel parts including steel main frame, secondary frame and cladding system are manufactured and supplied by us.
4. Hardware Advantage for Industrial OEM Metal Fabrication building ( made of steel frame ) :
Factory I covers area of 253 mu( 168, 751SQM) , with 18, 000SQM of heavy structure workshop, 36, 000SQM of light structure workshop, 16, 000SQM of non-standard product workshop, 3000SQM of pre-fabricated piping workshop and 40, 000SQM of finished product stacking yard.
Factory II covers an area of 1000 mu( 667, 000 SQM), include 30, 000SQM heavy structure workshop( lifting capacity 200T) , 34, 000SQM non-standard product workshop, 34, 000SQM of enclosed painting workshop, 20, 000SQM of packing workshop and 30, 000SQM of finished product storage yard have been constructed.
Our heavy structure workshop of factory II is specially designed for fabricating all kinds of super heavy structure, the crane are equipped with max elevating capacity of 200MT.
5. Our seaworthy packing system for Industrial OEM Metal Fabrication building ( made of steel frame ) :
We found mature exporting packing and stuffing system:
With more than 300000tons exporting experiences, we adopt enclosed transportation to avoid damage to components caused by rough loading& unloading in delivery process. It not only guarantees components quality, but also saves the delivery cost for clients.
To improve the container delivery efficiency, we introduced advanced container stuffing equipment from Germany in 2012, which could make us finish one 40 feet container stuffing within 2 minutes.
6. FAQ:
1) Why should I build steel building using steel structure ?
Steel has the higher strength.
80% recyclable, Steel is the most recycled material in the world.
No warping, no cracking, no chemical treatments.
Stronger connection.
Lower transport costs due to lightweight frames.
Steel frames will not burn, fire proof.
Lightning will not affect a steel framed house since steel creates a positive earth. Lightning energy is conducted straight to the ground.
Each steel structure is a independent engineered.
2) How difficult is it to install Industrial OEM Metal Fabrication building ( made of steel frame ) ?
Too easy! Some customers who purchase prefabricated steel building choose to install their own warehouse using local erection team.