Exhibition trusses or gantry stands is created for high-impact lighting truss frame, which is customized with differerent graphics and large-scale exhibition exhibitions stands can be used for attracting people for adverting and post.

Towers

ITSC-CS29

Main grid

ITSC-CS29

Main tube

Φ50x3mm

Sub-main tube

Φ50x2mm

Bracing

20x2mm

Capacity

8000kg

Common options for exhibition truss rigging:

A quick look into order: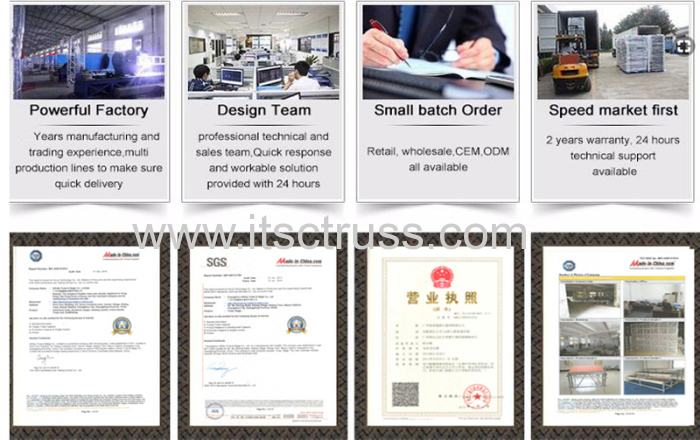 A detailed look into order:
Negotiate truss

Specification

Quantity

Price

Packing

Delivery Time

Terms of Payment

Claim for Compensation

Arbitration

Sign a contract

Order goods and stamp

Transfer payment

Cash, T/T, Western union, Money gram, L/C, ect

Prepare production

PD study the specification and start to arrange the production,

Check and Testing

QC checking and testing the quality

Packing

Generally pack with bubble air or carton according to negotiation

Prepare documents

Calculate the weight and volume for clearance documents: packing list, invoice, B/L, ect. And other special documents for clearance in different countries.

Shipment

Arrange container and load and ready to delivery. Usually takes 12-45days depending on different areas.

Insurance

Buy the insurance according to the goods price

Bill of Lading

Will deliver the B/L to clients by door to door service
A quick look into production:

A detailed look into production:

| | |
| --- | --- |
| Step 1 | Material Ready |
| Step 2 | Material Cutting |
| Step 3 | Board Cutting |
| Step 4 | Punching |
| Step 5 | Milling |
| Step 6 | Welding |
| Step7 | Checking |
| Step 8 | Testing |
| Step 9 | Packing |

When come to setup a truss structure, people would be concious with the span and capacity, and below is some reference:
| | | | |
| --- | --- | --- | --- |
| Span | Beams | Pillars | Capacity |
| W6xD6xH3m | ITSC-CS20 | ITSC-CS20 | Approx 1600kg |
| W10xD10xH7m | ITSC-CS29 | ITSC-CS29 | Approx.3000kg |
| W12m x D9m x H8m | ITSC-CS39 | ITSC-CS39 | Approx. 4000kg |
| W18m x D12m x H10m | ITSC-CS52 | ITSC-CS39 | Approx.7000kg |
| W24m x D18m x H12m | ITSC-CS5276 | ITSC-CS52 | Approx.7000kg |
| W36m x D30m x H12m | ITSC-CS60100 | ITSC-CS52 | Approx.15000kg |

Plan to visi ITSC truss group? We will service you soul and heart during your whole visit, picking up from airport,taking good care of your luggage,preparing all the items you are interested,or even be your translator if you need our heolp for free!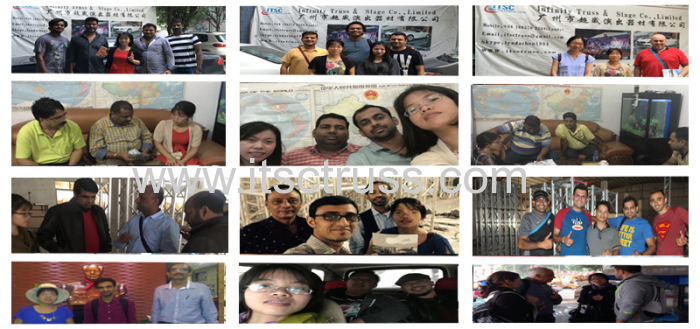 ‍This LED screen truss rigging is widely used for Concert Studio, Gymnasium, Road shows, Indoor decoration, Parties, Performance, Mobile hotel, Lighting and sound projects, Advertising, Exhibition, Events, DJ activities. Ect. Portable stages are also available to be equipped with the truss system.

1. Feature: Compactness, strength, versatility, low unit weight large span and heavy duty capacity.
2. Usage: Hang acoustics, speaker, stage lighting, LED screen and so on.
3. Features: Truss with high welding technology and good quality of aluminum tube.
| | |
| --- | --- |
| Canopy | Available |
| Canopy cover | Side, back, and top |
| Canopy color | Red, white, Blue |
| Sound wings | Yes(Loading 2000kg each) |
| Stage | ITSC truss aluminum stages, scaffolding stages |

By sea: 15-45 days according to different countries

It takes 3-5 hours to set up with the electronic hoist and chain.

1. Clean, check and maintain your trusses on a regular basis.
2. Throw away the damaged or deformed trusses, spigot pins or couplers.
3. Make a structural calculation for each construction you build.
4. Store and transport your trusses on proper dolly.
5. Attach loads in node points.
6. Check how loads are attached to the trusses before lifting.

1. Mix trusses rigging of multiple suppliers in one construction, unless specifically stated by manufacturer.
2. Exceed the maximum loading of single spans as specified in the loading tables.
3. Exceed the given structural data of trusses.
4. Drill holes in the trusses tubes.
5. Use damaged trusses rigging, couplers and spigot pins.
6. Attach loads to the truss diagonals.

1. With a self-weight ca. 65% les than steel.
2. It is corrosion resistant and requires less maintenance and no corrosion protection.
3. With a relatively high tensile strength.
4. With attractive appearance due to its natural lustre.
5. It is 100% recyclable

1. Q: What certificate do ITSC Truss have?
A: SGS, and TUV certification and business license.
2. Q: What are the terms of payment?
A: Bank Transfer, Western Union By T/T, 30% of invoice value as deposit, 70% balance paid before shipping and some others.
3. Q: Where is the loading port?
A: Port Huangpu in Guangzhou or Ports in Shenzhen.
4. Q: How does your factory do regarding quality control?
A: We control products quality under the instruction of ISO90000.
5. Q: What is your packaging?
A: Air bubble film or Carton or fly case.
6. Q: When will you deliver the goods?
A: After receiving your balance payments, we will deliver the goods within 7 days or as your request
1. Asia: India, Malaysia, Singapore, Philippines, Indonesia, Kazakhstan, South Korea, Maldives, Hong Kong
2. North of America: USA, Trinidad and Tobago, Turks and Caicos Islands
3. Europe: UK, Slovakia
4. Africa: Kenya
5. Where Have We Sold This Roof?
6. India, Malaysia, Saint Kitts and Nevis

The exhibition gantry truss rigging system is constructed with 290x290mm spigot truss segment as mast and main grid. This structure is hot-sale in India market. And we have sold this to Chennai, Hyderabad, Mumbai, ect.

1. Infinity Truss & Stage Co., Limited is one of the most professional and reliable suppliers for aluminum truss and stages equipment in China! We have been in this industry since 2011, and have gained great reputation from our clients around the world.
2. Main products: aluminum trusses, aluminum stages, Arena seating system, scaffolding systems, aluminum roof truss systems, circular trusses, lighting truss , crank stands and other support of trusses systems and related items.
3. A passel of skillful team: our engineer is with rich experience in designing and technology; and our workers are highly skilled in welding, which assure the products quality
4. Production capacity: we employ the Computer Numerical Control techniques to ensure the exact accuracy for all our components, ensuring that a structure that is both visually appealing and easy to use.
5. One package service: we have links with other lighting and sound and LED display companies, so that we can offer you one package service both pro-sale service and after-sale service.
6. Registration: in order to harmonious develop between client and our company, we both registered in Main land, China and Hong Kong, so the we are service the market well.
7. Save and reliable: we are one of the most reliable suppliers in China, and we are 100% sure of your save invest on trusses and stages. Firstly, we insist on your payment to our company account. Secondly, we will send you all the real photos and videos after goods are ready then you can arrange the balance payment. Thirdly, we will send you the original Bill of Lading after deliver your trusses and stages!
8. Testing and quality assurance: all your truss and stages will be completely tested before delivery.
9. Domestic and foreign market: our products has been sold to both domestic and overseas, namely, India, Malaysia, Singapore, Philippines, Indonesia, Kazakhstan, South Korea, Maldives, Hong Kong, USA, Trinidad and Tobago, Turks and Caicos Islands, UK, Slovakia, Kenya.
10. Currency acceptable: we can accept as many as 11 currency, such as USD, GBP, CAD, AUD, JPY, NZD, EUR, SGD, CHF, RMB, THB.
11. Convenient to come: our company is located in cosmopolis of Guangzhou, China and just within 30 minutes by drive from Baiyun airport to our plant, which is convenient for you to come.
12. Client visiting: we have a lot of clients from around the world come and visit our company, if interested, just come to our plant without hesitate.
13. Arrangement available: if you plan to come to negotiate with ITSC truss group, we can arrange all the accommodation for you on request.
14. Truss samples: we can offer you samples on request.
15. Reply instantly: all your inquiries will be replied instantly.
16. Factory site: we can show you both photos and videos for our factor plant if interested and contact us, for example, the machines, the workers, the production process, the testing procedure, the loading and loading trusses, ect.
17. Exhibition: we also attend the Palm exports to present our new design and products.
18. Serve the client soul and heart: we can offer you opinions if possible, and if you are new to this industry, we can service you all the way from negotiating to set up the trusses.
ITSC truss company insists on" The quality look as the root, the sincerity look as the basis, the virtue look as the first, the faith look as the living" for our management idea, and put forward " Integrity win the world, brand decide the fate" for our slogan." In the spirit innovation, in the stable for the development" used for our service idea maximizing meet all kinds of clients with different needs in order to harmonious develop between client and our company.

1. All goods are only factory competitive price guarantee and 100% quality inspection before delivery.
2. Instant feedback for any inquiry.
3. Professional designs and welding.
4. Quality satisfaction guarantee 100% return policy.
5. Sample or trial order is acceptable, Mixed order support, fast delivery.
6. Much rich experience in dealing with international trade and declaration with more than 8 years in this line.

We have been designing and manufacturing event truss and stages many years. Our leading design teams and strict quality control systems ensure each product from ITSC truss is reliable and ideal deals. Our quality products have well met demands of all clients around the world.

With our own factory and product line, ITSC truss can ensure the fastest delivery in the industry. What's more, we have accumulated rich resources in shipping channels, which also promise our fastest delivery time. Our standard cases can be finished within 7days and those custom-made within 8 days.

We are committed to providing the most affordable products for all customers. We have our own factory and massive production line. This ensures that we can procure all materials at much lower price than our competitors.
We promise all products from ITSC truss are the most affordable in the industry.
Choose your most reliable supplier, choose ITSC truss!
In a word, we are one of the most professional and reliable truss and stages suppliers in China. Please come to us!
Trussing rigging structure for different events.