1. Data of the Steel building ( made of construction of steel structures ) :
Specification

Material :

Grade Q235 , equivalent to ASTM A36

Grade Q345 , equivalent to ASTM A572

Section :

Any product shape according to customer's requirements

Certification :

ISO quality system , Chinese GB50221 - 2001

Sand Blast :

SA 2.5 Sand blasting

Welding Technology :

Single level butt welding , fillet welding by electric arc welding ,

and Gas shielded welding

Surface treatment :

Hot dip galvanized , Epoxy zinc rich primer

Standard : ISO1461 ( 1999 ) , JIS H 8641 - 1999 , ASTM A 123 / A 123M-02

Welding Testing

Ultrasonic Testing , X-ray Testing

Manufacturing Technology

Drilling , Cutting , Assembling , Welding , Rectification , Testing etc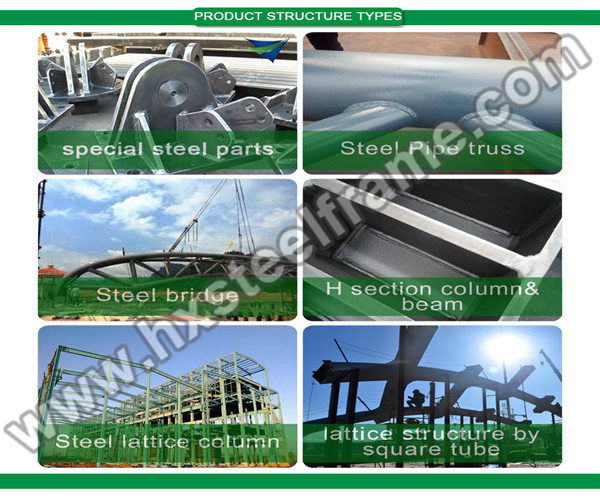 2. Company In Brief:
We specializes in providing complete solutions for high-quality steel structure products including: design, fabrication and erection of. Besides pre-engineered buildings, nowadays, we have developed heavy structural industry and commercial projects that aim to provide customers full structures such as workshops, warehouses, plazas, exhibition centers, supermarkets, railway stations, airports and so on …
With a well-trained workforce of over 1, 000 professional staffs, quality management system ISO 9001:2008, ISO 14001: 2004, OHSAS 18001: 2007 and a 200, 000 m2 factory with high technology automatic production facilities, we delivers the optimal solution, high-quality products and perfect services for your project.
Our top serviced client include SIEMENS, GE, India Adani Power, Hyundai Steel etc.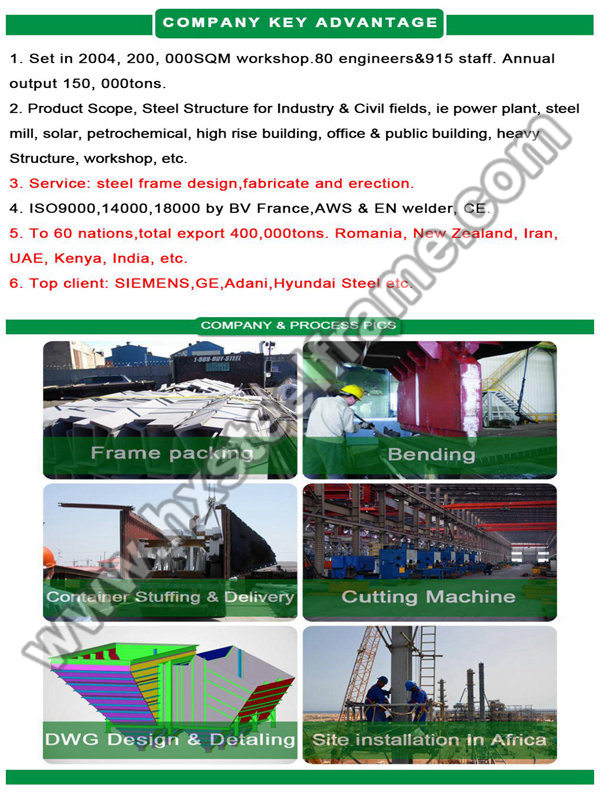 3. Project case- Congo Hebe Fabrication Petro-chemical Plant Module:
Product Description
Type 1 steel warehouse( 2500 m2) details:
A. Length: 130m
B. 10 meters between the 7 main frames
C. Height: 10 meters inside
D. Slope for roof: 23%
E. Aluminium panels for Roof with 35um coating thickness
F. 10T Overhead bridge Crane( also known as dual-beam bridge / gantry crane bridge
G. The Congo client need the side walls( only 3 sides) , for the 4th side, quoting a self collapsing gate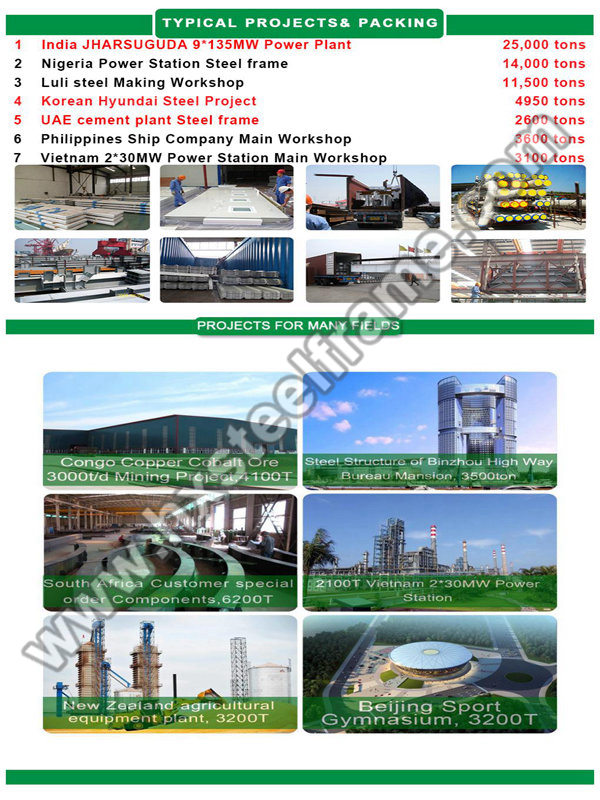 4. Our complete flow Service for the Steel building ( made of construction of steel structures ) :
1) Before sales of prefab steel structure building: We will provide you the most suitable product, guide our customer to find the products you most needed, assure that our customer can pay least money and get most return.
2) Technical Consultation and Suggestion before Construction: We provide professional consultation and suggestion service for customers' project evaluation about how cost and duration.
3) After sales service of prefab steel structure workshop: Our company insist to use the best quality to win more customer, if there is any question after receive the products, we will provide the best solution to solve the problem our customer have.
5. Packaging & Shipping for Steel building ( made of construction of steel structures ) :
1) Using container:
container of 20 feet, and container of 40 feet
2) By sea for batch goods, for container or bulk-cargo ship, port receiving.
3) Customers specifying freight forwarder or negotiable shipping methods
4) All of the steel column& beams ends and plates will be packed by the blanket to protect them from the crash in the container during the shipment.
5) To make the loading and unloading more efficiently and saving the delivery cost, 40' OT is preferred to loading the steel frames.
6) All the wall and roof panels will be filmed by two sides and fixed stably in the 40HQ container.
7) All the windows and doors will be protected by the bubble rapping papers and fixed stably in the container.
6. FAQ:
1) Do you accept container loading inspection ?
A: You are welcomed to send an inspector, not only for the container loading, but any time during the production time.
2) Whats the terms of payment and the shipment for your product of Steel building ( made of construction of steel structures ) ?
A: We can accept the payment by T/ T, L/ C, but we suggest the T/ T, it will be convenient and fast for the order. For the shipment, we can send the goods by Sea. The customers also can choose their own shipping company.
3) What do you do for Steel building ( made of construction of steel structures )?
We design, manufacture, install and service all kinds of steel structure building, steel workshop, steel warehouse etc.