Why Choose Emight Magnetics?
● Provide hardware and plastic-related parts and components products, easy to purchase for you,can help you save logistics costs, to learn more information refer to Machined parts/Plastic parts.
● Produce high-performance products, stable performance, quality assurance, more details can refer to Quality center.
● Sintered Neodymium Iron Boron maximum magnetization direction can be produced at 60mm,Samarium Cobalt magnet maximum size can be produced at 120mmx120mmx100mm.
● Produce and process all kinds of OEM magnetic components.
● Sintered Neodymium Iron Boron and Sintered Samarium Cobalt magnets can be multi-pole magnetized.
● Sintered NdFeB magnet magnetic angle deviation degree can be controlled within 3 °,SmCo magnet magnetic angle deviation degree can be controlled within 2 °.
● One Stop Service from R&D sample design to mass production.
● Cooperated with 30 outsourcing factories with ISO certificates.
● Custom made magnetic systems available.
● Excellent after sales service.
Product Description:
Brand Name: Magnetic Tools,Rotor Motor Stator Magnet,Magnetic Assembly
Size: We mainly make custom shape and size magnets.
The rotor and motor magnets are usually using segments,rings or trapezoidal shapes, which be used in different motor&rotors, such as permanent magnet motor, AC motor, DC motor, linear motor, brushless motor and so on.At present, the main magnets use in motors are below three kinds of materials:
1.Samarium cobalt magnet, with high temperature (400 ℃), but the price is relatively high, that makes this material is rarely used.
2.Ferrite magnet, because the high temperature (400 ℃ or so) is better than NdFeB.
But if requires Ferrite magnets process technics to match the micro-motor application, or even requires sophisticated, the process costs are extremely high, while the scrap rate is also high, because of its own characteristics that are easy to break or wear or tear.
3.The most advantageous material is NdFeB strong magnet materials including Sintered NdFeB and bonded NdFeB. The permanent magnet motor assembled with NdFeB magnets is small in size, light in weight, high in inertia ratio, high in response to servo system, high in power and speed / weight ratio, high starting torque and saving electricity.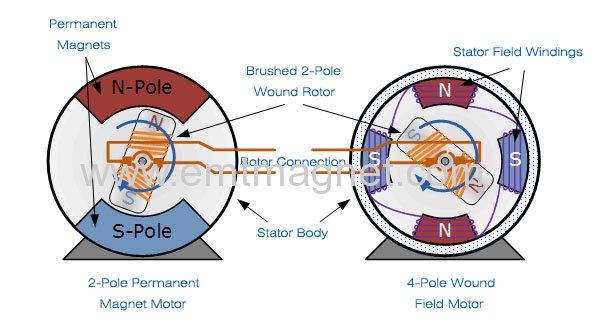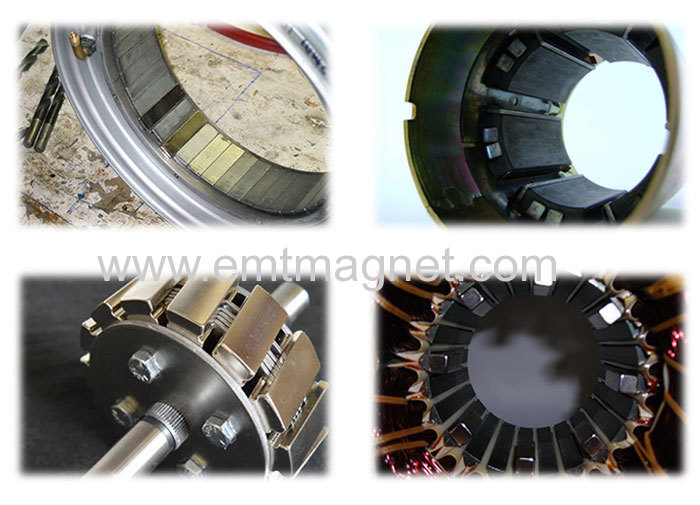 Advantage and Application:
Sintered NdFeb magnets are used in different motors, such as permanent magnet motor, AC motor, DC motor, linear motor, brushless motor, etc. And the electromagnetic motor through the excitation coil to produce magnetic potential source is different from the permanent magnet motor that is a permanent magnet material to produce a constant magnetic potential source. Permanent magnet instead of electric excitation has many advantages, that makes the motor structure is simple, easy maintenance, light weight, small size, reliable use, low copper consumption, low energy consumption.
Packaging&Shipping:
Packaging Details:Anti-magnetic and well protect in the delivery,
Small white packing box: 12x10x125px Standard packing carton: 34x24x375px.
Shipping:FEDEX, DHL, UPS, TNT ,By Air and By Sea etc.