The Refrigerator Glass Shelf Injection Mould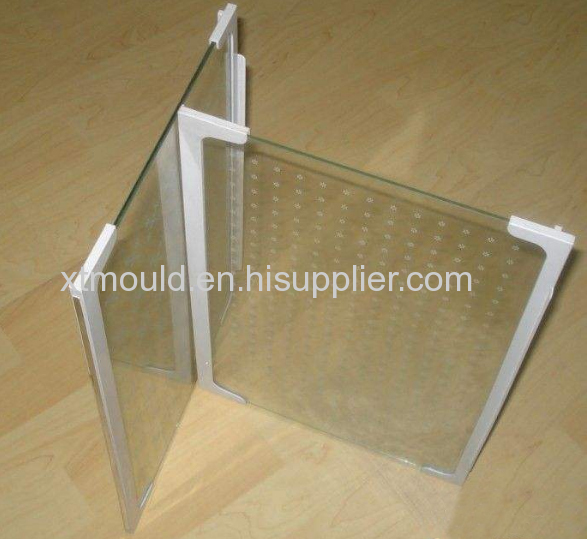 The glass shelf of the refrigerator is mainly used in the refrigerator. Don't store too much food in the fridge, which makes the outside temperature of the food low and the internal temperature high, causing deterioration.
Suitable for storage of antimicrobial food is strong, such as the closure of pickles, jam, sesame, sour food and condiments, most of them can be preserved for 2 months. Because the refrigerator door is often open, the warm air will enter, so here is the most suitable to store perishable food, such as opened the sealed hot meat, milk and so on.
Suitable for storing hot meat, bacon, yogurt and hard cheese. The unopened meat should be eaten before the storage period. Once opened, hot meat can only save 3 ~ 5 days; bacon, cheese can be preserved for 3 weeks.
The lower layer of the refrigerator: food that needs to be heated quickly, such as leftovers, boiled eggs, fish, etc.. In addition, leafy vegetables and fruits that are prone to frostbite are also best stored in this area. Boiled eggs can be stored for 7 days: leftovers should be no more than 3 days, leftovers should not stay overnight (leaf vegetables are best eaten once, do not have the rest), but feel abnormal, it is best to throw away; fresh fish can only be refrigerated in the refrigerator for 1 days, cooked fish do not exceed 3-4 days.
Located in the bottom of the refrigerator, the maximum humidity, more suitable for vegetables, such as green leafy vegetables, peppers and broccoli. This kind of food can be kept for about 1 weeks
Refrigerator after a period of time, there will be some frost, if you can not defrost regularly, it will affect the cooling effect, and the power consumption will increase, and even damage the compressor. Therefore, frost should be applied whenever frost is thicker than 175px.
We assure to offer the precise plastic injection mould according to the customers different requirement. Always keep efficient production and reasonable price.