Quartz Tube Infrared Emitters for Process Heating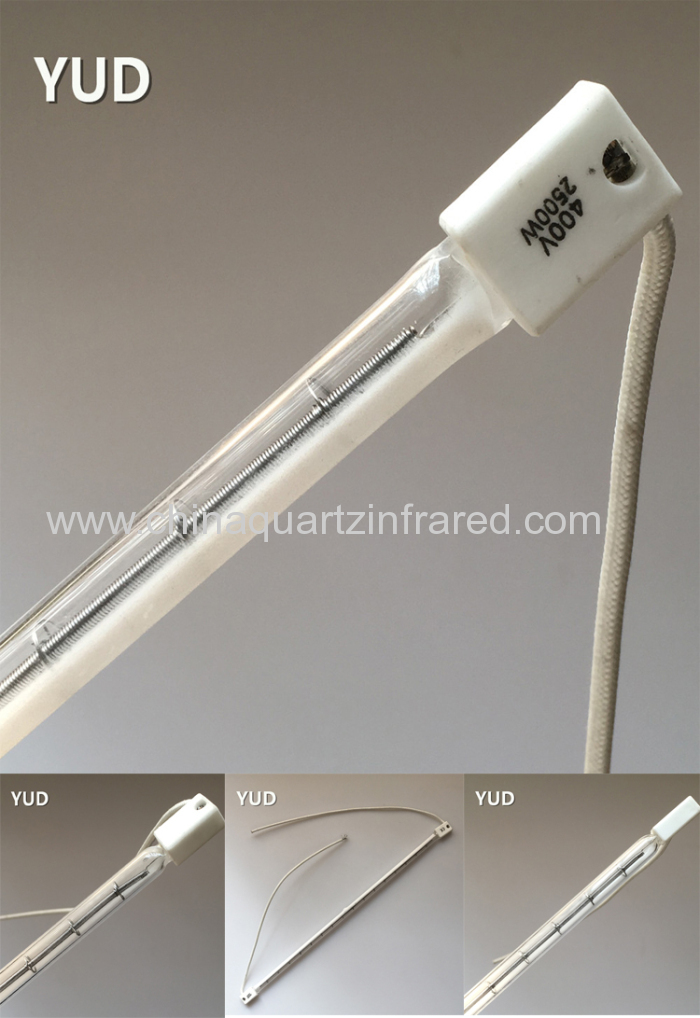 | | | | | | | | | | | | | | | |
| --- | --- | --- | --- | --- | --- | --- | --- | --- | --- | --- | --- | --- | --- | --- |
| YUD ITEMS2 | Part code | Watts (W) | Volts (V) | Type | length | length | length | Length | Terminal | Color Temp(K) | Tube | Burnig position | Ave. Life | Ordering Code |
| | | | | | OAL (mm) | FL (mm) | CL (mm) | WL (mm) | | | | | | |
| YUD-SW200 | JHS 230V 300W 60 RsH1-P | 300 | 220-240 | Rs | (117,6) | 114,2±1,6 | 60±5 | - | - | 2450 | Clear | Horizontal | 5000 | 5JHS001 |
| YUD-SW201 | JHS 230V 300W 60 IH1 | 300 | 220-240 | I | -120 | 112±1 | 60±5 | - | - | 2450 | Clear | Horizontal | 5000 | 4JHS039 |
| YUD-SW202 | JHC 240V 300W 165 BfH | 300 | 230-240 | Bf | 226 ± 2 | - | 165±5 | 220±10 | Fork | 2400 | Reflector | Horizontal | 5000 | 4JHC187 |
| YUD-SW203 | JHS 235V 500W 165 BfH | 500 | 230-240 | Bf | 226 ± 2 | - | 165±5 | 220±10 | Fork | 2500 | Clear | Horizontal | 5000 | 4JHS229 |
| YUD-SW204 | JHC 235V 500W 165 BfH1 | 500 | 230-240 | Bf | 226 ± 2 | - | 165±5 | 200±10 | Fork | 2500 | Reflector | Horizontal | 5000 | 4JHC072 |
| YUD-SW205 | JHS 240V 700W 150 BfH1 | 700 | 230-240 | Bf | 210 ± 2 | - | 150±5 | 230±10 | Splice | 2620 | Clear | Horizontal | 5000 | 4JHS045 |
| YUD-SW206 | JHC 240V 700W 150 BfH1 | 700 | 230-240 | Bf | 210 ± 2 | - | 150±5 | 230±10 | Splice | 2620 | Reflector | Horizontal | 5000 | 4JHC150 |
| YUD-SW207 | JHC 235V 1000W 272 BfH | 1000 | 230-240 | Bf | 352 ± 2 | - | 272±5 | 220±10 | Fork | 2400 | Reflector | Horizontal | 5000 | 4JHC068 |
| YUD-SW208 | JHC 235V 1000W 272 BfU | 1000 | 230-240 | Bf | 352 ± 2 | - | 272±5 | 200±10 | Fork | 2400 | Reflector | Universal | 5000 | 4JHC050 |
| YUD-SW209 | JHS 235V 1000W 272 JU | 1000 | 230-240 | J | - | 370±10 | 272±5 | - | - | 2400 | Clear | Universal | 5000 | 4JHS056 |
| YUD-SW210 | JHC 235V 1000W 272 JH | 1000 | 230-240 | J | - | 370±10 | 272±5 | - | - | 2400 | Reflector | Horizontal | 5000 | 4JHC008 |
| YUD-SW211 | JHC 235V 1000W 272 IH | 1000 | 230-240 | I | -354 | 346±1 | 272±5 | - | - | 2650 | Reflector | Horizontal | 5000 | 4JHC048 |
| YUD-SW212 | JHC 400V 1000W 272 IU | 1000 | 400 | I | -354 | 346±1 | 272±5 | - | - | 2550 | Reflector | Universal | 5000 | 4JHC069 |
| YUD-SW213 | JHC 144V 1200W 155 JcH | 1200 | 144 | Jc | 219 ± 3 | - | 155±5 | 160±10 | Fork | 2700 | Reflector | Horizontal | 5000 | 4JHC073 |
| YUD-SW214 | JHC 144V 1200W 155 BfH | 1200 | 144 | Bf | 225 ± 2 | - | 155±5 | 150±10 | Fork | 2700 | Reflector | Horizontal | 5000 | 4JHC045 |
| YUD-SW215 | JHC 235V 1200W 155 BfH1 | 1200 | 230-240 | Bf | 225 ± 2 | - | 155±5 | 150±10 | Fork | 2700 | Reflector | Horizontal | 5000 | 4JHC043 |
| YUD-SW216 | JHC 240V 1200W 406 BfH | 1200 | 230-240 | Bf | 499 ± 2 | - | 406±5 | 230±10 | Splice | 2400 | Reflector | Horizontal | 5000 | 4JHC107 |
| YUD-SW217 | JHC 240V 1200W 406 BfU | 1200 | 230-240 | Bf | 499 ± 2 | - | 406±5 | 230±10 | Splice | 2400 | Reflector | Universal | 5000 | 4JHC111 |
| YUD-SW218 | JHS 235V 1500W 280 BfH1 | 1500 | 230-240 | Bf | 352 ± 2 | - | 280±5 | 300±10 | Splice | 2400 | Clear | Horizontal | 5000 | 4JHS173 |
| YUD-SW219 | JHC 235V 1500W 280 BfH | 1500 | 230-240 | Bf | 350 ± 1,2 | - | 280±5 | 230±10 | Faston | 2400 | Reflector | Horizontal | 5000 | 4JHC081 |
| YUD-SW220 | JHS 235V 1500W 385 RsH | 1500 | 230-240 | Rs | -446 | 444±1,5 | 385±5 | - | - | 2400 | Clear | Horizontal | 5000 | 4JHS237 |
| YUD-SW221 | JHC 144V 1600W 155 JcH | 1600 | 230-240 | Jc | 219 ± 3 | - | 155±5 | 160±10 | Fork | 2700 | Reflector | Horizontal | 5000 | 4JHC028 |
| YUD-SW222 | JHC 144V 1600W 155 BfH | 1600 | 230-240 | Bf | 225 ± 2 | - | 155±5 | 150±10 | Fork | 2700 | Reflector | Horizontal | 5000 | 4JHC046 |
| YUD-SW223 | JHC 235V 1600W 155 BfH1 | 1600 | 144 | Bf | 225 ± 2 | - | 155±5 | 150±10 | Fork | 2700 | Reflector | Horizontal | 5000 | 4JHC053 |
| YUD-SW224 | JHC 240V 1600W 406 BfH1 | 1600 | 144 | Bf | 485 ± 2 | - | 406±5 | 200±10 | Fork | 2500 | Reflector | Horizontal | 5000 | EM-805 |
| YUD-SW225 | JHC 235V 2000W 280 BfH | 2000 | 230-240 | Bf | 353 ± 2 | - | 280±5 | 230±10 | Splice | 2400 | Reflector | Horizontal | 5000 | 4JHC005 |
| YUD-SW226 | JHC 235V 2000W 280 BfH2 | 2000 | 230-240 | Bf | 353 ± 2 | - | 280±5 | 210±10 | Fork | 2400 | Reflector | Horizontal | 5000 | 4JHC254 |
| YUD-SW227 | JHC 235V 2000W 280 BfU | 2000 | 230-240 | Bf | 352 ± 2 | - | 280±5 | 200±10 | Fork | 2400 | Reflector | Universal | 5000 | 4JHC051 |
| YUD-SW228 | JHC 235V 2000W 280 BfU4 | 2000 | 230-240 | Bf | 353 ± 2 | - | 280±5 | 230±10 | Splice | 2400 | Reflector | Universal | 5000 | 4JHC104 |
| YUD-SW229 | JHS 235V 2000W 280 BfU1 | 2000 | 230-240 | Bf | 353 ± 2 | - | 280±5 | 230±10 | Splice | 2400 | Clear | Universal | 5000 | 4JHS141 |
| YUD-SW230 | JHS 235V 2000W 280 JU | 2000 | 230-240 | J | - | 370±10 | 280±5 | - | - | 2400 | Clear | Universal | 5000 | 4JHS031 |
| YUD-SW231 | JHC 235V 2000W 280 JU | 2000 | 230-240 | J | - | 370±10 | 280±5 | - | - | 2425 | Reflector | Universal | 5000 | 4JHC042 |
| YUD-SW232 | JHS 235V 2000W 280 TU3 | 2000 | 230-240 | T | 350 max. | - | 280±5 | 120±5 | Ring | 2400 | Clear | Universal | 5000 | 4JHS061 |
| YUD-SW233 | JHS 400V 2000W 280 BfU1 | 2000 | 400 | Bf | 354 ± 2 | - | 280±5 | 300±10 | Splice | 2350 | Clear | Universal | 5000 | 4JHS232 |
| YUD-SW234 | JHS 400V 2000W 280 JU | 2000 | 400 | J | - | 370±10 | 280±5 | - | - | 2400 | Clear | Universal | 5000 | EM-65 |
| YUD-SW235 | JHC 400V 2000W 280 IU | 2000 | 400 | I | -354 | 346±1 | 280±5 | - | - | 2700 | Reflector | Universal | 5000 | 4JHC123 |
| YUD-SW236 | JHC 235V 2000W 410 JH | 2000 | 230-240 | J | - | 508±10 | 410±5 | - | - | 2400 | Reflector | Horizontal | 5000 | 4JHC247 |
| YUD-SW237 | JHS 235V 2000W 410 JH | 2000 | 230-240 | J | - | 508±10 | 410±5 | - | - | 2400 | Clear | Horizontal | 5000 | 4JHS085 |
| YUD-SW238 | JHC 400V 2000W 410 BfU | 2000 | 400 | Bf | 490 ± 2 | - | 410±5 | 230±10 | Splice | 2400 | Reflector | Universal | 5000 | 4JHC061 |
| YUD-SW239 | JHC 400V 2000W 410 JU | 2000 | 400 | J | - | 508±10 | 410±5 | - | - | 2400 | Reflector | Universal | 5000 | 4JHC218 |
| YUD-SW240 | JHC 400V 2000W 410 JH | 2000 | 400 | J | - | 508±10 | 410±5 | - | - | 2400 | Reflector | Horizontal | 5000 | 4JHC071 |
| YUD-SW241 | JHS 400V 2000W 410 JU | 2000 | 400 | J | - | 508±10 | 410±5 | - | - | 2400 | Clear | Universal | 5000 | 4JHS032 |
| YUD-SW242 | JHC 230V 2000W 500 BfH | 2000 | 230-240 | Bf | 650 ± 2 | - | 500±5 | 500±10 | Splice | 2400 | Reflector | Horizontal | 5000 | 4JHC041 |
| YUD-SW243 | JHC 235V 2000W 700 BfH | 2000 | 230-240 | Bf | 787 ± 2 | - | 500±5 | 500±10 | Splice | 2240 | Reflector | Horizontal | 5000 | 4JHC189 |
| YUD-SW244 | JHS 235V 2200W 280 BfU1 | 2200 | 230-240 | Bf | 350±2 | - | 280±5 | 150±5 | Splice | 2450 | Clear | Universal | 5000 | 4JHS037 |
| YUD-SW245 | JHS 235V 2200W 280 TU2 | 2200 | 230-240 | T | 345±1,5 | - | 280±5 | 145±5 | Ring | 2300 | Clear | Universal | 5000 | 4JHS234 |
| YUD-SW246 | JHC 235V 2500W 280 BfH3 | 2500 | 230-240 | Bf | 353±2 | - | 280 ± 5 | 210±10 | Fork | 2700 | Reflector | Horizontal | 5000 | 4JHC027 |
| YUD-SW247 | JHC 235V 2500W 280 BfU | 2500 | 230-240 | Bf | 352±2 | - | 280 ± 5 | 200±10 | Fork | 2700 | Reflector | Universal | 5000 | 4JHC259 |
| YUD-SW248 | JHC 400V 2500W 280 BH | 2500 | 400 | B | 355±2 | - | 280 ± 5 | 210±10 | Fork | 2700 | Reflector | Horizontal | 5000 | 5JHC039 |
| YUD-SW249 | JHC 400V 2500W 315 BH | 2500 | 400 | B | 378±2 | - | 315 ± 5 | 230±10 | Splice | 2500 | Reflector | Horizontal | 5000 | 5JHC001 |
| YUD-SW250 | JHS 480V 2500W 635 JcH | 2500 | 400 | Jc | 723±3 | - | 635 ± 5 | 150±10 | Splice | 2500 | Clear | Horizontal | 5000 | EM-818 |
| YUD-SW251 | JHC 235V 3000W 280 BfU | 3000 | 230 - 240 | Bf | 352±2 | - | 280±5 | 210±10 | Fork | 2700 | Reflector | Universal | 5000 | EM-522 |
| YUD-SW252 | *JHS 235V 3000W 280 JU | 3000 | 230 - 240 | J | - | 370±10 | 280±5 | - | - | 2200 | Clear | Universal | 5000 | 4JHS060 |
| YUD-SW253 | JHC 235V 3000W 280 JU | 3000 | 230 - 240 | J | - | 370±10 | 280±5 | - | - | 2500 | Reflector | Universal | 5000 | 4JHC194 |
| YUD-SW254 | *JHS 235V 3000W 280 TU1 | 3000 | 230 - 240 | T | 350 max. | - | 280±5 | 120±5 | Splice | 2200 | Clear | Universal | 5000 | 4JHS062 |
| YUD-SW255 | JHC 400V 3000W 280 BH | 3000 | 400 | B | 355±2 | - | 280±5 | 210±10 | Fork | 2700 | Reflector | Horizontal | 5000 | 4JHC040 |
| YUD-SW256 | JHS 400V 3000W 280 IU | 3000 | 400 | I | -354 | 346 ± 1 | 280±5 | - | - | 2600 | Clear | Universal | 5000 | EM-1055 |
| YUD-SW257 | JHC 400V 3000W 280 IU | 3000 | 400 | I | -354 | 346 ± 1 | 280±5 | - | - | 2600 | Reflector | Universal | 5000 | 4JHC165 |
| YUD-SW258 | JHS 400V 3000W 280 JU | 3000 | 400 | J | - | 370 ± 10 | 280±5 | - | - | 2600 | Clear | Universal | 5000 | 4JHS053 |
| YUD-SW259 | JHS 400V 3000W 280 TU1 | 3000 | 400 | T | 350 max. | - | 280±5 | 120±10 | Ring | 2550 | Clear | Universal | 5000 | 4JHS059 |
| YUD-SW260 | JHC 400V 3000W 315 BH | 3000 | 400 | B | 378±2 | - | 315±5 | 230±5 | Splice | 2550 | Reflector | Horizontal | 5000 | 5JHC002 |
| YUD-SW261 | JHS 400V 3000W 410 JU | 3000 | 400 | J | - | 508 ± 10 | 410±5 | - | - | 2400 | Clear | Universal | 5000 | 4JHS072 |
| YUD-SW262 | JHC 235V 3000W 700 BfH2 | 3000 | 230 - 240 | Bf | 787,5±2 | - | 700±5 | 500±10 | Splice | 2300 | Reflector | Horizontal | 5000 | 4JHC038 |
| YUD-SW263 | JHC 400V 3000W 700 BfH1 | 3000 | 400 | Bf | 784±2 | - | 700±5 | 200±10 | Fork | 2350 | Reflector | Horizontal | 5000 | 4JHC142 |
| YUD-SW264 | JHS 400V 3000W 700 IU | 3000 | 400 | I | -779 | 771 ± 1 | 700±5 | - | - | 2400 | Clear | Universal | 5000 | 4JHS142 |
| YUD-SW265 | JHC 400V 3000W 700 IU | 3000 | 400 | I | -779 | 771 ± 1 | 700±5 | - | - | 2350 | Reflector | Universal | 5000 | 4JHC149 |
| YUD-SW266 | JHS 400V 3000W 700 JU | 3000 | 400 | J | - | 798 ± 10 | 700±5 | - | - | 2400 | Clear | Universal | 5000 | 4JHS049 |
| YUD-SW267 | JHC 400V 3000W 700 JU | 3000 | 400 | J | - | 798 ± 10 | 700±5 | - | - | 2400 | Reflector | Universal | 5000 | 4JHC085 |
| YUD-SW268 | JHC 400V 4000W 700 IU | 4000 | 400 | I | -782 | 774 ± 1 | 700±5 | - | - | 2425 | Reflector | Universal | 5000 | EM-1158 |
| YUD-SW269 | JHC 400V 4000W 700 BfH | 4000 | 400 | Bf | 787,5±2 | - | 700±5 | 150±10 | Ring | 2400 | Reflector | Horizontal | 5000 | RZ-197 |
| YUD-SW270 | JHS 400V 4600W 236 THJHS 480V | 4600 | 400 | T | 303 max. | - | 236±5 | 155±5 | Splice | 3000 | Clear | Horizontal | 1000 | 4JHS075 |
| YUD-SW271 | JHS 480V 6000W 245 TH | 6000 | 480 | T | 298 max. | - | 245±5 | 41±3 | Ring | 3050 | Clear | Horizontal | 1000 | 4JHS220 |
| YUD-SW272 | JHS 480V 6000W 290 TH1 | 6000 | 480 | T | 350 max. | - | 290±5 | 35±5 | Ring | 3025 | Clear | Horizontal | 1000 | 4JHS226 |
| YUD-SW273 | JHC 400V 6000W 1000 BfH1 | 6000 | 480 | Bf | 1125±2 | - | 1000±5 | 500±10 | Stripped | 2700 | Reflector | Horizontal | 1000 | 4JHC168 |
Lianyungang Yuanda Quartz Product Co.,Ltd (YUD)is a leading manufacturer in the infrared heating tech and quartz glass products .With many years of produce and export experience, we got much trust and supports from our customers all over the world.
Our advantage is provide professional customized solution according different application.
The products have been sold and highly recognized in the markets including the America, Europe, the Middle East and South Asia .
The YUD TECH infrared lamps and YUANDA quartz glass have been used in over 3000 industrial heating processes, including: Automotive, Food, Glass, Plastics, Textiles, Semi-conductor, Printing, Electronics and etc. for Drying, Coating, Laminating and Annealing and ect.
The quartz glass products are good use in industry includes Drying and Solidification,Lab instruments, semiconductor,Optical,,Solar,CCFL,Electric heating.
Our popular products including:
IR lamp products:
1. Single tube lamp: in short wave, medium wave, fast medium wave
And far wave infrared heating lamps.
2. Ring shape lamp .M shaped lamp.U shaped lamp etc.
3.OEM /Custom the quartz heater lamps according your drawing.
4. Accessories for IR lamps
Quartz glass products:
1.Quartz glass tubing.UV quartz tube
2.quartz plate.quartz sheet.quartz window
3.quartz rod
4.quartz test tube.quartz crucible and other quartz instrument for lab