The picture's products are the
injection plastic neodymium magnet
.
there were direct manufactured injection mould. And there were used in the
motor parts
.
Magnetic motor parts
(
NdFeB
,
AlNiCo
,
Ferrite
)
magnets
and metal body according to customers requirements
Modern assembly line and first rate machining equipments.
Complete motor parts ready for the fine finishing by you.
Cost-saving solution for customer's.
Quick delivery and good service.
Magnetic Characteristics of Bonded Compression NdFeB magnet:
Properties

Grade

Max Energy Product

Remanence

Coercive Force

Intrinsic Coercive Force

Density

Relative Recoil Permeability

Temp Coeff

Max. Working Temp

(BH)max

Br

Hcb

Hcj

D

α Br

Tw

KJ/m3(MGOe)

T

KA/m(KOe)

KA/m(KOe)

g/cm3

μ r

%/ ℃

℃

BNP-6

44-56(5.5-7.0)

0.55-0.62

285-370(3.6-4.6)

600-755(7.5-9.5)

5.5-6.1

1.15

-0.13

100

BNP-8L

56-64(7.0-8.0)

0.60-0.64

360-400(4.5-5.0)

715-800(9-10)

5.5-6.1

1.15

-0.13

100

BNP-8

64-72(8.0-9.0)

0.62-0.69

385-445(4.8-5.6)

640-800(8-10)

5.5-6.1

1.15

-0.13

120

BNP-8SR

64-72(8.0-9.0)

0.62-0.66

410-465(5.2-5.8)

880-1120(11-14)

5.5-6.1

1.13

-0.13

150

BNP-8H

64-72(8.0-9.0)

0.61-0.65

410-445(5.2-5.7)

1190-1440(15-18)

5.9-6.2

1.15

-0.07

125

BNP-9

70-76(8.8-9.5)

0.65-0.70

400-440(5.0-5.5)

640-800(8-10)

5.6-6.1

1.22

-0.12

120

BNP-10

76-84(9.5-10.5)

0.68-0.72

420-470(5.3-5.9)

640-800(8-10)

5.6-6.1

1.22

-0.11

120

BNP-11

80-88(10-11)

0.70-0.74

445-480(5.6-6.0)

680-800(8.5-10)

5.6-6.1

1.22

-0.11

120

BNP-11L

78-84(9.8-10.5)

0.70-0.74

400-440(5.0-5.5)

520-640(6.5-8)

5.6-6.1

1.26

-0.11

110

BNP-12L

84-92(10.5-11.5)

0.74-0.80

420-455(5.3-5.7)

520-600(6.5-7.5)

5.6-6.1

1.26

-0.08

110
Magnetic Characteristics of Bonded Injection NdFeB :
Properties

Grade

Max Energy Product

Remanence

Coercive Force

Intrinsic Coercive Force

Density

Relative Recoil Permeability

Temp Coeff

Max. Working Temp

(BH)max

Br

Hcb

Hcj

D

α Br

Tw

KJ/m3(MGOe)

T

KA/m(KOe)

KA/m(KOe)

g/cm3

μ r

%/ ℃

℃

BNI-3

8-24(1.0-3.0)

0.20-0.40

120-240(1.5-3.0)

480-640(6.0-8.0)

3.9-4.4

1.2

-0.15

100

BNI-4

28-36(3.5-4.5)

0.40-0.46

250-335(3.1-4.2)

575-735(7.2-9.2)

4.2-4.9

1.2

-0.13

110

BNI-5

37-44(4.6-5.5)

0.45-0.51

280-360(3.5-4.5)

640-800(8-10)

4.5-5.0

1.2

-0.13

120

BNI-6

44-52(5.5-6.5)

0.51-0.56

295-375(3.7-4.7)

640-800(8-10)

4.7-5.1

1.13

-0.11

120

BNI-6H

40-52(5.0-6.5)

0.48-0.56

335-400(4.2-5.0)

1035-1355(13-17)

4.8-5.2

1.13

-0.15

130

BNI-7

51-59(6.5-7.5)

0.54-0.64

320-400(4.0-5.0)

640-800(8-10)

5.0-5.5

1.13

-0.11

120

BNI-5SR(PPS)

36-44(4.5-5.5)

0.45-0.50

300-360(3.8-4.5)

875-1115(11-14)

4.9-5.4

1.13

-0.13

150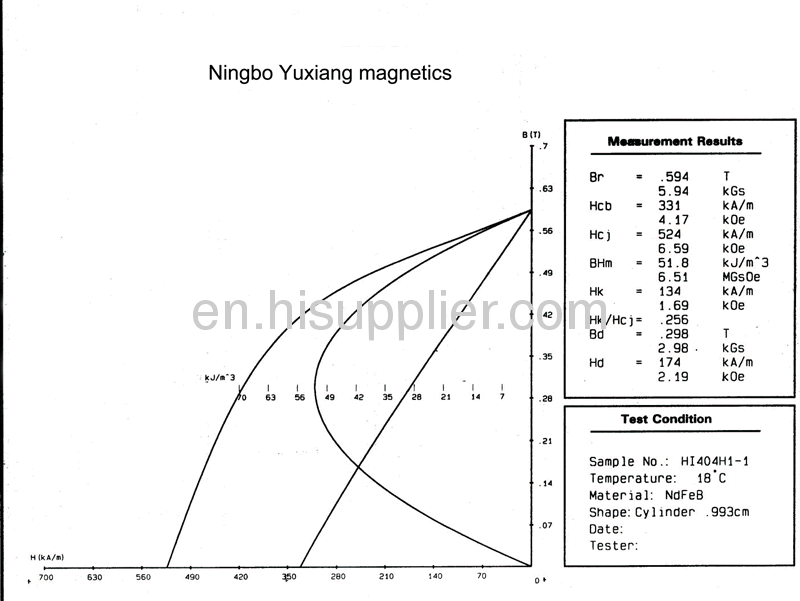 The magnetized curve of
Bonded NdFeB magnet