HONEYWELL CC-TAIX01 Toyota FJ Cruiser ESC EP RC Car Off Road 4WD #58588
Contact:Jessica
Skype:jessica01235483
Email:sales*mvme.cn (please change * to @)
Mobile Phone:86-18030235311(WhatsApp)
Q Q:2851195444
MOORE AUTOMATION LIMITED is a leading global supplier of control system components. We specialize in control systems and drives.
With many years of experience in the industrial sector, we consistently deliver the highest quality of spare parts.
We have tens of thousands of spare parts and spare parts warehouse . Products and services to serve for installing of users control system,
Distributed control systems, programmable controllers, panel controller and drive!
* Our mission is to help you!
* Reduced maintenance costs!
We have a large inventory of control system components. We also made a lot of new hardware and discontinued spare parts to help supporting your existing control systems.
We have experienced staff, extensive testing , all the spare parts which we sold are with warranty period of one year, and they have undergone rigorous testing and certification!
You might find you need spare parts in our data, we welcome you give valuable suggestions to us with our products at any time, .
We have a lot of spare parts in stock currently,they are ready to be shipped.
If you order more than one item, please contact us, we can offer further discounts for you.
If you find other suppliers offer cheaper prices for the same product, we are also willing to provide you with reference to their price and give you further discounts. If you have any other questions, please contact us at any time.
Waiting for your inquiry.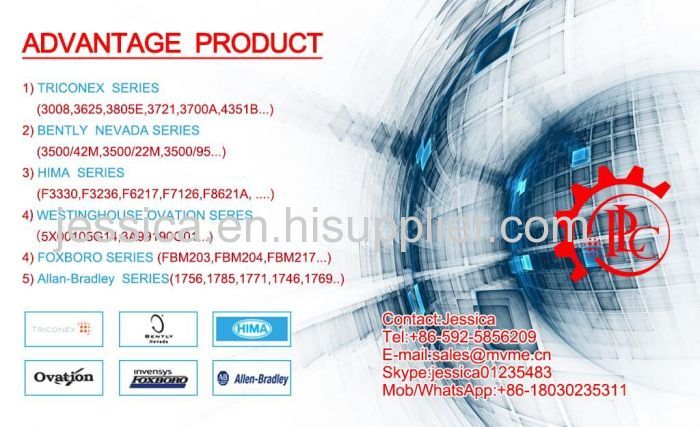 DCS Distributed Control System:
FOXBORO: I / A Series System: FBM (Field Input / Output Module) Sequence Control, Ladder Logic Control, Incident Recall Processing, D / A Conversion, I / O Signal Processing, Data Communication and Processing.
TRICONEX: Redundant Fault-Tolerant Control System, the most modern fault-tolerant controller based on Triple Modular Redundancy (TMR) architecture.
Westinghouse (Westinghouse): system, WDPF system spare parts.
Siemens: MOORE system spare parts.
Honeywell: TDC Series, QCS Series, S9000 Series Spare Parts.
ABB: ADVANT OCS, MOD30, MO300, Bailey INFI90, Master view 850, AC460, S100, S800 system spare parts.
MOTOROLA (MOTOROLA): MVME147 / 162/166/167/172/177/187 Spare Parts.
XYCOM: VME series bus board, programmable human-machine interface.
PLC programmable controller:
Allen-Bradley (Rockwell): 1756/1771/1785 series, Reliance Ryan.
Schneider: Modicon Quantum 140 processor, I / O modules, power modules, and more.
Siemens: S5 / S7 Series 200, 300, 400; 6AV / 6GK Series spare parts.
Servo control system:
FANUC (Fanuc): servo amplifier A06B, drive A06B, input and output modules A02B / A03B, PCB A16B / A20B.
Siemens: 6SN / 6FC / 6FX series, offering sales of CNC systems (810, 802D SL, 810D, 840D) and spare parts.
Yaskawa (Yaskawa): servo controller, servo motor, servo drive.
ABB Robots, FANUC Robots, YASKAWA Robots, KUKA Robots, Mitsubishi Robots, OTC Robots, Panasonic Robots, MOTOMA
XC5010C
XH561 + XH562H
XF524A
XF523A
621-0007R
621-0010R
621-1100
XP502
51304427-100 MU-TDOR22
621-1160R
621-1160R
621-0007R
51304425-100 MU-TDPR02
51304441-125 MU-TDID12
51303997-100
T775E1056
51303982-400
51304685-200+51401598-200
51304483-100
51304518-200
XDL505
XD50-FCL
XD50-FC
51303979-400
51304518-150
51304685-150+51401598-150
51304685-100+51401598-100
XCL5010
51304493-250
51304493-150
51304419-100
51304501-100
51190916-104
51304493-100
51303979-550
51109693-100B
51201397-004
51401469-100
51304419-150
51201420-004
51201420003
RM7895 C 1012
51201420-005
51201420-002
51304487-100
51109806-002
51195479-200
51195153-005
51201397-002
51201421-100
51308111-002
W7704A1004
W7704D1016
51401216-100
XL50A-MMI-EP+XD50B-F
N2024-2POS
XFL523B
XFL524B
XSL514
T7412A1018
T7560A1000
T7560A1000
XSL511
DPT1000
DPT1000
DPS400
XSL513
DPS400
DPT50
XFL524B
XFL523B
621-9938RC
621-0025RC
HC900
XFL521B
TC-CCR011
TC-CCR013
51402573-150
51402573-250
TC-CCN013
TC-OAV081
TC-IAH161
900C52-0021
51305776-100
51308386-175
VLC-853C3
51401546-100 51401406-100
10M1007051
RJ45-RJ45
SDI-1624
51308371-175
51306733-175
51405040-175
51305381-500
51405038-375
VLC-853
51304260-200
51304487-100
900C32-0021
51304069-100
51304190-300
51401529-100C
900P02-0001
51303939-100
51401547-100
51303926-100
51304467-100
38001704-100
51304650-100
51304441-100
51401491-100
38001680-100
51304335-100 MU-TAOX12
51304338-100
51304084-100 /MU/MC-TP
51304493-200
51304672-150
51304672-100 MU-PAOX03
51304453-150 (MC-TAIH02)
51304386-100
900r12-0001
51309152-175 MC-PAOX03
51304754-100 MU-PAIH03
51304485-100
51304672-100
900G02-0001
900C53-0021
51304260-400
51303970-500
51304481-100
51304754-100 MU-PAIH03
51304632-100C
XL50
51304672-150
51304518-100
R24C
51109684-100
51305437-100
51304337-150 / MC-TAIH12
51304084-100 /MU/MC-TPIX12
80363969-100
621-0020RC
51304754-150 MC-PAIH03
51304584-200
51309204-175 /MCTLPA02
51304476-100 /MU-TAOX02
51201602-100
900A01-0002
51304362-350
51304453-100 /MU-TAIH02
51304476-125 /MU-TAOX02
51304831-100
51304516-200
51309152-175 MC-PAOX03
621-9928R
51304362-100 MU-PLAM02
51303979-500
51304516-200
51304584-200
621-3560RC
620-0059
621-9933C
51304493-200
T775
XL50 + XD50-FC
621-6550RC
621-0021RC
900G01-0001
900B01-0001
900C53-0001
900P01-0001
JMSC10
JMHM10
J-UDM00
900H02-0001
J-DIM00
51305406-100
J-PIM00
J-AOM10
620-0054
620-0080
620-0085
620-0056
620-0088
J-HAM10
620-0024
620-0027
620-0036
621-9939-C
| | | | | | | |
| --- | --- | --- | --- | --- | --- | --- |
| Contraves Varidyn Compact ADB380.30M | | | | | | |
| | | | | | | |
| Contraves Varidyn Compact ADB 190V 8.5kVA Controller | | | | | | |
| | | | | | | |
| Contraves Varidyn Compact ADB380.90M | | | | | | |
| | | | | | | |
| Contraves DC Servo Controller NC740 NC700 160V A2399 E A2395 E | | | | | | |
| | | | | | | |
| Contraves Modul compact HRU GB300954-T HRD811017-A | | | | | | |
| | | | | | | |
| Contraves B Card assy NC700 NC740 A2403 E A2399E Rev E | | | | | | |
| | | | | | | |
| Contraves DNU PCB 208 | | | | | | |
| | | | | | | |
| Contraves Compact ETU 208 GB200260-T | | | | | | |
BWO POS 083545
BWO POA 083673
BWO PLC 083544
BWO Kommunikationsmodul ETH 084185
BWO E/A Modul AK 083942
BWO AK 083538
BWO EDC 084493
BWO CEA 083543
BWO AK 083538
BWO Kommunikationsmodul Com 083708
BWO E/A Modul AEK 083950
Bwo E/A Modul EK 083946
BWO EK 083542