NEW IN BOX FACTORY SEALED ALLEN BRADLEY 5069-ECR/A EXPANSION MODULE END CAP 2085 ECR SER. A
Contact:Jessica
Skype:jessica01235483
Email:sales*mvme.cn (please change * to @)
Mobile Phone:86-18030235311(WhatsApp)
Q Q:2851195444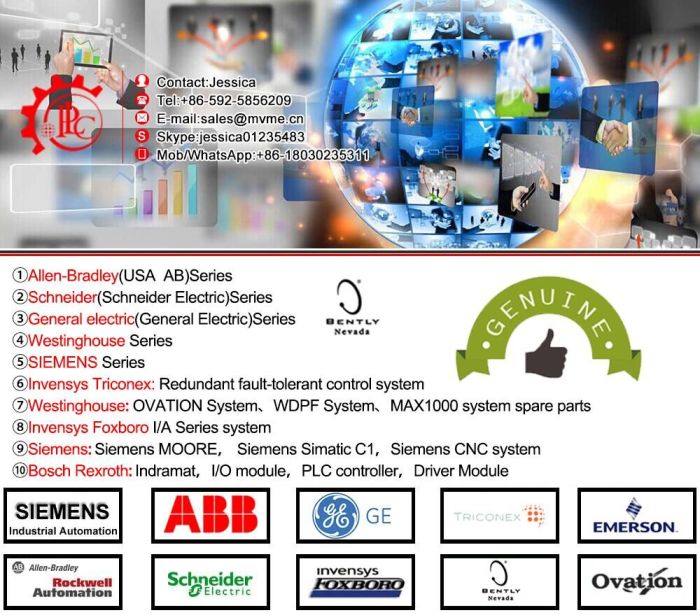 Moore Automation Decade focuses on global automation components search for Industrial Spare Parts (GPS) experts
We currently stock more than 50 million US dollars DCS card PLC module drivers, controllers, ready to be allocated.
All parts sold by Moore Automation have a 12-month warranty. And have gone through strict testing and certification
If you order more than one product, please contact us, we can provide you with a progressive discount.
We only use courier delivery parts. (DHL UPS)
If you find that other suppliers offer cheaper prices for the same product, we are also happy to offer you further discounts based on the price. If there are any other problems or products can not find the product, please feel free to contact us.
We are waiting for your inquiry.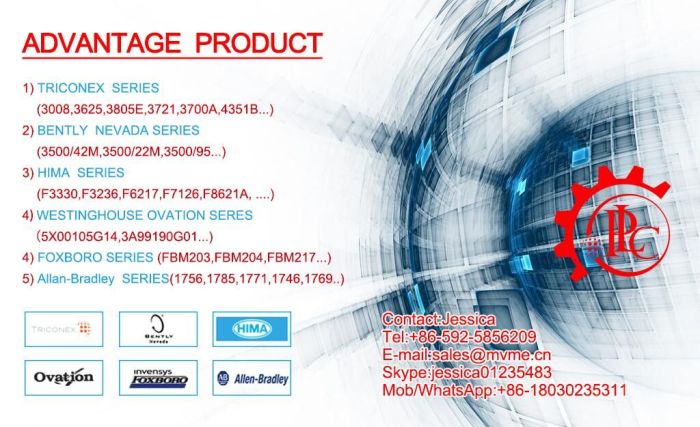 ① Allen-Bradley (USA AB) series of products "
② Schneider (Schneider Electric) products "
③General electric (General Electric) series of products "
④ Westinghouse (Westinghouse) series of products "
⑤ SIEMENS (Siemens Series) "
⑥ Sales ABB Robots. FANUC Robots, YASKAWA Robots, KUKA Robots, Mitsubishi Robots
OTC Robots, Panasonic Robots, MOTOMAN Robots.
⑦westinghouse (Westinghouse): system, WDPF system, MAX1000 system spare parts.
⑧Invensys Foxboro I / A Series system, FBM (field input / output module) sequence control
System, Ladder Logic Control, Accident Recall Processing, D / A Conversion, I / O Signal Processing, Data Communication and Processing
Invensys Triconex: Redundant Fault-Tolerant Control System, the most modern fault-tolerant controller based on Triple Modular Redundancy (TMR) architecture.
⑨ Siemens (Siemens): Siemens MOORE, Siemens Simatic C1, Siemens CNC system
⑩Bosch Rexroth (Rexroth): Indramat, I / O module, PLC controller, drive module
Allen-Bradley PLC system spare parts

2711-K5A8
CAT1300-DMT
2711-K10C1
510255
2711-B5A2
2711-T10C15
6186-M12AL
2711-k5a1l1
2711-K9C1
77129-206-53 77129-207-53 77129-207-56(E)
1756-OB32/A
1756-L55M13/A 1756-L55/A 1756-M13/A
1756-OW16I/A
NX70-BASE03-CH
1606-XL240E
1771-IAD/D
1771-OBN/B
1771-0D16/B
1747-AIC
1747-C11-A
1771-NOV/C
1771IBN C
NX70-XY32-CH
NX70-X32D1-CH
NX70-Y32P-CH
NX70-CPU70P2-CH
1492-1FM40F
1771-ORC
NX7-20ADR-6A-CH
NX70-PWRDC-CH
1771-P5EK/B
1771-WD
1771-WA
1771-IXE
1771-AL
1771-NIS
1771-OY
1771-OYC
1771-OGC
1771-IQ16/B
1771-OQ16/B
1771-NOV B
1771-OM
1771-IM
1771-IL/C
1771-IL/D 1771-1L
1746-IB32
1771-WC
1785-KE C
1771-OW16K/B
1771-IBDK/B
1762-L40BXB
1775-MSA
1746-IB16
1785-BCM
1785-BEM
1747-M12
1745-E103
1794-TB2/A
1794-TB3
1747-L40L
1747-L20L
1747-PT1
1794-ACN15
1794-OB16
1794-IB10X0B6
1771-P2
1756-CNBR
1756-A17
1746-OB32
CCI DCF-R5-0949
FISHER CONTROLS TE1240
CONTROL CHIEF 8002-4002
FUJI ELECTRIC FVRO 75E9S-2 DRIVE 1HP 230V 3PHRASE
FANUC A20B-0010-0130/05A PC BOARD A20B-0010-0130
GATES MECTROL 85-HTD14M-4354 00044777 OPEN ENDED STEEL BELT 55MM X 14FT
GATES MECTROL 85-HTD14M-4354 TIMINGBELT OPEN ENDED STEEL 55MM X 14FT
ISSC MODEL 321-A MODULE
RELIANCE ELECTRIC 801592-44R ASSEMBLY W/0-57170 DRIVER MODULE, 0-57005 BUFFER
INCLUDES 0-57160 REGULATOR MODULE RV.13
TEXAS INSTRUMENTS 500-5056 MODULE DIGITAL OUTPUT 500 SERIES5005056
ISSC MODEL 321 MODULE SLOT RACK SER. 81951
CUTLER HAMMER 40-18800-02 DPB
GE FANUC IC600PM503BHICAP I/O
GE FANUC IC697BEM713H BUS
CAD/CAM INTEGRATIONINC. BTR MOTHER BOARD REV. 1 W/ MICRO-G2REV. A2
ACU-RITE ENC150 38-52-52-5213
HI-SPEED CHECKWEIGHER CO., INC. A-2-65-151 C
CINCINNATI MILACRONINC OC-1 3-542-1060ASRCO PC
BENTLY NEVADA 90201-02E DUAL RTD TEMPERATURE MONITOR 90202-01
90200-23-04-01-02-02-01-03-02
ALLEN BRADLEY 2098-DSD-010 SER. C ULTRA3000 SERVO DRIVE 9101-2339
FANUC A02B-0166-B581POWER
FACTORY SEALED BALLUFF BLS-18M-XX-1LT-S4-C
NIB IFM EFECTOR PNI010-RBR14-QFRKG PRESSURE SENSOR PNI024, 18/30VDC, 250MA
ALLEN BRADLEY 1756-ENBT /A ETHERNET/IP 10/100 Mb/s CAT REV.G01 F/W 2.3
EPSON EG4401B-QR-3 LCD DISPLAY FOR PANELVIEW 550 9509A46
REFURBISHED ALLEN BRADLEY 1771-OFE2/B ANALOG MODULE REV.W01,F/W REV. B 1771OFE2
NIB SCHNEIDER SQUARED 170LNT71000 COMMUNICATION ADAPTER 170AEW34000 I/O BASE
BALDOR RELIANCE CB10003C-04 DBS-001045 CONTROL BOARD CB10003C04 PC10003C-00
NIB GE FANUC IC655MDL577A SER. FIVE 32PTOUTPUT MODULE 115/230VAC
ATHENA 18KFF0000000TEMPERATURE
BALLUFF BTL5-E17-M0305-R-S32 MICROPULSE TRANSDUCER BTL08HY
DAYTRONIC 10BIO16 H/W 1.3 I/O BOARD UNIVERSAL LOGIC B 10BIO-16
SQUARE D SYMAX 8030-HRK-150 I/O
GSE TECH-MOTICE 512ASERVO AMPLIFIER 49-4100-02C4
GLENTEK GA377-5A-2A-2 , GA377-5, 377-1004-1B, 89708160
OKUMA E4809-032-452-C BOARD OPUS 5000
QUARTECH 9900-AC-AB-3 32K OPERATOR INTERFACE PANEL SLC-500/DF1
SETRA C280E PRESSURETRANSMITTER 0-10000PSIG 24VDC 4-20MA LNC
ATLAS COPCO FOCUS 2101-R NUTRUNNER CONROLLER SERIAL : A660675
SIEMENS 6FX1122-2AB02 DRIVE BOARD 03840548-222-9202
HI-SPEED CHECKWEIGHER CO., INC. A-2-65-355 A
FANUC A16B-1210-0220/07B
HITACHI A87L-0001-0084/06C BUBBLE MEMORYBOARD BMU 1M-1
BORRIES ISE ELECTRONICS BC7 PROCESSOR BOARD 73210053 ICS_CPU2 800.0011
GE FANUC A87L-0001-0017 11I MEMORY MODULE BMU 256-1
FANUC A16B-1211-0042/02A
HONEYWELL 621-0021R
SIEMENS SIMATIC 6EC1110-0A PC
SSCI 03-950025-01 ADC
REPAIRED PACIFIC SCIENTIFIC CU834-002 PC800
NIB GE FANUC IC660EBD020D I/O GENIUS MODULE W/ IC660TSD020B
CUTLER HAMMER 63-00385-02 PANELMATE MEMBRANE KEYBOARD 63-00385-01 6
REFURBISHED ALLEN BRADLEY 1771-OFE2/B
SCHNEIDER ELECTRIC TSX MOMENTUM 170AAI52040 I/O
KLOCKNER MOELLER PS306-DC PROGRAMMABLE CONTROLLER PS306DC, KPG11-PS3
BLH ELECTRONICS T3P1 LOAD CELL CAP. 2000LBS.
ROTO-FUSE MODEL NO. 2 CLUTCH 19575
EATON CHAR-LYNN 103-1579-010
CINETIC AUTOMATION AU45RC-20 AXIS CONTROL UNIT 3P 200-230VAC 50/60HZ
MEDAR 900-6434-4M INTEGRATED PROCESSOR BOARD 6430-4
TELEMECANIQUE LC1-DREQ3831G1 CONTACTOR ASSY W/LADN22 LC1-D40
SICK C4000 C40S-0903CA010 LIGHT
NIB VAISALA HMT100 HUMIDITY & TEMPERATURE TRANSMITTER B02A121A2A1CB00
NIB EATON CUTLER HAMMER E51ALP1
BALLUFF BTL5-E10-M0102-Z-S32
NIB ALLEN BRADLEY 160-BA01NPS1
REPAIRED MEDAR 900-6434-5M1 INTEGRATED PROCESSOR BOARD 6430-5
NIB OMRON E3X-MC11 REMOTE CONTROL KIT COMPLETE W/AC
POLYSPEDE FSC-300 ADJUSTABLE
NIB WARNER SUPERIOR ELECTRIC M063-LS09E STEPPING MOTOR 4.6AMPS, 2.25DC, BM101025
SCHNEIDER TSX MOMENTUM 170AAI52040 I/O BASE, ANALOG, 4CH RTD
WESTINGHOUSE 626B187G13 MAIN CONTACTS (3 POLE) SIZE 3 TYPE A
HEIDENHAIN EXE 610C-010-FACH INTERPOLATION DIGITIZER BOX 263-383-01
NEW TELEMECANIQUE LR2D4367
DIAGRAPH 1901-298 MESSAGE
HONEYWELL C7012A-1145 PURPLE
GENERAL ELECTRIC ML4006L3315G001 AMPLIFIER CARD 291A3416-1
NIB JOHNSON CONTROLS AS-UNT141-101
RELIANCE ELECTRIC 0-48680-201 BOARD MB-68229
FOXBORO 873EC-AIYFGZ CONDUCTIVITY ANALYZER REF. NO. 75138F30
VIDEO JET HA6251800010136, 375065-01 REV BA ENCODER 3/8", 1800 PPR
ASHCROFT LPAN4HB07XFMFS
ALLEN BRADLEY 50387-002
BANNER SLSE30-450Q8 17.7IN EZ-SCREEN EMITTER RANGE: 0.1-18m
MERRICK INDUSTRIES ASSEMBLY P/N:19236, SCALE MODEL: 910A
SCHNEIDER LTMR27EBD TESYS T MOTOR MANAGEMENT CONTROLLER 24VDC 940488
GOULD MODICON AS-B357-001 INPUT MODULE 24 VDC, B357
NIB PHOENIX CONTACT 2708740 FL COM SERVER RS485 V/C: 04 24V 100mA 27-08-74-0
FANUC IC697CHS790D RACK 9-SLOT REAR MOUNT 90/70 W/ 44A724845-G01 PC
NIB SKF 61818-2RS1
ALLEN BRADLEY 2706-E23J16B1
KLOCKNER MOELLER EE1-PS3
VACUUM RESEARCH CORP. 902015 GAUGE CONTROLLER S/N: 960829017