Honeywell 10105/2/1 T4 Pro Programmable Thermostat 2H/1C 1
Contact:Jessica
Skype:jessica01235483
Email:sales*mvme.cn (please change * to @)
Mobile Phone:86-18030235311(WhatsApp)
Q Q:2851195444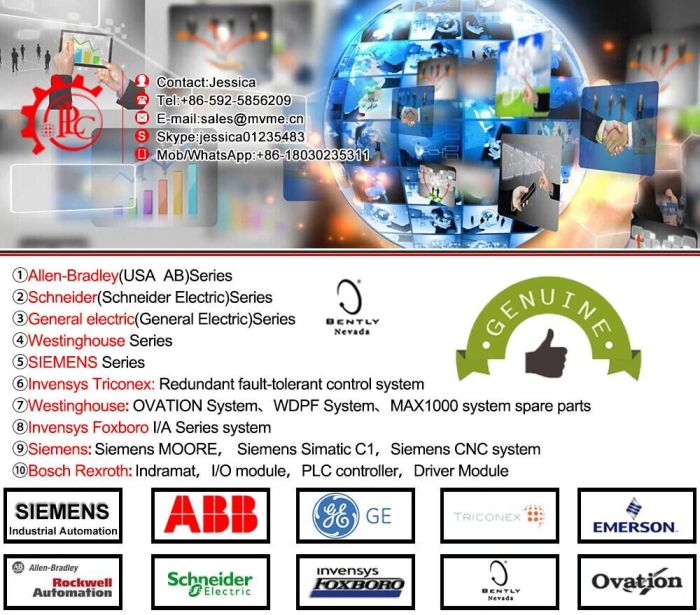 Moore Automation only do one thing to lead your unit automation device escort!
Moore Automation Co., Ltd. is focused on supporting you to install control systems and drives through spare parts service, surplus and drive control system components. We also distribute many new automation hardware to help support existing installations or use the latest technologies. We have a knowledgeable team that carries out extensive testing before shipping all our DCS PLC parts sold for 1 year warranty.
Moore Automation Drives Industry 4.0 No middlemen make any difference and spare no effort in finding spare parts solutions. To ensure that customers throughout the excellent supply of services
DCS Distributed Control System:
FOXBORO: I / A Series System: FBM (Field Input / Output Module) Sequence Control, Ladder Logic Control, Incident Recall Processing, D / A Conversion, I / O Signal Processing, Data Communication and Processing.
TRICONEX: Redundant Fault-Tolerant Control System, the most modern fault-tolerant controller based on Triple Modular Redundancy (TMR) architecture.
Westinghouse (Westinghouse): system, WDPF system spare parts.
Siemens: MOORE system spare parts.
Honeywell: TDC Series, QCS Series, S9000 Series Spare Parts.
ABB: ADVANT OCS, MOD30, MO300, Bailey INFI90, Master view 850, AC460, S100, S800 system spare parts.
MOTOROLA (MOTOROLA): MVME147 / 162/166/167/172/177/187 Spare Parts.
XYCOM: VME series bus board, programmable human-machine interface.
PLC programmable controller:
Allen-Bradley (Rockwell): 1756/1771/1785 series, Reliance Ryan.
Schneider: Modicon Quantum 140 processor, I / O modules, power modules, and more.
Siemens: S5 / S7 Series 200, 300, 400; 6AV / 6GK Series spare parts.
Servo control system:
FANUC (Fanuc): servo amplifier A06B, drive A06B, input and output modules A02B / A03B, PCB A16B / A20B.
Siemens: 6SN / 6FC / 6FX series, offering sales of CNC systems (810, 802D SL, 810D, 840D) and spare parts.
Yaskawa (Yaskawa): servo controller, servo motor, servo drive.
ABB Robots, FANUC Robots, YASKAWA Robots, KUKA Robots, Mitsubishi Robots, OTC Robots, Panasonic Robots, MOTOMA

51304831-100
51304516-200
51309152-175 MC-PAOX03
621-9928R
51304362-100 MU-PLAM02
51303979-500
51304516-200
51304584-200
621-3560RC
620-0059
621-9933C
51304493-200
T775
XL50 + XD50-FC
621-6550RC
621-0021RC
900G01-0001
900B01-0001
900C53-0001
900P01-0001
JMSC10
JMHM10
J-UDM00
900H02-0001
J-DIM00
51305406-100
J-PIM00
J-AOM10
620-0054
620-0080
620-0085
620-0056
620-0088
J-HAM10
620-0024
620-0027
620-0036
621-9939-C
HONEYWELL 620-0048 DATA COMMUNICATION MODULE VR 2.2
SCHNEIDER AUTOMATION TSX MICRO TSX-DMZ-64DTK 32I 24VDC+32Q 0.1A CONN
FANUC A16B-2201-0391/05D PMC-NA
NIB GROUPE SCHNEIDER HYDE PARK SM191
NIB DANAHER DYNAPAR HS35050043331 ENCODER 3/8" BORE 5-26V 7PIN
ALLEN BRADLEY 1771-P7
NIB ALLEN BRADLEY 900-TC8RGTH1U25 SER. A
SIEMENS R15E02A174E6 POWER INTERFACE BOARD R70E01-174
ALLEN BRADLEY 1772-ME8 RAM MEMORY MODULE 8K 966498-01 W/ 960235 REV E1 PC
REPAIRED SIEMENS 505-6851-A
DIAGRAPH CORPORATION 1900-471 HEAD LOGIC BOARD, 004D13001-471, 93-5515
AUTOMATED PACKAGING SYSTEMS 55524A1 I/O BOARD 55525E1
NIB XYCOM AUTOMATION 140174-001A BACKPLANE BOARD, Q012705746, 140173
FACTORY SEALED FOXBORO 871A-2F PH
NIB DURANT EATON 6-Y-1-2-MF-PM-120A
SCHUNK PGN64/2 370150 GRIPPER
NIB PEPPERL+FUCHS 205747 ROTARY ENCODER SERIES: RVI25P-06DARR31N-00200
SCHNEIDER AUTOMATION 170-ADO-540-50 I/O BASE 120VAC 16PT
NIB BODINE 42X7BEPM-F3 GEARMOTOR 1/3HP 130VDC 30:1 83RPM 69400850
GE FANUC IC600BF902K 24V SINK OUTPUT MODULE 44A717528-G02 44A717665-002
ALLEN BRADLEY 636806
NIB SQUARE D 8501XO40XTE1V02 AC
SCHNEIDER MAGELIS XBTGT1335 3.8" COLOR TOUCH PANEL TFT XBT-GT1335
NIB LANCO WMKLC CONTACT KIT SIZE 4, WH 5250C81G02/17
SCHNEIDER MODICON 170-ADO-540-50 I/O BASE 115VAC, 16PT OUTPUT PV: 02 RL:81
NIB SCHNEIDER ELECTRIC 170-ADO-540-50 I/O BASE 115VAC 16PT OUTPUT PV: 02, 114756
AEG AUTOMATION TSX QUANTUM 140DAI55300 AC IN 115V 4X8
MILLER AL-74B2B-02.00-2.000-0063-N11A2-0 CYLINDER W/ (2)
KEYENCE VT2-E1 10BASE-T 100BASE-TX FOR USE WITH VT2
NIB ALLEN BRADLEY 1606-XLP36C POWER SUPPLY SER. A W/ MDS EL805 TRANSNET 900
FANUC A20B-8001-0121/04B PC BOARD PROCESSOR W/ A20B-1006-0220/01A
FANUC A16B-2200-0430/02A RIO MOTHERBOARD W/ AB 9663501 I/O
FANUC A16B-1210-0940/03A PC
INDUSTRIAL DEVICES CONTROL AC-2001E
F/S SIEMENS 6ES7-321-1EH01-0AA0
SQUARE D 8536SEO1S SIZE 3 STARTER 90AMP 3POLE 600VAC
GE FANUC 44A717588-G01 FAB NO. 44A723600-001 R01/1
ANDERSON INSTRUMENTS 56000-A49
HORNER ELECTRIC HE693STP110E
VALMET AUTOMATION BIU-8 CONTROL CARD A413140
NIB NORGREN HERION 0863214 ELECTRONIC PRESSURE SWITCH 33D
UNICO 307-0881 I/O FANNING STRIP BOARD 32 POSITION W/ 12 IAC5 & 8 OAC5
RELIANCE ELECTRIC 0-54341 PC BOARD 1200A M
GOULD MODICON AS-J812-000 REMOTE I/O ADAPTER J812
HONEYWELL 620-0048 DATA
HONEYWELL 620-0038 CONTROL
VYNCKIER ENCLOSURE W/ LANTRONIX UDS-10 DEVICE SERVER UDS-10-01
NIB VICKERS 02-102511
ALLEN BRADLEY 1775-LX EXPANSION MODULE P/N 96529802
RADISYS EXM-13B SUPER VGA BOARD 61-0483-11 10-0447-00 REV. 00
HUGHES LAN SYSTEMS A005447-02 REV. B THINNET CONCENTRATOR 312TN
NIB ALLEN BRADLEY 1784-KT COMMUNICATION MODULE SER A P/N 96058872
KYOCERA KCS6448JSTT-X6-47-16
MTS RHM0130URG01V010010
ANDERSON INSTRUMENTS JP-222JI2002A50 CONTROL PANEL 120/240VAC, 60HZ, 56000-A2 C
HONEYWELL 30755449-001 DISPLAY MODULE 80271, 30755449001
GAM GEAR 730028 GEARHEAD 16:1 RATIO
ALLEN BRADLEY DELTRON 8410-PSB POWER SUPPLY 916303-01, REV. A03, 10607XF
REPAIRED MSA 490892 CONTROL MODULE 5000 SERIES REV 1, 491570
MODICON AS-W801-006
FACTORY SEALED RELIANCE ELECTRIC 1CI2001
WATLOW 987B-22DD-AARR
NIB GROUPE SCHNEIDER HYDE PARK SM141
SCHLUMBERGER SI 635 VERIFICATION MODULE SI635 REV. 04
TOSHIBA ARNI-889E CONTROL BOARD 2J3A2276-E, 2N3A2276-E, ARNI-889
POLYSPEDE E1530-252 INTF BOARD W/ E1531-21 SIGNAL ISOLATOR & E1534-01 P.E.C
BEI 924-01002-3432 ENCODER H25G-SB-2500-ABZC-8830-EM18 5VDC
ALLEN BRADLEY 509-BCD MAGNETIC MOTOR CONTROLLER W/ 509-BOD SER. B
REPAIRED HONEYWELL 621-2100 OUTPUT MODULES 115VAC
FANUC A20B-2902-0070 PC BOARD A20B2902007010E
TARGET SYSTEMS INC REMOTE I/O4000 GAUGE SYSTEM IO4000
SYMAX 8030-CC201 NETWORK CABLE WITH 2 FT.
ALLEN BRADLEY 8000-MBC
NIB BOSTON GEAR 724-5-G SPEED REDUCER 3HP OUTPUT/350RPM
HONEYWELL LEEDS & NORTHRUP 173057
RENOLD 40SSRB ROLLER CHAIN 10FT. 240 LKS. 1/2'' PITCH
GENERAL ELECTRIC 531X126SNDAEG1
MTS TEMPOSONICS G-SERIES GHT0040UD602FE4 SENSOR GRD: 9.1472US/IN, 2776.78M/S
ALLEN BRADLEY 1201-HCS2 SER.A
BOSCH ROTATING NUT W/ BALL SCREW I-2122Z-313-3/4 MOD16415
MTS TEMPOSONICS G-SERIES GHS0030UD602DE4 SENSOR GRD: 9.1212US/IN, 2784.72M/S
NIB TELEMECANIQUE STBNIB2212 INTERBUS NIM STANDARD, 205514, PV: 01, SV: 01.00
SCHNEIDER MODICON 170AAO12000 ANALOG OUTPUT 4 CH. SINGLE 0-20MA
FACTORY SEALED FANUC IC693BEM320E I/O
EUROTHERM 018987
DAYTRONIC 10A40 H/W 2.5 PC
BROWNING SERIES 3000 GEAR REDUCER 3101SB35056 RATIO 5:1, 117849L11
ALLEN BRADLEY 120774 INTERFACE INPUT CARD W/ 120771 BOARD & 120712
NIB WATERS WAT270913 2690
NIB SCHNEIDER MODICON 170ADI54050 I/O BASE 115VAC, 16PT, 114752, PV:02
MARCH TE-MDK-T PUMP W/ BALDOR E46145
NIB BOSTON GEAR 724-5-G SPEED REDUCER 3HP OUTPUT/350RPM
FACTORY SEALED 6ES7-153-2BA02-0XB0
GAST MFG. CORP. 2AM-FCW-13 3/4HP MOTOR 3000RPM
SICK WT30-01 OPTIC PHOTOELECTRIC 10-30V-DC