Product Details
Brand
AUBOR
Model
AR-35-REF-PC
Size
Φ35mm H:20mm
Light Source
CREE-XML
Holder


Material
PC
Endure Temperature
-35deg+135deg
Light Spot
German Standard
Application
Bicycle Light
Efficency
more than 95%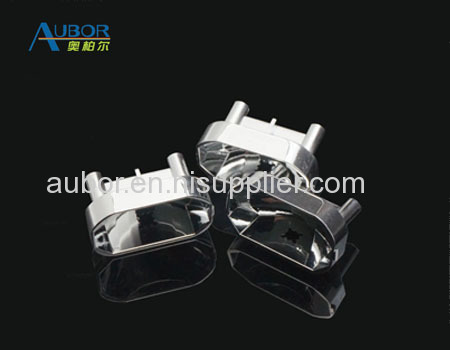 Our company has many years of experience in the design, plastic injection moulding ,nano vacuum coating machining service and lighting reflector production. As long as the clients offer the drawing, sample or the draft and idea of the necessary products to us, we can offer one-stop service foryour projects.
Feature:
1. The use of PC material once off film completion, high optical precision, intangible memory, the use of High-tech vacuum aluminized, with excellent metal luster, light reflectivity of up to 95%.
2. Can match a variety of cob light source, uniform spot, no astigmatism, no black spots, no shadow, can maximize the use of LED lighting.
3. This product adopts high-precision, aspheric optics design.
4. We have excellent quality department, product requirements and strict, all in line with the national and export standards, the use of anti-static products for shockproof packaging. All products are certified by SGS and comply with RoHS environmental protection requirements.
Packaging
1. Dust-proof, shock-proof packing
2. According to your request
Advantages
1 ODM or OEM sevice. All of our products are customized by clients.
2 professional design team: we have professional optical design engineers, who can supply optical or LED lens, reflector, especially we can supply light distribution curve
3. We have our own factory, can supply design mould and injection products by ourselves, good quality control and lower price.
4. We have our own professional optical inspection devices, which can ensure the good quality.
WHY CHOOSE OUR LAMP reflector:
1. Electroplated plastic reflectors
2. Light spot concentrated
3. Vacuum aluminum plating
4. Environment protective with RoHS
5. Energy saving, high light reflecting effect
6. Compatible with various brands of COB and high power LED
7. short lead time
BENEFITS:
- ANTIGLARE
- High efficiency
- High uniformity

TYPICAL APPLICATIONS:
- Hospitality lighting
- Indoor architectural & general lighting
- Indoor ceiling mounted luminaires
- Indoor recessed fixtures
- Indoor spotlights
- Industrial Light - Commercial Light
- Lowbay Light
- Office
- Parking area
- Retail/supermarkets
- Retrofit
- Task lighting
- Track systems