ABB 3HAC024201-001 IRC5 Robot Harness-Axis comp/Drive
Contact:Jessica
Skype:jessica01235483
Email:sales*mvme.cn (please change * to @)
Mobile Phone:86-18030235311(WhatsApp)
Q Q:2851195444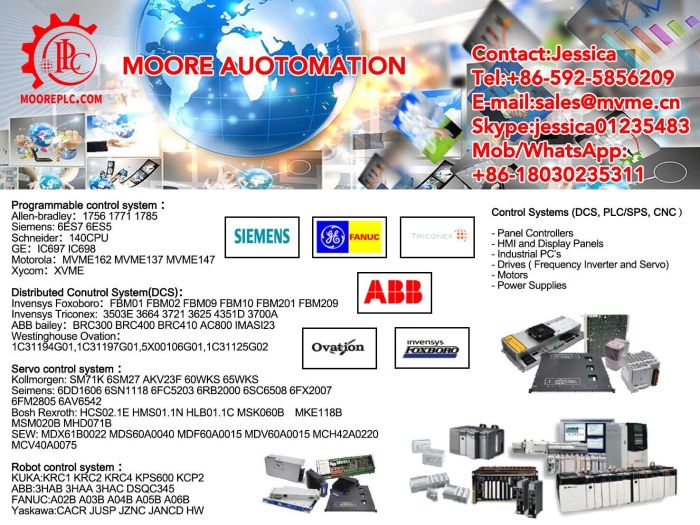 Moore Automation Decade focuses on global automation components search for Industrial Spare Parts (GPS) experts
We currently stock more than 50 million US dollars DCS card PLC module drivers, controllers, ready to be allocated.
All parts sold by Moore Automation have a 12-month warranty. And have gone through strict testing and certification
If you order more than one product, please contact us, we can provide you with a progressive discount.
We only use courier delivery parts. (DHL UPS)
If you find that other suppliers offer cheaper prices for the same product, we are also happy to offer you further discounts based on the price. If there are any other problems or products can not find the product, please feel free to contact us.
We are waiting for your inquiry.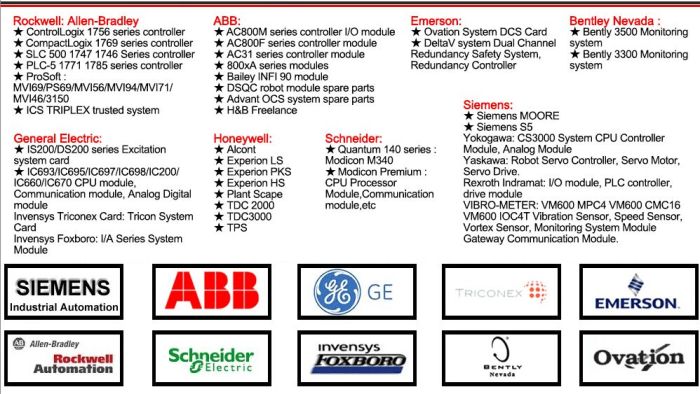 DCS Distributed Control System:
FOXBORO: I / A Series System: FBM (Field Input / Output Module) Sequence Control, Ladder Logic Control, Incident Recall Processing, D / A Conversion, I / O Signal Processing, Data Communication and Processing.
TRICONEX: Redundant Fault-Tolerant Control System, the most modern fault-tolerant controller based on Triple Modular Redundancy (TMR) architecture.
Westinghouse (Westinghouse): system, WDPF system spare parts.
Siemens: MOORE system spare parts.
Honeywell: TDC Series, QCS Series, S9000 Series Spare Parts.
ABB: ADVANT OCS, MOD30, MO300, Bailey INFI90, Master view 850, AC460, S100, S800 system spare parts.
MOTOROLA (MOTOROLA): MVME147 / 162/166/167/172/177/187 Spare Parts.
XYCOM: VME series bus board, programmable human-machine interface.
PLC programmable controller:
Allen-Bradley (Rockwell): 1756/1771/1785 series, Reliance Ryan.
Schneider: Modicon Quantum 140 processor, I / O modules, power modules, and more.
Siemens: S5 / S7 Series 200, 300, 400; 6AV / 6GK Series spare parts.
Servo control system:
FANUC (Fanuc): servo amplifier A06B, drive A06B, input and output modules A02B / A03B, PCB A16B / A20B.
Siemens: 6SN / 6FC / 6FX series, offering sales of CNC systems (810, 802D SL, 810D, 840D) and spare parts.
Yaskawa (Yaskawa): servo controller, servo motor, servo drive.
ABB Robots, FANUC Robots, YASKAWA Robots, KUKA Robots, Mitsubishi Robots, OTC Robots, Panasonic Robots, MOTOMA

IMASI03
AI810 3BSE008516R1
TB820-1 3BSE008556R1
Freelance2000 DAI 05
3BHE022293R0101
216NG62A 216NG62
SD812 3BSC610023R0001
Freelance2000 DDO 02
SD812 3BSC610023R0001
216NG62A 216NG62
D232 3BHE022293R0101
INICT13A
3BSE008514R1/ DO820
SPAM150CAA
INICT03A
INNPM11
IMDSI12
IMFCS01
IMMPI01
IMCIS22
TK518 3BSE003787R1
RB6O1 3BSEOO28O3R1
3BSE012868R1 CI626V1
3BHT300005R1 AI620
3BSE008062R1 PM633
3BHT300019R1 SA610
3BHT300008R1 AO610
TP854 3BSE025349R1
TU846 3BSE022460R1
TU844 3BSE021445R1
PS24-EX SA910S
IEMMU21
IEMMU01
SPAJ140C-AA
PHARPS32200000
IMFEC11
IMMFP12
3BSE030220R1 CI854AK01
3BSE023676R1 AO845
3BSE003785R1 /TK515
3BSC950030R1 /TK513
TB802A/3BSE013219R1
CI520V1 3BSE012869R1
3BSC950130R1 TK803V018
TK807F /3BDM000210R1
CI801 3BSE022366R1
TC516 /3BSE012632R1
A12-30-10
CI820V1 3BSE025255R1
TC530 3BUR000101R1
TC512V1 3BSE018059R1
DO86-16 / 57275758 F /5760852-8G
DI86-M8/8 /5761005-1F /57775840 E
UC86-8CH UC868CH 57275871 J 5760896-0G
AIO86-8/4 57275812 J 5760842-1F
MEM86-3X192K /5761639-3F /58031844 J /58171760
CPU86-NDP
USART86-8CH / 57088648 F /STROMBERG 5761309-2F
UIC-386
PCCLON-1
216DB61 HESG324063R100
216VE61B HESG324258R11
216AB61 HESG324013R100
216EB61 HESG324295R11
SD822 3BSC610038R1
TU811V1 3BSE013231R1
TU810V1 3BSE013230R1
3BSE013231R1 TU811V1
DI821 3BSE008550R1
07KT93 G /GJR5251300R0101
IMBLK01
DP820 3BSE013228R1
3BSE018104R1 & PM856K01
CI810B 3BSE020520R1
CI801 3BSE022366R1
R100.30-ZS
IMHSS03
INNIS21
CI840 3BSE022457R1
RVC12-5A
IMCIS02
DI830 3BSE013210R1
DI810 3BSE008508R1
INNPM01 INFI 90
316DB63 HESG 324322R20
316DB61 HESG 435680P1021
316VC61A HESG324503R6
IMASI02
IMDSO04
INNIS01
IMAS001
TU849/3BSE042560R1
TB815 /3BSE013204R1
ROM810
IMMFP02
TU842 / 3BSE020850R1
C87-11006
TBU810
TU841/3BSE020848R1
1MRK000005-262
1MRK000005-356
1MRK000005-111
TP860 /3BSE032397R1
1MRK000005-393
1MRK000005-49
1MRK000005-258
1MRK000005-392
PM802F /3BDH000002R1
1MR000005-380
6644424A1
PHARPSCH100000
52841637-K
52841637-G
3BSE008538R1
3BDH000022R1
3BSE013252R1
3BSE008520R1
IPSYS01
6229BZ10200B
1SAP120800R0001
3BSE008518R1
3BSE018126R1
PDP800
CPM810
C10-12010
DI890/3BSC690073R1
3BSE008514R1/ DO820
AI830A/3BSE040662R1
CI840A/3BSE041882R1
ATS021
I-8837-80
PHARPS32200000
3BSE008552R1
6203BZ10000A
SCT306
3BSE000566R1 /AX670
3BHT300006R1 /DO610
6230BP10810/6230BP10820/6230BP10830
6226NZ10400B
6253BZ10000A
GJR5251300R0171
YPQ-112A
MB510/3BSE002540R1
07DI92 F1 /WTDI92
DSSR-122
6248BP10811A/6248BP10821A
6234BP10910/6234BP10920
6248BP10811/6248BP10821
6248BP10811A/6248BP10821A
CS31 ICSE08B5
DAI03
DAO01
CS31 ICSK20F1
DDI01
DLM02
DLM01
57520001-EV
57330001-Y /DSBB110A
57520001-DS
DSTC452
57160001-TE
57310001-EZ
57120001-MN
57160001-TA
6233BP10810/ 6233BP10820/ 6233BP10830
DSRF150
IMASM02
6232BP10810/6232BP10820/6232BP10830
NAOM01
DSCS131/57310001-LM
DSSR116/48990001-FK
DSMD113/5736045-N
DSPC171/57310001-CC
DSMC112/57360001-HC
DSCA114 /57510001-AA
DSCA190V /57310001-PK
DSAO120 /57120001-EY
DSCS116/ 57520001-BZ
DSCA180F /57520001-KM
DSPC172H /57310001-MP
DSAV111 / 57350001-CN
DSDI110A /57160001-AAA
DSBC172 / 57310001-KD
DSMB175 /57360001-KG
DSBC173 / 57310001-KH
DSPB120 / 57340001-T
DSPC155 /57310001-CX
DSMB133 / 57360001-CY
6204BZ10100D
DO801 /3BSE020510R1
DSMB151 /57360001-K
6227BZ10200D+IC660ELB905
6214BZ10110C/6214BZ10110F
6216BZ10000A
6215BZ10000A
3BSE008580R1 / PM810V1
CI810A /3BSE013262R1
CI810V1 / 3BSE008584R1
PM150 3BSE003641R1
H-AA8608 / TAI16AIR
DSRF185 / 3BSE004282R1
SB171 / 3BSE004802R0001
SB171 / 3BSE004802R0001
DSDI120A / 57160001-ACA
DSAI130 / 57120001-P
DSAO110 / 57120001-AT
PM152 / 3BSE003643R1
PM151 / 3BSE003642R1
PM153 / 3BSE003644R1
PM154 /3BSE003645R1
DI810 3BSE008508R1
41A030BJ00001
3BSE008510R1 DO810
CI520 / 3BSE001800R1
IMCOM03
INBTM01
IMCPM02
INLIM03
INPCT01
IMDSI02
IMFEC12
IEPAS02
INBIM02
IMDSO14
3BHB003230R0101
9280026.C
SC300E
HENF209568R0001
3BDH000022R1
3BDH000017R1
CP502
3BHT300002R1
3BHT300007R1
3BSC610042R1
3BHT300053R1
DSQC500
3HAC6377-1
RVC10-5A
MSR04X1
MDI64BNS
3BHT100010R1
3HAC12158-1
3HAC3619-1
3BSE013234R1
DSQC500 3HAC3616-1/07
DSQC501 3HAC3617-1
3HAC6550-1
3HAC7055-1
3HAC6157-1/3HAC5518-1
DSQC327 3HAB7230-1
DCSDI814 3BUR001454R1
DSQC346B 3HAB8101-6
DSQC345A 3HAB810-1
DSQC504 3HAC5689-1
EI803F 3BDH000017R1
FI810F 3BDH000030R1
DI810 /3BSE008508R1
6014BZ10000
6205BZ10000C/6205BZ10000E
86AR230-L21 + 04-04XR-A30
DLM01
DAI03
H-AAIRA8608 TAI16
6227BZ10200
3BSE013230R1
DAI04
DAI03
6231BP10830C-B/ 6231BP10820/6231bp10810
SAMIK-THK 8E217108 LM GUIDE LINEAR 2RAIL
KOHZU MOTORED PRECISION TILTING STAGE SH07-01 TITLING RANGE13o VEXTA PK543-NA
THK KR26 LM GUIDE ACTUATOR 260mm
CENTRAL PRECISION LINEAR STAGE LS-949-S1SIZE 90 X 90 RANGE
THK LINEAR ACTUATORKR20 & VEXTA 5P STEPPING DRIVER PK545NAW-A4
SAMIK-THK 6E227004 HSR20 LINEAR BEARINGS& RAILS 400mm
NSK BALL SCREW W1603-291P-C1Z,STROKE:250mm,PITCH:3mm
PRECISION LINEAR ACTUATOR LEAD 1.0MM TRAVEL RANGE 75.0MM
SAMIK-THK 6A027002 HSR25 LM GUIDE LINEARBEARINGS & RAIL 2BLOCKS
THK KR20 LINEAR ACTUATOR FREE SHIP
KURODA BALL SCREW C1S16-4,STROKE:250mm,
THK 180MM ACTUATOR KR
KURODA BALL SCREW C1S16-4,STROKE:280mm,
KURODA BALL SCREW C1S16-4,STROKE:300mm,PITCH:4mm
KURODA BALL SCREW C1S16-4,STROKE:250mm,PITCH:4mm,
NSK BALLSCREW W1506FA-3P-C5Z, TOTAL LENGTH 690MM TREVEL RANGE 560MM
THK KR15 LEAD 1.0MMTREVEL RANGE 30MM TOLTAL LENGTH 128MM
CENTRAL MINI XZ PRECISION STAGE ASSEMBLED WITH LS-347-C1 ANDLS-647-C1
SAMICK THK HSR15 TOTAL LENGTH 460MM TREVEL RANGE 350MM
THK HSR20 LINEAR BEARINGS & RAILS 340mm
THK SR15 TOTAL LENGTH 700MM TREVEL RANGE590MM,
CENTRAL PRECISION LINEAR STAGE LS-647-S1
THK 6150T LINEAR ACTUATOR RAILS STROKE 150mm
NTN BALL SCREW MBSS1540F A06000C5A,
HIWIN 5D010062 HG15LINEAR BEARINGS & RAILS 320mm
NSK LINEAR BEARING PE15 510mm
THK BALLSCREW , TOTAL LENGTH 480MM TREVEL RANGE 340MM LEAD 5MM
THK RSR12WM A1G1 LINEAR BEARINGS & RAILS230mm
MINI LINEAR ACTUATORMOVING RANGE 30MMNSK 08HX-0030 W0601MA-3PY-C3Z
THK BEARING BLOCK HSR20 LOT OF 2 NNB FREE SHIP
IKO LRXD15 LINEAR BEARINGS & RAILS 220mm
SAMICK-THK 5D010062SR15
KURODA BALL SCREW 25-16 C5S
THK SX BALL SCREW MZ-706
THK SX BALL SCREW MZ-707