ABB 3HAC17281-1/02B ABBFLD25P-64H DSQC503A Robot Controller Flash Disk 64M
Contact:Jessica
Skype:jessica01235483
Email:sales*mvme.cn (please change * to @)
Mobile Phone:86-18030235311(WhatsApp)
Q Q:2851195444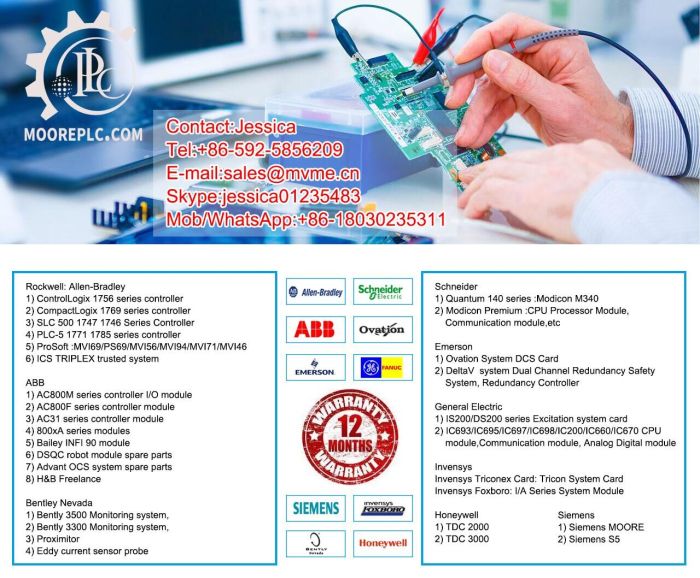 Moore Automation only do one thing to lead your unit automation device escort!
Moore Automation Co., Ltd. is focused on supporting you to install control systems and drives through spare parts service, surplus and drive control system components. We also distribute many new automation hardware to help support existing installations or use the latest technologies. We have a knowledgeable team that carries out extensive testing before shipping all our DCS PLC parts sold for 1 year warranty.
Moore Automation Drives Industry 4.0 No middlemen make any difference and spare no effort in finding spare parts solutions. To ensure that customers throughout the excellent supply of services
Moore Automation adheres to the business philosophy of "providing better equipment parts, faster service and more professional industry knowledge" to help your business resume its normal operation
We have supplied 969,704 automation parts to 57,1000 customers in 138 countries
With over 10 years' experience in the sales of spare parts for industrial control equipment, Mold Automation is the global leader in spare parts supply for automation and is dedicated to providing a wide range of accessories to customers worldwide. No matter what kind of electrical automation components you need, our experienced professional team will use Years of industry knowledge provide you with efficient spare parts solutions.
Moore automation team only does one thing to escort your automation units and industrial installations!
· ABB Advant OCS and Advant-800xA : DO810 ,SD831 ,AI810 TU830V1
· ABB Bailey INFI 90 : IMDSO14 , IMFEC12 , IMDSI22 , IMHSS03
· ABB Drives
· ABB H&B Freelance 2000 : AV31 AV 31 , LL02 LL 02 , RL01 RL 01
· ABB Master : DSTX120 57160001-MA , DSTD108P , DSTK183 2639603-BX
· ABB Operator Panel : PP835A , PP846A 3BSE042238R2
· ABB Procontic : CS31 , 07KT98 , 07SK90R1 ,07ZE63R302,
· ABB Robots : DSQC679, DSQC643,DSQC633,DSQC609

ACN6340025300000300900
MKDSP 10
00146296F
RINT-5211C
1SFA884213-AWL
1SFA884212-AVL
PSS175/300-500L
1SFA884209-ASL
ES100-9594
5761894-9C
ACS100-PAN
SNAU4434
NDPI-04 57619741 A
CDP312R
NVAR-31
PSS44/76-500L
PSS30/52-500L
ACS143-1K1-3-C
ACS143-2K1-3-C
PSS12-400B
5366268-B
ACS504-17-3
ACS143-4K1-3-C
SMIO-01C
SAFT-113-POW
RINT-5311C + RASI-01C
CDP312
57619414 A
SNAT-2603-BDB+SNAT-7261-SCP
RVAR-5211
ACS60100053
PSS175/300-500L
NBRC-51
ACS510-01-03A3-4
ACS55-01N-02A2-2
NBRA-656 +NBRC-51
NVAR-65 ACS600
NAMC-11C
NIOC-01C
NGDR-03C
PP30012HS
NINP-61 /NINP-61C
NPOW-42 /NPOW-42C
NINT-46C
NPOW-41
NBUB-41C
NINT-42C
NRFC-44REV
NRFC-46
NINT-45
NINT-41
RTAC-01
PP07512HS
NIOC-02C
NRFC-45REV
0764684.G
APOW-01C
AIBP-51
ACS600 /IGBT NINT-45C
SADT304100R0003 SG3601
ACS143-2K7-3-C
NAMC-11
BSM25GD120DN2
SA3050A 3ADT307300R2
SADT307500R0001 SP3001
BX5402
3BSC980002R634
ACS143-4K1-3
ACS101-K75-1-C
NGDR-02
ACS401000532
RELIANCE ELECTRIC VZ3000 IGBT POWER UNIT,UVZ341A,UGZ341A,
RELIANCE ELECTRIC VZ3000
RELIANCE AC SERVO MOTOR SB-JP,22KW AMP:120A,RPM:1500
SIEMENS 3~MOTOR 1FT6163-8WA76-8FG0-Z
FANUC A16B-3200-0610/10E,A20B-2101-0230/03C,A20B-2101-0221 SYSTEM R-J3iC M-16iB
NEW FANUC AC SPINDLE MOTOR A06B-1453-B100
RELIANCE ELECTRIC VZ3000 IGBT POWER UNIT,UVZ341A,
YASKAWA BL POWER AMPLIFIER NIKON 4S065-982- XU-DL1980 HE0302439
RELIANCE BUS UNIT,INDUCTION AC SERVO;VZ3000 SERIES UVZ341A,UBZ341A
RELIANCE BUS UNIT,INDUCTION AC SERVO;VZ3000 SERIES UVZ341A,UBZ341A,F2-48539
LOADPOINT BEARINGS BL15/400 BRUSHLESS DC DO4565
MITSUBISHI AC SERVO MOTOR HF-SP352BG1 &SUMITOMO CYCLO DRIVE CHVM-6135-6
YASKAWA VARISPEED 866 CIMR-SVJ-06AA
REMY ELECTRIC MOTORS HVH250
YASKAWA AC SERVO DRIVER AND MOTOR SGDB-1AADG SGMG-1AA2AB
FANUC SERVO AMPRIFIER A06B-6100-H004 B,A16B-2100-0200/05D,A20B-2003-0134/02B
FANUC SERVO AMPRIFIER A06B-6100-H004 A,A16B-2100-0200/05D,A20B-2003-0134/01A
FANUC SYSTEM R-J3IBMATE,CONTROL BOX,A0B-2440-C060,E03502785,A06B-0114-H302,
FANUC AC SPINDLE SERVO UNIT A06B-6044-H016,A20B-0009-053,A20B-0008-0030/04C
LOADPOINT BEARINGS BL15/400 DRIVER,SPINDLE SAW,MOTOR BRUSHLESS DC DO4393/1
RELIANCE ELECTRIC VECTRIVE AC SERVO VCIB-44
FANUC SERVO AMPLIFIER MODULE A06B-6114-H303D
YASKAWA CONVERTER NPSN-0303L OUTPUT DC240-340V 7.5KW 25A
RELIANCE ELECTRIC VECTRIVE AC SERVO ACDA-44 TESTED
YASKAWA SERVOPACK CACR-CSL20DL16AAA,JUSP-RCP01AAD,JASP-WRCA01B,JUSP-WSCB60AA
FANUC SPINDLE DRIVEUNIT TYPE A06B-6044-H018 A20B-0009-053
YASKAWA LINEAR SERVOMOTOR SGLFM,XU-ACT97L,
FANUC AC SPINDLE MOTOR A06B-0854-B100
FANUC SPINDLE SERVO UNIT A06B-6059-H206H561,A20B-1003-0020,A20B-1009-0010,A20B
YASKAWA AC SPINDLE MOTOR UAASKB-08CZ3
FANUC SPINDLE SERVOUNIT A06B-6059-H206H511,A20B-1003-0020,A20B-1003-0010,A20B
RELIANCE ELECTRIC VCIB-44A
YASKAWA AC SERVO DRIVER AND MOTOR SGDH-60AE SGMGH-55ACA61
PACIFIC SCIENTIFIC BRUSHLESS SERVO MOTOR R88GENA-R2-NS-NV-00,DRIVER SC125-410-T4
FANUC SPINDLE SERVO UNIT A06B-6059-H206,A20B-1003-0020,A20B-1009-0010,A20B-0008
FANUC aiSP 5.5 ,SPINDLE AMPLIFIER A06B-6112-H006H550
REXROTH INDRADRIVE HC S03,HCS03 1E-W0100-A-05-NNBV,R911308419
YASKAWA CACR-UP130AAB,PCB JASP-WRCA01B,O/N R10215-992-1,
YASKAWA SERVOPACK DRIVER SGDS-75A12A 7.5KW MOTOR SGMGH-75ACA2B 7500W
PRI ROBOT SERVO MOTOR, SICK SRM50-FFA0-S02
NEW HD HARMONIC DRIVE HA-600-2L-SP & FHA-32B-3016-KE150-SP
PANASONIC MKDC03D1TAC
PRI ROBOT SERVO MOTOR, SICK SRM50-FFA0-S02
NSK MEGATORQUE MOTOR,ESA Y5120A23,YS5120FN001
FANUC aiSV 20/20/20 A06B-6114-H303 E,
NSK DD SERVO DRIVE,MOTOR ESA-Y5120AF4-21.1,YS5120FN001
PRI ROBOT SERVO MOTOR, SICK SRM50-FFA0-S02
FANUC SERVO AMPLIFIER MODULE A06B-6114-H211D
YASKAWA SGDR-HP50S,SGDR-SDA710A01BY32,SGDR-SDA950A01B-E,SGDR-SDA710A01BY25
MITSUBISHI ELECTRICMR-MC10
YASKAWA CACR-UP130AAB,PCB JASP-WRCA01,O/N RA7694-163A-18
MITSUBISHI MDS-B-V1-150
NEW SANYO DENKI P60B13050HXS00M AC 050-MF2-91-040-000
FANUC SPINDLE SERVOUNIT A06B-6059-H206H561,A20B-1003-0020,A20B-1009-0010/18B
FANUC SPINDLE SERVOUNIT A06B-6059-H206H561,A20B-1003-0020,A20B-1009-0010/16B
1PCS NSK MOTOR YS5120FN001
RELIANCE ELECTRIC VZ3000G SERVO UVZC3407G
RELIANCE ELECTRIC VCIB-22 VECTRIVE AC-SERVO
CKD ABSODEX DRIVER GS TYPE AX9000GS & MOTOR AX4075GS-P3 & 3M
CONTROL TECHNIQUES UNIDRIVE SP3403 I/P380-480V
PANASONIC 1KW AC SERVO DRIVER, MOTOR MSD103A2V,MSM102A1D 3-AXIS
NSK ASTRO E250 ULIT NE72 NSK MOTOR EM-250 NR-610
ALLEN-BRADLEY AC SERVO MOTOR MPL-B680F-MJ72AA
FANUC A16B-1000-0210/05A
NSK MEGATORQUE DIRECT DRIVE DD SERVO DRIVE,MOTOR,ESA-0608AF6-21.1,RZ0608FN901
MITSUBISHI AC SPINDLE MOTOR SJ-VL11-02FZT
LENZE STROMRICHTER DRIVE EVD4905-E-V011
YASKAWA 3KWDRIVER MOTOR SGDH-30AE,SGMGH-30ACA21,UTISH-B17CK
MITSUBISHI SERVO 1KW750W,3-AXIS KIT,DRIVER MOTOR,MR-J2S-70A,
FANUC AC SERVO MOTORa22/4000is A06B-0265-B100,PULSECODER A860-2000-T301
YASKAWA SERVO DRIVESGMRS-20A2A-YR22 2000W ENCODER UTSAE-B17CLE
FANUC AC SPINDLE SERVO UNIT A06B-6064-H301H550,A16B-2100-0070/05A
A20B-1005-0190/01A,A16B-2201-0440,A16B-1300-0220/03A
CHIBA PRECICION BLG1/29.6, TORMAX TC-214005G MOTOR NIKON 4425i
PARKER COMPAX3 HANNIFIN DRIVE C3S075V4 F10 I20 T40 M00,MOTORMH10545085192165
YOKOGAWA DD ACTUATORS - MOTOR DM1050A00& DRIVER SD1050A02
MITSUBISHI SERVO 1KW750W,3-AXIS KIT,DRIVER MOTOR,MR-J2S-100A,
INDRAMAT PERMANENT MAGNET MOTOR MAC112B-0-PD-4-C/130-B-1/AM164SG
FANUC AC SERVO MOTORA06B-0212-B100,PULSECODER A860-2000-T301
YASKAWA 750W,DRIVER,MOTOR SGDM-08ADA,SGMAH-08AAA21,08AAA2C 3-AXIS
ETEL DSA2 DIGITAL DSA2P1540A
SANYO DENKI ABS SUPER SERVO AMPLIFIER 65AA030TXR02
MITSUBISHI MDS-B-V1-90
DIRECT DRIVE MOTOR 62890-001 64196-007
FANUC SPINDLE SERVOUNIT A06B-6059-H002H502,A16B-1100-0240/05A,A16B-1100-0200/2
FANUC SERVO AMPLIFIER A06B-6114-H105,aiSV 80
FANUC SERVO AMPLIFIER A06B-6114-H104
FANUC SPINDLE AMPLIFIER MODULE A06B-6111-H002H550
FANUC A06B-6105-H002 2.2KW
FANUC SERVO AMPLIFIER A06B-6114-H104,
YOKOGAWA DYNASERV DDSERVO ACTUATOR SD1150A02
FANUC AC SERVO MOTORA06B-0127-B077
YASKAWA JUSP-RCP01AAD,JUSP-ACPCB10JAA,JUSP-ACPCA05JAA
SANYO DENKI SERVO MOTOR 64BM180UXS5B,09511280D F681000DD41
SINFONIA TECHNOLOGYDRIVE SDD-N-20A4K00-1-18
REXROTH INDRAMAT T MHD112B-024-PG0-BN