1PC NEW Honeywell Solenoid valve 51306154-100CH By DHL EMS
Contact:Jessica
Skype:jessica01235483
Email:sales*mvme.cn (please change * to @)
Mobile Phone:86-18030235311(WhatsApp)
Q Q:2851195444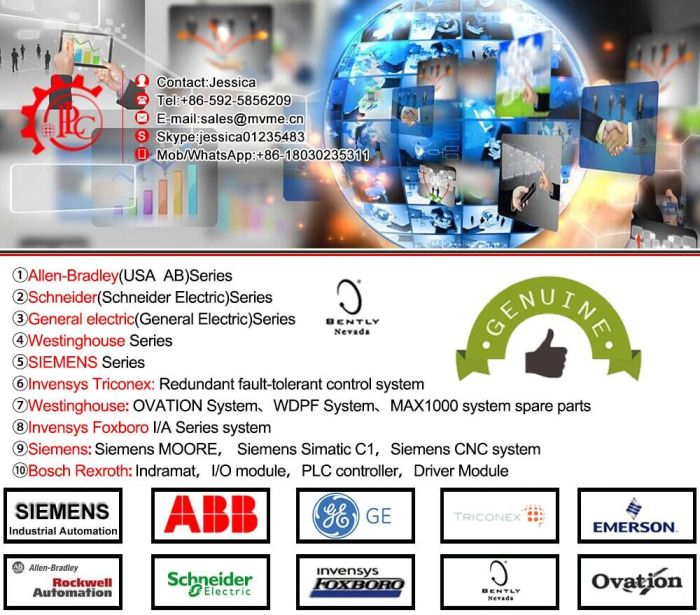 Moore Automation provides control system components that serve the user-installed control system. Distributed Control Systems, Programmable Controllers, Panel Controllers and Drives, we offer fast and easy spare parts supply in more than 65 different countries around the world.
Our service standards, reduce customer downtime and maintenance costs, reduce the operation of all industrial machinery and production equipment failure, extended control system life!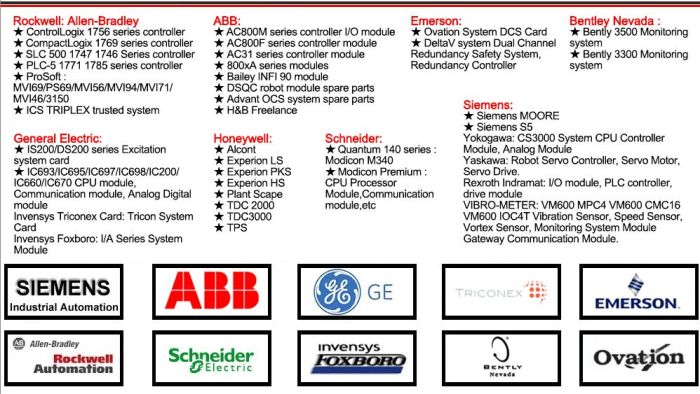 Moore common AFQ
How do I place an order?
We accept orders by phone, email and fax.
How do I get a quote?
Call me or send an email to me We will quote as soon as possible!
Can you sell worldwide shipping?
Yes, we do a lot of business internationally and can ship anywhere
When will my order ship?
We will include delivery time estimates when sending quotations, but most orders will ship within 12 hours.
How to get tracking number?
The tracking number is sent automatically when we ship it.
Are new and re-installations available?
Yes, in most cases, we can quote your new parts and manufacturers to remanufacture parts.
Warranty Policy?
Warranty period of one year from the date of shipment warranty!

KJ2201X1-PW1
KJ4110X1-BA1 12P1867X012
KJ4110X1-BC1 12P1869X012
KJ4101X1-BC1
KJ1501X1-BC2
KJ3102X1-BA1
KJ3007X1-EA1
KJ3101X1-BB1
KJ2003X1-BB1
KJ1501X1-BC1
KJ3003X1-BA1
KJ3101X1-BB1
KJ2003X1-BA2
KJ4110X1-EB1
KJ3102X1-BB1
KJ3202X1-BA1
KJ4001X1-BB1
KJ4010X1-BF1
KJ3002X1-BA1
KJ4101X1-BA1
KJ2002X1-CA1 M5
KJ3001X1-BH1
KJ4001X1-CB1 12P0625X052
KJ4001X1-CC1 12P0733X042
KJ3001X1-BB1
KJ3221X1-BA1
IDA-JMB
PMCB11M1
KJ4002X1-BF2
KJ1501X1-BB1
KJ4010X1-BG1
BM11M1
KJ4001X1-BE1
KJ4001X1-NA1
KJ4001X1-NB1
KJ4001X1-CA1 12P0623X062
KJ4001X1-CG1 12p1812x042
KJ3203X1-BA1
KJ3222X1-BA1
KJ3002X1-BG2
LIMITORQUE SMB SIZE 4T 14.4HP 1900RPM L0218AR4 250V-DC VALVE ACTUATOR D555245
LIMITORQUE L120-190 4HP 575V-AC VALVE ACTUATOR D568990
LIMITORQUE SMB SIZE 2 8HP 3510RPM X0215 550V-AC VALVE ACTUATOR D555244
DODGE 132429 6 SLV RTL LINER ASSEMBLY BEARING D515854
DODGE 132594 SLEEVOIL 10XC LINER BEARING 10IN D497462
FLOWSERVE L120-190 LIMITORQUE DS204 250V-DC VALVE ACTUATOR D555272
LIMITORQUE SMA SIZE 3 4HP 250V-DC VALVE ACTUATOR D567728
ROSEMOUNT 3D39441G09 WORLD CLASS 3000 9FT ANALYZER HEATER PROBE D577132
LIMITORQUE SMA 550V-AC SIZE 1 VALVE ACTUATOR D568830
BECK 11-158-107432-01-01 ELECTRONIC CONTROL DRIVE ACTUATOR 120V 1PH D584153
METSO P4610370 KAJAANI MCA MICROWAVE CONSISTENCY TRANSMITTER DISPLAY D594724
EL-O-MATIC PS4000.U0A14A.00K0 PNEUMATIC VALVE ACTUATOR D597213
AUMA SA 10.1-FA10 GZ 25.1 GS250 ELECTRIC VALVE ACTUATOR D560956
AUMA SA07.5 GS200.3/GZ200.3 AD63-2/80 864:1 ELECTRIC ACTUATOR D562557
SIEMENS 6DR52100EN000AA0 VALVE POSITIONER D553034
FLOWSERVE L120-40 LIMITORQUE 1HP VALVE ACTUATOR D555066
DODGE 132954 SLEEVOIL BEARING LINER ASSEMBLY 4-15/16IN D521952
ROTORK SM-5120-N-1-48/300-90 VALVE DAMPER ROTARY ACTUATOR D538452
SIEMENS 6DR5215-0EN00-0AA0 SIPART PS2 ELECTRO-PNEUMATIC POSITIONER D554224
LIMITORQUE L120-40 1.8HP 1900RPM MSG0056Y 250V-DC VALVE ACTUATOR D555275
SIEMENS P1051AD 5-7/8IN ID PUMP STEEL BUSHING D511529
SIEMENS 6DR5215-0EN00-0AA0 SIPART PS2 ELECTRO-PNEUMATIC POSITIONER D554223
ROOTS DRESSER RK10AVBOO 10IN ROTARY LOBE BLOWER REPAIR KIT D583917
FLOWSERVE CSCPX1750EAXVS STAINLESS PUMP SEAL CARTRIDGE 1.75IN D561308
ROTORK 40AFA25A 575V-AC 3PH 5.9HP 500LB-FT ELECTRIC VALVE ACTUATOR D565521
EIM MDF3-4 M2CP 2000 ROTORY VALVE ACTUATOR CONTROLLER ASSEMBLY D566173
ROSEMOUNT 4847B61G04 OXYMITTER 4000 ANSI 6FT CELL REPLACEMENT KIT D592368
VALVCON LVWX2500KS2N115AC JAMESBURY VALVE ACTUATOR 115V-AC D554431
JOHN CRANE 1-82982 T1648LP TYPE 1648LP 3-1/4IN STAINLESS PUMP SEAL D528859
MOYNO SS A2D5020 15-1/4IN STAINLESS PUMP ROTOR D595422
EL-O-MATIC EL-2500 ELECTRIC ROTARY VALVE ACTUATOR D594705
SIEMENS 6DR5110-0NN01-0AA3 SIPART PS2 SMART VALVE POSITIONER D583320
SIEMENS 6DR5110-0NN01-0AA3 SIPART PS2 SMART VALVE POSITIONER D583495
CONTROLS ROTORK SM-1730-D-1-12/1200-90 ROTARY ACTUATOR 120V D569894
EL-O-MATIC PD4000.U0A00A.00K0 PNEUMATIC VALVE ACTUATOR 116PSI D594763
CONTROLS ROTORK SM-1730-D-1-12/1200-90 ROTARY ACTUATOR 120V D569896
SIEMENS 6DR5210-0EN01-0AA3 SIPART PS2 SMART VALVE POSITIONER D583322
ROTORK A14 0.6HP 575V-AC 120LB-FT 3PH VALVE ACTUATOR D565866
EL-O-MATIC PS2500.U0A14A.00K0 PNEUMATIC VALVE ACTUATOR 116PSI D594769
GOULDS RC04051A 1012 13IN TAPER BORE IRON STUFFING BOX COVER D579941
METSO NP704/B1S1A NELES PNEUMATIC VALVE POSITIONER D553381
EIM Q7N2-6 M2CP 2000 ROTORY VALVE ACTUATOR CONTROLLER ASSEMBLY D566468
PUMP IMPELLER 25IN OD 3IN THREADED ID 4 VANE D566179
ABB V18345-2020420001 TZIDC ELECTRO PNEUMATIC VALVE POSITIONER D597872
SIEMENS 6DR5210-0EN01-0AA3 SIPART PS2 SMART VALVE POSITIONER D583326
WEIR 38777 31IN OD 14-1/8IN EYE SLURRY PUMP IMPELLER 4-VANE D563691
FLOWSERVE 120CHTA59AX5 R-655-3 STEEL BALANCE SLEEVE D568833
DODGE 132225 SLEEVOIL SIZE 8 RT THRUST PLATE KIT D559923
WEIR DAM005XLM BEARING CARTRIDGE ASSEMBLY SLURRY CENTRIFUGAL PUMP D598798
HONEYWELL 0102660-1-0000-00001000-00 120V-AC ACTUATOR D514336
WEIR 59111 31IN OD 12IN EYE SLURRY PUMP IMPELLER 4-VANE D580528
FLOWSERVE GEB422246DB-C JS STAINLESS SPLIT PUMP SEAL D569456
EIM 9H5753FC-C 1/4HP 575V-AC 3PH ELECTRIC VALVE ACTUATOR D579678
SIEMENS 6DR5210-0EN00-0AA3 SIPART PS2 HART VALVE POSITIONER D566823
FLOWSERVE RG316SR7SN0GE00 AUTOMAX PNEUMATIC VALVE ACTUATOR D580127
SUDMO D630 2141403 SANITARY DOUBLE SEAT STAINLESS VALVE ACTUATOR D568754
MASONEILAN DRESSER SVI2-21123121 DIGITAL VALVE POSITIONER D583853
ATLAS COPCO 2906-0298-00 AIR COMPRESSOR SERVICE KIT D552484
NELES JAMESBURY QPX4C/K40 QUADRA-POWR X VALVE ACTUATOR D553767
DEZURIK 425939T CONSISTENCY TRANSMITTER PIPELINE MODULE D585020
GOULDS RC04113A011216 CD4MCU 10IN TAPER BORE STUFFING BOX COVER D567031
STURM 00412069490M0 6 VANE 23 IN OD 4-1/4 IN ID BRASS PUMP IMPELLER D524514
FLOWSERVE MY49112A130-D4 5-VANE 13IN OD STAINLESS PUMP IMPELLER D522044
AUMA SA07.5 VD63-2/45 ELECTRIC VALVE ACTUATOR 575V-AC D565896
FLOWSERVE 67128 3-5/8IN X 98IN STEEL PUMP SHAFT D594784
DRESSER L3382-2 13-1/2IN STEEL PUMP IMPELLER D598830
FALK 0706057 14F COUPLING GRID D558317
SCHUNK 358200 SRU 50.2 PNEUMATIC ROTARY ACTUATOR D596009
CHESTERTON 255-38 SHAFT SIZE 4.750 DUAL CARTRIDGE SEAL D584687
METSO NE724/S1A-CE01 NELES ELECTRO-PNEUMATIC VALVE POSITIONER D554568
FLOWSERVE RG314SR3SN0GE00 AUTOMAX PNEUMATIC VALVE ACTUATOR D579957
VANE STAINLESS PUMP IMPELLER C256 80AC 3194 19IN OD 2-5/16IN ID D581636
MOYNO S72111 3401862007 CAVITY PUMP ROTOR D591484
NELES JAMESBURY QPX3C/K35 QUADRA-POWR X VALVE ACTUATOR D555682
EIM 9H4603FC-E ROTARY VALVE ACTUATOR CONTROLLER ASSEMBLY D577857
FISHER DVC6010F FIELDVUE VALVE POSITIONER D574629
FISHER DVC6020F FIELDVUE VALVE POSITIONER D574628
MARPOSS 3602220005 HYDRAULIC SLIDE CYLINDER VALVE D586478
THERMO SCIENTIFIC 112980-01 HG LAMP KIT FOR MERCURY ANALYZER D588443
HARMONIC DRIVE CSS-25-50-2A-GR-SP GEAR REDUCER COMPONENT SET D591585
HARMONIC DRIVE SH-25-50-2A-GR-SP GEAR REDUCER COMPONENT SET D591582
SIEMENS 6DR5010-0NN00-0AA0 SIPART PS2 I/P POSITIONER D591042
FISHER DVC6020 FIELDVUE VALVE POSITIONER D586025
LIMITORQUE SMB-00 3PH 1700RPM 575V-AC ACTUATOR D562087
TOKAI MATIERIALS 300X60 5KB-D553 BRAKE PAD D592025
LIMITORQUE L120-10 230/460V-AC 3PH VALVE ACTUATOR D598493
WAUKESHA 060 U2 ROTARY LOBE PUMP GEAR CASE ASSEMBLY D546612
KOCSIS CMO-308084-A HYDROTOR HYDRAULIC MOTOR CRANKING STARTER D596584
GOULDS 3196 MT CENTRIFUGAL IRON PUMP POWER END D594038
FLOWSERVE EK1144 SL-5000 2.875 CW PUMP SEAL KIT D561392
ROTORK 11AFA10A 575V-AC 0.24HP 50LB-FT ELECTRIC VALVE ACTUATOR D562379
FISHER 29A3667X022 CONTROL VALVE SEAT RING D531461
INGERSOLL C06568-02-00-728 21 IN OD CENTRIFUGAL BRASS PUMP IMPELLER D532959
MORIN B-023U-D000 STAINLESS ROTARY VALVE ACTUATOR D591927
EL-O-MATIC ES1600.U1A04A.46K0 PNEUMATIC ACTUATOR VALVE REPLACEMENT PART D599271
EL-O-MATIC ES1600.U1A04A.46K0 PNEUMATIC VALVE ACTUATOR 116PSI D599521