5703-1 | PARKER | DC Motor
◆ Contact: Jessica
◆ Email: sales*mvme.cn (change * to @ )
◆ Skype: jessica01235483
◆ Mobile Phone: 86-18030235311(WhatsApp)
Our process
Finding a reliable and experienced supplier of automated parts can be a daunting task.
MOORE cooperates with more than 90,000 customers in 165 countries and regions around the world. With the help of the industry's leading service, speed and knowledge reserves, it's easy to buy automated spare parts.
Our sales team is on standby to help you with any form of consultation. You can ask questions by e-mail, telephone or using our inquiry form on the product page and the Contact Us page.
Generate quotation
We will reply to you within an average of 30 minutes and offer competitive quotations. Then, we will contact you to ensure that you are satisfied with the quotation and delivery date.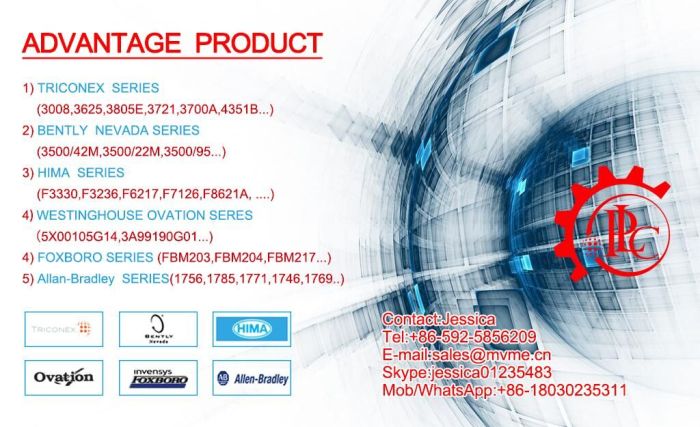 ★Allan-Bradley (1746,1747,1756,1769,1794,2711P..)
★TRICONEX (3008,3664,3805E.3704E,3700A 4351B...)
★YOKOGAWA (CP345,CP451-10,AMM12C,AAI141-S00...)
★ABB (07KT98 WT98,07KT97 WT97,DSQC679,IMASI23,IMDSO14...)
★BENTLY NEVADA (3500/42M ,3500/22M,3500/95.3500/15...)
★HIMA (F3330,F3236,F6217,F7126,F8621A....)
★FOXBORO (FCP270,FBM203,FBM204,FBM217,FMB231...)
★GE (IC693,IC697,IC695,IS200,IS215,DS200...)
★BACHMANN (MPC240,CM202,DI232,MPC240,NT255,AIO288...)

Kalrez K#906005
Kalrez K17120
Karl Suss MA 200
Karl Suss PA 200
Kashiyama SP80266
Kawasaki MT3-028180-B
Kawasaki Robot DSMT3-028180-B
Kaydon 15831001
Kaydon 53150001
Kaydon KA060XP0
KD Scientific 780100
Keitheley 53158 A,
Keithley 616
Keithley 2000
Keithley 9720
Keithley 3706A
Keithley 4200-SCS
Keithley DAS-50
Keithley KPC-TM
Keithley 707
Keithly CTM-05
| | |
| --- | --- |
| GE | IC660CBB902 |
| GE | IC600BF843 |
| GE | DS3820LT4A1C1A |
| GE | DS3800NOAA1F1D |
| GE | IC600CB524 |
| GE | IC600YB842 |
| GE | IC600BF842/IC600BF841 |
| GE | DS3800HCMC1A1B |
| GE | IS200SRLYH2AAA |
| GE | IC697CPM915 |
| GE | 531X300CCHAFM5 |
| GE | 531X179PLMAKG1 |
| GE | 531X175SSBAYM2 |
| GE | 531X139APMARM7 |
| GE | 531X133PRUALG1 |
| GE | 531X128HMSADG1 |
| GE | 531X111PSHARG3 |
| GE | 531X111PSHARG1 |
| GE | IC755CSW07CDA |
| GE | DS200IMCPG1BBA |