1PC NEW Honeywell Solenoid valve MC-TDOY22 51204162-175 CH By DHL EMS
Contact:Jessica
Skype:jessica01235483
Email:sales*mvme.cn (please change * to @)
Mobile Phone:86-18030235311(WhatsApp)
Q Q:2851195444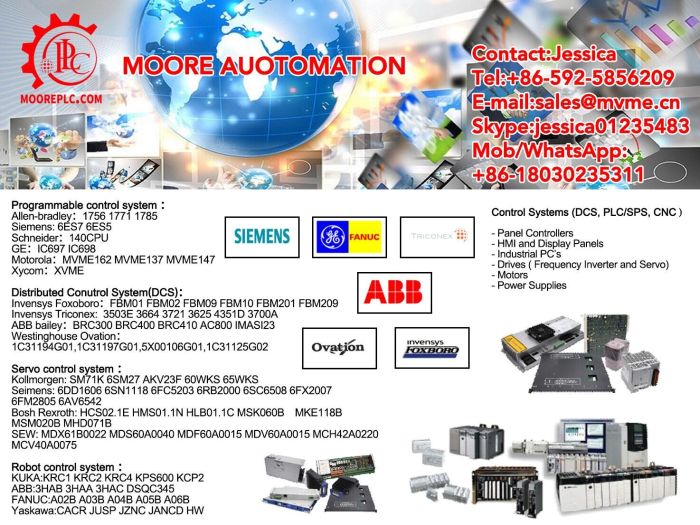 Moore has always been the best staff and spare parts together, a professional multilingual service team, insist on providing customers with first-class service.
Company's products cover distributed control system DCS card pieces, programmable logic controller PLC module SPS / CNC panel controller / drive / servo drives / robots and other parts.
Whether it's new spare parts, or outdated / discontinued parts Moore is committed to bringing the business back to business in the best cost and best quality possible way.
More than 100 excellent manufacturers, large spare parts inventory, adequate supply, faster customer support response
Partners across all continents and customers in 150 countries
Advantage brands :
v Allen Bradley
1756-L62,1756-L63,1746,1747,1756,1769,1794,2711P..
v SCHNEIDER
140CPU43412U,140CPU65150,140CPU65160,140CPU,NOE,CRA,CPS,BMX...
v ABB
DSQC(07KT98 WT98,07KT97 WT97,DSQC679,IMASI23,IMDSO14...)
v Bently Nevada
3500/42M,3500/22M,3500/95,3500/15...
v HONEYWELL
CC-PCNT01 51405046-175,MC-TAMR03 51309218-175...
v HIMA
F3330,F3236,F6217,F7126,F8621AESD....
v TRICONEX
3805E,3008,3504E,3624,3700A,3721,4351B,4119A....
v Siemens MOORE
6ES7(1.2.3.4),6ES5,6DD,6DP....
v GE
IC693CPU363,IC697PWR711,IC693CPU364,,IC693,IC697,IC695,IS200,IS215,DS200...
v WESTINGHOUSE
1C31194G01,1C31197G01,5X00106G01,1C31125G02...
v FOXBORO
FCP270,FBM203,FBM204,FBM217,FMB231.....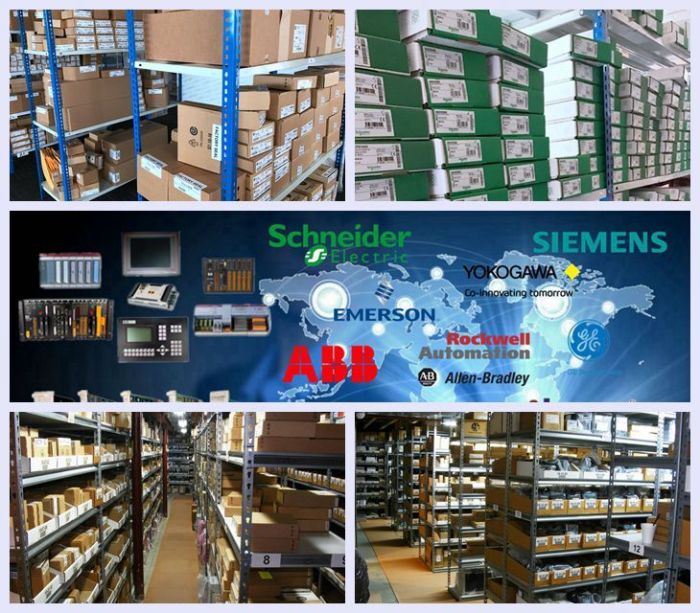 621-0007R
621-0010R
621-1100
XP502
51304427-100 MU-TDOR22
621-1160R
621-1160R
621-0007R
51304425-100 MU-TDPR02
51304441-125 MU-TDID12
51303997-100
T775E1056
51303982-400
51304685-200+51401598-200
51304483-100
51304518-200
XDL505
XD50-FCL
XD50-FC
51303979-400
51304518-150
51304685-150+51401598-150
51304685-100+51401598-100
XCL5010
51304493-250
51304493-150
51304419-100
51304501-100
51190916-104
51304493-100
51303979-550
51109693-100B
51201397-004
51401469-100
51304419-150
51201420-004
51201420003
RM7895 C 1012
51201420-005
51201420-002
51304487-100
51109806-002
51195479-200
51195153-005
51201397-002
51201421-100
51308111-002
W7704A1004
W7704D1016
51401216-100
XL50A-MMI-EP+XD50B-F
N2024-2POS
XFL523B
XFL524B
XSL514
T7412A1018
T7560A1000
T7560A1000
XSL511
DPT1000
DPT1000
DPS400
XSL513
DPS400
DPT50
XFL524B
XFL523B
621-9938RC
621-0025RC
HC900
XFL521B
TC-CCR011
TC-CCR013
51402573-150
51402573-250
TC-CCN013
TC-OAV081
TC-IAH161
900C52-0021
51305776-100
51308386-175
VLC-853C3
51401546-100 51401406-100
10M1007051
RJ45-RJ45
SDI-1624
51308371-175
51306733-175
51405040-175
51305381-500
51405038-375
VLC-853
51304260-200
51304487-100
900C32-0021
51304069-100
51304190-300
51401529-100C
900P02-0001
51303939-100
51401547-100
51303926-100
51304467-100
38001704-100
51304650-100
51304441-100
51401491-100
38001680-100
51304335-100 MU-TAOX12
51304338-100
51304084-100 /MU/MC-TP
51304493-200
51304672-150
51304672-100 MU-PAOX03
51304453-150 (MC-TAIH02)
51304386-100
900r12-0001
51309152-175 MC-PAOX03
51304754-100 MU-PAIH03
51304485-100
51304672-100
900G02-0001
900C53-0021
51304260-400
51303970-500
51304481-100
51304754-100 MU-PAIH03
51304632-100C
XL50
51304672-150
51304518-100
R24C
51109684-100
51305437-100
51304337-150 / MC-TAIH12
51304084-100 /MU/MC-TPIX12
80363969-100
621-0020RC
51304754-150 MC-PAIH03
51304584-200
51309204-175 /MCTLPA02
51304476-100 /MU-TAOX02
51201602-100
900A01-0002
51304362-350
51304453-100 /MU-TAIH02
51304476-125 /MU-TAOX02
51304831-100
51304516-200
51309152-175 MC-PAOX03
621-9928R
51304362-100 MU-PLAM02
51303979-500
51304516-200
51304584-200
621-3560RC
620-0059
621-9933C
51304493-200
T775
XL50 + XD50-FC
621-6550RC
621-0021RC
900G01-0001
900B01-0001
900C53-0001
900P01-0001
JMSC10
JMHM10
J-UDM00
900H02-0001
J-DIM00
51305406-100
J-PIM00
J-AOM10
620-0054
620-0080
620-0085
620-0056
620-0088
J-HAM10
620-0024
620-0027
620-0036
621-9939-C
REXROTH INDRADRIVE M (Frequenzumrichter)<>HMS01-W0350-A-07-NNNN
WITCHOUT COVER INDRA DRIVE M HMV01.1E-W0075-A07-NNNN 75KW REXROTH ID32483
INDRADRIVE M HMS01.1N-W0300-A-07-NNNN 0-500VAC 145A 0-1000HZ REXROTH ID32484
INDRA DRIVE C HCS03.1E-W0150-A-05-NNBN 0-480V 95A 0-500HZ REXROTH ID27330
Rexroth HMS01.1N-W0210-A-07-NNNN
INDRA DRIVE C HCS03.1E-W0100-A-05-NNBV 0-480V 73A 0-1600HZ REXROTH ID27334
INDRA DRIVE M HMV01.1R-W0120-A-07-NNNN R911312757 120KW 750VDC REXROTH ID27340
Rexroth HCS03.1E-W0100-A-05-NNNV
REXROTH IndraDrive M Drive Controllers<>HMS01.1N-W0150-A-07-NNNN
INDRA DRIVE M HMV01.1R-W0045-A-07-NNNN R911296725 45KW 750VDC REXROTH ID36206
INDRA DRIVE M HMS01.1N-W0210-A-07-NNNN 0-500V 145A 0-1000HZ REXROTH ID27333
Rexroth INDRA DRIVE HCS02.1E W0028
Bosch-Rexroth HMS01.1N-W0020-A-07-NNNN IndraDrive CSB01.1N-PB-ENS-NNN-NN-S-NN-FW
INDRA DRIVE M HMV01.1E-W0075-A-07-NNNN R911297424 75KW 435-710V REXROTH ID27341
Bosch Rexroth IndraDrive HMD01.1N-W0036 CDB01.1C-SE-EN1-EN1-EN2-EN2-S1-S-NN-FW
INDRA DRIVE M HMV01.1R-W0045-A-07-NNNN R911296725 750VDC 45KW REXROTH ID27343
Rexroth indradrive M HMV01.1R-W0045-A-07-NNNN Indra Drive M 45kw Top Zustand
Bosch Rexroth IndraDrive HMD01.1N-W0020 CDB01.1C-SE-EN1-EN1-NNN-S1-S-NN-FW
Indramat Rexroth IndraDrive HMS01.1N-W0036 CSH01.1C-SE-EN1-EN2-NNN-S1-S-NN-FW
WITHOUT COVER INDRA DRIVE M HMS01.1N-W0020-A-07-NNNN REXROTH ID35486
Rexroth HMV01.1E-W0030-A-07-NNNN IndraDrive R911296724
Rexroth HMS01.1N-W0150-A-07-NNNN
Rexroth Indradrive HCS02.1E-W0054-A-03-NNNN CSB01.1C-ET-ENS-EN1-NN-S-NN-FW
Bosch Rexroth Indradrive HMV01.1R-W0045 HMV01.1R-W0045-A-07-NNNN
Rexroth Indradrive M HMV01.1E-W0030-A-07-NNNN HMV01.1E-W0030 neuwertig
Rexroth IndraDrive M Versorgungsgeraet Typ: HMV01.1R-W0045-A-07-NNNN
INDRA DRIVE C HCS03.1E-W0070-A-05-NNBN 0-480V 45A 0-500HZ REXROTH ID27336
Bosch Rexroth Indradrive Frequenzumrichter HCS02.1E-W0012-A-0,3-NNNN R911305034
Rexroth IndraDrive HCS02.1E-W0028-A-03-NNNN CSB01.1C-ET-ENS-EN1-NN-S-NN-FW
CONTROL POWER SUPPLY INDRADRIVE M HMV01.1R-W0018-A-07-FNN2 REXROTH ID5651
Rexroth IndraDrive M HMV01.1E-W0030 HMV01.1E-W0030-A-07-NNNN
Bosch Rexroth Indradrive HCS02.1E-W0070-A-03-NNNV NEU
Rexroth IndraDrive HMV01.1E-W0030-A-07-NNNN R911296724
Rexroth IndraDrive HCS02.1E-W0054
Rexroth IndraDrive HCS02.1E-W0054
Bosch Rexroth HMV01.1E-W0030-A-07-NNNN IndraDrive M HMV01.1E-W0030
HCS02.1E-W0054-A-03-NNNN 3XAC 0-530V 22A 0-1600HZ INDRADRIVE C REXROTH ID15727
HMD01.1N-W0020-A-07-NNNN 3XAC 0-530V 10A 0-1000HZ INDRADRIVE M REXROTH ID15726
Rexroth HNF01.1A-M900-E0051-A-480-NNNN R911306532
REXROTH CSH01.1C-SE-ENS-NNN-MEM-S1-S-NN-FW
Rexroth IndraDrive C, HCS02.1E-W0028-A-03-NNNV
Bosch Rexroth HCS02.1E-W0054
Bosch Rexroth Servomotor IndraDrive Mi KSM R911321217 D5726
Rexroth IndraDrive HCS02.1E-W0028-A-03-NNNN + CSB01.1C-SE-ENS-EN1-NN-S-NN-FW
Bosch Rexroth IndraDrive HCS02.1E-W0028
Rexroth IndraDrive HCS02.1E-W0028
REXROTH INDRAMAT INDRADRIVE CONTROL UNIT CSB01.1C-SE-ENS-EN1-NN-S-NN-FW
REXROTH INDRAMAT CSH01.1C-SE-EN1-EN2-NNN-NN-S-NN-FW
Rexroth Indradrive M HMS01.1N-W0150 HMS01.1N-W0150-A-07-NNNN
Rexroth Indradrive C HCS02.1E-W0028-A-03-NNNN CSH01.2C-C0-ENS-MA1-CCD-L1-S-NN-FW
Rexroth IndraDrive C Umrichter HCS02.1E-W0028-A-03-NNNN
Rexroth Indradrive M Einzelachs-Wechselrichter HMS01.1N-W0150-A-07-NNNN
Bosch Rexroth Indradrive Synchronous Servo Motor R911308968 MKE118B-024-BG0-KE4
INDRA DRIVE M HMS01.1N-W0070-A-07-NNNN 0-500V 42.4A 0-1000HZ REXROTH ID27387
Rexroth CSB01.1C-CO-ENS-NNN-NN-S-NN-FW IndraDrive R911312378 UMP
INDRA DRIVE HNF01.1A-F240-R0065-A-480-NNNN 380-480V 65A REXROTH ID36208
Rexroth IndraDrive M Typ: HMS01.1N-W0150-A-07-NNNN
Rexroth Indradrive HMS01.1N-W0110-A-07-NNNN CSH01.1C-PB-ENS-NNN-NNN-S2-S-NN-FW
Rexroth IndraDrive Cs HCS01.1E-W0028-A-03-B-ET-EC-NN-NN-NN-FW R911325248 5-4 980
Rexroth Indradrive C HCS03.1E-W0070-A-05-NNBV CSH01.1C-PB-ENS-NNN-MEM-NN-S-NN-FW
Rexroth IndraDrive C HCS03.1E-W0070-A-05-NNNV CSB01.1N-FC-NNN-NNN-NN-S-NN-FW
Rexroth HCS02.1E-W0070-A-03-NNNN
Rexroth IndraDrive M HMD01.1N-W0036 HMD01.1N-W0036-A-07-NNNN
Rexroth HCS02.1E-W0054-A-03-NNNN
REXROTH INDRAMAT INDRADRIVE CONTROL UNIT CSH01.1C-SE-EN1-EN2-NNN-NN-S-NN-FW
Rexroth Indradrive HMS01.1N-W0110-A-07-NNNN R911310462
REXROTH CDB01.1C-SE-ENS-ENS-NNN-NNN-S1-S-NN-FW
Rexroth Indradrive HMD01.1N-W0020-A-07-NNNN
Rexroth Indradrive CSB01.1C-PB-ENS-EN1-NN-S-NN-FW HCS02.1E-W0070-A-03-NNNV
Bosch Rexroth Indradrive M HLC01.1D-05M0-A-007-NNNN
Rexroth Indradrive C Servo Drive HCS03.1E-W0070-A-05-NNBV
Bosch Rexroth IndraDrive HMD01.1N-W0012
Rexroth HCS02.1E-W0054-A-03-NNNN R911298373
INDRA DRIVE C HCS03.1E-W0070-A-05-NNBV 0-480V 45A 0-1600HZ REXROTH ID27335
INDRA DRIVE C HCS02.1E-W0070-A-03-NNNN 0-530V 28A 0-1600HZ REXROTH ID27325
Rexroth IndraDrive M HMV01.1R-W0018-A-07-FNN2
Rexroth IndraDrive M HMV01.1R-W0018-A-07-NNNN
Rexroth HCS03.1E-W0070-A-05-NNBV
INDRA DRIVE M HMS01.1N-W0054-A-07-NNNN R911295325 0-500V REXROTH ID27388
Bosch / Rexroth Indradrive HMS01.1N-W0020-A-07-NNNN
Rexroth Indradrive C HCS02.1E-W0028-A-03-NNNN CSB01.1C-SE-ENS-EN2-NN-S-NN-FW
Bosch Rexroth IndraDrive C HCS02.1E-W0028-A-03-NNNN D8893
Rexroth Indradrive C HCS02.1E-W0028-A-03-NNNN CSB01.1C-PB-ENS-NNN-NN-S-NN-FW
Bosch-Rexroth IndraDrive CSH01.2C-NN-ENS-MA1-CCD-S1-S-NN-FW
BOSCH REXROTH INDRA DRIVE C, HCS02.1E-W0054-A-03-NNNN
INDRA DRIVE HNF01.1A-M900-R0065-A-480-NNNN R911306534 400-480V REXROTH ID27369
INDRA DRIVE CS HCS01.1E-W0008-A-03 900W 0-500V 0-1600HZ REXROTH ID27487
INDRA DRIVE CS HCS01.1E-W0013-A-02-E-S3-EC-NN-NN-NN-FW 900W REXROTH ID27457