John crane PTFE WEDGE mechanical SEALS, Replace type 9B seals


John Crane Type 9B/Type 109B,AES M02,Sterling 290B,VULCAN 1609B


Equivalent to John Crane Type 9B/Type 109B,AES M02,Sterling 290B,VULCAN 1609B

Multiple spring , balanced seal
Operating Limits:
Temperature:-40---250℃
Speed: 15m/s
Pressure: 25bar
Standard size: 1"--4"
Materials:
Seal ring: Car,Sic,Ssic,TC,Ceramic
Secondary seal: NBR,EPDM,Viton, etc.
Spring and metal parts:304,316,HAST.C
Application Scope:
John crane PTFE WEDGE mechanical SEALS is a typical multiple springs , standars balanced mechanical seal with various kinds of materials and face combination which is in conformity with DIN24960,ISO3069,API 610 and GB6556 standards,typically used in process pumps in order to meet the requirements of industry.

The main products here we serve well are for the industries of oil field, oil refining, mining, chemical plants, water pumps, pharmaceutical factories, refrigeration, power stations, and shipbuilding.


♦We can provide manufacture services according to your drawings or requirements.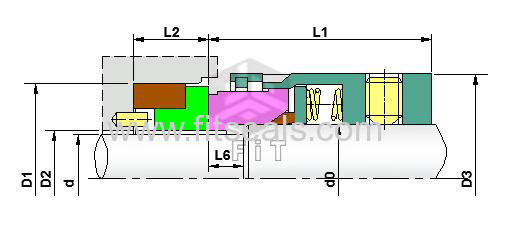 Our goal is to make your repair easy without compromising on quality. Repair kits greatly
reduce costly downtime, saving costs while sustaining production. Our pump rebuild kits
are supplied with the same components you'll find in an OEM kit; however, we offer them
at a fraction of the price.
Need hard faces or specialty elastomers? Give us a call. We can quickly build a repair kit
to withstand any medium being pumped. You'll find All Seals' pump repair kits an invaluable
part of your operation.