Equivalent to flowserve RO SEALS
RO seals are mainly designed for sealing crude oil, water and petroleum products in the oil & gas industry. There are several specially engineered seals to cover the needs of the industry.
Operational Conditions:
Pressure: ≦10Bar

Temperature: -40 - 160ºC

Linear velocity: ≦22m/s
Material:
Rotary face: SIC, TC
Statioanry seat: SIC. TC
Secondary seal: VITON, EPDM, NBR
It is an excellent choice for water, beer and other beverage.and any light duty appliction where supplerior , reliable performance is expected. The RO series is available off the shelf in standerd configurations for all of the popular chemical pumps offered today.



Application:
The mechanical seal range is designed for universal application and the interchangeable parts concept is ideal forthrust ring is retained by the drive lugs preve stock rationalization.The seal faces are loosely inserted and can be easily exchanged, the nting the spring falling out.Other special technical features include stationary seal stop and limitatlion of spring stroke to prevent excessive carbon wear.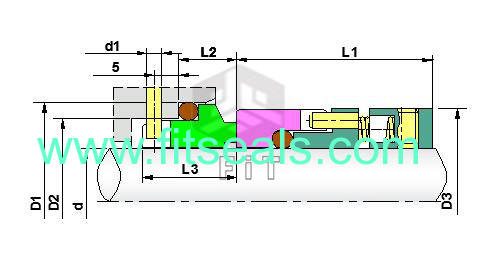 | | | | | | | |
| --- | --- | --- | --- | --- | --- | --- |
| Seal Size d | D3 | D2 | D1 | L1 | L2 | L3 |
| 20 | 34 | 29 | 35 | 35 | 13 | 21 |
| 22 | 36 | 31 | 37 | 35 | 13 | 21 |
| 24 | 38 | 33 | 39 | 35 | 13 | 21 |
| 25 | 39 | 34 | 40 | 35 | 13 | 21 |
| 28 | 42 | 37 | 43 | 35 | 13 | 21 |
| 30 | 44 | 39 | 45 | 35 | 13 | 21 |
| 32 | 46 | 42 | 48 | 35 | 13 | 21 |
| 33 | 47 | 42 | 48 | 35 | 13 | 21 |
| 35 | 49 | 44 | 50 | 35 | 13 | 21 |
| 38 | 54 | 50 | 56 | 38 | 13 | 21 |
| 40 | 56 | 52 | 58 | 38 | 13 | 21 |
| 43 | 59 | 55 | 61 | 38 | 13 | 21 |
| 45 | 61 | 57 | 63 | 38 | 13 | 21 |
| 48 | 64 | 60 | 66 | 38 | 13 | 21 |
| 50 | 66 | 62 | 68 | 39 | 13 | 21 |
| 53 | 69 | 65 | 71 | 40 | 13 | 21 |
| 55 | 71 | 67 | 73 | 40 | 13 | 21 |
| 58 | 76 | 70 | 79 | 41 | 16 | 24 |
| 60 | 78 | 72 | 81 | 41 | 16 | 24 |
| 63 | 81 | 75 | 84 | 41 | 16 | 24 |
| 65 | 83 | 77 | 86 | 41 | 16 | 24 |
| 68 | 86 | 81 | 90 | 41 | 16 | 24 |
| 70 | 90 | 83 | 92 | 42 | 16 | 24 |
| 75 | 95 | 88 | 97 | 42 | 16 | 24 |
| 80 | 100 | 96 | 105 | 42 | 16 | 24 |
| 85 | 105 | 101 | 110 | 43 | 16 | 24 |
| 90 | 110 | 106 | 115 | 45 | 16 | 24 |
| 95 | 115 | 111 | 120 | 45 | 16 | 24 |
| 100 | 120 | 116 | 125.0 | 45 | 16 | 24 |