Replacement to:Burgmann M7KS60 seal
Aesseal W01-TL seal
It used for Johnson TL Series lobe rotor pumps , TL1/TL2/TL3
Specifications :
O-ring mounted seal. Wave spring type seals.
1. Operational Conditions:
Temperature:-40℃ to +200℃
Pressure: ≤0.8MPa
Speed: ≤18m/s

2. Materials:
Stationary Ring: Silicon Carbide, TC, Carbon
Rotary Ring: TC, Steel
Secondary Seal:NBR,EPDM,Viton
Spring and Metal Parts:Steel

3. Applications:Clean water,sewage water,oil and other moderately corrosive fluids.
Features:

1.Different sizes of Oil Seal,Rubber Oil Seal,Rubber Seal, also can make on your size.
2.Optional color for you of the Oil Seal,Rubber Oil Seal,Rubber Seal,Rubber Gasket, O-Ring :Black, red, yellow, brown, white, green, violet etc, can make it on your order;
3. Your OEM order of Oil Seal,Rubber Oil Seal,Rubber Seal or O-Ring and Rubber Gasket is welcomed as well.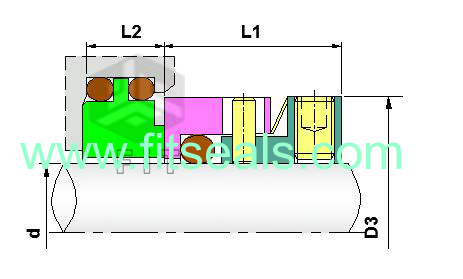 | | | | | |
| --- | --- | --- | --- | --- |
| PUMP ref: | Size | D3 | L1 | L2 |
| 10 | 30 | 41.0 | 19.1 | 10.3 |
| 20 | 35 | 45.5 | 19.1 | 12.0 |
| 30 | 50 | 61.9 | 21.1 | 12.0 |
| | | | | |
Our pump seals thrive under pressure.
Whether you need a new seal or you have a seal to be repaired, we welcome the opportunity to help you with your rotary sealing needs.
Wave spring mechanical seal with thin cross section and short working length. Most commonly used on rotary lobe pumps, found extensively in the food, process, dairy and brewery industries. Popular, common sizes are fitted with Prestige's Sinusoidal Split Wave-Springs.
68 seals replace Types 1688, 1688L and 1682 are supplied with monolithic rotary heads, in both standard and hard face alternatives, to improve the seal operating performance in viscous fluids. This is achieved by eliminating the possibility of spinning and damage common to inserted face designs. Competitors inserted T.C/Sic seal face rings are prone to spinning, particularly in the viscous or coagulating fluids, which are common to rotary lobe pump applications. Common, popular sizes of Type seals are fitted with our special, split Sinusoidal Wave-Springs. These split wave-springs offer a more consistent and accurate spring rate than traditional wave-springs. The Sinusoidal waves offer a larger and more even contact and the split over-lap minimises the working stresses which frequently result in fracture, buckling or hang-up with a stamped, non-split, wave-spring.