John Crane Type 21 Rubber Bellows Seal,
REPLACE AES P04,Flowserve 110,Roten 21A,Sealol 43 CU
Short seal,Sterling 212A,US Seal C,Vulcan TYPE 11 SEALS.
Replace US Seal Type C, Crane Type 21 and Sealol Type 43. Type 31 O-ring Mount,
1R316, 5NC05, 1R307 and 1R301 Need no Spring Retainer

JOHN CRANE TYPE21 Bellows Mechanical Seal
We supply kinds of elastomer mechanical seal,O-ring mechanical seal, PTFE
mechanical seal and metal bellow mechanical seal,which most of mechanical
seal are equivalent to Burgmann mechanical seal, John Crane mechanical seal,
Pillar mechanical seals.


Main Export Markets: North America, South America, Asia, Western Europe
For the common rubber bellow mechanical seal such as T24/T43/T21/T20,
MG1/2100/502, we have some in the stock. We also provide standard seal
face such as G60, G50, G6, G4, G9, M7N.

Feature: Single Unbalanced Mechanical Seal
Item No.: FT21 (Equivalent to John crane type 21)

Operating Conditions:
Pressure: Up to 10bar or 145psi
Speed: Up to 10m/s or 33ft/s
Temperature: -40 to 200 centigrade degree (depending on materials used)

Material:
Seal face/Primary ring: Carbon graphite, Silicon carbide, Tungsten carbide.
Seat/Mating ring: Alumina ceramic, Silicon carbide, Tungsten carbide.
Secondary seals: NBR, Viton, EPDM, silicone
The Type 21 is ideal for use in centrifugal, rotary and turbine pumps, compressors,
chillers and other rotary shaft equipment. It is also commonly used by the wastewater
and water systems industries for applications such as waste treatment, potable water and HVAC.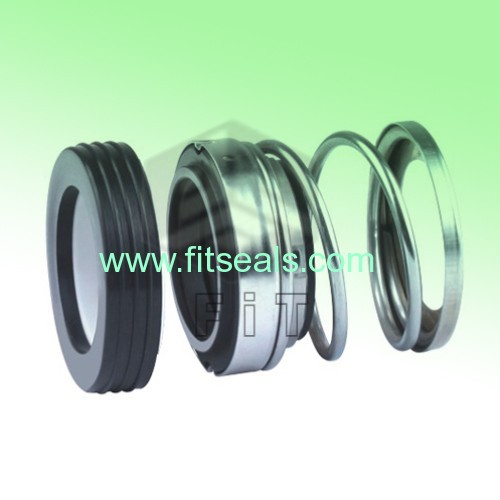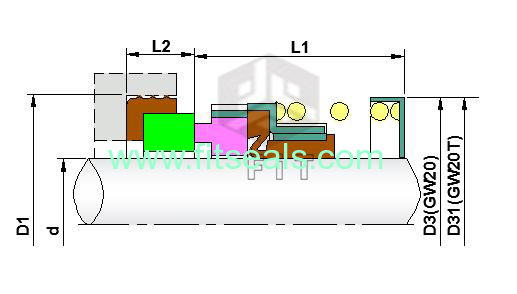 | | | | | | | |
| --- | --- | --- | --- | --- | --- | --- |
| Inch Size | Metric size | D3 | D31 | D1 | L1 | L2 |
| 0.500 | 12.7 | 24.00 | 22.80 | 25.40 | 20.62 | 7.95 |
| 0.625 | 15.8 | 26.70 | 26.70 | 31.75 | 22.23 | 10.31 |
| 0.750 | 19.1 | 31.20 | 30.40 | 34.93 | 22.23 | 10.31 |
| 0.875 | 22.2 | 33.50 | 33.40 | 38.10 | 23.80 | 10.31 |
| 1.000 | 25.4 | 43.20 | 39.30 | 41.28 | 25.40 | 11.10 |
| 1.125 | 28.6 | 46.50 | 42.00 | 44.45 | 26.97 | 11.10 |
| 1.250 | 31.7 | 49.50 | 45.80 | 47.63 | 26.97 | 11.10 |
| 1.375 | 34.9 | 52.70 | 49.30 | 50.80 | 28.58 | 11.10 |
| 1.500 | 38.1 | 56.00 | 52.80 | 53.98 | 28.58 | 11.10 |
| 1.625 | 41.2 | 62.20 | 55.50 | 60.33 | 34.93 | 12.70 |
| 1.750 | 44.4 | 66.00 | 61.00 | 63.50 | 34.93 | 12.70 |
| 1.875 | 47.6 | 66.00 | 64.00 | 66.68 | 38.10 | 12.70 |
| 2.000 | 50.8 | 73.00 | 66.00 | 69.85 | 38.10 | 12.70 |
| 2.125 | 53.9 | 73.50 | 71.50 | 76.20 | 42.85 | 14.27 |
| 2.250 | 57.1 | 79.60 | 79.60 | 79.38 | 42.85 | 14.27 |
| 2.375 | 60.3 | 82.00 | 79.60 | 82.55 | 46.05 | 14.27 |
| 2.500 | 63.5 | 85.00 | 81.50 | 85.73 | 46.05 | 14.27 |
| 2.625 | 66.6 | 88.50 | 84.60 | 85.73 | 49.20 | 15.88 |
| 2.750 | 69.8 | 92.70 | 90.00 | 88.90 | 49.20 | 15.88 |
| 3.000 | 76.2 | 102 | 96.8 | 98.4 | 52.37 | 15.88 |