Flowserve AWD seals.
Sterling SWD mechanical seal replacment
SIZE: 25MM , 35mm,
can be used for APV World PUMPS in single configuration.
A extensive range of seal design replacement Seals to fit pump series W, W+, PumP, ZM, Cleanline®, DW and many more.
Materials:
Stationary Ring:SS,SIC
Rotary Ring:CAR
Secondary Seal:NBR,V,EPDM
Spring and Metal Parts:SS304,SS316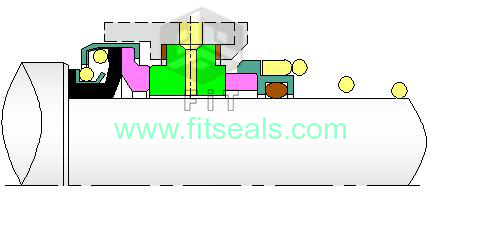 FTAPV-03 equal to AES-TOWP can be suit for APV "World"pumps in single configuration it has 25mm and 35mm diferent sizes!
Product Name: APV Mechanical Pump Seals/APV Shaft Seals
Description: All range of shaft seals for APV pumps and mixer
APV Cavitators Rotary Lobe Pump Sanitary Rotary Range Pumps .
This offers seals that have a lower cost, increased reliability, and ease of installation. These are concepts that all of our mechanical seal designs demonstrate.
We currently manufacture and stock many mechanical seals for most sanitary centrifugal, positive displacement pumps, and scraped surface heat exchangers.
For more information, quick quotations, expert consultation and responsive customer service call
us at or send us a quote.
Can' t find what you' re looking for? No problem!
We carry a comprehensive inventory of mechanical seal components, which allows us to build
the right seal for your application. We'll even design custom seals for one-of-a-kind applications.
We produce many seals for famous pumps, like Flygt, EMU-WILO, , APV, Alfa Lava, Lowara,
Gorman Rupp, MCM, Sterling SIHI, KSB
Mechanical seals Gorman-Rupp Pumps , for S range of Submersible Gorman-Rupp Pumps
and SH-GR Series seal for T range of self Priming Gorman-Rupp Pumps Model T3/T4/T6
Model T8 Model T10 Shaft size :1.25 inch , 1.5 inch , 1.875 inch , 2.25 inch , 2.75 inch
double-floating, self-aligning, oil lubricated mechanical cartridge seal with stationary and
rotating face of silicon carbide or titanium carbide is specifically designed for abrasive
and/or trash handling service.