FTAPV-04 seals equibalent to AES TOWP SEALS for APV W PUS PUMPS.
APV W+ Pump Seal Kit EPDM 55/35 SIC/CAR 

For APV W+ Series Centrifugal Pumps
The saft size:  25mm. 35mm, 55mm
material:  CARBON LONG FACE vs SIC short face
              SIC LONG FACE vs SIC LONG FACE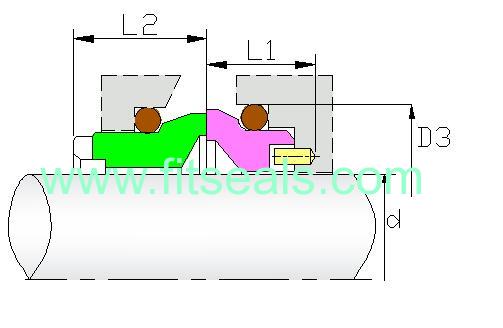 | | | | | |
| --- | --- | --- | --- | --- |
| d | D1 | D3 | L1 | L2 |
| 25 | 52 | 38.2 | 16 | 25.4 |
| 35 | 62.5 | 49.5 | 16 | 33.3 |
APV Pump seals/SH-TOWP for APV W+, WA+, WHP+, WS+, TPM +1 and 
TPM +2 Compatible Mechanical Seal. 
PUMP+ Series Centrifugal Pumps,Rotary Lobe Pumps - DW Pumps,(DW1-5,DW6-7,
Sanitary RotaryPumps R-Series, Series Centrifugal Pumps,W+ Series Centrifugal 
Pumps (IEC),W+ Series Centrifugal Pumps (NEMA),Wa+ Aseptic Pumps,Whp+ High
 Pressure Pumpes,Wi+ Inducer Pumps,Ws+ Self-Priming Pumps (IEC),Ws+ Self-Priming
 Pumps (NEMA).APV Cavitator,DarMix+ In-Line Mixer,Flex-Mix Instant Mixer,Flex-Mi
 Liquiverter,Flex-Mix
Power,Flex-Mix Processor,TPM Batch Powder Mixer,TPX Static In-Line Mixer.
We can offer the best direct prices considerably reducing your running and operational
 costs. Our products confirm with JB/T412.11999 and Mechanical Seal Technical
 Conditions standard. We constantly introduce new technology to develop more new
 products to meet the requirements of our customers. We hope to develop the further 
cooperation with our customer in the business and technology
FIT mechanical seal could be interchangeable with John crane, Burmann, Aesseal, Vulcan, 
Roten seals etc 
All range of mechanical seals for Flygt pumps, CRN32 PUMPS. ALFA LAVAL PUMPS. 
APV PUMPS. Grindex pumps,, Fristam , ABS, Alleeiler, EMU,GEA Tunchenhagen, Godwin,
 Hidrostal,Hilge, Johnson, Lowara, Waukesha, Vogelsang pumps etc Meantime , we could 
manufacture any seals according to your sample or drawing, and we also could design seals
 according to your pumps working condition.  Important , products in stock are available for 
delivery quickly. Should any  there items be of interest to you,  Pls contact us freely.
The catalogue and samples will be supplied on your request.