NEW ALLEN BRADLEY 1784-U2CN 2010 1784U2CN USB TO CONTROLNET CABLE ADAPTER
Contact:Jessica
Skype:jessica01235483
Email:sales*mvme.cn (please change * to @)
TEL:86-592-5856209
Mobile Phone:86-18030235311(WhatsApp)
Q Q:2851195444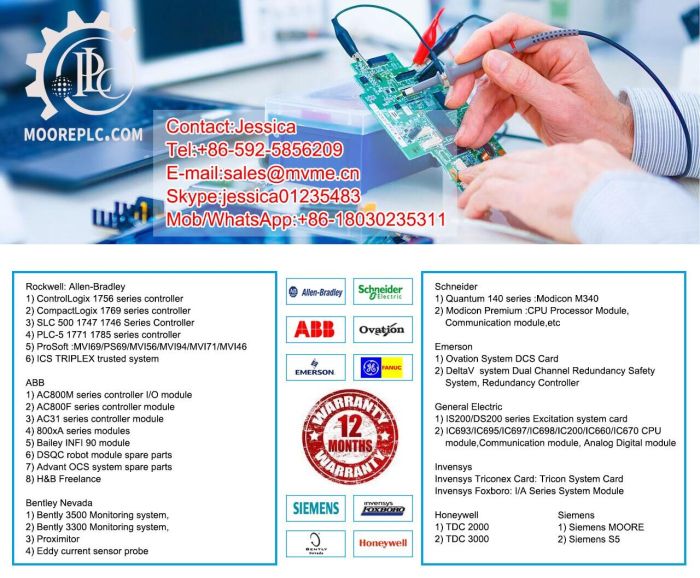 MOORE AUTOMATION LIMITED is a leading global supplier of control system components. We specialize in control systems and drives.
With many years of experience in the industrial sector, we consistently deliver the highest quality of spare parts.
We have tens of thousands of spare parts and spare parts warehouse . Products and services to serve for installing of users control system,
Distributed control systems, programmable controllers, panel controller and drive!
* Our mission is to help you!
* Reduced maintenance costs!
We have a large inventory of control system components. We also made a lot of new hardware and discontinued spare parts to help supporting your existing control systems.
We have experienced staff, extensive testing , all the spare parts which we sold are with warranty period of one year, and they have undergone rigorous testing and certification!
You might find you need spare parts in our data, we welcome you give valuable suggestions to us with our products at any time, .
We have a lot of spare parts in stock currently,they are ready to be shipped.
If you order more than one item, please contact us, we can offer further discounts for you.
If you find other suppliers offer cheaper prices for the same product, we are also willing to provide you with reference to their price and give you further discounts. If you have any other questions, please contact us at any time.
Waiting for your inquiry.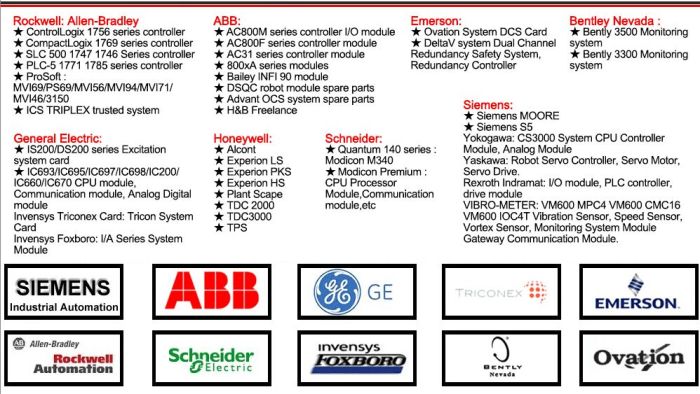 · Allen-Bradley CompactLogix :1769-L33ERMS , 1769-L36ERMS ,1769-L19ER-BB1B,
· Allen-Bradley ControlLogix : 1756-L73S , 1756-CN2R , 1756-RM2 , 1756-PA75R
· Allen-Bradley Input/Output (I/O) Modules : 1794-AENT , 1783-MS06T , 1786-RPFM
· Allen-Bradley Kinetix Servo Drive :1336-QOUT-SP13A , 1336F-B015-AA-EN,
· Allen-Bradley MicroLogix : 1764-24BWA , 1766-L32BXB , 1762-L40BWA , 1763-L16BBB
· Allen-Bradley PLC-5 : 1771-P7 , 1785-BCM ,1771-DXPS , 1771-P7 , 1771-ASB
· Allen-Bradley PanelView : 2711P-T12C6D2 , 2711P-T6C20D8 , 2711P-T15C4D8 ,
· Allen-Bradley SLC 500 : 1747-L541 ,1747-L542 , 1746-IM16 , 1746-A13 , 1746-P3
· ABB Advant OCS and Advant-800xA : DO810 ,SD831 ,AI810 TU830V1
· ABB Bailey INFI 90 : IMDSO14 , IMFEC12 , IMDSI22 , IMHSS03
· ABB Drives
· ABB H&B Freelance 2000 : AV31 AV 31 , LL02 LL 02 , RL01 RL 01
· ABB Master : DSTX120 57160001-MA , DSTD108P , DSTK183 2639603-BX
· ABB Operator Panel : PP835A , PP846A 3BSE042238R2
· ABB Procontic : CS31 , 07KT98 , 07SK90R1 ,07ZE63R302,
· ABB Robots : DSQC679, DSQC643,DSQC633,DSQC609
· Fanuc CNC : A06B-0104-B111#7000
· GE 90-30 Series PLC : IC693CPU364 , IC693MDL330 , IC693PWR330 , IC693CPU374,
· GE 90-70 Series PLC : IC697ALG321 , IC697CMM741 , IC697CPU782 , IC697PWR711,
· GE Genius I/O : IC660BBD025 , IC660CBB902 , IC660EBS103, IC660ELB912G
· GE Mark VIe : IS215UCVEH2A , IS200EPCTG1A , IS200TRPGH2B , IS200DSPXH1D
· GE Multilin : VMIVME-7750-746000 , PQMII-T20-C-A , SR469 469-P5-HI-A20,
· GE PAC Systems RX3i : IC695CPU315 , IC695CHS007 , IC695ACC402 , IC694MDL753B
· GE PAC Systems RX7i : IC698CRE030 , IC698CPE020 , IC698PSA100 , IC698CPE010
· GE Quick Panel : QPI-3D200-S2P , QPI-3D200-E2P , QPI-31200-C2P
· GE Series One : IC610MDL116B , IC610CCM111A , IC610CPU105B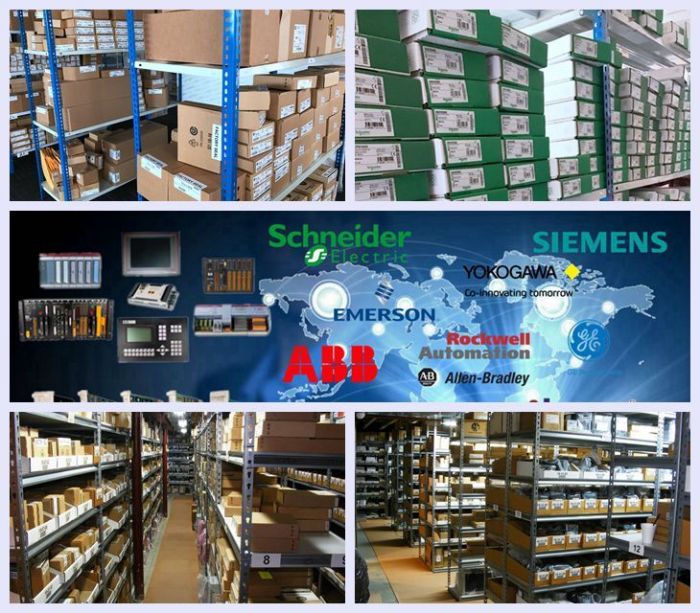 40370-205-55
40411-501-01-0850
40421-438-01-0850
129136 REV01
124310 REV 01
152288
163278 Rev 04
142390 REV04
196258 REV.02 196259
163334REV05 /163335-01
152503REV06 KIT#154966
163334REV05 KIT#154966
74102-405,213B6-076B
PC-672-0295
O-58706-18/0-58706-18
102826
0-58718
D31705-1 A26491-A
0-58719 FIELD SUPPLY
241-6-20
194932 REV.01 M941569
135230 REV14 M003480532
140092 REV.23 M394863 / 140093 REV.05 M003535208
170947 REV.19 M941594
122967 REV.03 M940270
105060 REV.10 PCB CIRCUIT BOARD
105062 REV07 REV06
105061 REV09
1395-B78-C4-P12-X1
1397-B050N
O-58706-21/0-58706-21
M003263059 155505 REV03
KIT#154966 152503REV09
170174 170095REV03
40888-313-53
40888-313-53
69739-9R
0-58706-22
0-58773-B /SO-58773/99716-642
74102-588-51
802273-307T
0-58771
0-58775
154-A22NA
185694 M003425868 170095REV17
170771 M1-170769 170769REV04
148539 REV04
1397-U110FR-HA2
2711-K5A8
CAT1300-DMT
2711-K10C1
510255
2711-B5A2
2711-T10C15
6186-M12AL
2711-k5a1l1
2711-K9C1
77129-206-53 77129-207-53 77129-207-56(E)
ALLEN BRADLEY 1394 DRIVE 74102-588-51
SUPERIOR ELECTRIC CIRCUIT C206195G1F
509 TECHNOLOGIES PN 2005
SCHLAFHORST ELECTRONICS 117-655914
IRD MECHANALYSIS I/N32690 CONDITIONER V-27000
SCHLAFHORST ELECTRONICS 117-650217F
Panduit 100-064-053 EMHART E100536 K-INTERFACE BOARD B190 VG
Indeeco Controls Circuit 202-S95-M05-1S-I
ALLEN BRADLEY AB CIRCUIT 96635301
Mettler Toledo PCB 13357900A 13357900
WIDGET WORLD BIDIRECTIONAL CONVERTER 9406 V1.2 9406V1.2 RS-232 RS232
RELIANCE ELECTRIC 115 V AC OUTPUT MODULE 0-57403-E
NEC CIRCUIT BOARD CARD MRSDP MRSDP..X6472 D4DALG39AB
WIDGET WORLD CIRCUIT BOARD 440-0087-001
BAILEY POWER ENTRY PANEL NPEP01 NETWORK 90 120 VAC 2 X 25 A
Allen Bradley AB Circuit Board Card 900018-05 A02 900018 90001805 Rev4 88000GDBZ
GE FANUC IC697BEM713G
Bristol Babcock 391013017-R1-CS RDC-3330
CINCINNATI MILACRON 3-533-0264G
CINCINNATI MILACRON 3-531-4334A
Allen Bradley Interface 1784KTC Ser A B01 1784KTC/A
OPTO 22 MODEL 001788K
General Electric IC600CB503A
GENERAL ELECTRIC GE IC600CB502E
RELIANCE ELECTRIC CIRCUIT BOARD CARD 0-52014
ABB ASEA CIRCUIT BOARD CARD DSMB124 6I 57360001-U/3 2668 180-179/4
RELIANCE ELECTRIC 0-57418-A 57418 A/B
Bailey T/C Input Termn Termination Unit NTAI02
THERMO ENVIRONMENTAL DWG 64P309 / 9277 9289 REV E
CDI CPU-9
BAILEY CONTROLS CIRCUIT BOARD CARD NDSI01 NETWORK 90
Panduit 100-064-053 VB-13.1
TOYODA OUTPUT MODULE CIRCUIT BOARD TP-1366-0 93028035 10-30V DC
GENERAL ELECTRIC GE SOLDER FEED D7099-H430
ABB ASEA CIRCUIT BOARD CARD DSMB124 6I 57360001-U/3 2668 180-179/4
FISHER ROSEMOUNT DH7001X1-A3 DH7001X1
Allen Bradley AB Circuit Board Card 112990 Rv. 05 Spare Part Kit 117478
SCHLAFHORST ELECTRONICS 117655541GD
ARL CHARLILLES PRINT ELEC CARD BOARD S930023-2 AA27359 S700187 S314001
Panduit 100-064-053
GE FANUC CIRCUIT BOARD CARD IC600BF810K
Bailey infi90 Interface INBIM02
FLOWSERVE MSS-SP-105 3/8" GLOBE 9821 STAINLESS STEEL GATE VALVE 5000 PSI
Allen Bradley SCR Gate Driver SCRGD 80165-158-53D
TELEVIDEO CIRCUIT BOARD CARD 2014001 REV. N1
TELEVIDEO CIRCUIT BOARD CARD 2014001 REV. N
BURTON, Emerson, 513-268 513 268 513268 PC BOARD, RIM 3100
DYNAMATIC 15-575-110 15-575-14 Card For AF-501208-0480 15-005020-0100Q
BEST POWER CIRCUIT C442BP1 C442CG1 100225
RELIANCE CIRCUIT 0-54394-6
General Electric GE REG55B 44A399778-G02
General Electric GE REG55A 44A399778-G01
BAILEY CONTROLS CIRCUIT BOARD CARD NDSI01 NETWORK 90
Ormec PCB0012 Circuit Board PCB001B, PCB 0018, 2247-195
GE PC Board Card ic3600 IC3600AIAD1B
IFM EFECTOR PROXIMITY SWITCH KG5001/KGE2008-FRKG
Bailey INLIM03 LOOP
MOORE 1573341
LIEBERT CIRCUIT BOARD CARD 4506992000
LIEBERT CIRCUIT BOARD CARD 4D13111G1 REV. 6 415351G1 REV. 1
SQUARE D SY/MAX Digital I/O MODULE 8030 RIM101 SER C1 30619
RELIANCE ELECTRIC RESOLVER INPUT MODULE 57411-2E 57C411
General Electric GE Circuit Board Card 44A398716-G01
ALLEN BRADLEY MODULATOR LOGIC CARD 50387
GE GENERAL ELECTRIC trad 52 trad53
Allen Bradley AB Circuit Board Card 900072-19 A01 900072 90007219 8000AFA
PANALARM CIRCUIT BOARD 12VDC 070-0103-5-03-N
INDRAMAT CLT POWER SUPPLY BOARD BGR CNT 03-00 CLT 01, 261840
RELIANCE ELECTRIC 0-57418-E 57418 A/B
VELLINGE ELECTRONICS 88-14-02 0113-2238, 08-8719-00
RELIANCE ELECTRIC CIRCUIT 0-52808
MOORE INDUSTRIES ANALOG LINEARIZER ALM M811-1030-FT-1
OMRON CIRCUIT BOARD C120-0D412 3G2A6-0D412
Bailey Control I/O NCIS02 6637087D1 663708
MURATA CIRCUIT BOARD EC-146-0INDO
LIEBERT NEWAVE SA POWERWARE EXIDE 45-1439200C 451439200C REV. 11
LIEBERT NEWAVE SA POWERWARE EXIDE 45-0669100C 450669100C REV. 6
LIEBERT NEWAVE SA POWERWARE EXIDE 45-3619100C 45 3619100C REV. 5
LIEBERT NEWAVE SA POWERWARE EXICDE 45-2739300 452739300 REV.7
LIEBERT NEWAVE SA POWERWARE EXICDE 450639300 REV.3 45-0630100
LIEBERT NEWAVE SA POWERWARE EXIDE 453729100C 45372010C
PANALARM FLASHER MODUAL 081-0031-5-03-N 081-0031-3-01-B
MYRICOM CIRCUIT BOARD CARD M3-MONITOR
LIEBERT NEWAVE SA POWERWARE EXIDE 45-2949100C REV. 6
LIEBERT NEWAVE SA POWERWARE EXIDE 45-0589200C REV. 9
GENERAL ELECTRIC CIRCUIT I & SE LA TRAD52B TRAD53B
BORRI CIRCUIT BOARD JUE300160 BRCP1P-0-00697.0598
NACHI BOARD UM-837A20-94032071
MYRICOM CIRCUIT BOARD CARD M3-THRU-16Q
General Electric Comm IC600CB514B
Bailey Controls INNIS01
BEST CIRCUIT PCP-219
No Name Card Board EE Portable programmer Panel BD. 118302720 P1
GOULD MRCRO 84 CONTROLLER 84 M84A-002 M84002 AS-M84-002
TEXAS INSTRUMENTS MAOTP CIRCUIT A16531 96AD8812000232