SIEMENS 6SY8102-0LA01 IGBT TRANSISTOR MODULE *BRAND NEW*
Contact:Jessica
Skype:jessica01235483
Email:sales*mvme.cn (please change * to @)
TEL:86-592-5856209
Mobile Phone:86-18030235311(WhatsApp)
Q Q:2851195444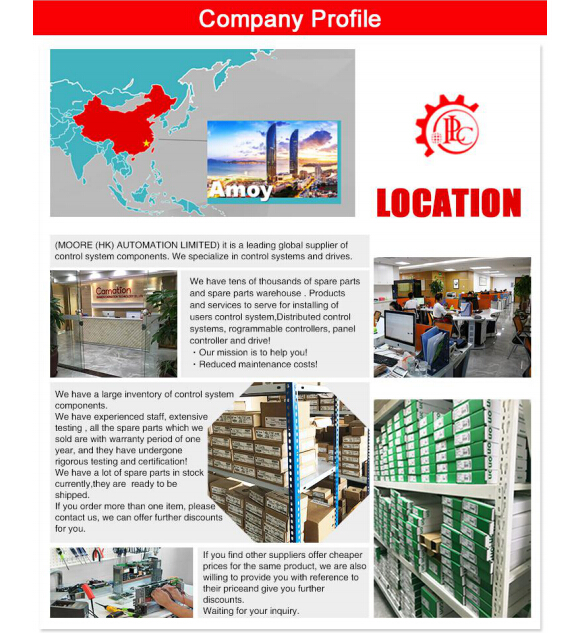 MOORE AUTOMATION LIMITED is a leading global supplier of control system components. We specialize in control systems and drives.
With many years of experience in the industrial sector, we consistently deliver the highest quality of spare parts.
We have tens of thousands of spare parts and spare parts warehouse . Products and services to serve for installing of users control system,
Distributed control systems, programmable controllers, panel controller and drive!
* Our mission is to help you!
* Reduced maintenance costs!
We have a large inventory of control system components. We also made a lot of new hardware and discontinued spare parts to help supporting your existing control systems.
We have experienced staff, extensive testing , all the spare parts which we sold are with warranty period of one year, and they have undergone rigorous testing and certification!
You might find you need spare parts in our data, we welcome you give valuable suggestions to us with our products at any time, .
We have a lot of spare parts in stock currently,they are ready to be shipped.
If you order more than one item, please contact us, we can offer further discounts for you.
If you find other suppliers offer cheaper prices for the same product, we are also willing to provide you with reference to their price and give you further discounts. If you have any other questions, please contact us at any time.
Waiting for your inquiry.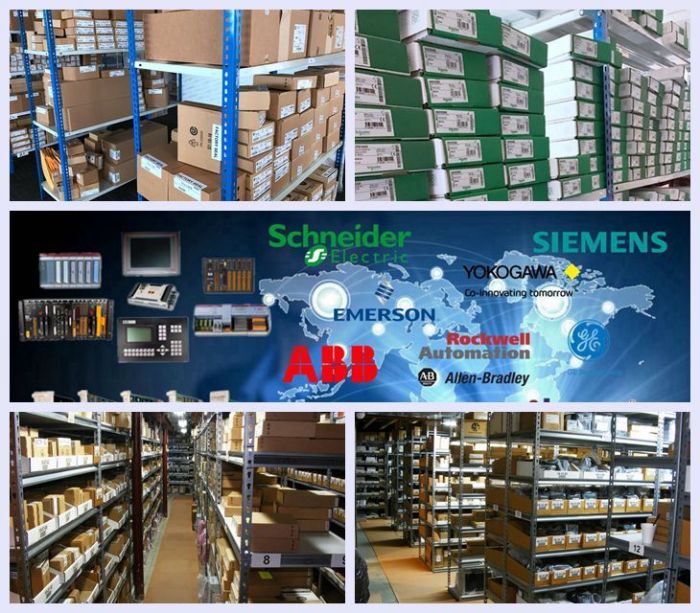 DCS Distributed Control System:
FOXBORO: I / A Series System: FBM (Field Input / Output Module) Sequence Control, Ladder Logic Control, Incident Recall Processing, D / A Conversion, I / O Signal Processing, Data Communication and Processing.
TRICONEX: Redundant Fault-Tolerant Control System, the most modern fault-tolerant controller based on Triple Modular Redundancy (TMR) architecture.
Westinghouse (Westinghouse): system, WDPF system spare parts.
Siemens: MOORE system spare parts.
Honeywell: TDC Series, QCS Series, S9000 Series Spare Parts.
ABB: ADVANT OCS, MOD30, MO300, Bailey INFI90, Master view 850, AC460, S100, S800 system spare parts.
MOTOROLA (MOTOROLA): MVME147 / 162/166/167/172/177/187 Spare Parts.
XYCOM: VME series bus board, programmable human-machine interface.
PLC programmable controller:
Allen-Bradley (Rockwell): 1756/1771/1785 series, Reliance Ryan.
Schneider: Modicon Quantum 140 processor, I / O modules, power modules, and more.
Siemens: S5 / S7 Series 200, 300, 400; 6AV / 6GK Series spare parts.
Servo control system:
FANUC (Fanuc): servo amplifier A06B, drive A06B, input and output modules A02B / A03B, PCB A16B / A20B.
Siemens: 6SN / 6FC / 6FX series, offering sales of CNC systems (810, 802D SL, 810D, 840D) and spare parts.
Yaskawa (Yaskawa): servo controller, servo motor, servo drive.
ABB Robots, FANUC Robots, YASKAWA Robots, KUKA Robots, Mitsubishi Robots, OTC Robots, Panasonic Robots, MOTOMA
6GK7342-5DA01-0XE0
6ES7331-7KF01-0AB0
6ES7365-0BA01-0AA0
A5E00250753-01
6ES7315-2AF03-0AB0
6GK7342-2AH00-8BA0
6ES7810-3BC02-0YX0
6ES5451-8MR12
6ES7216-2BD21-0XB0
6ES7222-1BF22-0XA0
6ES7235-0KD22-0XA0
6ES5440-8MA21
6ES7331-7PF00-0AB0
6ES7153-1AA03-0XB0
6ES7321-1FF01-0AA0
6ES7153-2BA02-0XB0
6ES5947-3UA22
6ES7223-1PL22-0XA0
6ES7407-OKA02-0AA0
6ES5921-3WB15
6ES5946-3UA23
6ES7390-1AE80-0AA0
6ES7407-0KA01-0AA0
6ES7414-2XG03-0AB0
6ES7460-0AA00-0AB0
6ES7460-0AA01-0AB0
6GK7443-5DX00-0XE0
6ES7223-1PL22-0XA8
6ES5927-3KA13+C79458-L331-B1
A5E00369843
6ES7416-3XL00-0AB0
6ES7432-1HF00-0AB0
6ES7431-7QH00-0AB0
6ES7972-0BB50-0XA0
6ES5705-0AF00
6ES7461-0AA01-0AA0
6ES5951-7LB21
6ES5951-7LB14
6ES7431-7QH00-0AB0
6ES7421-7BH01-0AB0
6ES7214-1BD22-0XB0
6ES5452-8MR11
6ES7400-1TA01-0AA0
6ED1057-1AA00-0AA0
6ES7412-2XG00-0AB0
6ED1057-4CA00-0AA0
6ES7216-2BD22-0XB0
6ES7400-1JA01-0AA0
PTM6.2Q250
PTM6.2U10
6ES7223-1BH22-0XA0
6ES7138-4CF41-0AB0
6ES7492-1AL00-0AA0
6ES7331-7KF02-0AB0
6ES7313-1AD03-0AB0
6ES7334-0CE01-0AA0
6EP1334-2AA00
6ES7193-4CC20-0AA0
C98043-A1379-L1-03
6ES7322-1FH00-0AA0
6ES7312-5AC02-0AB0
6ES7232-0HB22-0XA8
6ES7231-0HC22-0XA0
6ES7231-7PD20-0XA0
6ES7214-1AD21-0XB0
6ES7216-2BD23-0XB8
6ES7216-2BD00-0XB0
6ES7138-4CA01-0AA0
6ES7214-1AD22-0XB0
6ES7223-1PL22-0XA0
6ES7223-1PL21-0XA0
6EP1331-1SH01
6ES7212-1BB23-0XB8
6ES7222-1HF22-0XA0
6ES7231-7PB22-0XA8
6ED1052-1HB00-0BA1
6ES7221-1BH22-0XA0
6ES7212-1BB21-0XB0
6ES7221-1BF22-0XA0
6ES5451-7LA12
6EP1331-2BA00
6ES7216-2AD23-0XB8
6ES7216-2BD23-0XB8
6SL3055-0AA00-5CA2
6EP1436-1SL11
6ES7321-1BH50-0AA0
6ES7153-2AA02-0XB0
6ES7307-1EA00-0AA0
6ES7951-0KF00-0AA0
6ES7195-7HA00-0XA0
6ES7334-0KE00-0AB0
6ES7322-1BH01-0AA0
6ES7321-1EH01-0AA0
6ES7332-5HD01-0AB0
6ES7321-1BH02-0AA0
6ES5470-8MA12
6ES7153-1AA03-0XB0
6ES7360-3AA01-0AA0
6ES7407-0KA01-0AA0
6ES7441-1AA03-0AE0
6GK7443-5DX02-0XE0
6GK7443-5DX03-0XE0
6ES7421-1BL00-0AA0
6ES7322-1HH01-0AA0
6ES7361-3CA01-0AA0
6ES7313-5BE01-0AB0
6ES5955-3LC11
6ES5955-3LC14
6ES7321-1BH01-0AA0
P/N 545-714
6ES7365-0BA01-0AA0
6ES7322-1Bl00-0AB0
PTM6.2P1K
PTM6.2Y10S
PTM6.PM
PTM6.2Q250
6ES7231-0HC22-0XA8
6ES7314-5AE03-0AB0
PTM6.4D20
PTM6.2I420
6ES5095-8MA03
BUSS FUSE LIMITRON FAST ACTING CURRENT LIMITING FUSE KTS-R 90 AMP
KNUCKLEHEAD DRILLER X10 WORK GLOVES TOUGH COTTON PALM 21262HO
ANVER VR Series Mini Vacuum Pumps VR07
MARSH J8048 3.5 1/4BM 100/700KPA
SANKEN STR9005 45C
TD TD62381F 8CH LOW SATURATION
OMRON G5C-1 2159YK 24VDC
MARTIN 55 MM
PANASONIC DS4E-SL2-DC12V
NTE 50WM330
STATE ELECTRONICS L11290 1521 B12 VA389-100K ohms
NO NAME S9418AD DP8432V-33 51R84058R29
ZILOG Z84C2010PEC
GOODYEAR HAWK 720-8M-20 7208M30 05252469 90 TEETH
GOODYEAR HY-T WEDGE 5VX1400 ORS-SC
GATES C96 436SS HI-POWER II V-BELT
GOODYEAR BX75 TORQUE-FLEX V-BELT
SQUARE D L4242 TYPE AKW FORM Z13 AIR
SMC CDQDB32-25DM
CKD SSD-ML-32-20
ADI IC8044AR14 AD8044 AR-14 9739 14-SOIC
SMC NAWD2000-N02-C 0.05-0.85MPa
COMAIR ROTRON MX2A1 115V .20.18A 50/60Hz
CORNELL DUBILIER 550C232T500DC2BP 2,300uF 500 VDC
NO NAME SP-5 SP5 8955A15 5/8-11x7/16 1" BASE
BROWNING 1TA40 SINGLE GROOVE
BROWNING 1TA44 SINGLE GROOVE
DEKKA 2" 6-015 6015 TAPE
KINGBRIGHT SC52-11EWA SC5211EWA 13.2mm 2005-52 M
NO NAME RL622331KRC INDUCTOR RADIAL NEW
lot 20 ARaymond EDGE-BITERS, ZIP-TIE
SHIZUKI CAPACITOR SKUNITTF10472A H124
APPLETON ELECTRIC COMPANY MALL IRON FORM 35 UNILETS LB150-M
DOLD SOHNE MINI TIMER RELAY 8057 46
ASF 1-1/4"-8 x 4" A193 ASTM B7 Black Oxide Finish Heavy Hex Bolt 1-14" X 4" 11/4
THOMAS & BETTS MULTI-PIN CONNECTOR 1" NMP100-16-15
AMETRIC CHINA SPROCKET 8-40 8 40 BORE 1 3/8"
Sprocket HB40A15X010 HB40A15 X 010 5/8" 5/8
AMETRIC SPROCKET 1/2-25 1/2 25 1 3/8" 1 3/8
PIAB S1-5 G 3/8" FX 55
Siemens Original Diazed 50A 500V 50Amp
MARTIN 32L100 SDS 32T
BROWNING N2 TIGHTENER
MOSIER 3/4X1 3/4" BORE 1"
WABCO FLUID POWER DIVISION J800018 K 3/4"
SIEMENS 3VE3000-2HA00
BROWNING SPROCKET H50H16 BORE 1 19/32"
FAFNIR BEARING 204KRNP6 5/8"
MATSUSHITA AGN20024 10111H 24V
STAFFORD 2L108HD 1-1/2 2 PIECE
BROWNING Q1 1 11/16
BROWNING P1 1 TAPER
CUSTOM CYLINDERS INC MT11212DAR 31001198 AIR
GOODYEAR 390H100 05351739 100 19106 1" WIDE
BANDO POWER KING C-90
GATES B78 V80 HI-POWER
INFINEON BTS 240A 50V BTS240A 100NA TO-218AA
HISCO CL.1.5 0-1MPa
SMC AR2000 0.02~0.2MPa
LCR COMPONENTS MR2/440 2uF +/- 10% 440VAC 50/60Hz
RHP BEARING 634-2ZYCCN
MARTIN BUSHING 3020 3 11/64"
ZETTLER AZ2150-1A-48D
PANASONIC HL1-HP-DC24V-F
HP HP2-DC24V 10A30VDC 10A 1/3HP 250VAC
GOODYEAR BX81 TORQUE-FLEX COGGED
SMC AR30K-02H-N AR30K02HN 0.05~0.85MPa
BURNDY Aluminum One Hole Lug Compress Conct, 500 mcm, YA34A1
POTTER & BRUMFIELD KHC17D11 24V
CARLISLE 3VX600
TCM 0390781ASCW-BX
NTE R22-1D16-24
20 NAPA BALKAMP RADIAL PATCHES 710-1050
Steiner 02290
DAYCO 3VX670 CHEKMATE POWER-WEDGE
NO NAME ANSI100-1
GENERAL ELECTRIC DKM 21.V 250W
FERRAZ SHAWMUT Q076650 2,5 URGS 17/16 250VAC 16A
GOODYEAR BX42 TORQUE-FLEX COGGED V-BELT
BROWNING BX81
BROWNING H3/8 H 3/8 H-3/8
BROWNING H1/2 H 1/2 H-1/2
BROWNING SDS 1 3/8 5/16
MRC 87008 176L
NICE 1616DCTNTG18 201407
TIMKEN LM11910 ROLLER
Parker PS95001P
HOOVER BEARING 73L03 5/8"
R&I SEAL KIT BC-2-SK
ASHCROFT 45W1000 H 02L 4.5" 0-225 psi 1/4"
Goodyear A72 HY-T plus V-Belt 1/2"x 74" 4L740
Allen-Bradley SIZE 2 L.H. Overload Relay X-37886 NIB
WILKERSON FRP-96-653 5M
BIMBA FQP-4 FQP4 3/8" TUBE 1/4" NPT
BALDOR / DODGE 1610 1-1/4"
ZETTLER AZ2850-2A-24DE
SANKEN STR9015 4.0A 30V
Johnson Controls Replacement Disc for 2-1/2" Seat V-4710-610 17-3-82
KLOCKNER MOELLER CONTACTOR PKZM-1 1-1.6AMPS 1-1.6 AMPS
SCHRACK V23061-B1010-A401
Johnson Controls Replacement Disc 7902 17-123-29 for 3/4" Seat V3011-601
OMRON G5D-22423T-US
LITTELFUSE 815.800C 815 SERIES 800 / 600 AMP
POWERSONIC PS-SC 1.2V SC-1500MAH
PANASONIC JW2SN-DC6Y AJW7210 5A
Burndy Terminal, 4/0 U34RT/U31ART, U34RT
Siemens Original Diazed 4A 500V 4Amp
PICKER PC435-1C-24S-X 10A/125VAC 5A/250VAC
SHINDENGEN ELECTRIC D4LA20