6GK-1571-0BA00-0AA0 PC Adapter USB A2 Cable for Siemens S7-200/300/400 Fast ship
Contact:Jessica
Skype:jessica01235483
Email:sales*mvme.cn (please change * to @)
TEL:86-592-5856209
Mobile Phone:86-18030235311(WhatsApp)
Q Q:2851195444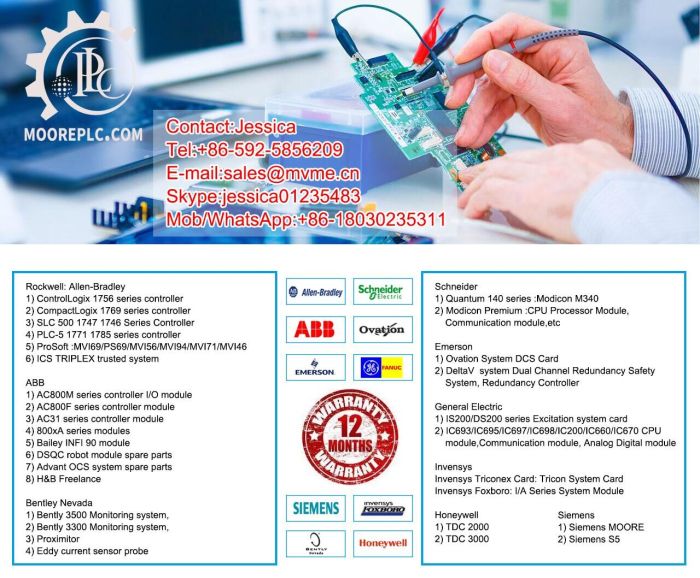 Moore Automation provides control system components that serve the user-installed control system. Distributed Control Systems, Programmable Controllers, Panel Controllers and Drives, we offer fast and easy spare parts supply in more than 65 different countries around the world.
Our service standards, reduce customer downtime and maintenance costs, reduce the operation of all industrial machinery and production equipment failure, extended control system life!
Moore global one-stop DCS PLC spare parts direct selling network] primary sources, there is no middleman to make the difference!
Common industrial automation parts and components in the country far ahead!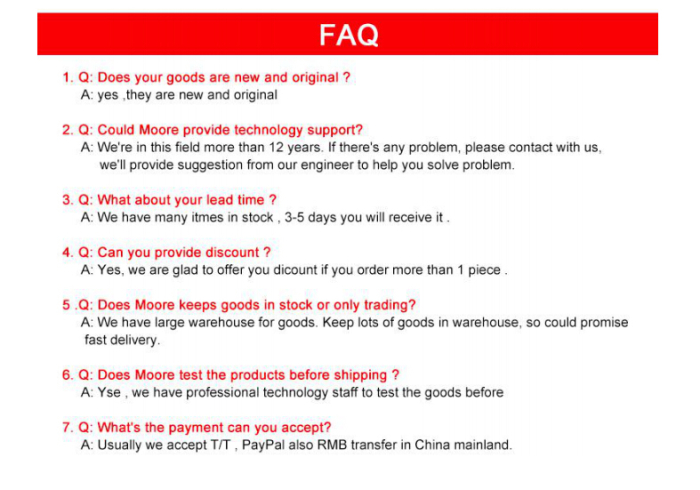 Programmable Logic Controller (PLC)
Allen Bradley Rockwell AB 1747/1756/1784/1785/2094/2098 / 1394C / 1336F / 1745 Series, Ryan Mode Reliance Series
GE Fanuc IC647 / 693/697 / IC660 series module card pieces
Schneider Schneider 140 (Quantum processor, memory card, power supply module) AS The beginning of the series
Siemens 6DD, 6DS old model discontinued series / Moore MOORE (APACS I / O modules, communication modules, power modules. Digital Controller) Series
OMRON (Omron) C500 series
Distributed Control System (DCS)
ABB Industrial Robot Spare Parts DSQC Series / procontic (BBC) DP800 Bailey Control Net90 / Infi90
FOXBORO (Foxboro) FBM series
TRICON (EX) 3503E 3805E 3604E ESD System Spare Parts
Honeywell Honeywell TDC2000 / 3000 System Spare Parts Module Leeds & Northrup MAX1000
Bosch Rexroth Bosch Rexroth Indramat, I / O modules, PLC controllers, drive modules, etc.
westinghouse DCS system card YOKOGAWA DCS Yokogawa card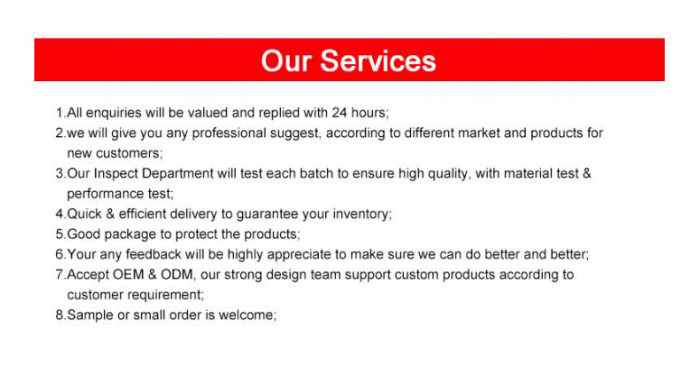 6SE9221-0DC40
6FX1133-0BA01
6FC5548.0AB25.0AA0
1FK7063-5AF71-1GA0
6se7022-6tp50-z
6FC5510-0BA00-0AA1
6SE7022-6TP50-Z
SKD62
6SC6112-2VA00
6SE7014-0TP50-Z
6SE1200-1EA70-1
6FC5510-0BA11-0AA1
6SN1146-1AB00-0BA1
6SE7090-0XP87-3CR0
6SE7014-0TP50-Z
6SE7014-0TP50-Z
6SC6130-0FE00 /A30
6SC 6110-6AA00
6SN1123-1AB00-0BA1 + 6SN1118-0NK00-0AA2
6SN1130-1AA11-0GA0
6SN1130-1AA11-0BA0
6SN1123-1AA00-0BA1
6SL3055-0AA00-5BA2
6FC5211-0BA01-0AA1
6SN1123-1AA00-0AA1
6SN1123-1AA00-0BA1
6SN1123-1AA00-0BA1+6SN1118-0AA11-0AA1
6SN1123-1AA00-0AA1+6SN1118-0AA11-0AA1
JBK3
6SE7016-1TA84-1HF3
1FT5074-0AC71-2-Z
6FX1130-0BB01
6FX1121-2BB02+6fx1134-2bc01
6SC6100-0BA00
6SC6120-0FE00
6FC5511-0CA00-0AA0
6FX1118-4AB01
6FC3984-3RA
6FX1121-4BA01
6FX1128-1BA00 +6FX1821
6FX1126-7BA01 + 6FX1134-2BC01
6SC6100-0NA11+6SC6100-0SA11
570-281-9002.03+6FX1852-1BX03-4B+6FX1852-1BX02
6FX1120-7BB01
6FX1120-7BA01+6FX1126-6BB00+6FX1850-0BX02
6FX1120-5BA01
6FX1130-6BA00
6FX1192-4AB00
6FC5503-0AC00-0AA0
6SN1111-0AB00-0AA0
6SN1118-0NJ01-0AA1
6FX1112-0AA02
C98043-A1319-L4
C98043-A1352-L2
6FX1121-4BA03
6FX1121-2BA03 +6FX1822-7BX00-3H
6FX1154-8BB01
A5E00158598
1FK6083-6AF71-1AA0
6SE7090-0XX84-0FB0/A5E00098837
6SN1123-1AA00-0DA1+6SN1118-0AA11-0AA1
6FC5510-0BA00-0AA1+6FC5511-0CA00-0AA0
6SN1114-0AA01-0AA0
6SN1145-1AA01-0AA2
P112A011
1FK7044-7AF71-1TG5
1FK6101-8AF71-1AB0
6SN1123-1AA00-0CA2+6SN1118-0AA11-0AA1
6SN1123-1AA00-0AA0 +6SN1118-0AA11-0AA1
6SN1118-0AA11-0AA1
6fc5503-0ac00-0aa0
6SN1118-0AA11-0AA0
1FK70425AF711EG0
6FX1-190-3AD00
6fc5503-0ac00-0aa0
6fc5548-0aa02-0aa0
1FT5066-0AF01-9-Z
6FC5548-0AA00-0AA0
6FC5510-0BA00-0AA0 +6FC5511-0CA00-0AA0
6SC6100-0NA01 462 010.9070.11
6FC5510-0BA00-0AA0 +6FC5511-0CA00-0AA0
6FC5503-0AD00-0AA0
620.0010.03
1FT5036-0AF01-9-Z
6FX1142-1BA01
6FC4100-1AA00-Z
6FC4600-0AR04
6FC4600-1AS01
6DS1140-8AA
6DS1702-8RR
6ES5734-2BD20
6ES5491-0LB11+6ES5434-4UA12
6ES5943-7UB11
S7-200
58511001 3430003
FUM230/6DP1230-8CC
FUM210 6DP1210-8BA
FUM511 6DP1511-8AA
FUM280 6DP1280-8AA
FUM310 6DP1310-8AA
FUM210 6DP1210-8AA
6DR1410-0NJ91-1JN0+C73451-A347-B151
FUM232 6DP1232-8AA
FUM531 6DP1531-8AA
6DS1211 6DS1212 6DS1213 6DS1922 6DS4407
6ES5304-3UB11 + 6ES5491-0LB11
6DR5010-0NG00-0AA0
6ES5105-3RA31 6ES5935-3LA12 6ES5905-3RB11
PM8M26
6DS1701-8AB
6DS1703-8RR
6FX1-190-3AD00
ABB SDCS-POW-1C
ABB SDCS-IOB-23
SDCS-FEX-2A ABB
ABB DC Converter DCS500 SDCS-POW-1C
ABB SDCS-PIN-4
2300-ABB DCS500 SDCS-FEX-2
From China
ABB SDCS-PIN-4
ABB DC Converter DCS500 SDCS-POW-1C
ABB SDCS-IOB-3
ABB DCS500 SDCS-CON-1
ABB SDCS-CON-2A REV.K 3ADT309600R0002
ABB SDCS-IOB-21 External Isolated Digital DCS500 I/O
ABB SDCS-PIN-25 3BSE005666R1
SDCS-CON-2B ABB CPU
ABB 0AC Drive Power Supply Board DCS500 501 502 SDCS-CON-1
ABB DC governor DCS400 driver board SDCS-PIN-3A
ABB SDCS-CON-F01
ABB PROFIBUS NPBA-82
ABB SDCS-PIN-21
ABB DCS500 Spare SDCS-FEX-2
ABB DCS500 SDCS-COM-1
ABB SDCS-FEX-32
ABB DCS400 SDCS-PIN-3A
ABB PROFIBUS NPBA-82
ABB ACS600 3BSE006065R1 NAMC-03
ABB DCS500 SDCS-CON-1
ABB NEW SDCS-IOB-1 PLC
ABB SDCS-PIN-4
ONE USED ABB DCS500 Spare SDCS-PIN-22 + SDCS-PIR-21
ABB SDCS-IOB-1
ABB SDCS-IOB-3
ABB SDCS-PIN-11
ABB SDCS-PIN-3 / 3ADT310400R1
ABB SDCS-CON-3A REV G AC
ABB SDCS-PIN-21
ABB 0AC Drive Power Supply Board DCS500 501 502 SDCS-CON-1
ABB SDCS-POW-1
ABB SDCS-FEX-2A 3ADT311500R1
ABB SDCS-CON-3A REV G AC
ABB SDCS-POW-1 DCS500 501 502
ABB SDCS-FEX-1
ABB sdcs-com-5 3bse006567r1 // 3bse 006567r1
ABB SDCS-CON-3A
ABB SDCS-IOB-21
From China
ABB SDCS-PIN-4 Tested
ABB DCS500 SDCS-COM-1
ABB DCS500 SDCS-CON-1
ABB SDCS-IOB-22 Rev. E I/O
ABB SDCS-POW-1 3ADT220090R0003
ABB SDCS-PIN-25 3BSE005666R1
ABB sdcs-iob-23 ABB 3bse005178r1 REV: G
ABB SDCS-IOB-22 Rev. D I/O
ABB SDCS-IOB-22 Rev. F I/O
ABB sdcs-pow-1 3adt220090r0003
ABB SDCS-PIN-11 3ADT306100R1
ABB SDCS-POW-1
ABB DCS800 CPU BORRD CPU SDCS-CON-4
ABB DCS800 CPU BORRD CPU SDCS-CON-4
ABB SDCS-IOB-1 PLC
ABB DCS500 SDCS-CON-2B
ABB SDCS-FEX-32 3BSE005715R1
ABB DCS400 SDCS-PIN-3A
ABB DC Borad DCS500-SDCS-FEX-2A
ABB TSU Digital I/O Connection Kit SDCS-IOB-23
ABB SDCS-POW-1
ABB SDCS-CON-3A
ABB sdcs-iob-3 3bse004086r1
ABB DC governor DCS400 driver board SDCS-PIN-3A
ABB SDCS-CON-1 3BSE006196R1
ABB SDCS-CON-2A 3BHE004059R0001
ABB DCS500 SDCS-CON-1
ABB DCS500<Spare parts>SDCS-PIN-11
ABB SDCS-IOB-3
ABB SDCS-POW-1 3ADT220090R0003
ABB DC converter DCS500 power supply board SDCS-POW-1C
ABB DCS 400 SDCS-CON-3
ABB DC governor accessories SDCS-CON-205B
ABB Pulse Transformer Board sdcs-pin-48 REV H 3adt220090r0043 3bse004939r0002
ABB CONNECTION BOARD SDCS-REB-1
ABB BOARD sdcs-pow-1c
ABB DCS600 Dc speed governor SDCS-IOB-3
ABB DC converter DCS500 power supply board SDCS-POW-1C
ABB MAIN CONTROL SDCS-CON-4 DCS800
ABB DCS500 501 502 SDCS-COM-1
ABB SDCS-CON-2A 3ADT309600R0002
ABB SDCS-CON-2
ABB SDCS-PIN2
ABB SDCS-PIN-48-SD
ABB DCS400 SDCS-PIN-3A DC
ABB SDCS-CON-2A
ABB SDCS-AMC-DC-2
ABB SDCS-PIN-3B
ABB DC converter DCS500 power supply board SDCS-POW-1C
ABB DCS500 SDCS-CON-2B
ABB SDCS-CON-3A
ABB DCS500 SDCS-CON-1
ABB SDCS-PIN-4 DCS800
ABB SDCS-PIN-20XB
ABB SDCS-IOB-22W/1CABLE DCS800
ABB PG63 POWER INTERFACE BOARD SDCS-PG6320,ABB 12M250002510
ABB SDCS-COM-5
ABB DC converter DCS500 power supply board SDCS-POW-1
ABB SDCS-IOB-1 I/O
ABB 3BSE011316R1 SDCS-PIN-52
ABB 3ADT220090R0006 SDCS-PIN-51-COAT
ABB CONTROL BOARD SDCS-CON-4 3ADT313900R1001 DCS800
ABB DCS400 SDCS-PIN-3A
ABB Snubber Board SDCS-PIR-21 3ADT306900R1
ABB DCS500 SDCS-CON-2B
ABB SDCS-CON2-21 control board for DCS500
ABB SDCS-IOE-2C MEASURING CARD CODE: 61208097D AC-IOE-2C MD KIT: 64282964
ABB SDCS-COM-5
ABB SDCS-DSL-4 Serial Communication Board 3ADT200005R0001
ABB SDCS-COM-5
SDCS-POW-1 ABB