SIEMENS MEMORY CARD 6ES7952-1AH00-0AA0 6ES79521AH000AA 0
Contact:Jessica
Skype:jessica01235483
Email:sales*mvme.cn (please change * to @)
TEL:86-592-5856209
Mobile Phone:86-18030235311(WhatsApp)
Q Q:2851195444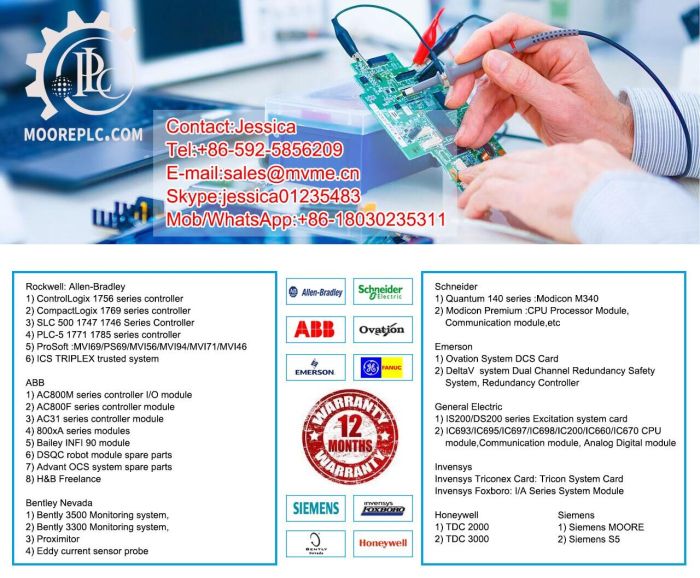 Moore has always been the best staff and spare parts together, a professional multilingual service team, insist on providing customers with first-class service.
Company's products cover distributed control system DCS card pieces, programmable logic controller PLC module SPS / CNC panel controller / drive / servo drives / robots and other parts.
Whether it's new spare parts, or outdated / discontinued parts Moore is committed to bringing the business back to business in the best cost and best quality possible way.
More than 100 excellent manufacturers, large spare parts inventory, adequate supply, faster customer support response
Partners across all continents and customers in 150 countries
Moore Automation has supplied nearly 90 million stock components to customers worldwide Our experienced team of professionals provide more component expertise to provide you with efficient component solutions.
Whether it is customer service or delivery speed, we always strive for excellence and achieve better.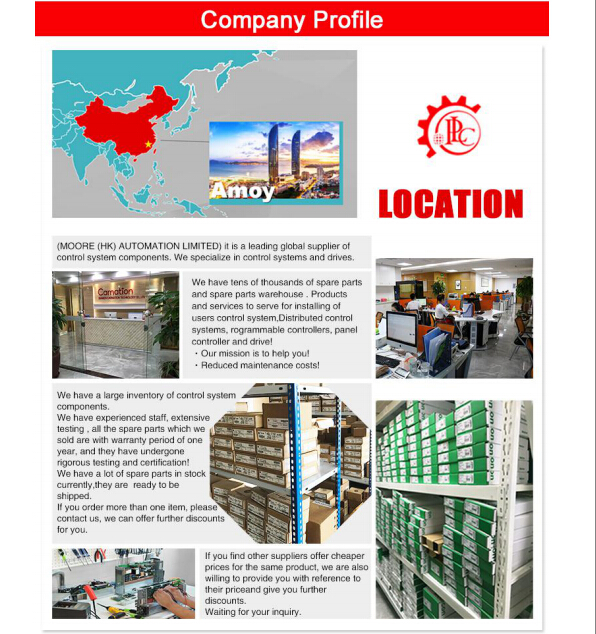 How do I get a quote?
Call me or send an email to me We will quote as soon as possible!
Can you sell worldwide shipping?
Yes, we do a lot of business internationally and can ship anywhere
When will my order ship?
We will include delivery time estimates when sending quotations, but most orders will ship within 12 hours.
How to get tracking number?
The tracking number is sent automatically when we ship it.
Are new and re-installations available?
Yes, in most cases, we can quote your new parts and manufacturers to remanufacture parts.
Warranty Policy?
Warranty period of one year from the date of shipment warranty!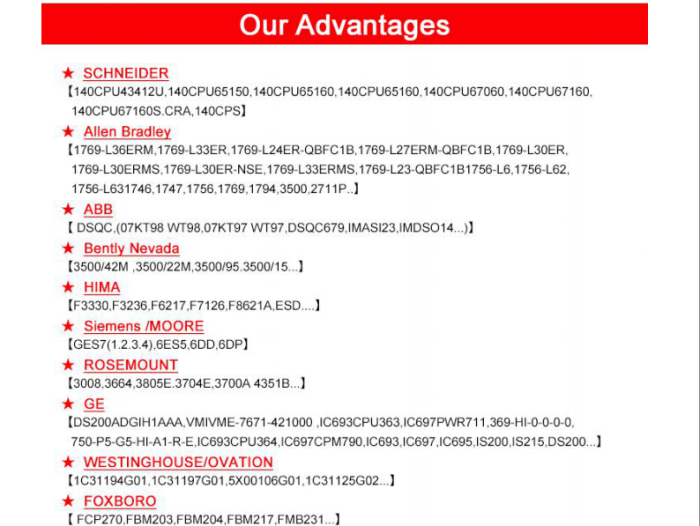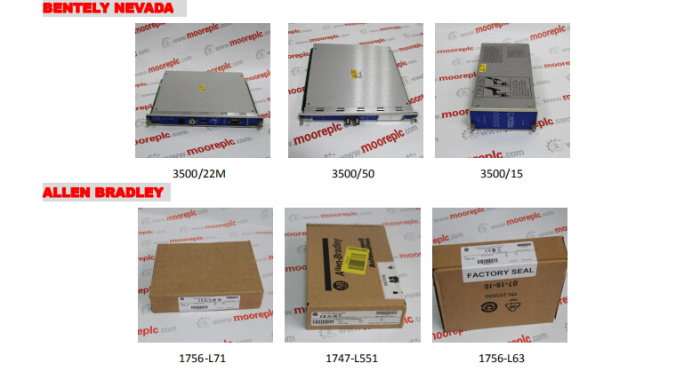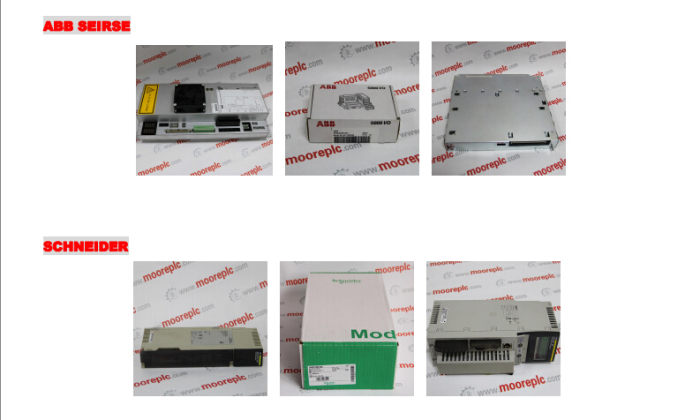 A5E00220690-2
C98043-A1604-L1-5
C98043-A1604-L1-04
6DP1280-8AB
6DP1210-8BC
G85139-E172-A810
462000.0022.03
462000.0055.02
PIC166-1
6ES5350-3KA21
462010.9070.00
6SC6100-0NA21
753X-100Y
C98043-A1604-L1-05
C98043-A1601-L4-11
C98043-A1616-L1-04
C98043-A1261-L2-05
C98043-A1261-L3-03
C98043-A1601-L1-17
1503-603/02
C98043-A7002-L4
C98043-A7002-L1
SDCS-CON-4
C98043-A1603-L41
C98043-A7007-L4
C98043-A1603-L41
6SC6100-0NA11
C98043-A1601-L1
C98043-A1201-L12
C98043-A1206-L17-03
C98043-A1202-L11
C98043-A1200-L12
6QN5501-0BA
STRBR4.0-055
STR-Q1.PCB
C98043-A1680-L1 6SE7090-0XX85-1DA0
C98043-A7001-L1
C98040-A1055-P1-01-87/C98043-A1055-L3-06
C98040-A1055-P1-01-87/C98043-A1055-L2-06
C98043-A1054-L4-10
D83293-801
D84066-801 D81261-16
C98043-A1046-L1-11
C98043-A1046-L /C98043-A1046-P2-06-87
C98043-A1663-L11-08
C98043-A1660-L1-10
KR-MCK2
C98043-A7010-L2-5
C98043-A1663-L12-08
6RA7018-6DS22-0
6SE7090-0XX84-6FF5
6SE7090-0XX84-0FF0
C98043-A1601-L1-16
A1-116-100-507 /A1-316-200-002
A1-116-100-509 /A1-316-200-002
6RA2487-6DV00-0 /6QN5503-0BA
6RA2487-6DV62-0
6SE7031-7EE85-0AA0
6RA7091-6DS22-0
6RA2475-6DS22-0
C98043-A1206-L2
C98043-A7010-L1
A1-116-100-502 /A1-316-200-001
7SD6005-5EA00-1DA0/CC
A1-116-100-504 / A1-416-200-001
C98043-A1663-L11-08
C98043-A1604-MFB
C98043-A7002-L1
6SE7090-0XX84-0KA0
C98043-A7010-L2
C98043-A7002-L4
B00-1-10L
C98043-A1660-L1
6ES7214-1BD22-0XB0
6SE7090-0XX84-0FF5
6SE7090-0XX84-0FF5
KR-JC
KR-MCK
C98043-A1604-L3-3
C98043-A1600-L1-17 C98043-A1600-L1-15
C98043-A1600-L1-10
C98043-A1601-L4-11
C98043-A7010-L2
C98043-A1601-L1
6DM1001-0WB00-2 / E89110-F1391-L1-N
6RK9132-1BD00
E89110-B2108-L1
E89110-F2417-L1
6RA8222-UB0
C98040-A7005-C1-4
C98043-A1604-L1-5
C98043-A1603-L11
6SE7090-0XX84-2FK0
6SE7023-2EA87-2DA0
C98043-A7009-L1/C98043-A7009-C1-6
C98043-A7002-L4
6SA8252-0AC706SA8252-0AC70
C98043-A1204-L21
C98043-A7007-L1 /C98043-A7007-L2
C98043-A7002-L4-12
C98043-A1045-L3
C98043-A1086-L11
C98043-A1052-L
C98043-A1006-L2+C98043-A1087-L1
C98043-A1098-L1
C98043-A7002-L1
6RA8232-1KB0
C98043-A1200-L
C98043-A1203-L21-04
C98043-A7014-L2 /C98043-A7014-L1
6EP1334-1SL11
6SE7032-2FC85-0JA0 /C98043-A1696-L1
C98043-A7006-L1
C98043-A7001-L1 / 6RY1703-0AA00
C98043-A1210-L41
C98043-A1024-L8/L7 C98040-A1024-P2-03-86
C98043-A1601-L4-16
2532-3GP10
3536-3AA00
6SC6100-0GB00
6RA2221-8DD20-1¥3900.00
E89110-B1891-L1-I
E89110-B1953-L1
6SE1200-1AC50-0
C98043-A1601-L4-17
6SE1200-1GA36-2
6SE1200-1CA20-1
6SE1200-1DA50-0
C98043-A1052-L1 03
C98043-A1001-L5 09
C98043-A1005-L2-15
C98043-A1660-L1-13
C98043-A7001-L2
c98043-a1604-l2-3
C98043-A1600-L1-11
C98043-A1305-L1-08
C98043-A1663-L41
C98043-A1601-L1
C98043-A1663-L11
7ML5004-1AA10-3B
C98043-A1663-L11-08
C98043-A1616-L
C98043-A1206-L
C98043-A1604-L
6SE7090-0XX84-3DB0
C98043-A7001-L1
6RY1704-0AA00 C98043-A7005-L1
C98043-A7001-L1+C98043-A7006-L1
C98043-A7001-L1
C98043-A1204-L
PV Measurements Solar Photovoltaic Reference, PVM444
Siemens Power Supply 6ES7 407-0KR00-0AA0, 6ES7-407-0KR00-0AA0, SHIPSAMEDAY1630C
SWAGELOK H22-BN5459-20 Hastelloy 1/4"T, 3way Shipsameday W/2-3daysshipping ZF35
Inficon AG LI-9496 pressure gauge CF 2.75", 353-508, BPG400-SD, 354-491 1557A6
Inficon AG LI-9496 pressure gauge CF 2.75", 353-507, BPG400-SD, 354-491 1557A5
MKS INSTRUMENTS In Situ Diagnostic Access Valve IDA, IDA-T007, 3870-01987
DANAHER MOTION SERVO AMPLIFIER, HPAR-15840-601-4501B14
MKS INSTRUMENTS In Situ Diagnostic Access Valve IDA Tool16, IDA-T016, 1551P
MICROCHIP MCP23S17-E/SS, IO EXPANDER, 16BIT, 28SSOP, SHIPSAMEDAYR4
BRANSON/IPC Plasma Program Controller, PM906U-4
Mks Mass Flow Controller 1/2" VCR 300 SLM / HE / 1579A00132LR14V / VITON 120C2
SIEMENS 6SL3210-1KE22-6AP0
Voltronics trimmer Variable capacitor .6-5pF, A4M5, SHIPSAMEDAY Y14
Mecos Traxler MPA3-50 & FDC240
MKS Baratron Pressure Transducer 1 Torr, 1/4" FVCR, 690A01TRC
PHOENIX CONTACT Motor Starter, 2732389, 27 32 3 89, IB L2 IP 500 MLR-4-6A, B17
20x PARKER Push-Lok Barbed Female JIC 37° Swivel 3/4" SST, 30682-12-12-C 1550D3
Swagelok Diaphragm Valve, 6LVV-MSM-ALD3T-2-P-CSV, 200C ALD
Edwards PV40EKS Right Angle Valve KF-40, C414-04-000
ALLEN-BRADLEY AC DRIVE, 3-PHASE, 10.4kVA, 1336-B007-FOD-13
Eltrotec Sensor M8X68Mm Cyl Laser 10610212, LLS8/0.5Q 1600A7
OMRON Smart Sensor Camera, ZFX-SC, SHIPSAMEDAY1227B1
Mks Mass Flow Controller 1/2" VCR 300 SLM / HE / 1579A00132LR14V / VITON 120CA
SilPac High Purity & Industrial SP-RPXSP6-HPM0DA0
StripIR Infrared Heating 25" Lamp/Housing 5000W, 5306B-25-3500-00-00, 103390-008
SMC HIGH VACUUM VALVE 1/4" FVCR, XVD2-02VF-X507, XVD2-02VF, Shipsameday1181P1
NTI XTENDEX Remote and Local Unit, ST-C5KVM-600M
SMC Pneumatic Rodless Cylinder MY2H40G-660L-XB11
PANASONIC Color CCD Camera GP-KR222
ASSY FESTO 18980, 18968, 18969, 18671, 174483, 18738, 18652, 18781,18639, 159432
General Scanning PWA E11-13209-7 Rev D & GSI 000-3008528
CAMCO Rotary Indexer 80RDM8H16-330, D-67119
SMC Angle Valve High Vacuum NW63, XLA-63D-A93LA-XAQ3-A-01N
Brooks Mass Flow Controller GF080CXXC, GF080C-100766
RENISHAW incremental encoder system, S-9SRH-0247
Allan Aircraft AA67010-16KA (AA67010) & AA67029-16KA (AA67029) W30
18X Amphenol Circular Elbow MIL Connector 31461-E2121R13041S0055
MTS TempsonicsGH-Series Linear Position Sensor, GHS0060UD602V0
MIZAR GPC CPU MODULE 9248044, MZ8115-E-27-N, GPCROM.S, 79K33557-1
GREIFER LIGHT-SPRING ULS-80, ULS80, 15130002, SHIPSAMEDAY1542Z10
Allen Bradley LOGIX 5335E PRO 1769-L35E, 1769-PA4, 1769-SDN, 1769-ECR, 1784-CF64
SAINT-GOBAIN PERFORMANCE PLASTIC 730002109
Metrobility Gig-E Services Line expansion module, R851-1S, SHIPSAMEDAY X44A
Mks Mass Flow Controller 1/2" VCR 300 SLM / HE / 1579A00132LR14V / VITON 134C8
QUANTUM QT60161B-ASG, IC SM TOUCH SENSOR 16 CHANWAFFLE80 S86
Linear IC OPAMP GP 7.2MHZ RRO 8SO, LT1677IS8PBF, SHIPSAMEDAY Q51
Fisher Controls Model TL102, Flow Controller 5903853, Shipsameday 1615A
PARKER Push-Lok Barbed Female JIC 37° Swivel 3/4" SST, 30682-12-12-C 1550D2
Phoenix Contact Distributed I/O device 2750934, IBS SAB 24 DO 8/8 1179E
CAPACITOR CERAMIC MULTILAYER 150V, 100A4R7BT150XTV W73
ATC Multilayer Ceramic Capacitors MLCC SMD 250V, 600S101JT250XT
Nikon PREARI CCD, 2S005-229
Nikon PREARI CCD, 4S005-343
FANUC Master Mother PCB Board A16B-1010-0286/15B, A320-1010-T286/08
Allen Bradley Preset Speed, 160-BA03RPS1, Shipsameday 137G 27
MKS Baraton Capacitance Manometer 10 TORR, 625D-30518, 625D305
Maxim Integrated MAX321CUA+, Analog Switch ICs Precision Dual V144
Ronningen-Petter ISO-Ring PI-15053, P1-5053, Rack A, A12
Control Techniques Incremental Signal Cable SIBAA036, IM/0028/DS Rack G G12
Carlo Gavazzi Magnetic Contactor CGC-800
Omron Vision Sensor F-30 & F-30KP, with Canon TV Lens PHF12mm SHIPSAMEDAY1635R6
INFICON AG LI-9496 BALZERS Pirani Gauge CF 2.75", BPG402-S, 353-571
MERLIN GERIN CIRCUIT BREAKER NSF150N
Pfeiffer electromagnetic angle valve BPV15651, TYP: ELV025M, PFA44501, D-35614
Festo Rotary Actuator DRQD-40-90-PPVJ-A-AL-FW-Z1, 197373
Mks Mass Flow Controller 1/2" VCR 300 SLM / HE / 1579A00132LR1BV / VITON 120C1
PILZ INPUT MODULE 16 CHANNEL, PSS67F-16DISB-T, 311300, 101739, RACK C C162
METROBILITY T3 Interface Devices, R115-24, SHIPSAMEDAY X44B
Kollmorgen AKM42G-BKCN2-01 & Motovario Type NMRV/050, i10,00
Kone 397450 H06, MCC-85/EXP3, 397452G01, 104035044
MKS HPS ELECTROMAGNETIC LoPro ANGLE VALVE, KF-40, 99J0384
IMS A-0805-C-02DB
Analog HMC270MS8GETR, IC MMIC GAAS SW SPDT 8MSOP S18