Siemens 6SL3211-1PE23-3UL0 sinamics single motor module new DC version
Contact:Jessica
Skype:jessica01235483
Email:sales*mvme.cn (please change * to @)
TEL:86-592-5856209
Mobile Phone:86-18030235311(WhatsApp)
Q Q:2851195444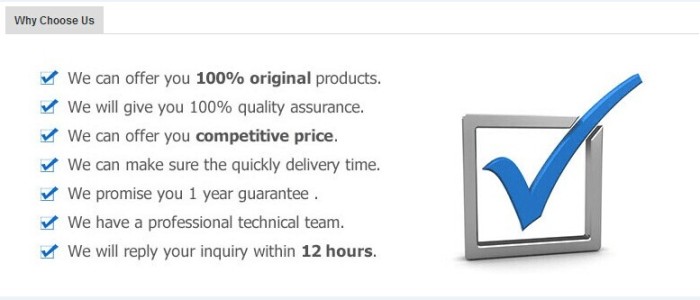 Moore Automation only do one thing to lead your unit automation device escort!
Moore Automation Co., Ltd. is focused on supporting you to install control systems and drives through spare parts service, surplus and drive control system components. We also distribute many new automation hardware to help support existing installations or use the latest technologies. We have a knowledgeable team that carries out extensive testing before shipping all our DCS PLC parts sold for 1 year warranty.
Moore Automation Drives Industry 4.0 No middlemen make any difference and spare no effort in finding spare parts solutions. To ensure that customers throughout the excellent supply of services
Moore Automation adheres to the business philosophy of "providing better equipment parts, faster service and more professional industry knowledge" to help your business resume its normal operation
We have supplied 969,704 automation parts to 57,1000 customers in 138 countries
With over 10 years' experience in the sales of spare parts for industrial control equipment, Mold Automation is the global leader in spare parts supply for automation and is dedicated to providing a wide range of accessories to customers worldwide. No matter what kind of electrical automation components you need, our experienced professional team will use Years of industry knowledge provide you with efficient spare parts solutions.
Moore automation team only does one thing to escort your automation units and industrial installations!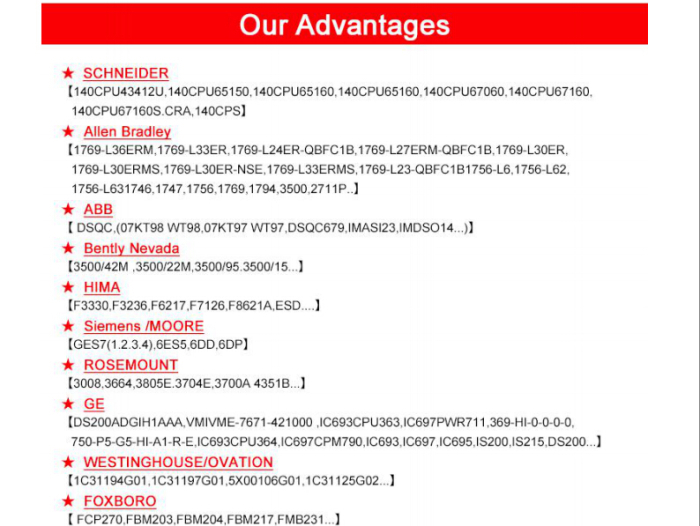 Payment Terms :
TT in advance ....
Shipment Terms :
Trading terms are Ex-works Xiamen
We will ship the goods within 3 working days after the payment received.
We can ship the goods to worldwide by DHL/FEDEX/UPS/TNT/EMS or other best possible way. Please also contact us directly if you have preferred ways.
After Service :
We offer guarantee of quality for 45-90 Days for all the parts we ship out .
1st, we will state the condition of the parts honestly when quote ;
2nd, we will test the quality of the goods before shipment ;
3rd, we will be responsilbe when the parts get in any problems .
Hope you enjoy the shopping !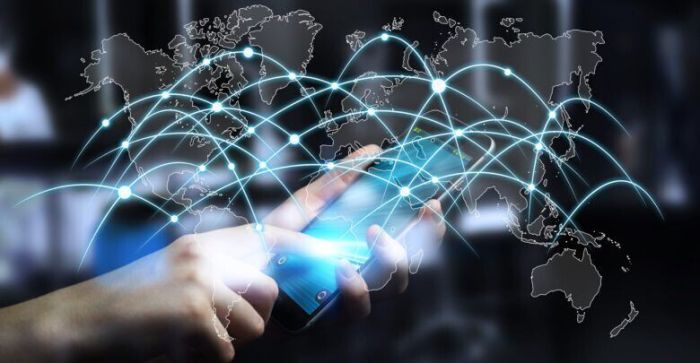 FUM210 6DP1210-8AA
6DR1410-0NJ91-1JN0+C73451-A347-B151
FUM232 6DP1232-8AA
FUM531 6DP1531-8AA
6DS1211 6DS1212 6DS1213 6DS1922 6DS4407
6ES5304-3UB11 + 6ES5491-0LB11
6DR5010-0NG00-0AA0
6ES5105-3RA31 6ES5935-3LA12 6ES5905-3RB11
PM8M26
6DS1701-8AB
6DS1703-8RR
6FX1-190-3AD00
6ES5927-3KA13
6DS1211 6DC1212 6DS1213
6DS1325-8AA
6DS1223-8AC
6DS1703-8AB
6DS1731-8RR
6DS1327-8AA
6DS1326-8BB
C79451-A3260-A25
C79451-Z1359-U9
6DS1901-8BA
6DS1701-8AA
6DS1844-8DA
6DS1312-8BB
6DS1330-8CA
C79458-L2197-A1
C79458-L2339-A1
C79458-L2225-B205
6DS1702-8AA
C79458L7000B18
C79458-L2270-A1
C79145A3054B808
6EA9643-3AA00-0AX0
C79458-L2350-A1
6ES5 985-4AA11
LBF2003396-R161
EBE221.1-1
EBE240.1-2
EBE240.1-1
EBE200
EBE223.1-6
EM4-101-AA2
PS22-4A24VDC2A
PS316-208-1
PS316-212-1
EBE250A
EM4-201-DX2
EASY400-POW
EASY721-DC-TC
ETR4-11-A
819-DC-RCX
618-DC-RE
PS4-151-MM1
PS416-BGT-410
SN4-050-BI7
PKZM0-16
PKZM0-4
INP-400
CNT-200
NET-440
POW-400
EBE-223.2-2 CPU-W
PS316.118-3
EBE201
EBE295.1-3
PS306-DC
PS416-BGT-420
PS416-MEM-442
EBE-252-1
PS3-DC
PS416-CPU-400
EASY205-ASI
618-AC-RC
LE4-108-XR1 LE4-206-AA2
AIO-400
PS416-OUT-400
PS416-INP-401
EBE211
619-AC-RC
NB1-E56X-AC
QV28D
NJ-HC
NJ-P1
NB1U40X-01 /NB1U40R-11
NJ-Y8-R
NJ-X32-1
NJ-CPU-B16
FPC220P
NB2-E36R3-AC
NB1-P24-AC
NB1-P40-AC
FPU120H-A10
FTU133B
FTU443A
NJ-BP8
NW0P20T-31
NB2-P24R3-AC
FTU266B
NWOP60R-31
NJ-Y16-R16
NJ-X16-5
NB0U14R-31
NB1-E56-AC
NB1W40R-11
NB1-P56-AC
NB1W24R-11
NB1-E40X-AC
NW0P30R-31
NW0P20R-31
NB0-P24R3-AC
FTT320T0-G02
NB2W56R-11
FTU263B
NW0E32R-3
088H
NB1W56R-11
128H
NB1U56X-01
FPU150S-A10
FTU500A
FTU340A
FTU441A
213B
123C
FTU233B
NW0E16R-0
RJ-0A240-002
SQ-1D024
NB2U24R-11
NB2-P36R3-AC
NB1-E8/NB1-E8
NB2P90R3-AC
NB1U24R-11
NB-AXY4-11AC
SIEMENS 505-4816 MODULE DIGITAL OUTPUT 110-220V-AC, 2586270-0002
ALLEN BRADLEY 1771-KA2
LEESON CM31T17N224A A.C. GEARMOTOR 1/15 H.P. 1725/1425 RPM M1120170.00
BANDO HTS 1190-14M-40
CROUSE-HINDS: GUAB 26 3/4in. 21, GAYESCO: 16-TE-8272 5FT
NIB IFM EFECTOR IW5054 PROXIMITY SWITCH INDUCTIVE IW-3008-APKG, 10-36 VDC
ALLEN BRADLEY 1777-CB CABLE ASSEMBLY 2M PLC-2
ALLEN BRADLEY 1771-OFE1 ANALOG OUTPUT MODULE SER B, F/W REV B W/ 1771-WC
BODINE ELECTRIC 4.8V 1A HY-SYNC DC STEPPING MOTOR TYPE: 23Y3FEHD, NO: 2409LF1112
NIB ATC 376A-100-Q-50RX TIMING AND
PC POWER COOLING PC03-00407-02 CABLE 1607368, 03-0047-02
BLACK BOX DB25M-DB9F
DYNAPAR BRAND DANAHER 2206000240 CUBE ENCODER 3/8 DBL,5-26V LN DRVR,7 PIN
TRI-TRONICS KP-162
FANUC A20B-1006-0290/02B PC , A20B-1006-0290
METRABYTE PC7032 14120 REV 5 CCV-2 94V-0 REV. 8394 WH-P-40 PC
WSP B3009 7-1/2 IN
BBC METRAWATT MCC25-12IO1
K. KIKUCHI T196519 BOARD R138851 009C, PST60A, DWG. NO. 331RA28693
ALLEN BRADLEY 1771-KA2
ALLEN BRADLEY 1771-IA AC
ORIENTAL MOTOR SBR32-ZP
TIMING BELT PULLEYS 5/16'' BORE STEEL 12XL0373FS4
DAYCO SYNCHRO-COG 840H300
SMS 1361 PULL ROLL SHAFT 5/8X14 STAINLESS STEEL 5/8IN DIA. 14IN
GOODYEAR 1700H150 TIMING
ALLEN BRADLEY 2750-C1
NIB IFM EFECTOR OM5005 FIBER OPTIC AMPLIFIER OMF-FCKG/US100 10-30VDC
NIB STAHL INTRINSPAK 9001/01-280-100-10
NIB IFM EFECTOR OG5068 PHOTOELECTRIC SENSOR OGELFPKG/V4A/US-100
NIB CUTLER HAMMER DS200EK1 SER. A ELECTRICAL INTERLOCK KIT 123193
SCHNEIDER 170INT11000 COMMUNICATION
SCHNEIDER MODICON 170INT11000
BECKHOFF BK3110 PROFIBUS
SIGMA-NETICS 751109E ROTARY ACTUATOR SW-1246B
NIB TELEMECANIQUE LP1 D2510BD CONTACTOR 24V DC, 11KW-400V, 15HP-460V, 023393
WARNER ELECTRIC PM2005-40326 BALL SCREW 3/4INCH W/ 3IN
NIB GE FANUC IC630MDL375B OUTPUT MODULE 115VAC MDL/16
GE FANUC IC693MDL646D INPUT MODULES 24VDC, 16 PT POS/NEG FAST
NIB SQUARE D CLASS 8501 TYPE X020V02 AC
CHIRON BO 595 100.24.01 289-139/ 001-000 19/06
CONTROL CONCEPTS 1651-48-40
WSP B3010 7-3/4 IN CONVEYOR REPLACEMENT ROLLER 1/2" I.D 1-1/2" O.D
BANNER SMA990LV VALU-BEAM SENSOR WIRED TO HUBBEL PLUG HBL5266C
MITSUBISHI MELSEC A62P PROGRAMMABLE CONTROLLER 9701H
ESCORT MEMORY SYSTEMS CM1746
RELIANCE ELECTRIC 0-52875-1C PC
FANUC A350-0004-T192/02
GOODYEAR 850H300
GE FANUC IC600YB904A 115VAC OUTPUT MODULE 44B712840-002/4
NIB EATON CUTLER-HAMMER E57LAL18T111
SQUARE D 8502-AO-1 CONTACTOR NEMA SIZE 00
ALLEN BRADLEY 509-BOB STARTER SIZE 1 SER. B W/ 42185-800-01 RELAY & 595-A
ALLEN BRADLEY 1771-OFE1/B ANALOG
CROUSE-HINDS GAYESCO 16-TE-830
GENERAL ELECTRIC 22D82G103 COIL 208/220V/60CY
SQUARE D 8903LL040V02 CONTACTOR 4-POLE, 120V COIL
TELEMECANIQUE STBDDO3705 ADVANTYS 24VDC OUT 16PT
ALLEN BRADLEY 1771-OFC ANALOG OUTPUT MODULE 1771-OFE (12 BIT) F/W REV. C SER. A
GE FANUC IC610CPU101B CPU W/ 1K
RELIANCE ELECTRIC 701819-24AW
NIB OMRON EESX670P PHOTOELECTRIC
DYNAMATIC 15-775-2 FAULT
ALLEN BRADLEY STARTER 509-BOD SER. B W/ CB236 COIL 42185-800-01
NIB ALLEN BRADLEY 800H-BP6A
M.W. NELSON J49U-012-01A-22CF34
DGD GARDNER DENVER BSE400-1.0F PC BOARD BSE400-1.0
NIB RELIANCE ELECTRIC 0-58801 PC RESISTOR BOARD 612885-W
TURCK BI5-G18-RP6X-0.2M-RS4T IDENT-NO. 46414984
NIB VICKERS P-233573-01 DIN SWITCH 35PSI
OMRON 3G2A3-0C221 I/O DEVICE
NIB HYCAL CT-829-A-MH
NIB HYCAL CT-815-MH TRANSMITTER 30-130 DEG F, CT829AMH
NIB HYCAL CT-859-B-(40/90F)-X5 TEMPERATURE TRANSMITTER CT-859-B-X5
ACME ELECTRIC 200B24HA
NIB IME DGP36-3 DIGITAL ING. 0-10VCC, AUX. 24VCA
NIB SCHNEIDER ELECTRIC VW3A3616 ETHERNET TCP/IP COMMUNICATION MODULE 017759
NIB SERIPLEX SPX-02A4A
RELIANCE ELECTRIC 45C67 DUAL
MITSUBISHI MELSEC-Q Q38B BASE UNIT SERIAL NO. 071008073020140-A
METRABYTE CORP. PC7282 14143 REV. 2 EXTENDER CARD REV. 8927
NATIONAL CARBON 36A164452ADP21 CARON BRUSHES T563
HONEYWELL 621-6300 LOW LEVEL
GENERAL ELECTRIC IC610PRG117A
TEXAS INSTRUMENTS 500-5001 INPUT MODULES 85-132 VAC 50/60 HZ
NIB TELCO SMR8500PGJ LIGHT RECEIVER 0-30VDC NO/NC 4PIN M12, SMR-8500-PG-J
NIB TURCK BI2-CRS317-AP4X2-H1141/S34 PROX. SWITCH IDENT-NR. 4571690
PEPPERL & FUCHS NJ-0.6-3-22-E2 PROXIMITY SWITCH NJ06322E2 P/N: 20972
NIB RECHNER KAS-80-30-S-K-PTFE , 814620
NIB OPCON 14102A6517 PHOTOELECTRIC COMET P/N: 109100-402
AGASTAT 7012AF TIMING RELAY 120V 60HZ COIL 1-10 MIN.
GENERIC MCOM002
GE FANUC D3-05B-1 DIRECT LOGIC 305 I/O
GE FANUC IC660FPB901K
FERRAZ SHAMUT PROTISTOR K 96218 37215/DT 660V 550A
ALLEN BRADLEY 1771-DCM