New Siemens 6AV2181-8XP00-0AX0 6AV2 181-8XP00-0AX0 Memory Card
Contact:Jessica
Skype:jessica01235483
Email:sales*mvme.cn (please change * to @)
TEL:86-592-5856209
Mobile Phone:86-18030235311(WhatsApp)
Q Q:2851195444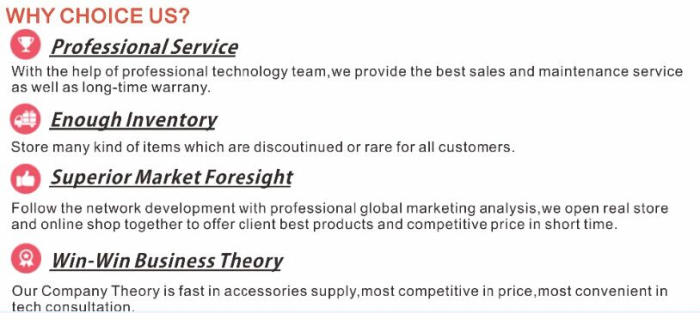 In the age of smart manufacturing, the word "digital" was especially hot. Taking advantage of the hot summer days, from the 3rd to the 4th of August 2017, Siemens held the 2017 Siemens Process Industry Summit in Shanghai. Siemens, with its "Electrification, Automation, and Digitization" as its three core businesses, has a large number of digital solutions that allow "digitalization" to move from theory to reality.
"With a comprehensive digital enterprise solution, Siemens realizes the digitization and integration of the process industry value chain through 'digital twins'." Lin Bin emphasized that "digital solutions are a tool that can bring you enhanced productivity and production. Greater flexibility, higher quality, and information security."
Lin Bin admits that digital technology has flourished in the last two or three years. For China, this is both a pain point for the manufacturing industry to improve and an opportunity to pass over corners. The core problem is that digitalization now requires software talents, digital talents, hardware talents, craft talents, and design talents. How can you describe it in the other language? The white paper "Made in China 2025" has provided guidance on the direction of technological development in key industries. The only thing missing is talent. If you have the talent and determination, you may be able to overtake the curve.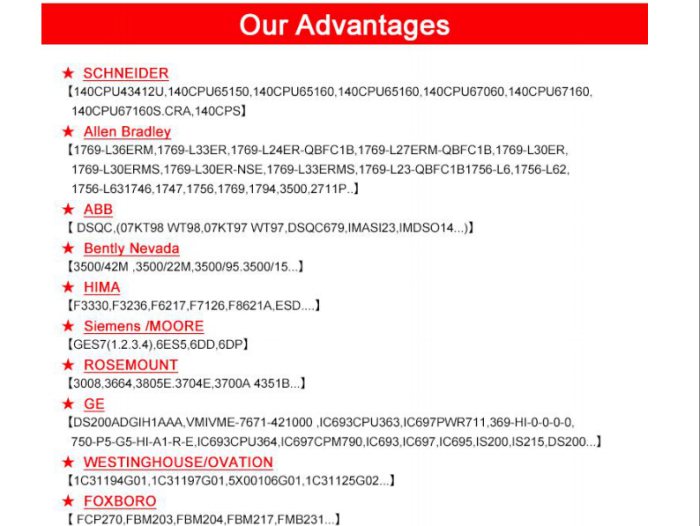 Allen-Bradley PLC system spare parts
Schneider 140 full range of PLC
Siemens SIEMENS full range of PLC
Westinghouse DCS Spare Parts
FOXBORO Foxboro DCS Spare Parts
ABB DCS spare parts
HONEYWELL DCS Spare Parts
MOTOROLA MVME
M
Oore factory card
HITACHI system spare parts
XYCOM system spare parts
B & R (B&R)
PLC
HITACHI system spare parts
Euro EUROTHERM Spare Parts
YASKAWA PLC
spare parts
TOSHIBA Large Cards
Rexroth Bosch Rexroth servo drive from Germany
Kollmorgen KOLLMORGEN SERVOSTAR servo drive
Germany Leybold LEYBOLD vacuum pump
American Barber Colman
Bonner BANNER ENGINEERING spare parts
Germany
ELAU driver
EBARA Japan EBARA vacuum pump
TOTAL CONTROL touch screen
Sew Eurodrive Discontinued Drive
Woodward Woodward Spare Parts
United States Ryan Electric RELIANCE ELECTRIC spare parts
Yokogawa Yokogawa PLC
DCS Distributed Control System:
FOXBORO (Foxboro): I/A Series system: FBM (field input/output module) sequential control, ladder logic control, accident recall processing, digital-analog conversion, input/output signal processing, data communication, and processing.
TRICONEX: Redundant fault-tolerant control system, the most modern fault-tolerant controller based on Triple Modular Redundancy (TMR) architecture.
Westinghouse (Westinghouse): system, WDPF system spare parts.
Siemens: MOORE system spare parts.
Honeywell: TDC series, QCS series, S9000 series spare parts.
ABB: spare parts for ADVANT OCS, MOD30, MO300, Bailey INFI90, Masterview 850, AC460, S100, and S800 systems.
MOTOROLA (Motorola): MVME147/162/166/167/172/177/187 series spare parts.
XYCOM: VME series bus board, programmable human-machine interface.
PLC programmable controller:
Allen-Bradley (Rockwell): 1756/ 1771/ 1785 Series, Reliance Ryan.
Schneider: Modicon Quantum 140 processor, input and output modules, power modules, and more.
Siemens (Siemens): S5/S7 series 200, 300, 400; 6AV/6GK series spare parts.
Servo control system:
FANUC (FANUC): Servo amplifier A06B, driver A06B, input and output module A02B/A03B, PCB board A16B/A20B.
Siemens (Siemens): 6SN/6FC/6FX series, providing sales of CNC systems (810, 802D SL, 810D, 840D) and spare parts.
Yaskawa (Yaskawa): servo controllers, servo motors, servo drives.
ABB Robots,FANUC Robots,YASKAWA Robots,KUKA Robots,Mitsubishi Robots,OTC Robots,Panasonic Robots,MOTOMA
P0400HH
P0500SR FBM07/12
AD194SR
P0700KN
P0500RY FBM4/39/44
P0902XA FBM41
P0902XB FBM42
P0972AJ
P0950CA
P0903NU+P0912CA
KO143AC-A+
CM400YK FBM09 FBM9
P0903ZE REV-0J
P0400YE FBM4
P0400DA FBM01
2500TF-FT
P0970NP G
P0904FH
P0903ZN
2500TF-AU0
2500TF-DU0
2500TF-MU0
2500TF-RU0
P0914YM
2500BF-F7EF00000
2500TF-ISPR
2500TF-ADO
P0800DC
AD194RG
AD194RY
AD194RU
AD200GB
AD194HH
P0961BS-OD
P0904BH B
FBM17 DM400YT
CP40B P0961BC
P0903ZE REV-0J REV-0G REV-0D
P0904HA
FBM14 CM400YQ
FBM12 CM400YN
FBM03 P0400YD
CM400YK FBM09
P0972PP
FBM06 P0400YG
AO2
P0400YE
FBM05 P0400YF
IPM6 CM902WX
P0903ZL
P0971WV
CM400YH FBM07
P0400DA FBM01
P0400VP CMP10
P0400DA FBM01
P0400YC FBM02
D241
2AX+A2+ECEPD00040
2AX+SSL
2AX+A4
IN91161/6
IN91221/1
IN95111/1+IN95201/2
IN93051/2
IN93051/2+IN95201/1
IN95191-1
IN91221/2
IN93062/1
IN95111/1
SPDM110RGE
211QS50412B
200QS10576B
IN95191-2
211QS50003B
211QS10576B
SPAM050U1D
211QS50417C
SPAM016U1D
6ES7132-4HB00-0AB0
6ES5460-4UA13
6ES5451-4UA14
6ES5451-4UA14
6ES5430-4UA14
6GK1105-2AA10
6EP1336-3BA00
6ES7153-2BA02-0XB0
6ES5523-3UA11
6ES7331-7PF01-0AB0
6ES7400-2JA00-0AA0
3VU1640-0LS00
3TF3101-0AP0
6ES7960-1AA04-0XA0
6ES7153-2BA02-0XB0
6ES7153-2BA02-0XB0
6ES7392-1BJ00-0AA0
6ES5523-3UA11
6FM1706-3AB20 WF706
FARRIS 1855OL 15PSI 2 IN RELIEF VALVE D562134
CHEMLINE PLASTICS SB10A005EU 150PSI 1/2 IN SOCKET RELIEF VALVE D565681
DRESSER 2478G-1-31-DA CONSOLIDATED 1.5IN 50PSI 99GPM BRONZE RELIEF VALVE D565701
CONSOLIDATED 19226MCF-2-MS-33-LA 300PSI 105GPM 1 IN NPT RELIEF VALVE D563052
MERCER 91-36F11T23N1 7856CFM 1400PSI 1-1/2IN FLANGED RELIEF VALVE D583057
TELEDYNE 2740 STEEL RELIEF VALVE 3/4IN X 1.06 250PSI D594902
APOLLO 19KDCA-165 BRONZE SAFETY RELIEF VALVE 165PSI 1/2IN NPT D596610
MERCER 91-34G11T21N1 5126CFM 645PSI 1-1/2IN FLANGED RELIEF VALVE D596841
CROSBY VALVE & GAGE 48617M6 STEEL 1IN RELIEF VALVE 62GPM 950PSI D599045
ANDERSON GREENWOOD CROSBY 9611011A 3/4X1IN 250PSI 51.3GPM RELIEF VALVE D567322
CONSOLIDATED 19096MCG-2-CC-MS-33-MT-FT 450PSI 3/4IN NPT RELIEF VALVE D569475
CONSOLIDATED 19096MCG-2-CC-MS-33 RELIEF VALVE 450PSI 3/4IN NPT 54GPM D569477
CYRUS SHANK 851-A 1787CFM STEEL 250PSI 1-1/4IN NPT SAFETY RELIEF VALVE D591113
KUNKLE 6186FE01-KM 259CFM BRONZE 30PSI 1IN NPT RELIEF VALVE D592329
CONSOLIDATED 19096MCF-2-CC-MS-33-MT-FT-LA 450PSI 3/4IN RELIEF VALVE D563419
CROSBY 9721131-A 150 FLANGED RELIEF VALVE 40GPM 48PSI 1 X 1-1/2IN D599775
GRIFFCO PRM050P 10-150PSI 50PSI 1/2 IN NPT PRESSURE RELIEF VALVE D578882
DRESSER CONSOLIDATED 2478E-1-31-DA 15PSI 1IN NPT BRONZE RELIEF VALVE D567187
KUNKLE 6182HGV62-KM 135PSI 1-1/2 IN NPT 2267CFM BRONZE RELIEF VALVE D564529
KUNKLE 6182HGV02-KM 137PSI 1-1/2 IN NPT BRONZE RELIEF VALVE D562962
KUNKLE 6182HGV02-KM 137PSI 1-1/2 IN NPT BRONZE THREADED RELIEF VALVE D562969
CROSBY 972182FA N84177 150PSI 1IN NPT 70GPM THREADED RELIEF VALVE D523760
LESER 4411.4404 IRON FLANGED RELIEF VALVE 40X65MM 8BAR D556730
FARRIS 1855 95PSI 1-1/2 IN NPT 1362CFM STEEL THREADED RELIEF VALVE D564371
MERCER 81-17151V13G11 STEEL RELIEF VALVE 1751CFM 500PSI 1IN NPT D586314
WATER WELL PUMP PRESSURE RELIEF VALVE 210-01 TLRV 1IN X 3/4IN NPT D576764
HENRY 560A IRON THREADED RELIEF VALVE 150PSI 1/2X3/4IN FNPT D585369
HENRY 560A IRON THREADED RELIEF VALVE 150PSI 1/2X3/4IN FNPT D585361
KUNKLE 6182FE01 BRONZE THREADED RELIEF VALVE 45PSI 1IN NPT 349SCFM D585544
FARRIS 2745/S4 STAINLESS RELIEF VALVE 1/2 IN NPT 290PSI 22GPM D565279
CONSOLIDATED 1980C2 300PSI 1 IN NPT 145GPM STEEL RELIEF VALVE D563481
HYDROSEAL 1BV-30 STAINLESS RELIEF VALVE 1/2IN NPT 5.5GPM 250PSI D597648
LUKENHEIMER 1226C 110PSI 2 IN NPT 741CFM BRONZE RELIEF VALVE D544347
KUNKLE 337-H01 15PSI 2 IN NPT 903CFM THREADED RELIEF VALVE D551862
ANDERSON GREENWOOD 81PS1S8A12A-4 125PSI 16GPM 1IN FLANGED RELIEF VALVE D577800
WELLMARK W9501-RSB 1200 SAFETY RELIEF VALVE 1IN X 1IN 2421SCFM 900PSI D591035
HANSEN H56 1/2X3/4IN NPT 150PSI STEEL REFRIGERATION RELIEF VALVE D539913
PLAST-O-MATIC 3/4IN NPT PVC THREADED RELIEF VALVE D599614
J.E. LONERGAN LCT-14 STEEL RELIEF VALVE 322CFM 225PSI 3/4 X 1IN NPT D597629
SPENCE ENGINEERING 31GF BRONZE THREADED RELIEF VALVE 1-1/4IN NPT 100PSI D599492
HYDROSEAL 2CXV00-E 3150PSI 87GPM 3/8 X 1/2 IN NPT RELIEF VALVE D534022
KUNKLE 20-E01-MG 115PSI 1 IN NPT 38GPM BRONZE THREADED RELIEF VALVE D556852
NAKAKITA NS255 A-H 25X50MM 1 IN NPT 93KG/H 0.5KGF/CM2 RELIEF VALVE D539060
DRESSER 1543D-21 15PSI 1/2 IN 157LBS-HR STEEL THREADED RELIEF VALVE D552887
CROSBY 951400MA 1/2X1IN NPT 300PSI 456CFM STEEL RELIEF VALVE D564522
FARRIS 2745/S4 STAINLESS RELIEF VALVE 1/2 IN NPT 290PSI 404CFM D565281
KUNKLE 1-D01-LC 295LB/H 60PSI 3/4 IN NPT SAFETY RELIEF VALVE D554574
AQUATROL 69 150PSI 1/2 IN NPT 22GPM BRONZE THREADED RELIEF VALVE D559257