UV Ink Magic Pen To Invisible Ink Marked Playing Cards Contact Lenses Poker Games Gambling
Have you used the playing cards invisible ink to mark card marking ink on back of your poker cards? Do you know the feature of juiced deck luminous invisible ink? Here we are strongly recommend you about infrared luminous ink.
In order to make disappearing ink on back of poker cards, the one of essential anti poker cheating device you need is our playing cards invisible ink. The magic polarizing ink plays a significant role for marking invisible ink marks on deck of cards. There are various color of invisible ink for your choice: red, blue, green, purple, black and so on. All these card marking ink was made with special material by our professional technicians.
Furthermore, the invisible ink marks on back marked playing cards cannot read by our naked eyes. Only you wear our marked cards contact lenses or perspective sunglasses or luminous glasses, you can see the magic marks on back of cards. Magic uv invisible ink is a special liquid for marking card marking ink on poker cards. The marked playing cards which were printed with ink marking by yourself is available for different poker games, such as Texas holdem poker game, casino game, blackjack game, Indian Flush game and so many other game.
Besides, a high-tech poker printer is needed when you marking invisible ink on playing cards. Top quality marked cards invisible ink is very necessary for processing luminous marked cards.
These invisible ink marks on cards is not easy to fade and these ink can last for over 2 years. For this, you can get rid of any anxiety and pressure during you playing Omaha game with your own UV poker marked cards.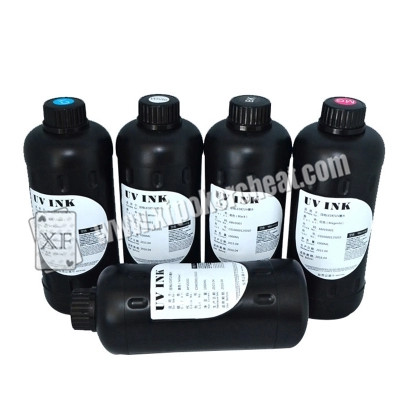 All the products we provide use for magic show only, Please do not use for gamble. China Poker Cheat Co.,Ltd reserved final interpretation.