OMRON MY2N-J Power Relay
Contact:Jessica
Skype:jessica01235483
Email:sales*mvme.cn (please change * to @)
TEL:86-592-5856209
Mobile Phone:86-18030235311(WhatsApp)
Q Q:2851195444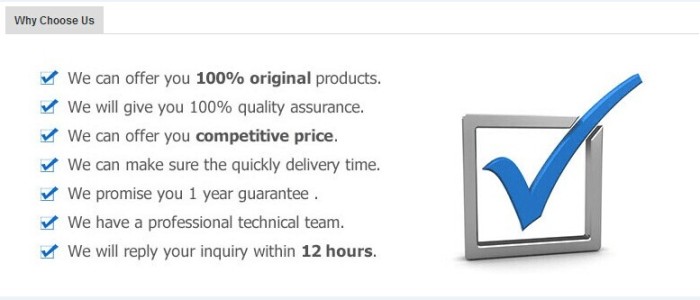 In the age of smart manufacturing, the word "digital" was especially hot. Taking advantage of the hot summer days, from the 3rd to the 4th of August 2017, Siemens held the 2017 Siemens Process Industry Summit in Shanghai. Siemens, with its "Electrification, Automation, and Digitization" as its three core businesses, has a large number of digital solutions that allow "digitalization" to move from theory to reality.
During the event, Juergen Brandes, CEO of Siemens AG Process Industries and Drives Group, Executive Vice President of Siemens (China) Co., Ltd., Lin Bin, General Manager of Process Industries and Drives Group, and Chief Executive of Process Automation Division of Process Industry and Drives Group, Siemens AG Eckard Eberle, vice president of Process Industries and Drives Group, Siemens (China) Co., Ltd. and Yao Jun, general manager of Process Automation Department, shared with the industry the actual digital version of process automation.
Talking about digitization, people often use "Industry X. 0" to "tag" digital advanced stages. In Juergen Brandes' view, "What we are talking about from Industry 1.0 to Industry 2.0, Industry 3.0, and 4.0 is described in terms of the development of the era. Today, it is more important to answer the question of how digital technology should deal with the industry. The challenge is what it can bring to us. A great competitive advantage of China is that there are many forward-thinking entrepreneurs who are actively embracing digitalization." In China, food, medicine, and environmental protection (sewage treatment , water treatment), chemical and fine chemicals have relatively high demand for digitization.
In the implementation of digitization process, each company's pain points are different. They mainly focus on such issues as: first, higher quality; second, higher efficiency; third, higher security; fourth, shorter time to market. "Yao Jun took biopharmaceutical as an example to illustrate how, for example, the development of a new drug, how to make R&D time shorter, how to make the results of R&D directly into the production process, and how to turn artificial experience into less manual intervention. Process, this is their biggest pain point.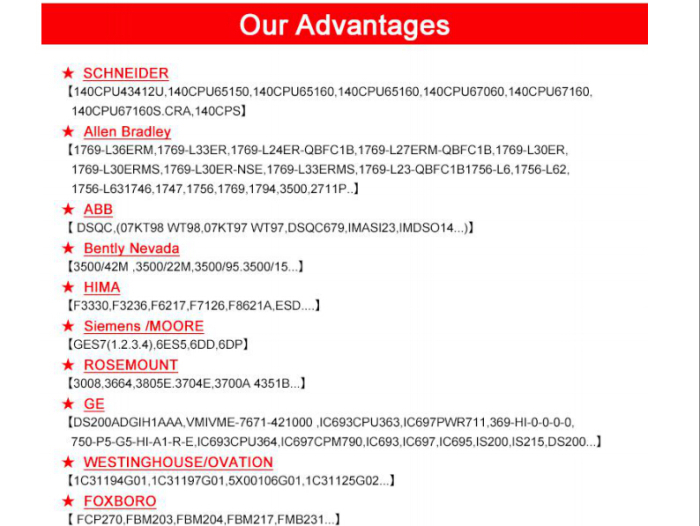 Payment Terms :
TT in advance ....
Shipment Terms :
Trading terms are Ex-works Xiamen
We will ship the goods within 3 working days after the payment received.
We can ship the goods to worldwide by DHL/FEDEX/UPS/TNT/EMS or other best possible way. Please also contact us directly if you have preferred ways.
After Service :
We offer guarantee of quality for 45-90 Days for all the parts we ship out .
1st, we will state the condition of the parts honestly when quote ;
2nd, we will test the quality of the goods before shipment ;
3rd, we will be responsilbe when the parts get in any problems .
Hope you enjoy the shopping !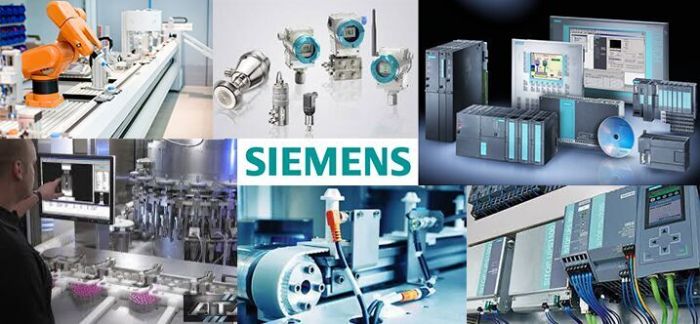 TRD-J1000-RZ
U-8ADC-1
U-DMY
SU-6
D4-PULS-1
SN-64DR-A1
4314R-353
E-22N
SN32DR-A2+K2-16CDR+Z-DMY
Z-4AD2
CKE SH-32RI/SH-32R1
SH-64R2
SZ-4
D2-06B
E-01BJ
E-03B
SA-21
E-01BJ-EX1
E-01N
E-55N
Z-8TR1
E-05N
SR-21-EX
E-01T
U-01T
Z-08B
SZ-3
Z-8ND1
SU-6B-EX
U-04B
U-08B
E-05T
U-55N
U-05N
U-01Z
U-01EW
Z-05B-C/DL240CPU/Z-16ND2/F2-04AD-1/F2-02DAS-1/Z-8TR1
1SFA884209-ASL
ES100-9594
5761894-9C
ACS100-PAN
SNAU4434
NDPI-04 57619741 A
CDP312R
NVAR-31
PSS44/76-500L
PSS30/52-500L
ACS143-1K1-3-C
ACS143-2K1-3-C
PSS12-400B
5366268-B
ACS504-17-3
ACS143-4K1-3-C
SMIO-01C
SAFT-113-POW
RINT-5311C + RASI-01C
CDP312
57619414 A
SNAT-2603-BDB+SNAT-7261-SCP
RVAR-5211
ACS60100053
PSS175/300-500L
NBRC-51
ACS510-01-03A3-4
ACS55-01N-02A2-2
NBRA-656 +NBRC-51
NVAR-65 ACS600
NAMC-11C
NIOC-01C
NGDR-03C
PP30012HS
NINP-61 /NINP-61C
NPOW-42 /NPOW-42C
NINT-46C
NPOW-41
NBUB-41C
NINT-42C
NRFC-44REV
NRFC-46
NINT-45
NINT-41
RTAC-01
PP07512HS
NIOC-02C
NRFC-45REV
0764684.G
APOW-01C
AIBP-51
ACS600 /IGBT NINT-45C
SADT304100R0003 SG3601
ACS143-2K7-3-C
NAMC-11
BSM25GD120DN2
SA3050A 3ADT307300R2
SADT307500R0001 SP3001
KJ3101X1-BB1
KJ2003X1-BB1
KJ1501X1-BC1
KJ3003X1-BA1
KJ3101X1-BB1
KJ2003X1-BA2
KJ4110X1-EB1
KJ3102X1-BB1
KJ3202X1-BA1
KJ4001X1-BB1
KJ4010X1-BF1
KJ3002X1-BA1
KJ4101X1-BA1
KJ2002X1-CA1 M5
KJ3001X1-BH1
KJ4001X1-CB1 12P0625X052
KJ4001X1-CC1 12P0733X042
KJ3001X1-BB1
KJ3221X1-BA1
IDA-JMB
PMCB11M1
KJ4002X1-BF2
KJ1501X1-BB1
KJ4010X1-BG1
BM11M1
KJ4001X1-BE1
KJ4001X1-NA1
KJ4001X1-NB1
KJ4001X1-CA1 12P0623X062
KJ4001X1-CG1 12p1812x042
260491+260590
452752+452753
IN91161/5
IN91161/4
211QS50328C
211QS50328C+211QS50005B
IN91161/5
IN91161/6
IN91221/1
IN95111/1+IN95201/2
IN93051/2
IN93051/2+IN95201/1
IN95191-1
IN91221/2
IN93062/1
IN95111/1
SPDM110RGE
211QS50412B
200QS10576B
IN95191-2
211QS50003B
7SJ6225-5EB20-1HH0/EE
7SJ5115-4CA02-2BA0/JJ
7UT5125-5CB01-0BA0/LL
7SJ6225-5EB90-1FE0/EE
6ES7193-4CB20-0AA0
6ES5430-4UA14
6ES5470-4UB13
RWD82
6ES7132-4HB00-0AB0
6ES5460-4UA13
6ES5451-4UA14
6ES5451-4UA14
6ES5430-4UA14
6GK1105-2AA10
6EP1336-3BA00
6ES7153-2BA02-0XB0
6ES5523-3UA11
6ES7331-7PF01-0AB0
6ES7400-2JA00-0AA0
3VU1640-0LS00
3TF3101-0AP0
6ES7960-1AA04-0XA0
6ES7153-2BA02-0XB0
6ES7153-2BA02-0XB0
6ES7392-1BJ00-0AA0
6ES5523-3UA11
6FM1706-3AB20 WF706
6ES7390-1AF30-0AA0
6ES7195-1GF30-0XA0
6ES5308-3UA12
6ES7972-0BB41-0XA0
6ES7313-6CG04-0AB0
6ES5 943-7UA22
C98130-A1215-C9-01
6EP1332-1SH42
6ES7216-2BD23-0XB0
RWD68
6ES7336-1HE00-0AB0
6ES7336-1HE00-0AB0
6ES7195-7HD10-0XA0
6ES7195-7HC00-0XA0
6ES5308-3UB11
6ES7153-2BA00-0XB0
6ES7326-2BF01-0AB0
6ES7326-1BK00-0AB0
6ES7277-0AA22-0XA0
6ES7332-5HB01-0AB0
6ES5422-8MA11
PTM6.2Q250
6ES5375-1LA41
6ES5373-1AA4
6ES5374-2KG21
6ES5490-8MB21
6ES5464-8ME11
6ES5466-8MC11
6ES5464-8MC11
6ES5376-1AA21
6ES5385-8MB11
6ES5281-4UA12
6ES5300-5CA11
6ES5923-3UC11
6ES5312-5CA12
6ES5453-4UA12
6ES5304-3UB11
6ES5482-8MA13
6ES7951-0KD00-0AA0
6ES5281-4UB12
6ES5491-0LB11+6ES5314-3UA11
6ES7151-1AA02-0AB0
6ES7193-4JA00-0AA0
6ES7132-4BD30-0AA0
6ES7131-4BD00-0AA0
6ES7138-4CA00-0AA0
3TF4722-0XQ0
3TF3211-0XM0
Siemens IR-64K 5TC6251
Baumer Electric ASIA 56A2299
Allen-Bradley 1492-IFM20D24
Siemens Simatic 6ES7922-3BD20-0AB0
Siemens ET 200L 6ES7 131-1BL01-0XB0 E: 1 + 6ES7 193-1CL
Siemens SIMATIC S7 6ES7193-0CA40-0XA0
Geiger Handling SB1P5.1 E15-438-KU-056
Phoenix Contact GE292/AV3 PC-BAUD G292R232.HEX
JUMO TN-22/055 TN-22/04,055
Allen-Bradley SLC 500 1746-0B16
Siemens Simatic S5 6ES5 440-8MA21
Camille Bauer I538 Mat. Nr. 136590
Siemens SIMATIC S5 6ES5316-8MA12
Siemens Simatic S5 6ES5 925-3SA11
Camille Bauer AG Sineax I542 Mat.Nr. 136425/1056770/01
SIEMENS SIMATIC S7 6ES7222-1BF21-0XA0
Phoenix Contact IB IL 24 DI 16 2726230
Siemens Simatic S5 6ES5 524-3UA13
Indramat RECO RME12.2-32-DC024
IME D8AW3 Power
Mitsubishi ST1DA2-V D/A
ELMO Motion Control CEL-A10/100-AA
Telemecanique SR1COM01 040428 V1.9.2
elobau 462121G1 24V
Rexroth RF-FLS IB M12 DI 8 M12
FANUC AID16D A03B-0819-C104
STAHL DOM 8 9475/12-08-51 Rev. E
Siemens Simatic S7 6ES7 132-4BB01-0AA0
Carlo Gavazzi G3430 4443 230 Dupline
Parker PSSN8M12A 8 Input-Module 24VDC
Siemens Simatic S5 6ES5741-0AA11
Klaschka YKO/4Z -2.31 SachNr: 30.10-12
Allen Bradley 1734-0W4 Part Nr. 96430877
Allen Bradley 1734-EP24DC
Siemens Simatic TB16 SC 6ES7120-0AH01-0AA0
SEW Eurodrive DFP21B DFP 21B Nr. 08242402
Mitsubishi A1SX80-S1 SPS
Siemens SIMATIC S5 6ES5 464-8MF11
Westermo TDM-33 Art.-Nr. 3619-0001 RS-232 Modem
Lumberg SB8/LED-3-333/5M m8309-17
Siemens SIMATIC S7 6ES7422-1BL00-0AA0
FANUC AID16L A03B-0819-C114 I/O
Siemens Simatic S5 6ES5 470-7LA12
Siemens 6FX1130-6BA00
Murr 276344 8 -fach
Siemens SINEC 6GK1543-1AA01 E: 5+6ES5376-0AA21
Siemens SINEC 6GK1543-1AA01 E: 3+6ES5376-1AA21
Phoenix Contact SACB-6/3-L5,0PUR MB Art. Nr. 1692488
Phoenix Contact Interbus IB IL 24 DO 8-2MBD
Siemens Simatic S5 6ES5440-8MA21
Allen Bradley 42SRP-6032
Siemens SIMATIC S7 6ES7193-0CA30-0XA0 + 6ES 7192-0BA01
Siemens Simatic S7 6ES7195-7HD80-0XA0
GE Fanuc Compact I/O Carrier IC200CHS022D
Murr 67030 2fach MKS-K 24/24 VDC
Siemens 3RK1301-1CB00-0AA2
SIEMENS Sinec 6GK1500-0AB00
Phoenix Contact FLS PB M12 DI 8 M12 2736123