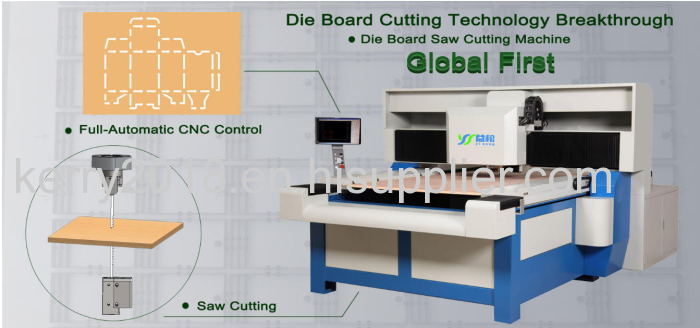 totally environment-friendly, without laser cutting, no pollution, no smelly air and no smoke;

The kerf is absolutely straight and vertical which can strengthen the tightness between the blade and the kerf.

Better clamping friction due to the wooden fiber rough surface of the kerf, different with the laser carbonized kerf. It can ensure more durable using life.

Compared with laser cutting, saw cutting won't make the die board out of shape because saw cutting is cold processing technique.

It can be more flexible and more accurate to adjust kerf width on the sawing machine, and smaller error range.

Much more cost-saving. Only sawing machine and an air compressor are needed, the only consumable item is the sawing blade, which is cheap and easy to get replaced.

More energy-saving. Much smaller power supply is needed.

Human-machine operation surface, easy operating and easy learning.

No start biding time, can deal with urgent orders and small orders.

More simple machine configuration, lower after sale service cost. Easy installation and cheap spare parts.