HONEYWELL 30731995-002 Solenoid Valve HE220 HE225 HE260 HE265 New Replacement
if you have a large purchase, we can make a discount.
specifications:
new+original +one year warranty
Contact:Jessica
Skype:jessica01235483
Email:sales*mvme.cn (please change * to @)
TEL:86-592-5856209
Mobile Phone:86-18030235311(WhatsApp)
Q Q:2851195444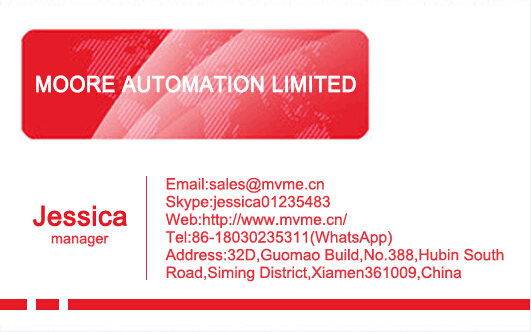 About Schneider Electric
Schneider Electric is an expert in global energy efficiency management and automation, and is committed to providing customers with safe, reliable, efficient, economical and environmentally friendly energy and process management. With sales of 27 billion euros in 2015, the Group has 160,000 employees in more than 100 countries. From the simplest switch products to the complex operating systems, our technologies, software and services help customers manage and optimize operations, assist industry optimization through interconnected technologies, improve urban ecology, and enrich people's lives.
Payment Terms :
TT in advance ....
Shipment Terms :
Trading terms are Ex-works Xiamen
We will ship the goods within 3 working days after the payment received.
We can ship the goods to worldwide by DHL/FEDEX/UPS/TNT/EMS or other best possible way. Please also contact us directly if you have preferred ways.
After Service :
We offer guarantee of quality for 45-90 Days for all the parts we ship out .
1st, we will state the condition of the parts honestly when quote ;
2nd, we will test the quality of the goods before shipment ;
3rd, we will be responsilbe when the parts get in any problems .
Hope you enjoy the shopping !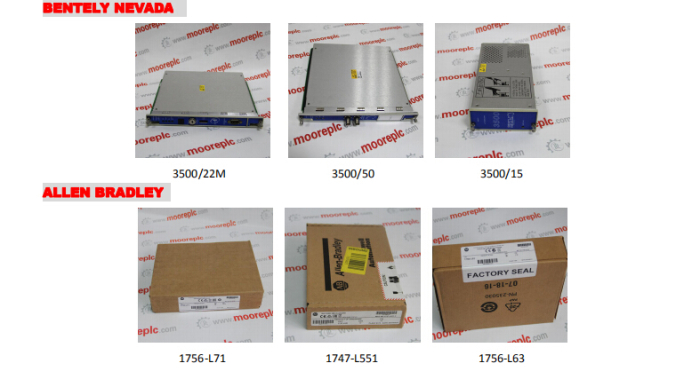 PLC programmable control system spare parts
Allen-bradley:1756 1771 1785
Siemens: 6ES7 6ES5
Schneider:140CPU
GE:IC697 IC698
Motorola:MVME162 MVME137 MVME147
Xycom:XVME
DCS control system spare parts:
DCS distributed control system:
Invensys Foxoboro:FBM01 FBM02 FBM09 FBM10 FBM201 FBM209
Invensys Triconex: 3503E 3664 3721 3625 4351D 3700A
ABB bailey:BRC300 BRC400 BRC410 AC800 IMASI23
Westinghouse:IC31
Servo Control System Spare Parts:
Kollmorgen: SM71K 6SM27 AKV23F 60WKS 65WKS
Seimens: 6DD1606 6SN1118 6FC5203 6RB2000 6SC6508 6FX2007 6FM2805 6AV6542
Bosh Rexroth: HCS02.1E HMS01.1N HLB01.1C MSK060B MKE118B MSM020B MHD071B
SEW: MDX61B0022 MDS60A0040 MDF60A0015 MDV60A0015 MCH42A0220 MCV40A0075
Robot Control System Spare Parts:
KUKA:KRC1 KRC2 KRC4 KPS600 KCP2
ABB:3HAB 3HAA 3HAC DSQC345
FANUC:A02B A03B A04B A05B A06B
Yaskawa:CACR JUSP JZNC JANCD HW
BSH1001T01A1A
BSH0701P31A2A
BCH0401O12A1C
BCH1001O12A1C
VX5A66103
LXM23CU04M3X
BCH1001O11F1C
BCH1001O11A1C
DR-PLS4-000
DR-1020-000
Lxm23cu10m3x
AF038502
LXM15LD21M3
LXM23CU07M3X
MHDA1112N00
MHDA1056N00
AM0INE001V000
P0500SR FBM07/12
AD194SR
P0700KN
P0500RY FBM4/39/44
P0902XA FBM41
P0902XB FBM42
P0972AJ
P0950CA
P0903NU+P0912CA
KO143AC-A+
CM400YK FBM09 FBM9
P0903ZE REV-0J
P0400YE FBM4
P0400DA FBM01
2500TF-FT
P0970NP G
P0904FH
P0903ZN
2500TF-AU0
2500TF-DU0
2500TF-MU0
2500TF-RU0
P0914YM
2500BF-F7EF00000
2500TF-ISPR
2500TF-ADO
P0800DC
AD194RG
AD194RY
AD194RU
AD200GB
AD194HH
P0961BS-OD
P0904BH B
FBM17 DM400YT
51304427-100 MU-TDOR22
621-1160R
621-1160R
621-0007R
51304425-100 MU-TDPR02
51304441-125 MU-TDID12
51303997-100
T775E1056
51303982-400
51304685-200+51401598-200
51304483-100
51304518-200
XDL505
XD50-FCL
XD50-FC
51303979-400
51304518-150
51304685-150+51401598-150
51304685-100+51401598-100
XCL5010
51304493-250
51304493-150
51304419-100
51304501-100
51190916-104
51304493-100
51303979-550
51109693-100B
51201397-004
51401469-100
51304419-150
51201420-004
51201420003
RM7895 C 1012
51201420-005
51201420-002
51304487-100
51109806-002
803.67.00
803.62.00
803.60.00
803.64.00
803.27.00
803.28.00
803.32.00
803.31.00
803.61.00
803.69.00
ABB E233-12/48 Operating Time Meter
HYDAC 1263585, 1.11.04 D 03 BN/-V / 11104D03BN-V, Betafit filter element
BECKHOFF KL3002, Analog Input
BAUMER IFRM 12P1702/L
SIEMENS 3RP1511-1AP30
RITTAL SK3110.000 /SK3110000, Temperaturregler
e2S L101, Warnleuchte rot
FESTO 7802, MFH-3-1/8 + MSFG-24/42-50/60, solenoid valve
BALLUFF BES00P7, BES516-324-G-E5-C-S49,induktiver Sensor
NIVELCO Nivocont KRK-302
FESTO 188565, DSEU-20-100-P-A, cylinder
BALLUFF BES 516-325-G-E5-Y-S 4, inductive sensor
TELEMECANIQUE 034532, XUF N12301
SIEMENS 3SB3000-4LD01-Z Y01-V1
TELEMECANIQUE 031316, XAPA2100
VON ARDENNE 1-1196A-32-040500-05, Wasserdurchfhrung KF 40V/VCO 8, A0107497
BECKHOFF KL3002, Analog Input
SIEMENS 3RP1511-1AP30
BAUMER IFRM 12P1702/L
KLCKNER MLLER / EATON DILM12-10
Festo, AW-ME-1/8, 33406, Reihen-Anschlussplatte
SIEMENS 3RV14 21-1CA10
FESTO 7802, MFH-3-1/8 + MSFG-24/42-50/60, solenoid valve
AEG 2000000393, Thyro P Profibus Steckkarte
FESTO 188565, DSEU-20-100-P-A, cylinder
NIVELCO Nivocont KRK-302
SKF 618/9 Rillenkugellager einreihig, 9x17x4/Deep
SMC, EVT317-5DO-02F-Q, Magnetventil
TELEMECANIQUE 034532, XUF N12301
FESTO 192964, SIM-M8-3GD-10-PU, Verbindungsleitung
FESTO 156002, ADVU-20-16-P-A, short-storke cylinder
FESTO 33017, HE-1/4-S-B, on/off valve
FESTO 156002, ADVU-20-34-P-A, short-storke cylinder
SIEMENS 3RT1025-1BB40
SCHNEIDER ELECTRIC 088921, ZB4 BG2
SIEMENS 6ES7193-4CG20-0AA0
SKF 618/9 Rillenkugellager einreihig, 9x17x4/Deep
Festo, MS6-DL-1/2, 529817, Druckaufbauventil
Festo, ADVU-16-65-A-P-A, 156041, Kompaktzylinder
SASSE Elektronik 1360.9915030, PHMI
SMC, EVT317-5DO-02F-Q, Magnetventil
TELEMECANIQUE 014426, XVB C2B3
Panasonic CX-493-P-Z, SUNX Reflexions-Lichtschranke
RITTAL SZ 4139.140 Schaltschrankleuchte
ARCOL HS30022KJ Resistor
AVL BV1742, Kabel BBY
LEMO FGG.1B.307.CLAD52Z
RITTAL SK3110.000 /SK3110000, temperature regulator
INA 81108-TV axial Cylindrical roller bearing
FESTO 363664, LFP-D-MAXI-40M, Filterpatrone
E-T-A ESX10-TD-101-DC24V-0,5/1/2A
L-BV 054 1561, 60001674
FESTO 156002, ADVU-20-16-P-A
FESTO 33017, HE-1/4-S-B
FESTO 156002, ADVU-20-34-P-A
SCHNEIDER ELECTRIC 088921, ZB4 BG2
e2S L101, Warning Signal red
Ferraz D11 125A aR T300121, Protistor Sicherungseinsatz
ARO 127122-300
SIEMENS 3TK2 830-1CB30
CROUZET 84 892 290 , berwachungsrelais
TELEMECANIQUE 014426, XVB C2B3
Panasonic CX-493-P-Z, SUNX Reflexions-Lichtschranke
Fujikin Rckschlagventil / line check valve C.100501 68.6 kPa 16.2 MPa
RITTAL SZ 4139.140 Schaltschrankleuchte
KLCKNER MLLER / EATON DILM12-10
RITTAL SK3110.000 /SK3110000, temperature regulator
INA 81108-TV axial Cylindrical roller bearing
SIEMENS 3RV14 21-1CA10
PHOENIX CONTACT 3004100, UK 5-HESI
61.005.0025.8K6B, Sprhrohr KPL/PVC
AEG Thyro P Profibus Card, 2000000393
BALLUFF BES00P7, BES516-324-G-E5-C-S49
Zahnrad Zwischentrieb NZ, A004-169-55 gear wheel (1PU=10Pcs)
CRYDOM A2425, Halbleiterrelais
5092170, Thermoelement 0 - 100C
Tooltec, 9092000901,MIDIFIL15BE, Filter
DANFOSS 068B4004, TE5, Ventilgehuse
Festo, CPE10-M1BH-5L-M5, 196881, Magnetventil
FESTO 178720, LR-M1-G1/4-07G, Druckregelventil
WICKE-TOPTHANE PU Reifen-Alu Felgen 100X40
FESTO 192964, SIM-M8-3GD-10-PU, connecting line
KLCKNER MLLER / EATON DILM12-10
LAPPKABEL 21700530,ED-PB-90-LED
SIEMENS 3SB1 203-1LC01
TELEMECANIQUE XS1M18PA370C, induktiver Sensor
SIEMENS 6ES5 700-3LA12 , CR 700-3 Baugruppentrger