NEW BENTLY NEVADA 133323-01 3500/92 MODBUS RS485 GATEWAY I/O MODULE D591793
Have in stock
New and original 100% guaranteed
If you payment successful,We will ASAP arrange ship this goods this day!
NEW AND ORIGINAL 100%, HAVE IN STOCK, FREE SHIPPING
Contact:Jessica
Skype:jessica01235483
Email:sales*mvme.cn (please change * to @)
TEL:86-592-5856209
Mobile Phone:86-18030235311(WhatsApp)
Wechat:hu18030235311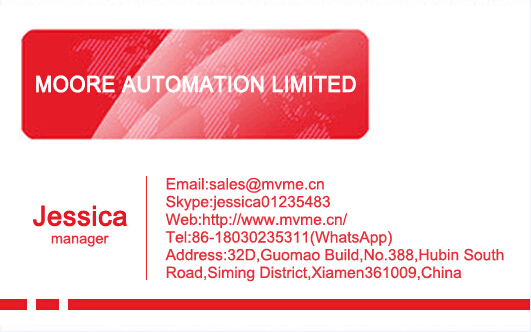 The US Department of Commerce announced on April 16 that it will ban US companies from selling components, commodities, software and technology to ZTE for the next seven years. The reason for the ban was that ZTE violated the US sanctions clause that restricts the sale of U.S. technology to Iran. This incident became the cut-in point for the U.S. government to target Chinese companies and down on the Chinese chip industry, triggering further attention in China's chip industry.
On April 25, foreign media reported that the U.S. Department of Justice is investigating whether Huawei has violated U.S. sanctions against Iran. In terms of the nature of the organization, this investigation by the US Department of Justice against Huawei is a criminal investigation, which means that Huawei may face additional "criminal penalties." Huawei's allegations are firmly denied, and it is not difficult to see that the United States is deterring Huawei's development momentum. Ambition.
Payment Terms :
TT in advance ....
Shipment Terms :
Trading terms are Ex-works Xiamen
We will ship the goods within 3 working days after the payment received.
We can ship the goods to worldwide by DHL/FEDEX/UPS/TNT/EMS or other best possible way. Please also contact us directly if you have preferred ways.
After Service :
We offer guarantee of quality for 45-90 Days for all the parts we ship out .
1st, we will state the condition of the parts honestly when quote ;
2nd, we will test the quality of the goods before shipment ;
3rd, we will be responsilbe when the parts get in any problems .
Hope you enjoy the shopping !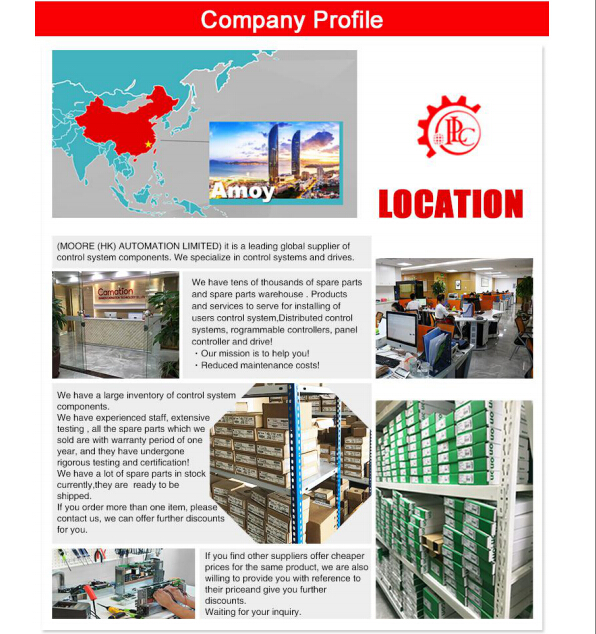 Invensys Foxboro: I / A Series System, FBM Sequence Control, Ladder Logic Control, Incident Recall Processing, D / A Conversion, I / O Signal Processing, Data Communication and Processing.
Invensys Triconex: Redundant Fault-Tolerant Control System, the most modern fault-tolerant controller based on Triple Modular Redundancy (TMR) architecture.
Westinghouse (Westinghouse):system, WDPF system, WEStation system spare parts.
Rockwell Allen-Brad
Reliance Ryan, SLC500 / 1747/1746, MicroLogix / 1761/1763/1762/1766/1764, CompactLogix / 1769/1768, Logix5000 / 1756/1789/1794/1760/1788, PLC-5/1771/1785 PLC CPU, etc. .
Schneider Modicon: Quantum 140 series processors, control cards, power modules, and more.
ABB: DSQC series for industrial robots, Bailey INFI 90 and more.
Siemens servo control system: Siemens MOORE, Siemens Simatic C1, 6SN1118, 6ES7416, 6FC5103, 6SN1123, 6RB2026, 6SC6100, 6SN1145, 6S6111, 6SC6101 Siemens S5 These series
Motorola (Motorola): MVME 162, MVME 167, MVME1772, MVME177 and other series.
XYCOM: I / O, VME board and processor.
GE FANUC (GE Fanuc): modules, cards, drives and other spare parts.
Yaskawa (Yasukawa): servo controller, servo motor, servo drive.
Bosch Rexroth servo control system: Indramat Motor MAC, DCK04.3, Bosch Versorgungs.I / O modules, PLC controllers, drive modules and more.
Woodward: SPC valve position controller, PEAK150 digital controller.
INDUSTRIAL ROBOT SPARE PARTS
ABB ROBOTICS KUKA ROBOTICS YASKAWA ROBOTICS KAWASAKI ROBOTICS FANUC ROBOTICS NACHI OTHER
M62P
M61P
GM6-DMMA
K7M-DR60S
G6Q-TR4A
GM6-B04M
GM6-PAFA
G6I-D24A
K7M-DR60U
G7F-ADHB
K3S-302S K3P-07AS K3X-210S K3Y-201S K3B-4MS
K7M-DR20S
AD200GB
AD194HH
P0961BS-OD
P0904BH B
FBM17 DM400YT
CP40B P0961BC
P0903ZE REV-0J REV-0G REV-0D
P0904HA
FBM14 CM400YQ
FBM12 CM400YN
FBM03 P0400YD
CM400YK FBM09
P0972PP
FBM06 P0400YG
AO2
P0400YE
FBM05 P0400YF
IPM6 CM902WX
P0903ZL
P0971WV
CM400YH FBM07
P0400DA FBM01
P0400VP CMP10
P0400DA FBM01
P0400YC FBM02
D241
2AX+A2+ECEPD00040
2AX+SSL
2AX+A4
51309152-175 MC-PAOX03
621-9928R
51304362-100 MU-PLAM02
51303979-500
51304516-200
51304584-200
621-3560RC
620-0059
621-9933C
51304493-200
T775
XL50 + XD50-FC
621-6550RC
621-0021RC
900G01-0001
900B01-0001
900C53-0001
900P01-0001
JMSC10
JMHM10
J-UDM00
900H02-0001
J-DIM00
51305406-100
J-PIM00
J-AOM10
620-0054
KJ4010X1-BF1
KJ3002X1-BA1
KJ4101X1-BA1
KJ2002X1-CA1 M5
KJ3001X1-BH1
KJ4001X1-CB1 12P0625X052
KJ4001X1-CC1 12P0733X042
KJ3001X1-BB1
KJ3221X1-BA1
IDA-JMB
PMCB11M1
KJ4002X1-BF2
KJ1501X1-BB1
KJ4010X1-BG1
BM11M1
PANASONIC GP-MF212A
OPTEM LAU1070 70XL+ 0.75x + 0.5x + 2.0x 299080
HAYASHI LA-100USW
Eaton 3 CCD Camera Array ASSY 256270-003
Teli CS8630i-14 CCDCamera + Moritex LED-DAW0950 LED
Navitar Zoom Lens 1-50488 & 446189 & 0.5x 150012 & 0.67x Adapter 1-61001 &1-6010
Panasonic GP-MF102K
Navitar ESEC 1-60937Zoom Lens + 0.5x 60110 Lens
Allied GF 033 B 08-252186907 E0000834 CCD
NAVITAR Precise Eye2x Adapter 1-61450 +1-62707 Lens + Sentech STC-410 CCD
Eaton 3 CCD Camera Array ASSY 256270-003
Spectra Tech 0049-005
NED e7450Dm k 2-F-HB-240-N1
Navitar Zoom 6010 &1-6000 & 0.75x 60111
CIS VCC-G25V30
Teli CS5140-03 TypeBV0019A4
HITACHI KP-F31PCL Industrial Camera + S0D-1.5X
Olympus LG-R66 RingLight Guide 0062
Teli CS3270M-4H , Type TK4792A0 CCD
Panasonic GP-MF102K
Teli CS3270M-4H CCD
COHU ER-3985B
Teli CS3270M-4H
Olympus SZ2-STB1
Olympus LG-R66 RingLight Guide 0010
Matrox N2S300MLS/KB, P/N: 63039624167
Teli CS8321SCC-01
Teli CS8321SCB-01
Teli CS8531Z-02 Type: TK4497A2 02
Navitar Zoom CAT.No6015 1x ADADPTER & 1-6000 & 0.75x CAT. No. 60111
Sentech STC-N63SBJ CCD
Navitar Zoom 1-6010& 2X Adapter II 1-6233 Lens & Sony XC-HR70 CCD
Sentech STC-N63SBJ CCD
Teli CS8321SCB-01
CyberOptics LLL-F4
OLYMPUS SZ-STB1
ImagingSource DMK21AF04
Olympus MK012-009-000-45
Marcel Aubert SA Bienne A 9822
KEYENCE SJ-M020 STATIC ELIMINATOR IONIZER SENSOR & SJ-M200
KEYENCE SJ-M020 STATIC ELIMINATOR IONIZER SENSOR & SJ-M200
Olympus SZ3060
Panasonic GP-MF622
Matsushita PanasonicGP-MS112V
Melles Griot Invaritar P/N 59 LGA 428 +C
Matsushita / Panasonic GP-MS112V
Teli CS8321SCA
Teli CS8321SCC
Olympus SZ-ST
Keyence CV-E300
OLYMPUS TH4-200 MICROSCOPE
Matsushita / Panasonic GP-MS112V B/W
Hitachi Denshi KP-M1U-S11
Sony XC-HR57 XCHR57 1/2" CCD Video Camera + SEIWA SLS-1.8-30L
Teli CS8321SCC
Teli CS8321SCD-02
OLYMPUS SZ-STB1
Teli CS8321SCC Type:TK4943A5
Toshiba IK-M41MF CCD
Teli CS8531Z-02 Type: TK4497A2 02
SENTECH STC-400HOL
Panasonic GP-MF622
SENTECH STC-N63SBJ
Toshiba Teli CS8321SCD-02
Teli CS5140-03 Type BV0019A4 03
Panasonic GP-MF622
Pentax YF5028A-035
Sanyo VC-8200 B/W CCD
TELI CS3910 Type: TK4717A9 CCD
Panasonic GP-MF622
Teli CS8321SCC Type:TK4943A5
COSMICAR/PENTAX X2 EXTENDER + 1.5x + 44mm/1.00x Lens + Sony XC-56 CCD + LED
Teli CS8531Y-01 CCD
Toshiba Teli CS8420i B/W 1/2
Panasonic GP-MF622
Olympus SZ-STB2
Toshiba Teli CS3910BH
Teli CS8321SCC Type:TK4943A5
Panasonic GP-MF622
Point Grey SCORPION SCOR-13FFM
RVSI ACUITY AS-CLRS-005
Toshiba Teli CS8420i Interline CCD Camera & TV Lens 50mm 1:1.8, Type TK5572A7
ELMO ME421E CCD
SENTECH STC-N63SBJ
JAI CV-M1
Toshiba IK-C40MS CCD
Sony XC-ES50 CCD Camera & Fujinon HF50HA-1B 1: 2.3 50MM
Teli CS8560D Type: TK6277A2
JAI CV-S3200 CCD
Hitachi Kokusai KP-F1E/K
Matrox MOR4VDE MORPHIS Y7281-00 REV A, P/N 63039621332
RaxVision SWF30X/9
SPECTRA-TECH REFLACHROMAT 15X 142/V NA 0.58
Moritex MCEP-CR8-070
Teli CS5140-03
IMS MDI3CRL17B4-EQ
JAI CV-M531 CVM531
Toshiba IK-C41MF CCD
Hitachi-Denshi, Ltd.KP-F1E/K CCD
NEC TI-124A
SEIWA SLS-1.1-30L
Hitachi Denshi RVSIACUITY AS-CLRS-005
Hitachi-Denshi, Ltd.KP-F1E/K CCD Camera+ TAMRON 008955
TOSHIBA IK-541
OLYMPUS SZ2-STB1
Hitachi Denshi AS-CLRS-005
SEIWA SLS-1.1-30L
Tokyo Electronics CS3310B
Opteon OPT 10805
Navitar 1-6020 .67x
Navitar 1-6020 .67x
Navitar 1-6015 1x
Hitachi Denshi KP-140U
Navitar 1-6020 .67x
SONY XC-75 CCD