New Allen-Bradley 22C-D030N103 PowerFlex400 Fan Pump AC Drive 480VAC 22C D030N103
Our advantages:
1.New and Original
2.In Stock
3.Best Price
4.Fast Delivery
5.One Year Warranty
Contact:Jessica
Skype:jessica01235483
Email:sales*mvme.cn (please change * to @)
TEL:86-592-5856209
Mobile Phone:86-18030235311(WhatsApp)
Wechat:hu18030235311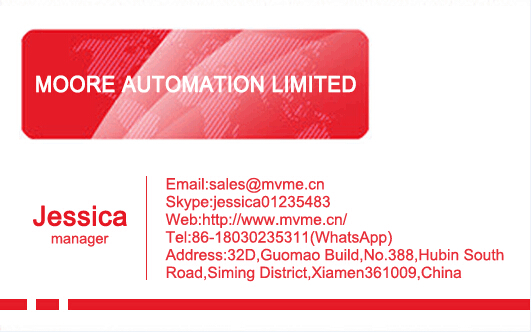 In the digitalization process, Siemens is working with more Chinese partners to innovate business models and release digital energy. For example, tailored integrated engineering to integrated operation and maintenance solutions helped Sai Ding become the world's first digital enterprise in the field of coal chemical industry; together with Jinyu Biopharmaceutical, it became the world's first digital enterprise in the pharmaceutical industry; and the Blue Whale Cooperation, Siemens Power Pack "Heart" to help it refresh the world's offshore oil exploration depth and drilling depth; Help Wahaha to build the country's first digital and intelligent beverage production line; According to the characteristics of the tire industry, tailored to the binary company tire digital enterprise suite , To build an intelligent factory; To build a digital enterprise production line project for SiSIT based on Siemens TIA, MoM and PLM, which is the world's first
Payment Terms :
TT in advance ....
Shipment Terms :
Trading terms are Ex-works Xiamen
We will ship the goods within 3 working days after the payment received.
We can ship the goods to worldwide by DHL/FEDEX/UPS/TNT/EMS or other best possible way. Please also contact us directly if you have preferred ways.
After Service :
We offer guarantee of quality for 45-90 Days for all the parts we ship out .
1st, we will state the condition of the parts honestly when quote ;
2nd, we will test the quality of the goods before shipment ;
3rd, we will be responsilbe when the parts get in any problems .
Hope you enjoy the shopping !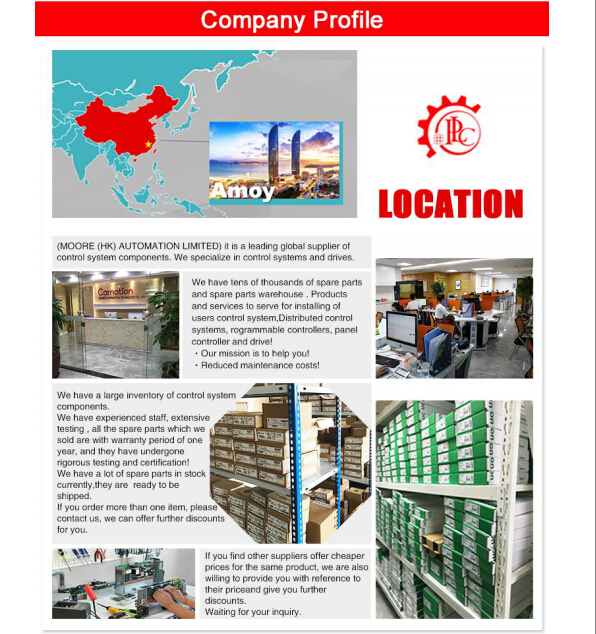 ① Allen-Bradley (USA AB) series of products "
② Schneider (Schneider Electric) products "
③General electric (General Electric) series of products "
④ Westinghouse (Westinghouse) series of products "
⑤ SIEMENS (Siemens Series) "
⑥ Sales ABB Robots. FANUC Robots, YASKAWA Robots, KUKA Robots, Mitsubishi Robots
OTC Robots, Panasonic Robots, MOTOMAN Robots.
⑦westinghouse (Westinghouse): system, WDPF system, MAX1000 system spare parts.
⑧Invensys Foxboro I / A Series system, FBM (field input / output module) sequence control
System, Ladder Logic Control, Accident Recall Processing, D / A Conversion, I / O Signal Processing, Data Communication and Processing
Invensys Triconex: Redundant Fault-Tolerant Control System, the most modern fault-tolerant controller based on Triple Modular Redundancy (TMR) architecture.
⑨ Siemens (Siemens): Siemens MOORE, Siemens Simatic C1, Siemens CNC system
⑩Bosch Rexroth (Rexroth): Indramat, I / O module, PLC controller, drive module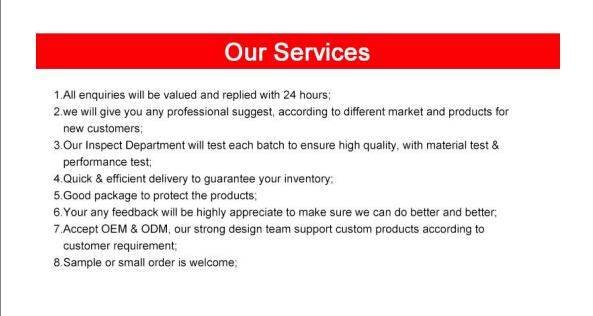 2711-K5A8
CAT1300-DMT
2711-K10C1
510255
2711-B5A2
2711-T10C15
6186-M12AL
2711-k5a1l1
2711-K9C1
77129-206-53 77129-207-53 77129-207-56(E)
IC600FP999K
IC600-FP941K
IC600FP841K
IC600FP831K
IC600LX648L
IC600BF917N
IC600BF929K
IC600CB503L
IC600BF900L
IC600BF830L
IC600BF949L
IC600BF831K
IC600BF914K
IC600BF943K
IC600CB526P
IC600BF843L
IC600BF827K
51304427-100 MU-TDOR22
621-1160R
621-1160R
621-0007R
51304425-100 MU-TDPR02
51304441-125 MU-TDID12
51303997-100
T775E1056
51303982-400
51304685-200+51401598-200
51304483-100
51304518-200
XDL505
XD50-FCL
XD50-FC
51303979-400
51304518-150
51304685-150+51401598-150
51304685-100+51401598-100
XCL5010
51304493-250
HAMAMATSU A10014-50-0210 UV
Mitutoyo LGF-110L-B, Code: 542-161
CLIPSAL C-Bus2 L5504RVF20 LE5504TRVF20
Riken Keiki GP-631A
Hansan PEF-L60A
STEC SEF-52-003
OMRON E5M-TSQK
Keyence LV-N12N Amplifier + LV-NH32
KEYENCE GT2-100N Display Amplifier + DL-RS1A 232C
SMC PFA703H-10-28-M
FESTO MS6-LFR-3/8-D7-ERM-AS 529228 + MS6-EE-3/8-V24 529839 +MS6-DL-3/8 529821
Riken Keiki GP-631A GP631A
Omron ZJ-BAS058
Keyence FW-V25 Optical Fiber Amplifier Applicable for FW-H02
Keyence FD-P20
Yokogawa DM8C-A2 A
KEYENCE GT2-72N AMPLIFIER & GT2-H12
RVSI HawkEye 014-HE1515HD 2D
Keyence GT2-71N CMOS Gauge Sensor Amplifier S/N: xxx5236
Renishaw RGH22 RGH22X30D00
Sick i15-EP0133 P/N:60340310817
Heidenhain LIP 57
Heidenhain LIP57 D10
Entrelec 11 130-140 4-20 mA
Yokogawa DM8C-A2
KEYENCE GT2-72N AMPLIFIER & GT2-H12
KEYENCE GT2-72N AMPLIFIER & GT2-H12K
KEYENCE GT2-72N AMPLIFIER & GT2-H12L
Novx Series 3350 33500508049
Eurotherm Controls 818P/RTD/RL6C/NONE/NONE/237/96/SN/70/0/400/C/NO/NO/D/N/S/P/HR
KEYENCE EG-540 HIGH-ACCURACY
KRONES P120.01-401-F3A
Varian K3264301
Kistler 5039A312
SMC PFA703H-10-28-M
TOKYO SEIMISTU MINICOM E-M30R
Watlow Anafaze 4CLS-ASYM
SYRELEC CTD4689422118 CTD46
Lufterhitzer Typ 700Air Herter 700 - 770W
FS Elliott KP1955 Shinkawa WK-142K2-1/DNC 2-Wire
KEYENCE GT2-100N Display Amplifier + DL-RS1A 232C
Keyence GT2-71N Contact Sensor Amplifier& GT2-H12
Keyence SJ-F100 Static Eliminator Controller + SJ-F010
Novx Series 3350 33500608113
Keyence GT2-72N Contact Sensor Amplifier& GT2-H12
KRONES Phoenix Contact MCR-RTD/U , RTD Converter Art.-Nr. 2808349 Pt100 U2267
Edwards 825 Series B Mass Flow Controller + NUPRO SS-4BK + GAS FILTER TEM-772
Siemens 5SV8001-6KK
Keyence FD-V40A Flow Amplifier With FD-A50
Keyence SL-C16H-R /T
ULVAC SP1 G-TRAN
Keyence FT-50A Temperature Amplifier & FT-H20
IMI Sensors A PCB Piezotronics 682B03 ICP
KRONES Phoenix Contact MCR-RTD/U , RTD Converter Art.-Nr. 2808349 Pt100 U2257
Edwards 825 Mass Flow Controller + NUPRO SS-4BK + GAS FILTER TEM-772
Renishaw RGH22 RGH22X30D00 Scale Read Head S/N: xx2569
Hanshin PEF-L25A
Sick WT12L-2B550A02
Keyence KV-40T 24VDC24 Inputs 16
Keyence FD-V70A
Keyence FT-50A
TEAC TU-CR
TEAC Instruments TU-CR
Keyence AP-V82W
Sick WT12L-2B550A02
Bettcher 985T-R01
OMRON G9SX-ADA222-T150-RT
Renishaw RGH22 RGH22X30D00 Scale Read Head S/N: xx9037
Shibaura TPG-1RM PIRANI GAUGE DC 24V/0.15A xxx9D
Shibaura TPG-1RM PIRANI GAUGE DC 24V/0.15A xxx8D
Japan Sensor TMC50 TMZ51-500-5E3
Toyo Denki Type CIE-16
Heidenhain LIDA 47TTLx5, 200,00kHz 369 429-11
KEYENCE LG-81
Shibaura TPG-1RM PIRANI GAUGE DC 24V/0.15A xxx5D
OMRON ZS-HLDC11
SGI MricoE Systems Mercury II 1900XY
Bently Nevada 990-05-70-02-00 2-Wire
Entrelec 11 130-140 4-20 mA
TEAC Instruments 248-04
Keyence AP-V82W
Omron ZJ-BAS050
Keyence GT2-71N Gauge Amplifier & DL-RS1A RS-232
Seeka SST108 Wide
Anritsu N-233k-01-1
PHOENIX CONTACT MCR-R/U-V
Keyence FD-A10
Siemens 5SV8001-6KK
Keyence PJ-F22R Receiver & PJ-F22T
Omron ZX-SF11
Yamatake FEW-K8A5
ION Systems NilStat 4210 Air/Nitrogen
PRO-FACE 2980020-01 GP2000-VM41 APPLICABLE FOR GP2600
YAMATAKE CMS0020BSRN000100
Keyence SJ-S020 , Static Eliminator Controller S/N: xxx3741
IMI Sensors A PCB Piezotronics 682B03 ICP