Allen Bradley AB 1747-ASB Remote Input and Output Adapter Module New In Box
Quantity available: 1
Warranty: In excellent condition 12 months.
Lead time: 3-7 working days.
Terms of payment: T/T.
NEW AND ORIGINAL FACTORY INDIVIDUAL INNER BOX AS PER PRODUCT SIZE
Contact:Jessica
Skype:jessica01235483
Email:sales*mvme.cn (please change * to @)
TEL:86-592-5856209
Mobile Phone:86-18030235311(WhatsApp)
Wechat:hu18030235311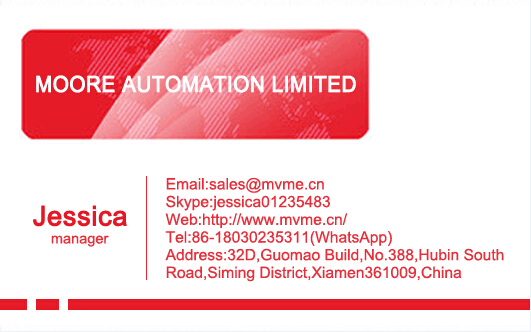 On the evening of April 10, Qingdao Haier issued a board of directors' resolution stating that in order to promote the company's business development and further promote the company's globalization strategy, the company plans to make initial public offerings and listing on the China Central E-Stock Exchange's D share market. The issuance and listing will be realized through the access and listing transactions of the Frankfurt Stock Exchange. This offering will help meet the business development needs of the company, optimize the capital structure, further promote the company's internationalization strategy, and further enhance the company's operation and management level, and enhance the core Competitiveness.
For the new era in China, Siemens has its own understanding and footnotes:
· The new era is about- opening up new areas of growth and promoting the development of the next generation of technology;
· The new era is about "Internet +" - the realization of digitalization of the industry and the emergence of a connected world.
· The new era is about "Made in China 2025" - the digital transformation of China's manufacturing industry from "big" to "strong";
· The new era is about the "One Belt and One Road" - promoting global cooperation and seeking a higher level of openness, interconnection and common prosperity.

① Allen-Bradley (USA AB) series of products "
② Schneider (Schneider Electric) products "
③General electric (General Electric) series of products "
④ Westinghouse (Westinghouse) series of products "
⑤ SIEMENS (Siemens Series) "
⑥ Sales ABB Robots. FANUC Robots, YASKAWA Robots, KUKA Robots, Mitsubishi Robots
OTC Robots, Panasonic Robots, MOTOMAN Robots.
⑦westinghouse (Westinghouse): system, WDPF system, MAX1000 system spare parts.
⑧Invensys Foxboro I / A Series system, FBM (field input / output module) sequence control
System, Ladder Logic Control, Accident Recall Processing, D / A Conversion, I / O Signal Processing, Data Communication and Processing
Invensys Triconex: Redundant Fault-Tolerant Control System, the most modern fault-tolerant controller based on Triple Modular Redundancy (TMR) architecture.
⑨ Siemens (Siemens): Siemens MOORE, Siemens Simatic C1, Siemens CNC system
⑩Bosch Rexroth (Rexroth): Indramat, I / O module, PLC controller, drive module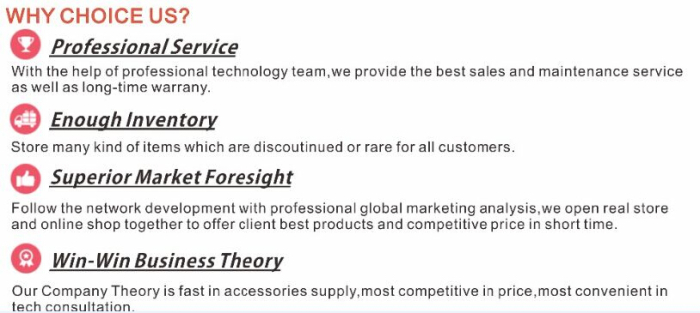 R88M-M1K120
R88M-K20030H-BS2-Z
R88M-K40030H-BS2-Z
R88M-K75030H-BS2-Z
R88A-FIU-110-E
R88D-UA12V
E6C2-CWZ6C
R88M-U40030VA-S1
R88D-WT10H
R88A-FIU-115E
R88A-FIU-115-E
FBM14 CM400YQ
FBM12 CM400YN
FBM03 P0400YD
CM400YK FBM09
P0972PP
FBM06 P0400YG
AO2
P0400YE
FBM05 P0400YF
IPM6 CM902WX
P0903ZL
P0971WV
CM400YH FBM07
P0400DA FBM01
P0400VP CMP10
P0400DA FBM01
P0400YC FBM02
D241
2AX+A2+ECEPD00040
ETR4-11-A
819-DC-RCX
618-DC-RE
PS4-151-MM1
PS416-BGT-410
SN4-050-BI7
PKZM0-16
PKZM0-4
INP-400
CNT-200
NET-440
POW-400
EBE-223.2-2 CPU-W
PS316.118-3
EBE201
EBE295.1-3
PS306-DC
PS416-BGT-420
PS416-MEM-442
NX70-PWRDC-CH
1771-P5EK/B
1771-WD
1771-WA
1771-IXE
1771-AL
1771-NIS
1771-OY
1771-OYC
1771-OGC
1771-IQ16/B
1771-OQ16/B
1771-NOV B
1771-OM
1771-IM
1771-IL/C
1771-IL/D 1771-1L
1746-IB32
1771-WC
1785-KE C
1771-OW16K/B
1771-IBDK/B
1762-L40BXB
1775-MSA
1746-IB16
1785-BCM
1785-BEM
1747-M12
1745-E103
1794-TB2/A
1794-TB3
1747-L40L
1747-L20L
1747-PT1
1794-ACN15
1794-OB16
1794-IB10X0B6
1771-P2
1756-CNBR
1756-A17
1746-OB32
1771-VHSC
1785-LT
160-BA02NPS1P1
1747-L542
1771-WN
1771-WG
1771-WH
1771-IBN
1746-HSRV
1791D-8B8P
1791D-16B0X
Dr. Schenk EV 1000 Type 4250192
IPG Laser YLR-40-PT2
Rofin Sinar RSM10E, Diode Laser Marker 35W CW, WaveLength 1064nm P/N: 3010735
Rofin Sinar PowerLine 10E PC Diode 1064nm, P/N: 1331690
SDL JDS Uniphase FL10a 82-00051
IB Laser AG / Berlin MBL 500
Rofin Sinar PowerLine E Diode Laser Marker 10W, WL 1064nm, Equip No: 40007594
Keyence ML-G9310 CO2 Laser Marker 80W, WaveLength 10.6um, P/N: 1139872
Rofin Sinar HILBERLING HN-800G
SMART PAC Laser SP 12.4,10W Wavelength 930-950m & 635nm + Fiber Optic Cable
Miyachi ML-7110B-0-00-00 Head Unit Of LD-Pumped YVO4
Rofin Sinar A865G
SMART PAC Laser SP 12.6,10W Wavelength 930-950m & 635nm + Fiber
SMART PAC Laser SP 12.5,10W Wavelength 930-950m & 635nm + Fiber
CYBEROPTICS 8008878 SENSOR ASSY SE300
Rofin Sinar RSG 2010
Rofin Sinar Type: RSG 2010
Rofin Sinar Type: RSG 2010 Laser Scan 2Heads, A.Nr.: 756042
Hamamatsu Photonics C9215-06 1064nm
NEC LEC60D Power Supply DC 40V, 32.4A, 6-Axis
Rofin Sinar Laser Marker Operator Panel w/ Key & Cable, DCU-L3C Termi T108V2C
MSq(M2) Ltd DLD-FC-10
GSI Lumonics P59R3310X
Diode Laser 50W Applicable With Omron LaserFront M801C
NEC LEC60D Power Supply DC 40V, 32.4A
Rofin Sinar HILBERLING HN-802
SOC Showa Optronics Company GLG5240A
Olympus LS-HN Class2 HeNe Laser Light Source Box, CW, 632.8nm
GE General Electric 46-216640G1
HILBERLING Rofin Sinar HG-100A
SOC Showa Optronics Company GLG5240A
Beta LaserMike 501-195
Unitek Miyashi Laser FX100H-OUT & FX120H-C0L & FX120/100HC &TV Lens 75mm F1.4
Rofin Sinar ANr.: 210900.01/03 & 240100.01/02
Shibaura UYM-J4300M Aperture Lens Nd:Yag Laser And Toshiba IK-C44H 74 CCD
Beta LaserMike 501-195
Beta LaserMike 501-195
Japan Mitsubishi ST600F 62053
Japan Mitsubishi ST600F D05336
GSI Lumonics E84N9640X
Ophir PE25-A-DIF-Y-100-EP , P/N: 178026A
isel-automation 230001 0300 Linear Motion 300MM & MCG 2234-M4915
EXCEL Precision 1012A Plane Mirror Converter Interferometer+ 1013A + 1016A ,429
EXCEL Precision 1012A Plane Mirror Converter Interferometer+ 1013A + 1016A ,286
EXCEL Precision 1012A Plane Mirror Converter Interferometer+ 1013A + 1016A ,097
EXCEL Precision 1012A Plane Mirror Converter Interferometer+ 1013A + 1016A ,059
Scanlab S_10.1 Scanner Head GalvanometerXY & OMI 5503, 160mm Lens 3192
Rofin Sinar ALI3_V31.DDF Board w/ RofinSinar OPO_V370.DDF
Shibaura UYM-J4300MAperture Lens Nd:YagLaser & Toshiba IK-C44H 74 CCD
Spectra Physics BWF0546-810-10-69 DiodeLaser 10W & HULD-18-635-M-70-5LD-DR
Scanlab S_10.1 Scanner Head GalvanometerXY & OMI 5503, 160mm Lens 5794
Scanlab S_10.1 Scanner Head GalvanometerXY & OMI 5503, 160mm Lens 5791
Scanlab S_10.1 Scanner Head GalvanometerXY & OMI 5503, 160mm Lens 4235
Rofin Sinar 5-94.138/0 & EOS SDIMITAA V1.0 & Opto 4501210
EXCEL Precision 1012A Plane Mirror Converter Interferometer+ 1013A + 1016A
Scanlab 1280 & 1293
Scanlab 1290 & 1294
Scanlab SSV_10/V4.0L1 Galvanometer Drive, For Rofin Sinar RSG 2010
Scanlab SSV_10/V5.0L1
Rofin Sinar Laser 5-94.137/0
Cambridge Technology6230M50 & 6230M
Omron ZN-A2502 Air
Rofin Sinar Laser 5-94.137/0
Scanlab S10.1 Scanner
Laser Drive 314T-1800-6.5-4 & Melles Griot 05-LHB-569-510 &HACH ULTRA 20B1030
Rofin Sinar Laser HG-100T RF
Coherent P/N: 0210-696-00
Scanlab GmbH SSV20
Rofin Sinar Laser Type: LLM , A.Nr. 3040780
Cambridge 6230H
Coherent Powermax PM10 Laser 1097901
RodenStock Rodagon 1:2.8 f=50mm Modular-Focus Lens & Sony XC-75 CCD
Scanlab GmbH SDIRECV2.1 L1
Cambridge Technology6230H
General Scanning 180-75034
Laser Optic Fiber Cable D03663
General Scanning 180-75034
Newport 2-Axis M-TSX-1D
Schafter + Kirchhoff57FCM-A-670-2-T07-2-28-150
General Scanning 180-75034
HOYA CANDEO OPTRONICS US7F200L50-1540
EO Technics EO LaserVer SCF 2.7.1 ISA
General Scanning 180-75034
Cambridge Technology6450
HOYA CANDEO U3B5F100D4.9-1540
KEYENCE LS-3100
Rofin Sinar P/N 150500340 , COHERENT PM-1300
HOYA CANDEO U3B5F100D4.9-1540 Fiber Optic Light Guide 1393
Rofin Sinar Laser Shutter A.Nr. 3040320
Omron ZN-PD03