1756 L55M24 ALLEN BRADLEY 1756-L55M24 (Brand New Current Factory Packaging)
Our advantages:
1.New and Original
2.In Stock
3.Best Price
4.Fast Delivery
5.One Year Warranty
Contact:Jessica
Skype:jessica01235483
Email:sales*mvme.cn (please change * to @)
TEL:86-592-5856209
Mobile Phone:86-18030235311(WhatsApp)
Wechat:hu18030235311
The US Department of Commerce announced on April 16 that it will ban US companies from selling components, commodities, software and technology to ZTE for the next seven years. The reason for the ban was that ZTE violated the US sanctions clause that restricts the sale of U.S. technology to Iran. This incident became the cut-in point for the U.S. government to target Chinese companies and down on the Chinese chip industry, triggering further attention in China's chip industry.
On April 25, foreign media reported that the U.S. Department of Justice is investigating whether Huawei has violated U.S. sanctions against Iran. In terms of the nature of the organization, this investigation by the US Department of Justice against Huawei is a criminal investigation, which means that Huawei may face additional "criminal penalties." Huawei's allegations are firmly denied, and it is not difficult to see that the United States is deterring Huawei's development momentum. Ambition.
Payment Terms :
TT in advance ....
Shipment Terms :
Trading terms are Ex-works Xiamen
We will ship the goods within 3 working days after the payment received.
We can ship the goods to worldwide by DHL/FEDEX/UPS/TNT/EMS or other best possible way. Please also contact us directly if you have preferred ways.
After Service :
We offer guarantee of quality for 45-90 Days for all the parts we ship out .
1st, we will state the condition of the parts honestly when quote ;
2nd, we will test the quality of the goods before shipment ;
3rd, we will be responsilbe when the parts get in any problems .
Hope you enjoy the shopping !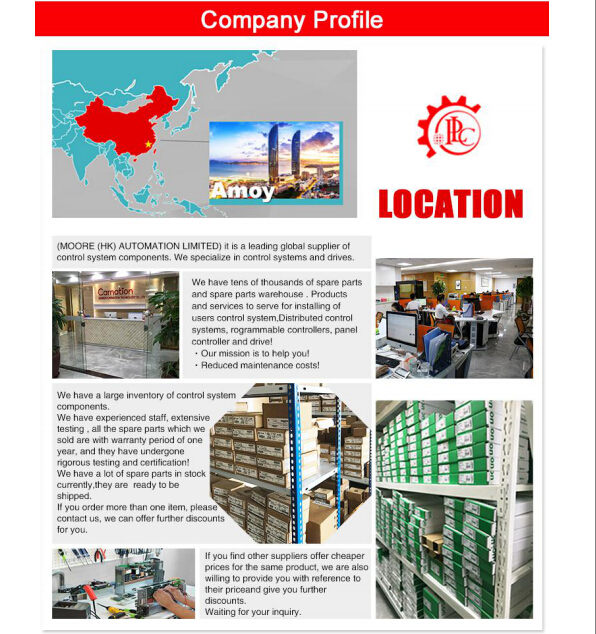 Allen-Bradley PLC system spare parts
Schneider 140 full range of PLC
Siemens SIEMENS full range of PLC
Westinghouse DCS spare parts
FOXBORO Foxboro DCS spare parts
ABB DCS spare parts
HONEYWELL DCS spare parts
MOTOROLA MVME
Moore stop card
HITACHI system spare parts
XYCOM system spare parts
B & R PLC
HITACHI system spare parts
EUROTHERM spare parts
YASKAWA PLC
spare parts
TOSHIBA large card
German Rexroth Bosch Rexroth servo drive
Kollmorgen KOLLMORGEN SERVOSTAR servo drive
Germany Leybold LEYBOLD vacuum pump
American Barb - Cowman Barber Colman
United States Bonner BANNER ENGINEERING spare parts
Germany
ELAU driver
EBARA Japan Ebara vacuum pump
TOTAL CONTROL touch screen
Sew Eurodrive discontinues drive
Woodward Woodward spare parts
US Ryan electrical RELIANCE ELECTRIC spare parts
Yokogawa PLC Yokogawa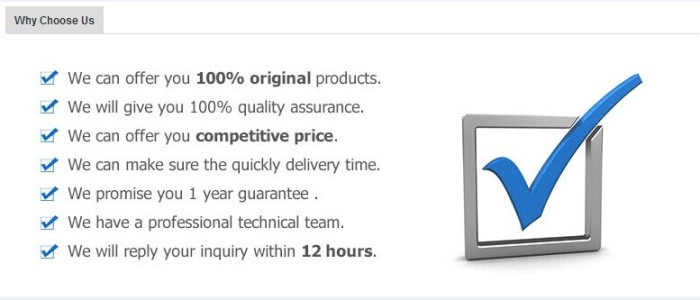 IDA-JMB
PMCB11M1
KJ4002X1-BF2
KJ1501X1-BB1
KJ4010X1-BG1
BM11M1
KJ4001X1-BE1
KJ4001X1-NA1
KJ4001X1-NB1
KJ4001X1-CA1 12P0623X062
KJ4001X1-CG1 12p1812x042
KJ3203X1-BA1
KJ3222X1-BA1
KJ3002X1-BG2
M62P
M61P
GM6-DMMA
K7M-DR60S
G6Q-TR4A
GM6-B04M
GM6-PAFA
G6I-D24A
K7M-DR60U
G7F-ADHB
K3S-302S K3P-07AS K3X-210S K3Y-201S K3B-4MS
K7M-DR20S
UG330H-SS4
PHR61B13-C10YV
KCS077VGZEA-A43-66-13
2003-CSDP-30BX2
2098-DSD-020
2094-BC07-M05
4100-232-R
4100-232-RL
4100-232-RL
2098-DSD-010
152290
164251
126080
PC-666-0894
PC-677-0895 /4100-234-R
PC-668-0794
155196 REV.10
2098-dsd-hv030-se
2094-BC07-M05
2090-U3BB2-DM44
PC-669-0901
2098-DSD-HV030
2098-IPD-005
2098-IPD-HV050
M003349557 74102-418-51
MPM-B1651F-SJ72AA
2098-DSD-020-SE
112350
124311
133583
133598
133588
117759
133518
112015
133519
145464
10607XG
112346
845N-SJDN4-CRY1
IC693CPU374-GP
IC693UDR005EP1
IC693BEM321
IC693PCM300
IC693MDL742
IC693MDL640
HE693CBL150
IC697BEM713G
IC693ACC307A
IC660ELB905
IC694MDL740
IC693APU300
IC697MDL940
IC693CPU374-GP
IC200CHS002
IC693CHS399
IC693CPU323
IC694BEM340
IC693MDL310
IC693ALG222
IC693ALG220
IC693ALG221
IC697CMM742
IC693MDL240
IC693ALG223
75122-210-50K
IC660BBA026
HE693RTD600
D30E00HCHF8FH
IC693CPU360
ITM CYLINDER WO 232538 HRC 045T 0246-N1PN 1000 PSI MAX
GE FANUC 193X643AG-G223
ROSEMOUNT C1903050110052 TRANSMITTER W/ PIC MODEL 1199, 1199HXB05SSCW50 LA000
TP40-240/2B PUMP
ALLEN BRADLEY 592-A1NF
RELIANCE ELECTRIC 810.90.11I
MITSUBISHI A1SJ71E71-B5-S3
INGERSOLL RAND 93970838 MICRO TAS PLUS 93963361
WITTENSTEIN ALPHA SP-100S-MF2-20 GEARHEAD 20:1
GORING KERR TEK-21 METAL DETECTOR CONTROL PANEL W/ CIRCUIT BOARD TK7903/300
GEORG FISCHER SIGNET 185-684-036
ABB 3HAC3180-1 PC
PARKER EW25-104D/4
SQUARE D PQ4610G PLUG IN UNIT 4 WIRE 3 PHASE 100A 600V
ALLEN BRADLEY 8000-KAC
GENERAL ELECTRIC F3IXI34EPRBHGI FR00/0 PC
PRESTEK 31B65A2 PC BOARD ASSY. 31B65A2 31B66A9
OSTERGRENS 39164 PC
SIEMENS 6ES5-943-7UB11
RELIANCE ELECTRIC 57552-4A
CAE ELECTRONICS MA115534.01.2.2 68 PC BOARD 35181
CAE ELECTRONICS MA115536.03 PC BOARD 35181
DODGE SCXT225 SPEED REDUCER 352066
HONEYWELL C7012A-1152
ABB 3BSE040662R1
JOSLYN CLARK 4U4-130
RELIANCE ELECTRIC 0-56921-606 PC BOARD REGULATOR HP GV3000 SE
DODGE TIGEAR 2 35A15R14 REDUCER RATIO 15:1
DODGE TIGEAR 2 35A30R14 REDUCER RATIO 30:1
HARMONIC DRIVE AG HFUC-40-160-2A-GR-SP
HONEYWELL VRX100-C0-00-000-0-0E0000-00
ALLEN BRADLEY 1336F-BRF10-AA-EN-HASP-L4 DRIVE 1HP SER.B
SEALED SIEMENS 500-5016
PARKER GV6-U12E-NK COMPUMOTOR DRIVE 120/240V 50/60HZ
SEALED SIEMENS 6ES5090-8MA01
ELECTRO CAM PS-4000-10-016
LEESON 111951.00 BRAKE MOTOR C6K17FK21G 1725 RPM 1 HP 60 HZ
DODGE 35A15R14 TIGEAR 2 REDUCER RATIO 15:1
ABB YM110001-SF
APPLETON AFUO333-55
HONEYWELL DC3200-CE-000R-200-00000-E0-0 TEMPERATURE CONTROLLER UDC3200
PARKER EE90-104-20X526 AMPLIFIER BOARD EE90-104X526
SEALED CYBELEC S-NOT-202/B-27b
GENERAL ELECTRIC F3IXI34EPRBGGI FR00/0 PC
KILLARK EMH070 EMH SERIES H I D FIXTURE 70 WATT
Rosemount 3051CD3A52A1AB4
ELECTROID SEC-42C-16-90V-H
IEE 03601-26-240
Our main brand:Allen Bradley,ABB,Honeywell,Schneider,Bently Nevada,Triconex,Foxboro,Yokogawa,etc module.
To get our best price & fast quotation, please send us Email now.
Email:sales*mvme.cn (please change * to @)
Contact:Jessica
Mobile Phone:86-18030235311(WhatsApp)