Allen Bradley 1770-FF 1770 FF Personality Module Series A - NEW
Have in stock
New and original 100% guaranteed
If you payment successful,We will ASAP arrange ship this goods this day!
Contact:Jessica
Skype:jessica01235483
Email:sales*mvme.cn (please change * to @)
TEL:86-592-5856209
Mobile Phone:86-1803
0235311(WhatsApp)
Wechat:hu18030235311
For the new era in China, Siemens has its own understanding and footnotes:
· The new era is about- opening up new areas of growth and promoting the development of the next generation of technology;
· The new era is about "Internet +" - the realization of digitalization of the industry and the emergence of a connected world.
· The new era is about "Made in China 2025" - the digital transformation of China's manufacturing industry from "big" to "strong";
· The new era is about the "One Belt and One Road" - promoting global cooperation and seeking a higher level of openness, interconnection and common prosperity.
Payment Terms :
TT in advance ....
Shipment Terms :
Trading terms are Ex-works Xiamen
We will ship the goods within 3 working days after the payment received.
We can ship the goods to worldwide by DHL/FEDEX/UPS/TNT/EMS or other best possible way. Please also contact us directly if you have preferred ways.
After Service :
We offer guarantee of quality for 45-90 Days for all the parts we ship out .
1st, we will state the condition of the parts honestly when quote ;
2nd, we will test the quality of the goods before shipment ;
3rd, we will be responsilbe when the parts get in any problems .
Hope you enjoy the shopping !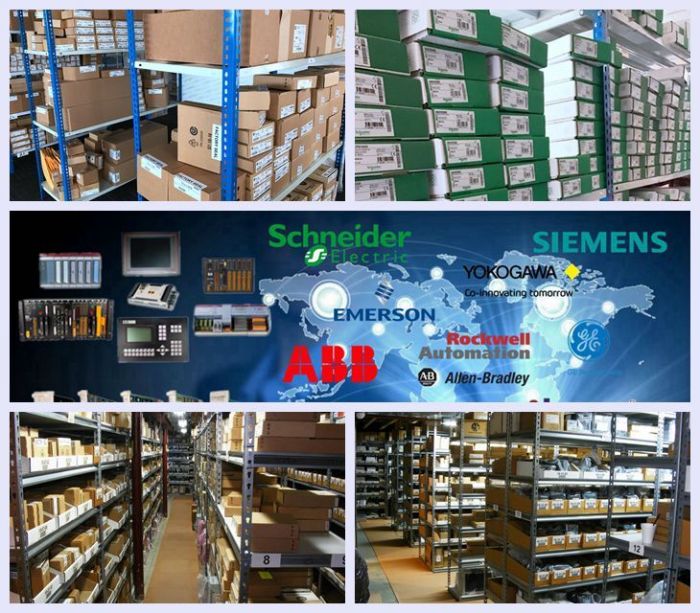 Programmable controller (PLC):
Invensys Foxboro: I/A Series system, FBM (field input/output module) sequential control, ladder logic control, accident recall processing, digital-to-analog conversion, input/output signal processing, data communication, and processing.
Invensys Triconex: Redundant fault-tolerant control system, the most modern fault-tolerant controller based on triple modular redundancy (TMR) architecture.
Westinghouse (Westinghouse): system, WDPF system, WEStation system spare parts.
Rockwell Allen-Brad
Reliance Ryan, SLC500/1747/1746, MicroLogix/1761/1763/1762/1766/1764, CompactLogix/1769/1768, Logix5000/1756/1789/1794/1760/1788, PLC-5/1771/1785 PLC CPU, etc. .
Schneider Modicon: Quantum 140 series processors, control cards, power modules, and more.
ABB: Spare parts for industrial robots DSQC series, Bailey INFI 90, etc.
Siemens servo control systems: Siemens MOORE, Siemens Simatic C1, 6SN1118, 6ES7416, 6FC5103, 6SN1123, 6RB2026, 6SC6100, 6SN1145, 6SN6111, 6SC6101 Siemens S5 These series
Motorola: MVME 162, MVME 167, MVME1772, MVME177 and other series.
XYCOM: I/O, VME board, processor, etc.
GE FANUC: Modules, Cards, Drives and other spare parts.
Yaskawa (Yaskawa): servo controllers, servo motors, servo drives.
Bosch Rexroth servo control systems: Indramat Motor MAC, DCK04.3, Bosch Versorgungs. I/O modules, PLC controllers, drive modules, etc.
Woodward: SPC valve position controller, PEAK150 digital controller.
INDUSTRIAL ROBOT SPARE PARTS
ABB ROBOTICS KUKA ROBOTICS YASKAWA ROBOTICS KAWASAKI ROBOTICS FANUC ROBOTICS NACHI OTHER
3BSE008514R1/ DO820
SPAM150CAA
INICT03A
INNPM11
IMDSI12
IMFCS01
IMMPI01
IMCIS22
TK518 3BSE003787R1
RB6O1 3BSEOO28O3R1
3BSE012868R1 CI626V1
3BHT300005R1 AI620
3BSE008062R1 PM633
3BHT300019R1 SA610
3BHT300008R1 AO610
TP854 3BSE025349R1
TU846 3BSE022460R1
TU844 3BSE021445R1
PS24-EX SA910S
IEMMU21
IEMMU01
SPAJ140C-AA
PHARPS32200000
IMFEC11
IMMFP12
3BSE030220R1 CI854AK01
3BSE023676R1 AO845
3BSE003785R1 /TK515
3BSC950030R1 /TK513
260491+260590
452752+452753
IN91161/5
IN91161/4
211QS50328C
211QS50328C+211QS50005B
IN91161/5
IN91161/6
IN91221/1
IN95111/1+IN95201/2
IN93051/2
IN93051/2+IN95201/1
IN95191-1
IN91221/2
IN93062/1
IN95111/1
SPDM110RGE
F930GOT-BWD-006
A970GOT-TBA-CH
F920GOT-BBD5-K-C
A985GOT-TBA+A9GT-RS4
A870GOT-EW
A7GT-BUS
A870GOT-EL-B
A8GT-PWEL
A8GT-70G0T-EW +A7GT-BUS+A8GT-PWEL
F930GOT-BWD
F940GOT-LWD-C
FX0N-24MR+F930GOT-BWD-C
FX-50DU-TK-C
FX-40DU-TK-ES
7SJ6225-5EB20-1HH0/EE
7SJ5115-4CA02-2BA0/JJ
7UT5125-5CB01-0BA0/LL
7SJ6225-5EB90-1FE0/EE
6ES7193-4CB20-0AA0
6ES5430-4UA14
6ES5470-4UB13
RWD82
6ES7132-4HB00-0AB0
6ES5460-4UA13
6ES5451-4UA14
6ES5451-4UA14
6ES5430-4UA14
6GK1105-2AA10
6EP1336-3BA00
6ES7153-2BA02-0XB0
6ES5523-3UA11
6ES7331-7PF01-0AB0
6ES7400-2JA00-0AA0
3VU1640-0LS00
3TF3101-0AP0
6ES7960-1AA04-0XA0
6ES7153-2BA02-0XB0
6ES7153-2BA02-0XB0
6ES7392-1BJ00-0AA0
6ES5523-3UA11
6FM1706-3AB20 WF706
6ES7390-1AF30-0AA0
6ES7195-1GF30-0XA0
6ES5308-3UA12
6ES7972-0BB41-0XA0
6ES7313-6CG04-0AB0
6ES5 943-7UA22
C98130-A1215-C9-01
6EP1332-1SH42
6ES7216-2BD23-0XB0
RWD68
6ES7336-1HE00-0AB0
6ES7336-1HE00-0AB0
6ES7195-7HD10-0XA0
COIL-TRAN / GENERAL ELECTRIC 104X156CA016 60T377-1 36B605538AXG01
GATES 20008MGT12 GT 2 0437MC
BIMBA MRS-090 5-DXPG MRS0905DXPG 3/8" ROD 1/2"
MARS 50304 CONTROL
WEB 8300-1 8300-I LIMIT
Drymaster A/C Filter Driere A16659 1/2" O.D. Solder SD-304 30 cu R-12 R-22 R-502
HOFFMAN GRAY METAL ENCLOSURE A6N64
MISUMI GEAHBB1.5-55-15-A-25 55T 25mm
BIMBA 041.5-NR 041.5NR 3/4" BORE 1.5"
DODGE SKX1-1/2 SK X 1-1/2, 1-1/2" QD Bushing 120429
Martin 60B20 Sprocket,60 Chain 20T 0.75" Pitch - Stock Bore
New MasterDrive SK1.1/2 1.1/2 QD, Quick Disconnect BUSHING SK 1-1/2" 1-1/2
Colonial Abrasive 53-111-413, 100I White Grinding Wheel 6" x 1/2" x 1-1/4"
HITACHI IC chip HD6413003F10 6K1 R H8/3003
Cincinnati Milacron 9A46-J6-VRW, 36021-JKM Grinding Wheel 7 x 1/4 x 1-1/4 NOS
BRAD HARRISON WOODHEAD CONNECTIVITY CABLE 5AA39 103001A01F060 6FT
Cincinnati Milacron 9A60-J5-VRW, P3718-6KJ Grinding Wheel 6 x 1/2 x 1-1/4 NOS
Cincinnati Milacron 9A60-G10-VA, P2316-1-BW Grinding Wheel 7 x 1/2 x 1-1/4 NOS
Cincinnati Milacron 9A100-I6-VRW, P4227-IKH Grinding Wheel 7 x 1/2 x 1-1/4 NOS
Cincinnati Milacron 10A46-KB-V6 Grinding Wheel, 018-071-338 7 x 1/2 x 1-1/4 NOS
GATES AK34X5/8 AK 34x5/8 BTS
ITW Skakeproof Clevis Pin, 3/8x1, PK50, 11-141Z 3/8 X 1
MARTIN 80SDS13 13 TEETH QD
SQUARE D ELECTROMAGNETIC CURRENT TRANSFORMER 5N RATIO 250:5 PRI. TURNS 1
NCC T1K-2-461
GOODYEAR B108
Sprocket stainless steel 27-3228 3021-3228A new
SPRAGUE 36DX 36DX11228 2900uF 200v -10 +50%
NO NAME SFX55MMX
MARSH J9054 4.5" FACE 1/4" NPT 0-200
AROMAT AW22114498 HA1-DC12V
MARSHALL TOWN G23868 3.5" 0-160psi 1/4" 0-1100kPa
GATES 5VX670 V80 SUPER HC VEXTRA V-BELT
GOODYEAR C105 MATCHMAKER V-BELT
DAYCO SUPER BLUE RIBBON BP144 V-BELT
PIAB G 1/8" 0166339 MALE
PARKER 045998000 FILTER/REGULATOR
NATIONAL A64AB LM293N
CHICAGO RAWHIDE OIL SEAL 11608 30X42X7
TB WOODS BUSHING SFX2 SIGD
CAT HUB BOLT 1008679
CAT RABBIT BUTTON RIGHT NAO17033
CAT HOSE ASS'Y NA013011
CAT REAR LINK SHAFT NA017074
Reliance PRSA Card Board Module 0-51845 51845
Reliance OLVA Card Board Module 0-52808 52808
SCHRADER BELLOWS 01.12 UTTU16 0.500 200psi
KOGANEI R300M R-300M 0.5-8.5kgf
if you have a large purchase, we can make a discount.
specifications:
new+original +one year warranty