ALLEN BRADLEY 2801-NC18A SER. A NEW INTERFACE CABLE 2801 NC18A
Quantity available:200 pieces per month.
Delivery time: 2-3 working days after payment.
Type of payment:T/T.
Courier partners: DHL, UPS, TNT, DPD, FedEx.
Quality assurance:1 year warranty
Technical specification, manuals and data sheets: Available on request
Contact:Jessica
Skype:jessica01235483
Email:sales*mvme.cn (please change * to @)
TEL:86-592-5856209
Mobile Phone:86-18030235311(WhatsApp)
Wechat:hu18030235311
The US Department of Commerce announced on April 16 that it will ban US companies from selling components, commodities, software and technology to ZTE for the next seven years. The reason for the ban was that ZTE violated the US sanctions clause that restricts the sale of U.S. technology to Iran. This incident became the cut-in point for the U.S. government to target Chinese companies and down on the Chinese chip industry, triggering further attention in China's chip industry.
On April 25, foreign media reported that the U.S. Department of Justice is investigating whether Huawei has violated U.S. sanctions against Iran. In terms of the nature of the organization, this investigation by the US Department of Justice against Huawei is a criminal investigation, which means that Huawei may face additional "criminal penalties." Huawei's allegations are firmly denied, and it is not difficult to see that the United States is deterring Huawei's development momentum. Ambition.
Shipping Term : TNT,DHL,FEDEX,ETC
Payment Term : T/T
Warranty: 12 month
Moore supply: New+original+factory sealed+high quality
Service: quotation will be sent in 9 hours
Skype + whatsapp + mobile = 24 hours /day Oneline.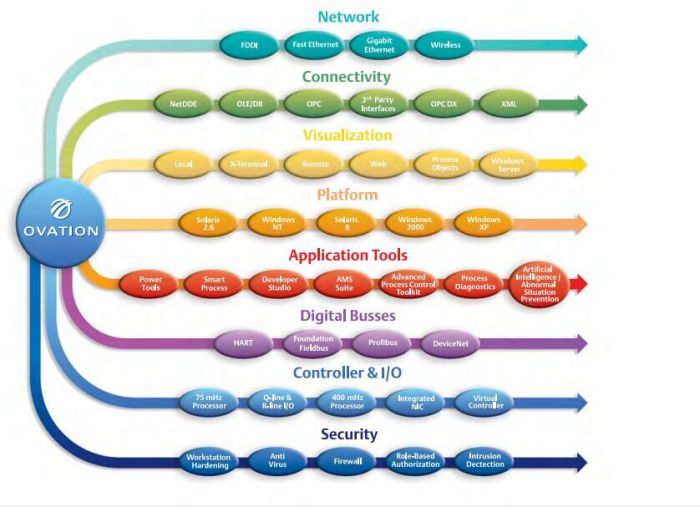 Allen-Bradley PLC system spare parts
Schneider 140 full range of PLC
Siemens SIEMENS full range of PLC
Westinghouse DCS Spare Parts
FOXBORO Foxboro DCS Spare Parts
ABB DCS spare parts
HONEYWELL DCS Spare Parts
MOTOROLA MVME
M
Oore factory card
HITACHI system spare parts
XYCOM system spare parts
B & R (B&R)
PLC
HITACHI system spare parts
Euro EUROTHERM Spare Parts
YASKAWA PLC
spare parts
TOSHIBA Large Cards
Rexroth Bosch Rexroth servo drive from Germany
Kollmorgen KOLLMORGEN SERVOSTAR servo drive
Germany Leybold LEYBOLD vacuum pump
American Barber Colman
Bonner BANNER ENGINEERING spare parts
Germany
ELAU driver
EBARA Japan EBARA vacuum pump
TOTAL CONTROL touch screen
Sew Eurodrive Discontinued Drive
Woodward Woodward Spare Parts
United States Ryan Electric RELIANCE ELECTRIC spare parts
Yokogawa Yokogawa PLC
DCS Distributed Control System:
FOXBORO (Foxboro): I/A Series system: FBM (field input/output module) sequential control, ladder logic control, accident recall processing, digital-analog conversion, input/output signal processing, data communication, and processing.
TRICONEX: Redundant fault-tolerant control system, the most modern fault-tolerant controller based on Triple Modular Redundancy (TMR) architecture.
Westinghouse (Westinghouse): system, WDPF system spare parts.
Siemens: MOORE system spare parts.
Honeywell: TDC series, QCS series, S9000 series spare parts.
ABB: spare parts for ADVANT OCS, MOD30, MO300, Bailey INFI90, Masterview 850, AC460, S100, and S800 systems.
MOTOROLA (Motorola): MVME147/162/166/167/172/177/187 series spare parts.
XYCOM: VME series bus board, programmable human-machine interface.
PLC programmable controller:
Allen-Bradley (Rockwell): 1756/ 1771/ 1785 Series, Reliance Ryan.
Schneider: Modicon Quantum 140 processor, input and output modules, power modules, and more.
Siemens (Siemens): S5/S7 series 200, 300, 400; 6AV/6GK series spare parts.
Servo control system:
FANUC (FANUC): Servo amplifier A06B, driver A06B, input and output module A02B/A03B, PCB board A16B/A20B.
Siemens (Siemens): 6SN/6FC/6FX series, providing sales of CNC systems (810, 802D SL, 810D, 840D) and spare parts.
Yaskawa (Yaskawa): servo controllers, servo motors, servo drives.
ABB Robots,FANUC Robots,YASKAWA Robots,KUKA Robots,Mitsubishi Robots,OTC Robots,Panasonic Robots,MOTOMA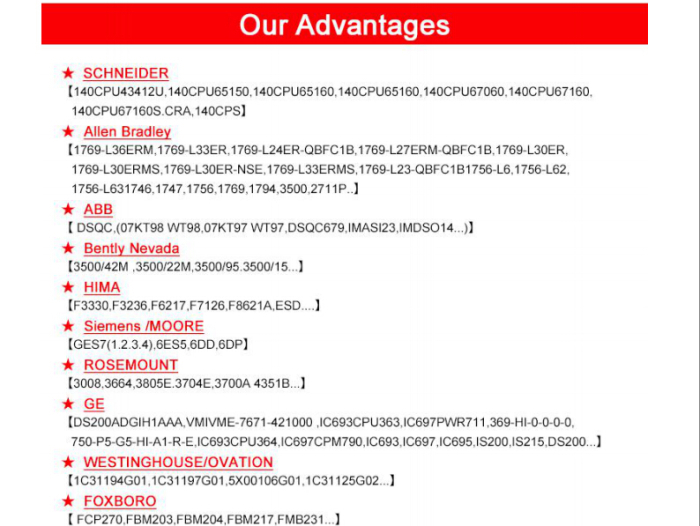 D4-450
D2-240
TRD-J1000-RZ
U-8ADC-1
U-DMY
SU-6
D4-PULS-1
SN-64DR-A1
4314R-353
E-22N
SN32DR-A2+K2-16CDR+Z-DMY
Z-4AD2
CKE SH-32RI/SH-32R1
SH-64R2
SZ-4
D2-06B
E-01BJ
E-03B
SA-21
E-01BJ-EX1
E-01N
E-55N
Z-8TR1
E-05N
SR-21-EX
E-01T
U-01T
Z-08B
KJ4110X1-EB1
KJ3102X1-BB1
KJ3202X1-BA1
KJ4001X1-BB1
KJ4010X1-BF1
KJ3002X1-BA1
KJ4101X1-BA1
KJ2002X1-CA1 M5
KJ3001X1-BH1
KJ4001X1-CB1 12P0625X052
KJ4001X1-CC1 12P0733X042
KJ3001X1-BB1
KJ3221X1-BA1
IDA-JMB
PMCB11M1
KJ4002X1-BF2
KJ1501X1-BB1
KJ4010X1-BG1
BM11M1
KJ4001X1-BE1
KJ4001X1-NA1
KJ4001X1-NB1
KJ4001X1-CA1 12P0623X062
KJ4001X1-CG1 12p1812x042
KJ3203X1-BA1
KJ3222X1-BA1
KJ3002X1-BG2
F930GOT-BWD-006
A970GOT-TBA-CH
F920GOT-BBD5-K-C
A985GOT-TBA+A9GT-RS4
A870GOT-EW
A7GT-BUS
A870GOT-EL-B
A8GT-PWEL
A8GT-70G0T-EW +A7GT-BUS+A8GT-PWEL
F930GOT-BWD
F940GOT-LWD-C
FX0N-24MR+F930GOT-BWD-C
FX-50DU-TK-C
NEC FACTORY COMPUTER FC-9821X
MULTILIN SR750-CASE 750-P1-G1-S1-HI-A20-R-T-H
NIKKI DENSO ULSTA-300
GE MULTILIN SR 469-P1-HI-A20 TH SR469
FUJITSU DENSO BH5-3544
EBARA CRYOCOMPRESSOR 2.1,323-0014
SSD DRIVES DC INTEGRATOR 590+SERIES 590P/0165/500/0011/UK/ARM/0/0/0
TOA DK TURN TABLE TTT-510
CHRIST ELEKTRONIK PLC SET, SN42 CP40 PP40 E16S 8EA A163 7EA
NEC FC-9813
EQUIPE TECHNOLOGIES ATM204-1-S
#0004 ADAPTRONIC KT2000 TEST
TECHNOS 5000K PC
LISA LASER BODY f:120mm
RELIANCE AUTOMAX 7010 PROCESSOR 57C435A,0-57435-1,J-3650-6
VARIAN PROCESS UTILITY BOX,ASSY 04-709086-01 REV AD,SCHEM 04-705991-03
RELIANCE HR2000 Controller 3RA2015
NEC FACTORY COMPUTER FC-9821X
FANUC BOARD A20B-0008-0960/04A & A20B-0009-0070/01A
OLYPUS SZ61 MICROSCOPE WITH CCD IMC-147FT
NEW GE MULTILIN SR 469-P1-HI-A20-T-H SR469
NC NOR-CAL INTELLISYS SOFT SHUT TSS-IQA-250-ISO-63-K910
ULVAC CRYOGENICS CRYO-T 8 SUPER TRAP,CRYOPUMP CRYO-T8S,RS10
INDUSTRIAL COMPUTERGE FAUC IPC 1062IR-24 IC752SPL106B
NEC FACTORY COMPUTER FC98-NX FC-D21A SY4Z5Z
YOKOGAWA DD ACTUATORS - MOTOR DM1050A00& DRIVER SD1050A02
BOSCH D-64711 ERBACH1070083278-117 IMGCPS21-3(CM) CPU MMX266
OMRON PLC PS000 NM010 UV-250 C-820A M2010 CS010 IP000
OMRON NT620C-ST142B
LISA LASER LENS 2.5-5mm
NEC PERSONAL COMPUTER PC-9801BX4/U2
FANUC AC SERVO MOTORA06B-0212-B100,PULSECODER A860-2000-T301
BRANSON/ IPC 31172 HUNTWOOD AVE P/N 12390-01 PM732
SHIMADZU TMP POWER CONTROLLER EI-D4203M(T1)
ORBOTECH 0382396B CPU 3.20GHz
ETEL DSA2 DIGITAL SERVO DSA2P1540A
GASONICS/ IPC 2730 JUNCTION AVE P/N 12390-02 PM732
GASONICS/ IPC 31172HUNTWOOD AVE MATCHING BOX P/N 16801-01 PM 732
SANYO DENKI ABS AMPLIFIER 65AA030TXR02
DIRECT DRIVE MOTOR 62890-001 64196-007
AE ADVANCED ENERGY PDX-1250 3156024-111A
YUASA CORPORATION 60V15A UNIT,SWU 6015T2 D1
ILLUNIS XMV-11002M 11MEGAPIXEL
SANYO DENKI SERVO MOTOR 64BM180UXS5B,09511280D OPTICAL F681000DD41
ELECTROCRAFT BLDC MOTOR WITH HARMONIC DRIVE AND INERTIA 24VBRAKE
EUROTHERM D 6250 ANALOGUE 664-123-123
NEC FACTORY COMPUTER FC-9801B
MULTILIN SR750-CASE750-P1-G1-S1-HI-A20-R-T-H
NEW ABB REF630 LMIO11KHL160003R0001C
XYCOM 3515KPMT
YASKAWA SERVO USAFED-20C32T 15A 1500
ETEL DSA2 DIGITAL DSA2P174ZA-033A
KLA FFA MUSTANG RANDOM BOARD 710-611867-000/AD
EUROTHERM D 6250 POWER SUPPLY 661-02-00
EUROTHERM D 6250 ANALOGUE ACQUISITION 663100100
EUROTHERM D 6250 RELAY OUTPUT 659-00
ABB DRIVES 61061134YPP110A REV H, YPK 112A, YPK 113A
SUTRON KALLFASS BT20/002149
A-B Allen-Bradley MPL 240V AC MOTOR MPL-A560F-SJ74AA
NEW MITSUBISHI E32P4-A BU148A336G51
PI PHYSIK P-275.30 CONTROLLER,PIEZO CONTROL E112.1.HIGH AMPE-107,E-102,E-111
TEL TOKYO ELECTRON LTD. E2B023-11/ECUM E2B024-11/ECUD E2B023/ECU
KAWASAKI SANYO MOTOR 27BM065BBX20,60490-1001RB2
YASKAWA ROBOT CONTROLLER BOARD JASRC-BCP01,DF9203858-B0
RELIANCE ELECTRIC BLDC MOTOR WITH HARMONIC DRIVE GEARHEAD AND
AMAT APPLIED MATERIALS 0100-A0019 BOARD 0110-A0014 REV:A
Radisys corporationEPC-5 CPU
MECS ROBOT CONTROLLER UTW1010HG
Our services
Packing & Delivery
1)100% full New! - Original Factory Seal !
2)Warranty: 1 year
3)Package: Original packing with cartons.
4)Delivery time: Shipped in 3 days after payment