Processor Module 5X00241G02 5X00226G02 PLC Westinghouse Emerson
Quantity available: 1
Warranty: In excellent condition 12 months.
Lead time: 3-7 working days.
Terms of payment: T/T.
NEW AND ORIGINAL FACTORY INDIVIDUAL INNER BOX AS PER PRODUCT SIZE
Contact:Jessica
Skype:jessica01235483
Email:sales*mvme.cn (please change * to @)
TEL:86-592-5856209
Mobile Phone:86-18030235311(WhatsApp)
Wechat:hu18030235311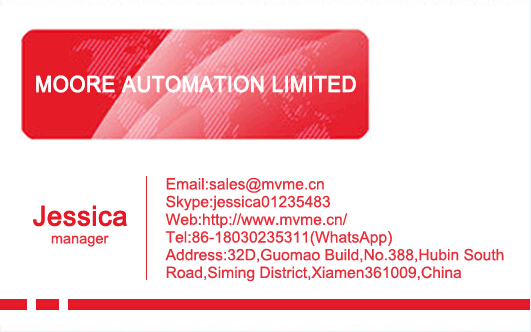 Moore ten years focused on the global automation components search industry experts (GPS)
We currently stock more than 50 million DCS card pieces PLC module, ready to be allocated.
All Moore parts sold have a 12-month warranty. And have gone through rigorous testing and certification
If you order more than one product, please contact us, we can provide you with a progressive discount.
We only use courier delivery parts.
If you find that other suppliers offer cheaper prices for the same product, we are also happy to offer you further discounts based on the price. If there are any other problems or products can not find the product, please feel free to contact us.
We are waiting for your inquiry.
Our services
Quantity available:200 pieces per month.
Delivery time: 2-3 working days after payment.
Type of payment:T/T.
Courier partners: DHL, UPS, TNT, DPD, FedEx.
Quality assurance:1 year warranty
Technical specification, manuals and data sheets: Available on request
All products we sell are 100% New original Package in good condition and will be examed before they are shipped.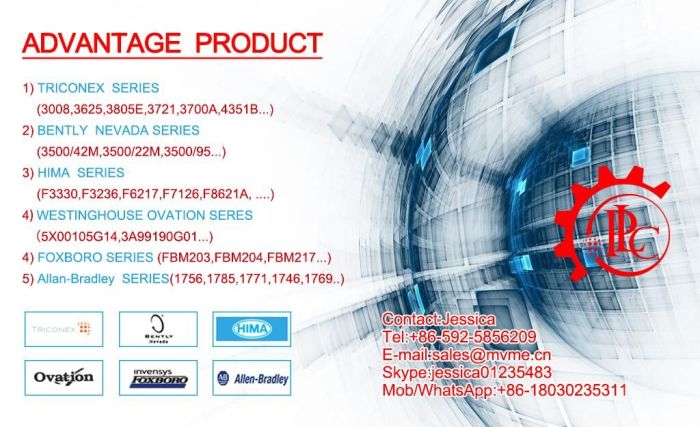 Rockwell: Allen-Bradley
1) ControlLogix 1756 series controller
2) CompactLogix 1769 series controller
3) SLC 500 1747 1746 Series Controller
4) PLC-5 1771 1785 series controller
5) ProSoft :MVI69/PS69/MVI56/MVI94/MVI71/MVI46/3150
6) ICS TRIPLEX trusted system
ABB:
1) AC800M series controller I/O module
2) AC800F series controller module
3) AC31 series controller module
4) 800xA series modules
5) Bailey INFI 90 module
6) DSQC robot module spare parts
7) Advant OCS system spare parts
8) H&B Freelance
Bentley Nevada:
1) Bently 3500 Monitoring system,
2) Bently 3300 Monitoring system,
Schneider:
1)Quantum 140 series :Modicon M340
2)Modicon Premium :CPU Processor Module,Communication module,etc
Emerson Deltav:
1) System DCS Card
2) DeltaV system Dual Channel Redundancy Safety System, Redundancy Controller
General Electric(Fanuc):
1) IS200/DS200 series Excitation system card
2)IC693/IC695/IC697/IC698/IC200/IC660/IC670 CPU module,Communication module, Analog Digital module
Invensys Triconex Card: Tricon System Card
Invensys Foxboro: I/A Series System Module
Honeywell:
1) Alcont
2) Experion LS
3) Experion PKS
4) Experion HS
5) Plant Scape
6) TDC 2000
7) TDC3000
8) TPS
Siemens (Simatic):
1) Siemens MOORE
2) Siemens S5
Yokogwa: CS3000 System CPU Controller Module, Analog Module
Yaskawa:Robot Servo Controller, Servo Motor, Servo Drive.
Rexroth Indramat:I/O module, PLC controller, drive module
VIBRO-METER: VM600 MPC4 VM600 CMC16 VM600 IOC4T Vibration Sensor, Speed Sensor, Vortex Sensor, Monitoring System Module Gateway Communication Module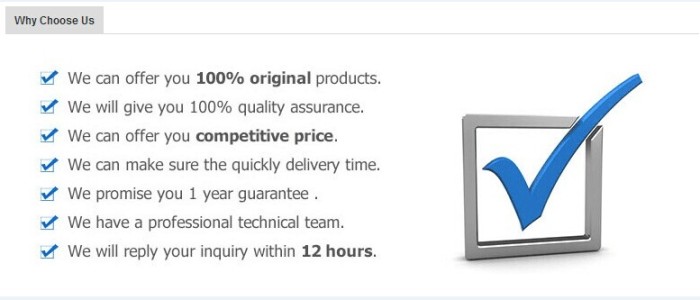 UG330H-SS4
PHR61B13-C10YV
KCS077VGZEA-A43-66-13
CP1E-E30DR-A
E2E-X18MD1
C500-II002 3G2A5-II002
C500-OC221/3G2A5-OC221
CVM1-BC103
C200HW-BI051
CVM1-BI114
C500-BC061
C200H-PS221
NT-AL001
C200HS-ID212
C500-BC081 3G2A5-BC081
C200HW-PA204R
CS1W-BC083
C200H-BC051-V2
C200H-BC101-V2
C500-BC051/3G2A5-BC051
CPM1A-20EDR
TSXASZ200
TSXETZ410
140DAI753
TSXAST200
TSXMPT10
TSXAEM411
TSXDST3292
TSXP4730
TSXSCM2111
TSXADT201
TSXDET1612
TSXDSZ32R5
TSXDSZ32R5
ADU206
TSXAEM412
TSXDST417
TSXDST1635
TSX4740
TSXMPT10R
51401469-100
51304419-150
51201420-004
51201420003
RM7895 C 1012
51201420-005
51201420-002
51304487-100
51109806-002
51195479-200
51195153-005
51201397-002
51201421-100
51308111-002
W7704A1004
W7704D1016
51401216-100
XL50A-MMI-EP+XD50B-F
N2024-2POS
XFL523B
XFL524B
XSL514
T7412A1018
T7560A1000
Staubi SR-CAN-MODUL 1070084867 101 Circuit Board 08VV04-I-C-B-H-?T
ROBO CYLINDER RCP2-RSGD-A-PM-?2,5-100-P1-S-B
JCI VFD66KCB Trane Variable Control Board X1317 0290020 IN: 400-504 VAC
OKUMA OPUS 7000 CPU / IF Rack8 E7191-855-018-2
Keyence SL-V20F Transmitter and Receiver Set Type 4 Sil3
SMC LECP6PD-LES16RJ?-30
Phoenix Contact FLKM-D50 SUB/S/LA Interface Module 2281665 50-Pole
Leutron VisionPicSight Industrial Smart Camera, P141M-GigE-H, Ethernet, RS232
Allen Bradley 1492-CJJ6-4
Hoffman E2PBXSS
Bosch LTE 45 2.5 KVA, 0 608 750 041 Servo Amplifier, Betr.: S5, 220v, 0608750041
KEYENCE GV-21 LAser Control Amplifier w/ GV-H45
DEK 200832
Bennett & Bennett Elimstat Sidekick 4011716
Superior Electric SE23-010-M000
Leviton 210-5p230-AB Rack-Mount Fiber Optic Enclosure (1RU) 5P230-AB
AVATAR INSTRUMENTS INC. A3Z-48-600
Cerus Industrial Titan GS Series CI-002-GS4
Siemens BES7 136-6DB00-0CA0 Simatic ET 200SP
Phoenix Contact 2322650 VIP Varioface Front Adapter VIP-PA-FLK50/4X?14/10,0M/S7
SMC EX600-SMJ1
Mitsubishi MELSRVO MR-C20A1-L AC Servo Controller 200W 1.5A 100-115VAC
Fanuc A16B-1200-0410 04B / A320-1200-T414/?02
GE Fanuc IC800SLA0101A SL
Keyence FT-50AWP
Keyence SL-V39F-R
IAI RCP2-C-RSGD-A-P?M-0-P Position Controller IA550280 H3
Spectrum Illumination LL111.5-WHI 11.5"
Spectrum Illumination LL111.5-WHI 11.5″
CONDE 6SC DRY AIR PUMP MILK MACHINE MDL F/A
SEAT CHECK VALVE CENTERLINE CLC-12-4 CL25 F/12 EPT/NORDEL
LUTZE ALLEN BRADLEY 2090-CSWM1DF-14?AF07 HYB W/O BRK AWG THREADED 193370.0700
SMC MXS25-30 Pneumatic Dual Rod Slide Table MXS/MXJ
KUHNKE D24 BOR-F-DS 9420
KEYENCE SL-V23F-R SL-V23F-T
SMC MY1B25G-350
IFM Efector LK3122
ProSoft ProLinx 4204-DFNT-PDPM EtherNet/IP to PROFIBUS DP
FUJI ELECTRIC EP-2103B BOARD / EP2103B
Matushita EUA-IC0502 OSP5000G PNL Control Board XPS-451
IAI Corporation ACON-CG-20IHA-P?R-0-0 Positioner Controller Module, RCA/RCA2
Rolm 91270 PBX 9751 Expansion Cabinet,ASY 96D8750, A64309U
Allen-Bradley 1494U-C314 Ser. A Cable Mechanism, 30-100A, 4FT
7120-4T1 VPN Router Tested and Reset to Factory Default Settings 7100
Cerus Industrial CI-002-GS4
Brady 64407 Y1402424 B-593 IP Series Labels THTEP-169-593-.?5
Weir V&C 34673-564 / 0000410 Supporting Pillar 16.5"L 2.25"D /1.5"
if you have a large purchase, we can make a discount.
specifications:
new+original +one year warranty