Magnetic hook is made up of magnets (NdFeB, SmCO, AlNiCo or hard Ferrite) and other spare parts, such as metal, plastic, rubber and other components. Sometimes magnetic hooks can meet some special requirements while a single magnet can not do. In the meantime, using magnetic hooks can save more cost than just using magnets and gain the same purpose.
The basic principle of the magnetic hook is to direct and concentrate the flux from both magnetic poles to one active face. This is usually achieved with steel pole pieces or a steel-backing cup.
The standard selection according to your using environment (such as working temperature) and pull force.
We can design and manufacture various
magnetic assemblies
according to clients' requirements.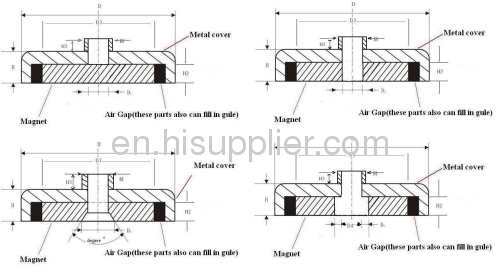 The construction of
cup magnets
If you would like to inquiry this product to us, please kindly provide the detailed Size according to above picture.
Also, we are able to produce other different type
cup magnet
according to your request and design.
You only provide the detailed dimension to us.