New ABB PFEA111-65 Tension Electronics Control Module 24V DC 3BSE050090R65
Have in stock
New and original 100% guaranteed
If you payment successful,We will ASAP arrange ship this goods this day!
Contact:Jessica
Skype:jessica01235483
Email:sales*mvme.cn (please change * to @)
TEL:86-592-5856209
Mobile Phone:86-18030235311(WhatsApp)
Wechat:hu18030235311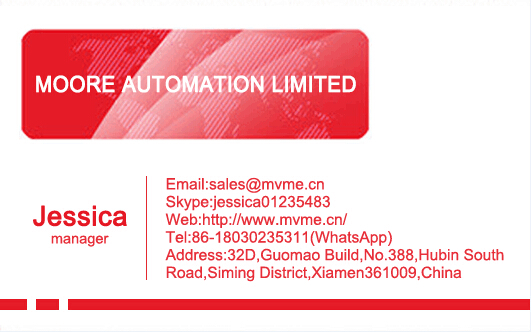 Our company has many products in stock, which are immediately available. The warranty is 1 years which apply to all the new products. If you purchase one more parts from us, we can make a discount to you. If you have any question pls do not hesitate to contact us. We can supply all kind of the automaiton parts, if you want to purchase parts pls send the parts model to my mail, I will prompt reply you as I receive the mail.
We are looking forword to your inquiry.
Payment Terms :
TT in advance ....
Shipment Terms :
Trading terms are Ex-works Xiamen
We will ship the goods within 3 working days after the payment received.
We can ship the goods to worldwide by DHL/FEDEX/UPS/TNT/EMS or other best possible way. Please also contact us directly if you have preferred ways.
After Service :
We offer guarantee of quality for 45-90 Days for all the parts we ship out .
1st, we will state the condition of the parts honestly when quote ;
2nd, we will test the quality of the goods before shipment ;
3rd, we will be responsilbe when the parts get in any problems .
Hope you enjoy the shopping !
Shipping :
1. We will ship the items within 3 working days after the payment is reached.
2. All the goods will be tested before shipment.
3. Packing in professional anti-static bag.
4. We can ship to you by DHL/UPS/EMS/Fedex... Pls contact us directly and we will ship as your requirement.
Best Quality Assurance:
1. We only provide theoriginal new items, 100% make sure the best quality!
2.1 year warrant GUARRANTEE OF QUALITY (After Our Delivery Date).
Payment Methods :
We accept T/T, West Union, PayPal , Escrow payment .
Refound or Replacement:
We accept return back itmes if the goods still remain in their original condition on the warranty time .
Hope we can do more business in future ! There will become your honest cooperation partners!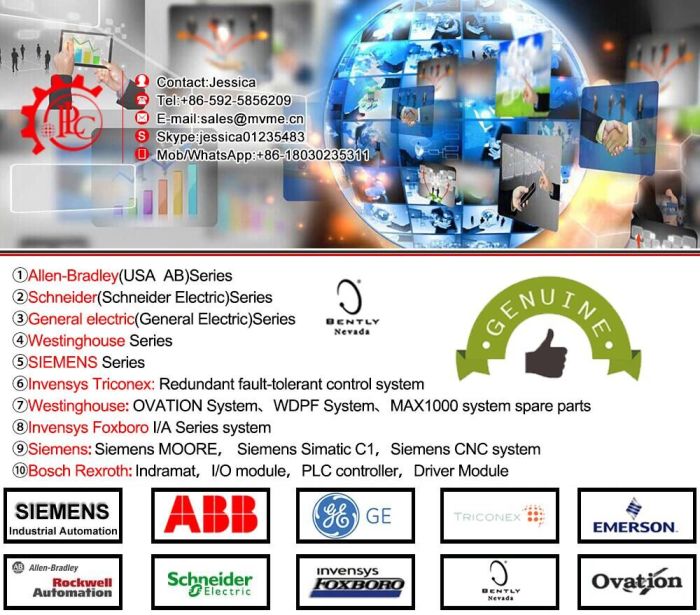 Allen Bradley Rockwell AB 1747/1756/1784/1785/2094/2098 / 1394C / 1336F / 1745 Series, Ryan Mode Reliance Series
GE Fanuc IC647 / 693/697 / IC660 series module card pieces
Schneider Schneider 140 (Quantum processor, memory card, power supply module) AS The beginning of the series
Siemens 6DD, 6DS old model discontinued series / Moore MOORE (APACS I / O modules, communication modules, power modules. Digital Controller) Series
OMRON (Omron) C500 series
Distributed Control System (DCS)
ABB Industrial Robot Spare Parts DSQC Series / procontic (BBC) DP800 Bailey Control Net90 / Infi90
FOXBORO (Foxboro) FBM series
TRICON (EX) 3503E 3805E 3604E ESD System Spare Parts
Honeywell Honeywell TDC2000 / 3000 System Spare Parts Module Leeds & Northrup MAX1000
Bosch Rexroth Bosch Rexroth Indramat, I / O modules, PLC controllers, drive modules, etc.
DCS system card YOKOGAWA DCS Yokogawa card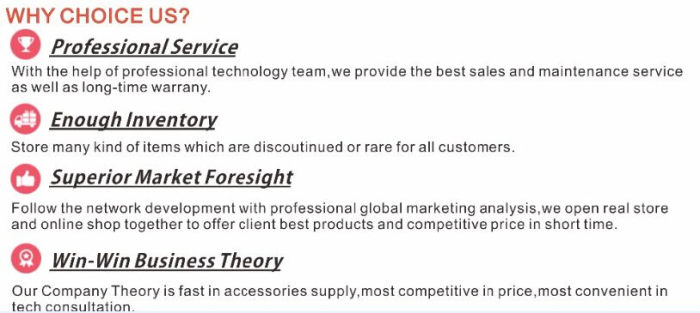 ACS143-4K1-3-C
SMIO-01C
SAFT-113-POW
RINT-5311C + RASI-01C
CDP312
57619414 A
SNAT-2603-BDB+SNAT-7261-SCP
RVAR-5211
ACS60100053
PSS175/300-500L
NBRC-51
ACS510-01-03A3-4
ACS55-01N-02A2-2
NBRA-656 +NBRC-51
NVAR-65 ACS600
NAMC-11C
NIOC-01C
NGDR-03C
1756-L62
1756-L62S
1756-L63
1756-L63S
1756-L63XT
1756-L64
1756-L65
1756-L71
1756-L71S
1756-L72
1756-L72S
1756-L73
1756-L73S
1756-L73XT
1756-L74
1756-L75
1756-L7SP
1756-L83E
1756-L85E
TSXMRPC001M
TSXMRPC002M
TSXMRPC003M
TSXMRPC007M
TSXMRPC01M7
TSXMRPF008M
TSXBATM03
TSXMFPP224K
TSXMFPP384K
TSXMRPC448K
TSXMRPC768K
TSXMRPP224K
TSXMRPP384K
TSXSCPCM4530
TSXMFPP128K
TSXMRPP128K
TSXMFPB096K
5X00241G02 5X00226G01/02
5X00105G14 3A99190G01
3A991032G01 3A99158G01
5X00070G01
3A99190G01
3A99158G01
1C31232G01
1C31122G01 1C31125G02
5X00062G01 5X00063G01 44000
5X00058G01 36000
5X00059G01 8000
Westronics WI025920-60 Amplifier Module, Tracor, 25920R-60, 25986400
Parker Pneumatic P1V-A160A0900, Nr 1001186
RVSI 014-HE1510
Robohand ULS-80 with RR-36-90
Fanuc A16B-2200-0956 / 04A
Lenze 8200 Vector Frequency Inverter Drive 13142439, E82EV152_4C000, EDK82EV222
GOULDS 076793-1203 PUMP IMPELLER 7-3/8" DIA 5 VANE W/TEFLON O-RING 316SS
Yaskawa Servopack Cacr-01-SU23GC AC Servo Drive, Epson Seiko D-Tran SRC-320
Square D MHC50S, NQOD42L225, NQODQ2
New Fanuc A20B-2902-0412/?02A ME-1
Tech-Motive Tool C4000A01V02CV02 / CS4000
Consumer Products NFS350-7626 Power Supply 100-120/200-240?VAC 500W 50/60HZ
Advanced Illumination RL3940 Apposelite LED Ring Light w/ CS300
Carrier HT203097-K Microprocessor Control Board, 32GB500024 , P7, PCB
Fanuc RM2 4003-T302 Cable, RM2
Keyence SL-R11E
EGS Hevi-Duty Automation HT5F6AS
Siemens SIMODRIVE PW-MODUL INT/EXT, 1P 6SN1113-1AB01-0?BA1 V. C,
Glas-Col 100B 0616700227
Eaton 5 KVA Dry Type Distribution Transformer, S60G11S05N, 3R, 600V 120/240
Festo MPPES-3-1/8-6-4?20
AREVA 1251315-001 CTE 8 WIRE HEAD CABLE ASSEMBLY 5 PAIR 16AWG
Allen-Bradley 140U-D6D3-B20 Breaker, Rotary, 2A, 3P, 600VAC, 189081
THRUST BEARING AUXILLARY CONTROL ROTOR GEAR TUBINE 6-3/8"ID 119C6809G0001
PIAB CU NC AVM/ CU IPX2 P3010
Bosch EC-3E48 0 608 701 002 Nut Driver 230V 1.5A w 0608720053 & 0608820071
NELES JAMESBURY 6409763DFD123B
AREVA CRDM 1251314-001 POWER CABLE ASSEMBLY 2/C #8AWG 4/C 12AWG
Festo MPPES-3-1/8-6-4?20
SRC Simco Ramic 94-157968-003
Start International TDA080
Leutron Vision PicSight Camera P83B-GigE-AS-H, Gigabit Ethernet, RS232
Ircon ScanIR 2 S254-16F10-1-0-?0
Fanuc RM1 4003-T301 Cable, RM1 Robot Arm Cable S20i Cable w/ CRR5
Fanuc RM1 4003-T303, RM1 Robot Arm Cable S20i Cable CRM10, CRF4, CRF3, CRM11
Parker SCPSD-3000P-17-?15 SensoControl 44213660
Festo Valve Terminal, CPA10-VI (6) 173520 w/(4) M502, (1) P102, (1) P702
AIR OPERATED DIAPHRAGM VALVE CAGE 6 INCH 6175632 I7-4PH M9290 6403188EY
8" APP SA403WP304 STAINLESS BUTTWELD ELBOW 45 DEGREE
Velan 8955-005-139-S 4"
PixeLINK PL-B741F
Parker N0343FE-KMSN Brushless Servo Motor 6800RPM
TSUDAKOMA CACR-A5A5-TF3A
Parker SSD 6901/00/G with LA470617U002 Version 7V4
Technifor CN1-15/1
if you have a large purchase, we can make a discount.
specifications:
new+original +one year warranty