25,000L/H Reverse Osmosis System Water Treatment Machine Water Purification Machine Brackish Water Treatment Machine Salty Water Treatment Machine
1. General Description:
We adopt the world latest reverse osmosis membrane technology to design the machine. The processed product water is high purification, good taste and it can get rid of 100% bacteria. The salt can be eliminated from the source water by more than 98%, highly up to the national standard. Our RO machines are designed to be controlled by imported PLC automatically, with various protecting functions and high efficiency and safety guard. The reverse osmosis membranes are US brand Hydranautics. Except RO membrane treatment, other common filters also included in the machine as complete one, that is quartz sand filter, to remove remaining suspended particles and unsettled floc, activated carbon filter, to trap organic chemicals and chlorine, improve the taste and odor; PP sediment filter, to trap particles of 1–5 µm diameter, including rust and calcium carbonate. All these water purifying steps can make sure the output water are 100% clean and safe. It is widely used in food stuff, pharmaceutical, chemical industry, electronic industry for terminal process. The output capacity ranges from 300L/H to 50,000L/H.
Parameters
Product serial number
AF-25T
No.
Product Model No.
RO-25000L/H SS single pass
Pretreatment part
Boost pump
(China Nanfang Pump) or Danmark Grundfous pump
Sand filter
Dia 1600 x 3400mm ×3mm (sand 3500kgs)
Activated carbon filter
Dia 1600 x 3400mm ×3mm (carbon 110kgs)
Water softener
No
Controller
No
PP sediment filter
dia 500 x Height1000mm×1.5 (30pcs pp)
RO part
Pressure pump 1
CNP(China Nanfang Pump)
Pressure pump 2
CNP(China Nanfang Pump)
RO membrane
USA HYDRANAUTICS ESPA 8040 x 20pcs
Membrane pressure vessel
80160 SS304 VESSEL 5 SETS
Indicators
TDS,PH and Conductivity indicator
Cleaning part
Cleaning tank
No
Cleaning pump
No
Piping and controlling valve
Piping and valves
U-PVC piping & Valves
PLC system
Water level controll
stainless steel panel & shelf
yes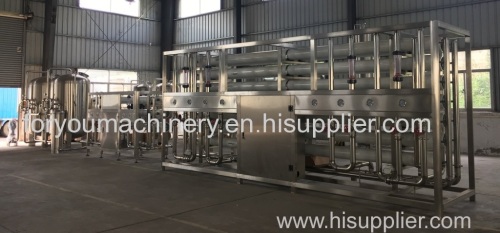 20 years professional field experiences, wide range of famous brand under our services all over the world.
Golden Supplier for UN peace-keeping forces at Africa bases, your best trustworthy supplier and business partner in China.

Fortune line: 0086 one eight six 1713 two eight seven six (WhatsApp).