1. Why give the production job of prefab workshop buildings ( made of steel frame ) to us :
1) CNC punching machine , CNC bending machine , CNC welding machine , plasma cutting , high-power laser cutting and water jet cutting . available to provide multiple cutting service .
2) Well-experienced engineer team and production team for steel structure fabrication , welder working with CWI certificate , according to WPS ( welding procedure specification ) and PQR ( procedure qualification record ) .
3) Professional non-destructive testing , fully equipped .
4) Four painting line can supply high and quickly painting service . Professional surface treatment : hot-dip galvanizing , sandblasting , paint spraying , powder coating , plating .
5) More than 8 years in steel structure experience .
6) Full set of manufacturing process plan to ensure delivery on time .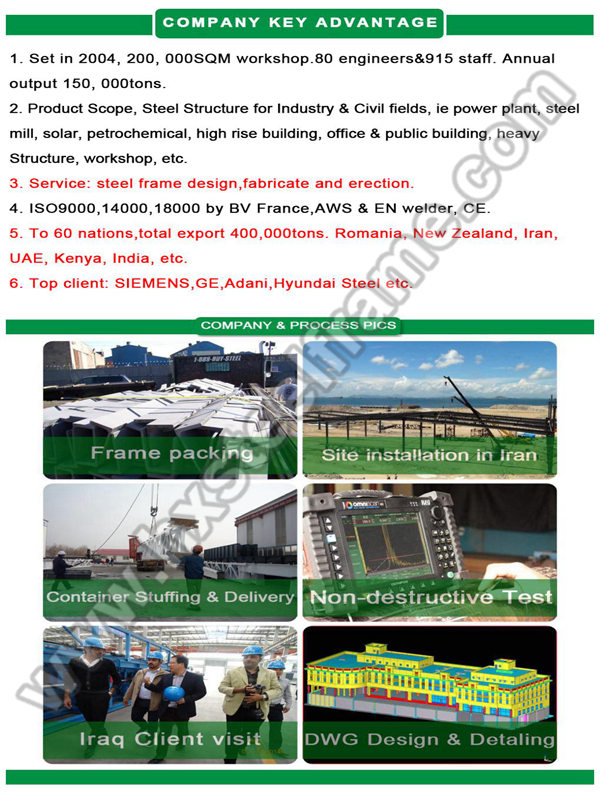 2. About us:
Our company is established in Shandong China, with 10 advanced production lines. We have over 1000 employee and around 80 experienced engineers, so we can offer you design, production, installation service at any time. So, we have enough ability and experience to do your project well. And we can also provide more solutions for customers.
Our product: prefab workshop buildings ( made of steel frame ) , industrial steel structure, civil steel structure, steel high rise buildings, steel warehouse&workshop, steel hanger, etc
3. Project case- South Africa Light Pre-engineered Building, 7000SQM, 2011:
South Africa workshop project
usage: steel pipe production workshop
length 252M X width 27.5M X height 11M, with a crane of 30 ton, the crane sling height is 7M. The workshop adopt Frame bent structure, lattice form column. Roof and wall surface is single steel sheet, no heat insulation, the bottom of wall has brick wall that 800 mm height and aluminum windows that 1.8m height, skylight sheet on roof for lighting.
Client issue the order to us within 1 week after visit our factory, our hardware and ISO management system leave deep impression to them. Now, we have finished more than 6 orders for this client.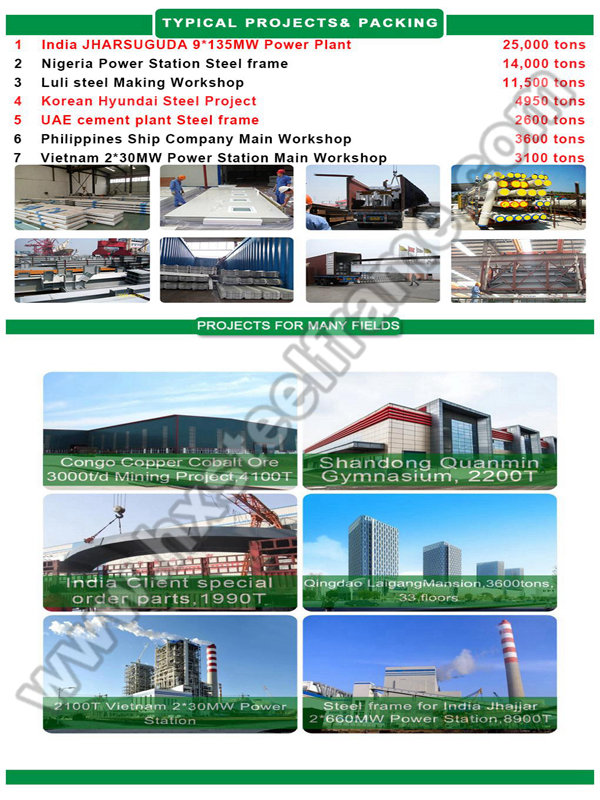 4. Design & Engineering strength on prefab workshop buildings ( made of steel frame ) :
The engineering work in structural steel design includes in-depth analysis and design of the complete structure, in addition to the preparation of construction drawings and shop details.
1) We are an ISO 9001 certified company by UL Inc. USA, for design and manufacture of Pre-Engineered Steel Building Systems and Structures.
2) Our structural design team of 100 dedicated professionals and senior structural designers, is well equipped to work in accordance with all Chinese and international codes.
3) State-of-art technology is used for detailed design which is at par with international building design standards. All our steel buildings are designed using the most advanced metal building soft wares like Staad Pro, MBS, Tekla and others.
5. Packaging & Shipping for prefab workshop buildings ( made of steel frame ) :
1) 100% QC inspection before shipment;
2) All frangible panel accessories will be protected by plastic papers and then packaged in wooden box;
3) Delivery time: strictly performer based on contract;
6. FAQ:
1) What' s included in your service range and what the core value of it is ?
Our service mainly refers to quality products including steel structure, steel building, high rise steel building, prefab workshop buildings ( made of steel frame ), etc, best service on resourcing, inspection, shipment loading, and installation guidance. The core value is " sincere one stop solution for client' s projects and requests" .
2) What's your price level compared with the quality you supplied ?
There are many kinds of quality level in China, which brings about price difference. Offering right quality for our clients' markets and state honestly, our price is reasonable and acceptable for the long term business cooperation.