These super white rare earth neodymium rubber coated magnets are high strength rare earth magnets in a durable Santoprene rubber coating which protects against delicate surface areas. They are most often used in holding, gripping or clamping functions. Rubber coated pot magnets sometimes feature a central void. This threaded void can be fixed into with a bolt. Alternatively an eyelet or hook can be inserted.
Rubber coated pot magnets are often placed to create a fixing or hanging point. The rubber coating provides for superior slide resistance due to greater friction between the rubber and steel surface to which the magnet is bonded. Manufacturers and industrial designers use rubber coated pot magnets for holding and fastening.
Due to the tolerance of the rubber, there may be variations on pull strength. Please contact our customer service team for more information.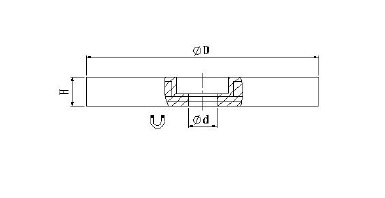 | | | | | | |
| --- | --- | --- | --- | --- | --- |
| Item No. | D mm | H mm | d mm | Pull Force (kg) | Temperature (℃) |
| RCM-0113-02 | 45 | 6 | 5.5 | 9 | 80 |
| RCM-0113-10 | 22 | 6 | 8.2 | 3.5 | 80 |
| RCM-0113-30 | 30 | 9 | 5.5 | 3 | 80 |
| RCM-0113-54A | 30 | 9 | 6 | 3 | 80 |
| RCM-0113-54B | 30 | 6 | 5.5 | 1.5 | 80 |
| RCM-0113-87 | 60 | 7.5 | 5.5 | 22 | 80 |