Westinghouse Digital Output PLC Module FM166
Jessica.[Email:sales*mvme.cn (please change * to @)]
Jessica.[WhatsApp:+8618030235311]
Jessica.[Skype:jessica01235483]
Jessica.[Quote to you within the shortest possible time with our best price]
Quote to you within the shortest possible time with our best price.
Give me a Inquiry, I will get you back immediately or in 9 hours.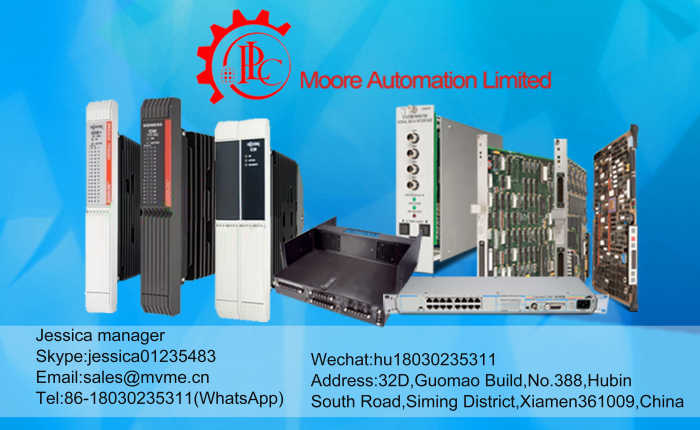 MOORE (HK) AUTOMATION LIMITED Xiamen Office is a company that professionally engaged in large system DCS spare parts supply.
We supply DCS, PLC, MOTOROLA MVME, Anybus, RTU, IPC, IPC, SCSI (50, 68, 80Pin), AnyBus (Gateway), etc.
We have different InStock products in high quality that we can supply promptly with a fair price.
We also provide safely expresses with responsibility and credit in a fast delivery period.
We look forward to cooperating with you for our beautiful future.
We currently stock over 12000+ branded products
We supply:
PLC : AB,ABB,GE,Schneider
DCS : ABB,Siemens MOORE,Foxboro,Westinghouse,YOKOGAWA
ESD : Triconex,HIMA,BENTLY,ICS
Excitation cards : ABB,GE Marke
Jessica.[Email:sales*mvme.cn (please change * to @)]
FVR1.5C11S-7JE
EP-273IE-C2
BU055-4CG
EP-3563F-C1
EP-3626D-C6-Z2
FVR0.1C11S-2
BU37-4C
UG330H-SS4
PHR61B13-C10YV
KCS077VGZEA-A43-66-13
GYC101DC1-SA
GYG102CC2-T2E
GYC202DC1-SA-B
GYG152CC2-T2E
RYC751D3-VVT2
RYC401D3-VVT2
RYC751C3-VVT2
GYS401DC1-SA
IC693UDR005RP1
CROUSE HINDS C-68 RIGID BOX BODY UNILET OUTLET CONDULET IRON 2IN CONDUIT B266692
NEW APPLETON E121488 1/2IN C FORM 85 UNILET CONDUIT FITTING BODY D402297
APPLETON 50A SLAY 1/2 IN ALUMINUM CONDUIT FITTING D467313
NEW THOMAS&BETTS ST125-470 STAR TECK CABLE 1-1/4 IN CONDUIT FITTING B462881
THOMAS&BETTS 3-075-040 3/4IN JACKETED METAL CLAD MC CABLE KIT CONNECTOR B414501
NEW CROUSE HINDS T50M TEE BODY 1/2 IN NPT IRON CONDUIT FITTING D417038
NEW CROUSE HINDS T17 OUTLET BODY 3 WAY W/ COVER 1/2 IN CONDUIT FITTING B402921
NEW APPLETON CG90-2575S 90 DEG LIQUIDTIGHT STRAIN RELIEF CABLE CONNECTOR D452984
APPLETON 1C FORM 85 UNILET BODY OUTLET 1 IN ALUMINUM CONDUIT FITTING B455038
KILLARK GECTT-2 OUTLET BODY T-TYPE NPT 3/4 IN ALUMINUM CONDUIT FITTING B381718
NEW CARLON E983H FIBERGLASS OUTLET BODY FITTING 1-1/2 IN CONDUIT FITTING B396677
if you have a large purchase, we can make a discount.
specifications:
new+original +one year warranty