NEW IN BOX WESTINGHOUSE GM010-ISW-24L-C01 INDUSTRIAL CIRCUIT BREAKER
Contact person:Jessica
WhatsApp: +8618030235311
Phone: +8618030235311
E-mail: sales*mvme.cn (please change * to @)
Skype: jessica01235483
Wechat: hu18030235311
Quote to you within the shortest possible time with our best price.
Give me a Inquiry, I will get you back immediately or in 9 hours.
If you have a large purchase, we can make a discount.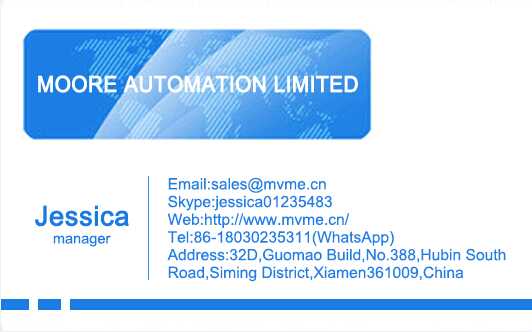 We supply:
PLC : AB,ABB,GE,Schneider
DCS : ABB,Siemens MOORE,Foxboro,Westinghouse,YOKOGAWA
ESD : Triconex,HIMA,BENTLY,ICS
Excitation cards : ABB,GE Marke
If you require more than one item, please let us know, as we could arrange a discount for you.
If you manage to find the same parts cheaper through any other supplier, we will match that price,or provide you with a further discount.
If you have any further questions, please don 't hesitate to contact us.
We look forward to your inquiries.
E-mail: sales*mvme.cn (please change * to @)
IC600MA500A
IC600FP801A
IC600FP999K
IC600-FP941K
IC600FP841K
IC600FP831K
IC600LX648L
IC600BF917N
IC600BF929K
IC600CB503L
IC600BF900L
IC600BF830L
IC600BF949L
IC600BF831K
IC600BF914K
IC600BF943K
SIEMENS 3RT1025-1B SIRIUS 3R 24V-DC 15HP CONTACTOR D399426
NEW ALLEN BRADLEY WZ21134 AUXILIARY CONTACT KIT REPLACEMENT CONTACTOR B342302
NEW CUTLER HAMMER 6-24-2 3 POLE CONTACT KIT SIZE 2 PARTS CONTACTOR B482832
ALLEN BRADLEY 709-DOD 120V-AC 50KW 90A AMP SIZE 3 CONTACTOR D424486
NEW NAMCO 3K309C9 COIL REPLACEMENT PARTS 110V-AC CONTACTOR D311138
ALLEN BRADLEY 100-C09DJ10 24V-DC 7.5HP 25A AMP AC CONTACTOR B379517
NEW SIEMENS 3RT1036-3AK60 SIRIUS 120V-AC 50HP CONTACTOR D331327
SCHNEIDER LC1D09G7 120V-AC 7-1/2HP 25A AMP AC CONTACTOR B448033
SIEMENS 42BF35AJ DEFINITE PURPOSE 3P POLE 24V-DC 15HP 40A AMP CONTACTOR B295129
ABB A75-30 110/110-120V-AC 75HP 105A AMP AC CONTACTOR B480042
WESTINGHOUSE 1190142 COIL REPLACEMENT PARTS 1.72A AMP CONTACTOR D338934
In stock
1 year warranty
Original and new packing
Delivery with DHL 3 days after payment