Westinghouse Emerson PW723 Remote I/O Module New
Type of payment:
T/T 100% Payment in Advance
Contact: Jessica
Moore Automation
Tel / Whatsapp:+8618030235311
Wechat: hu18030235311
E-mail: sales*mvme.cn (please change * to @)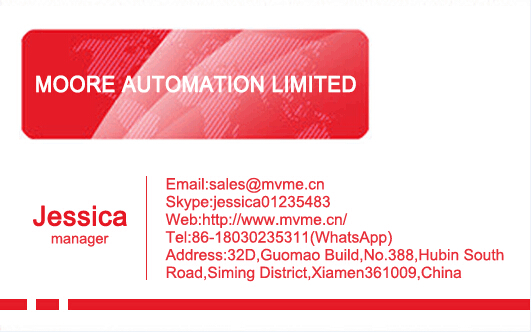 We supply large system (DCS) spare parts, such as: ABB Advant OCS, ABB MOD 30/MODCELL, ABB MOD 300, ABB Procontic, ABB Procontrol, AB Rockwell CPU, Moore APACS, Moore Panel Controllers, Siemens Iskamatic, Schneider PLC, Quantum, Quanten 140CPU, GE Fanuc 90/30, 90/70, Invensys Triconex, FOXBOROI/A MOTOROLA MVME, MVME147, MVME162, MVME167, MVME177 and so on.
* Our mission is to help you! * Reduced maintenance costs!
Other Moldel number we have:
give me a inquiry, i will get you back immediately or in 9 hours.
if you have a large purchase, we can make a discount.
E-mail: sales*mvme.cn (please change * to @)
IC600CB526P
IC600BF843L
IC600BF827K
IC693CPU350
IC600CB524M
IC695ALG600-AB
IC600CB527M
369B1874G0014
IC693BEM331L
IC693PWR321Z
IC600CP620L+IC660PM500L
IC694DSM314-AA
IC694ALG442A
IC695PBM300-BA
IC200UDR005-BD
HE693THM889 HE693THM889C
IC693DSM314-AC
IC693ALG392
IC693CMM321
IC693PRG300
L90N00VFHF8LH6MLXXNXXR7C
A02B-0076-K001
IC660EBA026
IC670CHS101
IC670ALG320
IC200PWB001
NEW WESTINGHOUSE 1605202 TYPE N CONTACT SET SIZE 2 CONTACTOR D457869
ALLEN BRADLEY 100-A18ND3 110/120V-AC 15HP 18A AMP AC CONTACTOR B382283
SIEMENS 3RT1015-1AK61 SIRIUS 3R 110V-AC CONTACTOR B215564
WESTINGHOUSE 647C056 G06 110V-AC 120V-AC COIL D369400
WESTINGHOUSE A201K0BA MOTOR CONTROL SIZE 0 AC 120V-AC 2HP CONTACTOR B206579
ALLEN BRADLEY HA-013 COIL 24V-DC REPLACEMENT PARTS 100-A09NJ3 CONTACTOR B397470
NEW ALLEN BRADLEY HA475 440/480V-AC REPLACEMENT PARTS CONTACTOR COIL D402078
NEW GOULD 2200EBC230AA-5-76 FUSIBLE CONTACTOR 3P 30A 120V-AC 200686
SIEMENS 3 TB 42 12-0A 110/120V-AC 25A AMP CONTACTOR D395636
NEW ALLEN BRADLEY 100-KFA22Z CONTACT BLOCK 600V-AC 10A AMP CONTACTOR D374214
SIEMENS 3TB43 17-6E 600V-AC 115V-AC 15HP 30A AMP REVERSING AC CONTACTOR B396639
ASEA EH 9C-10 MOTOR SK 819 003-A 110-120V-AC 7-1/2HP 25A AMP CONTACTOR B334283
Moore Automation professionally sale DCS system and spare parts of famous brand at home and abroad.