Westinghouse SM482 CPU Programmable Controller PLC 120/220VAC
NEW+ORIGINAL+IN STOCK+ONE YEAR WARRANTY
Moore Automation
Sales Manager:Jessica
Email:sales*mvme.cn (please change * to @)
Skype:jessica01235483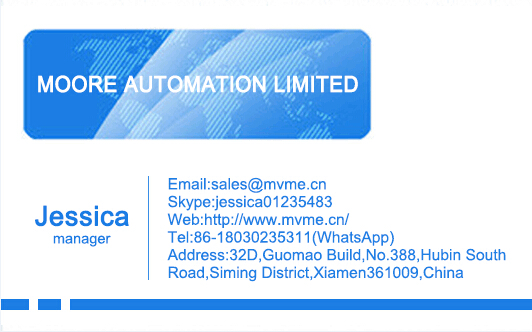 give me a inquiry, i will get you back immediately or in 9 hours.
if you have a large purchase, we can make a discount.
high efficiency application
good quality with long life span
specifications:
new+original +one year warranty
SERVICE:
Lead time: 2-3 working days
Warranty: Twelve months
Type of payment: T/T 100% Payment in Advance
Courier partners: DHL, UPS, TNT, FedEx and EMS
Email:sales*mvme.cn (please change * to @)
IC670ALG230
IC670ALG240
5136-DNP/5136-DNP-ISA
IC670ALG620
IC670MDL740
IC670MDL640
HE693STP100
IC693CPU363-BE
IC670MDL640
IC670MDL740
IC693CPU350
IC693PBM200-DE
IC693ACC334
IC200MDL940
IC649AEA102
IC693CPU374-GP
IC693UDR005EP1
IC693BEM321
IC693PCM300
IC693MDL742
SIEMENS 3RT1025-1AK60 SIRIUS 3R 120V-AC CONTACTOR D468572
WESTINGHOUSE S-1490659C 220/380/400/440V-AC SIZE 4 COIL REPLACEMENT D386207
NEW WESTINGHOUSE 505C806G03 240-480V-AC REPLACEMENT PARTS CONTACTOR D390154
GENERAL ELECTRIC GE 9004334P1 ARC CHUTE REPLACEMENT PARTS CONTACTOR B358864
NEW CUTLER HAMMER C10BN3 MAGNETIC 120V-AC 18A AMP SIZE 0 5HP CONTACTOR D384717
GENERAL ELECTRIC GE IC28001607 48V-DC DC CONTACTOR D451516
ALLEN BRADLEY 80115-400-01 110/115-120V-AC 30A AMP SIZE 1 AC CONTACTOR B457306
ALLEN BRADLEY 500F-AOD930 B 115-120/110V-AC SIZE 0 AC CONTACTOR B417623
NEW TELEMECANIQUE LA3-D24 A 65 500V-AC 6A TIME DELAY BLOCK AC CONTACTOR B405518
NEW SIEMENS 3RT1045-1AK60 SIRIUS 110/120V-AC 75HP 105A AMP CONTACTOR B405046
ALLEN BRADLEY 505-BOD-23 120V-AC 10HP 27A SIZE 1 REVERSING AC CONTACTOR D474585
All products we sell are 100% New original Package in good condition and will be examed before they are shipped.